Our little Oreo Turkeys were such a hit last Thanksgiving that I wanted to find another crafty turkey project to make and share this year.  And I found it.  I'm so in love with these little guys; and they're so easy!  I found the idea on our good friend Steph's blog, Crafting in the Rain. Steph is one of the craftiest (and kindest) people I know and always has such fun little projects that inspire me.  I made 5 of these little turkeys from 3 cheap flowers I found around my house, so it doesn't take much!  Check it out…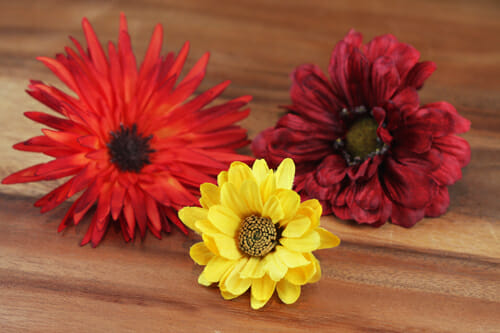 You'll need a few artificial flowers in Thanksgiving-ish colors.  Or not.  A neon pink turkey could be cool.  I seriously just walked around my house.  I had a couple in my craft drawer and I pulled the one below right out of a big fall decoration thing I have. If not,flowers are pretty cheap this time of year at the craft stores.
Pull the flower off of the stem.  Then grab the center of the flower (that little brown part) and pop it right out.  It should just be attached to the green backing on the other side and they pop out pretty easily.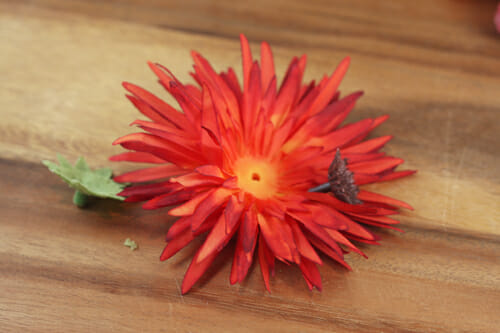 Now you'll see that each flower has several layers of petals, just separate them all.  These are all from that one flower: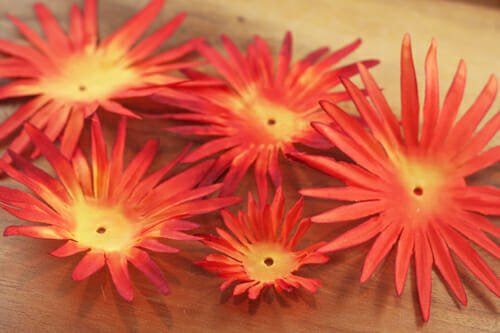 I think it's fun to use different petal shapes and colors, but you can do whatever you like. They look great with all the same type of flower (in different colors) as well.  I got all of these from just 3 flowers.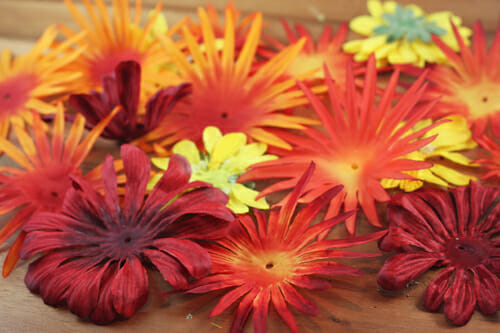 Also, my little yellow one ended up being hot glued together, which was totally annoying.  I still ripped the petals apart the best I could and it worked just fine.  So maybe take a peek and make sure you don't buy any glued flowers.
Now take those layers of petals and stack them.  I mixed up all the different types, just put smaller layers on top of larger ones.
Then grab a pair of scissors and cut your petal pile right in half.  Take a hot glue gun and put a small dab of glue between each layer so they stick together just like that.
While those are drying, cut some turkey shapes out of brown felt.   I just free-handed mine, so they're all a little different.  But c'mon, what turkey family all looks alike?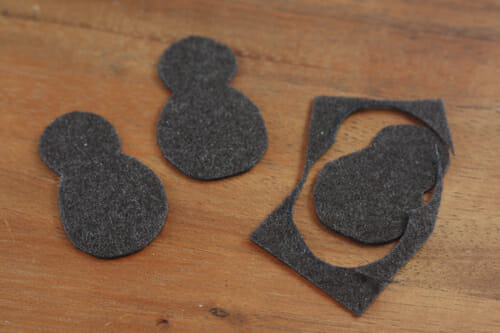 Then just glue your little turkey guy right onto the petals.
Almost done!  The only other thing you need is to glue on a tiny little orange felt triangle for a beak and googly eyes if you want.  They look cute without eyes too.  Googly eyes instantly make anything you put them on appear deranged.  And I sort of like that.  I tried to do wattles, but I couldn't get them to look just right so I scrapped that.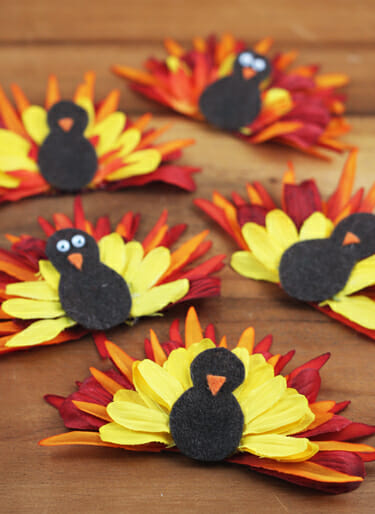 And now, darling little turkeys…what do we do with all of you?  Well like Steph did, you can put them on napkin rings.
You could glue them to cheap ones, or I thought her idea of covering cardboard rings (save a paper towel tube!) with burlap was smart.  Or you could fake it just for one meal and use sticky tack or something.
Or glue a little clip on the back (like the little silver ones that are popular for fabric flowers) and clip it on a bag or box of goodies for giving (or even a little girl's hair!).
You could also put it on the front of a card, or glue a magnet on the back and pop it on the fridge.
Or here, I took a little wooden block and attached a clothes pin to hold a place card.  If you have time to be super crafty you could stain, paint, or modge-podge both the block and the paper clip for extra cuteness.
If you get all of the supplies ready, this could be a fun project for kids (use elmer's glue instead of hot glue).  Thanks to Stephanie from Crafting in the Rain for the fun idea, make sure to go check out her blog for more crafty fun! (Like, for reals.  Do it.  Now!  And then someone make me this knock off Pottery Barn pillow and mail it to me.  Okay?  Okay.)
Flower Turkeys
From Steph of Crafting in the Rain

Ingredients 🙂
silk flowers
scissors
felt in brown and orange
optional: googly eyes
optional: napkin rings, clips, clothes pins, magnets, etc.
Instructions:
Remove flowers from stems.  Separate center of flower from back and separate all petals.  Stack varying petals together, stacking smaller on top of larger.  Hold stack together and cut pile in half across the middle.  Glue layers together.  Cut turkey shapes out of brown felt and glue onto front of petal piles.  Glue on small orange triangle for beak.  If desired add eyes and attach a clip, clothespin, or magnet to back.