This time of year, our blender takes up permanent residence on the counter. We have a couple of jars and there is literally always one sitting next to the sink drying because we use them so much. Smoothies for breakfast, sometimes for lunch, too.  Snacks, protein shakes, and milkshakes at night.  We definitely love blending things so you'll likely see more posts like this now that summer is upon us!
The other day I posted on Instagram about one of my favorite treats: Frozen Strawberry Lemonade from Chick-fil-A (side note: why the heck is it spelled like that??  I have to Google it every time…)  I mentioned I wished they'd do a Frozen Blackberry Limeade and since it will take a while for them to get my letters, I figured I'd just go for it myself. Mine ended up more like Milkshakes (not a bad thing!) but I'm still calling it frozen lemonade because I like the ring of it.  You can definitely tweak these to make them more slushy, or more creamy, and either way they'll be delicious!  You could also sub out lemon for the lime and raspberry or strawberry for the blackberry.  Have fun mixing and matching.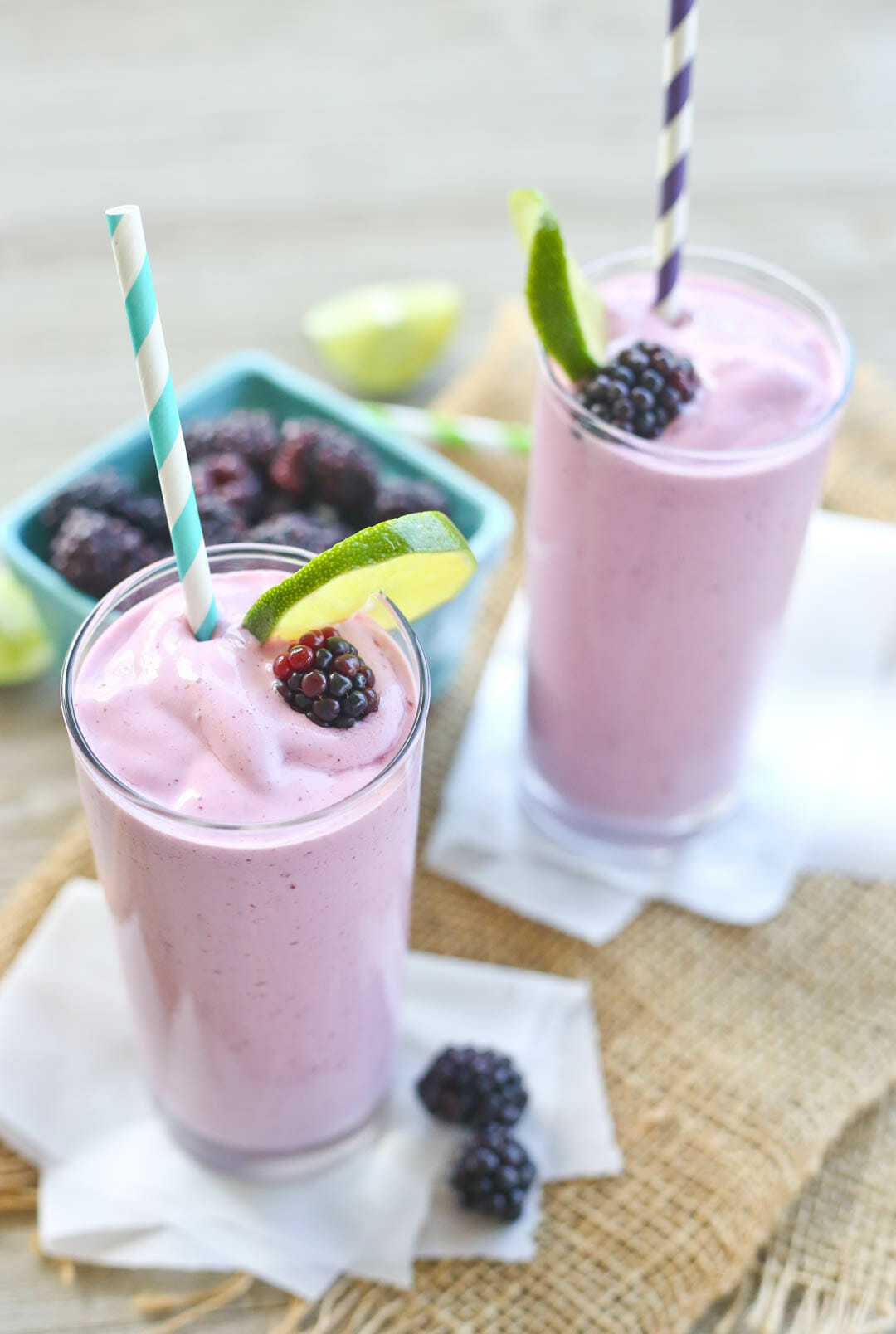 So, first of all, blenders.  Making thick frozen drinks can be frustrating, especially if you don't have a high-powered blender.  If  you don't know this trick yet- one of the secrets to making smoothies and milkshakes in the blender is to always put the liquids in first.  Never load your frozen stuff at the bottom because it gunks up and freezes and gets stuck and you swear in front of your children.
So to start- I found it annoying to juice a bunch of fresh limes, and then then you need to add additional sweetener, so I used a shortcut with frozen limeade concentrate.
You'll also need some liquid and you can use either water or milk.  If you want these like rich milkshakes, use milk (I used whole milk here because I had some left over) and if you want it a little lighter and smoothie-like, use water.
Then you'll need some good vanilla ice cream.  I started by measuring and then decided I wanted to see how far I could push this recipe and I used the whole dang container.
For the blackberries, fresh or frozen work great.  If you live in the Northwest where they grow like weeds on the side of the road, use those.  For the rest of us schmucks who have to pay a small fortune for fresh, frozen are awesome.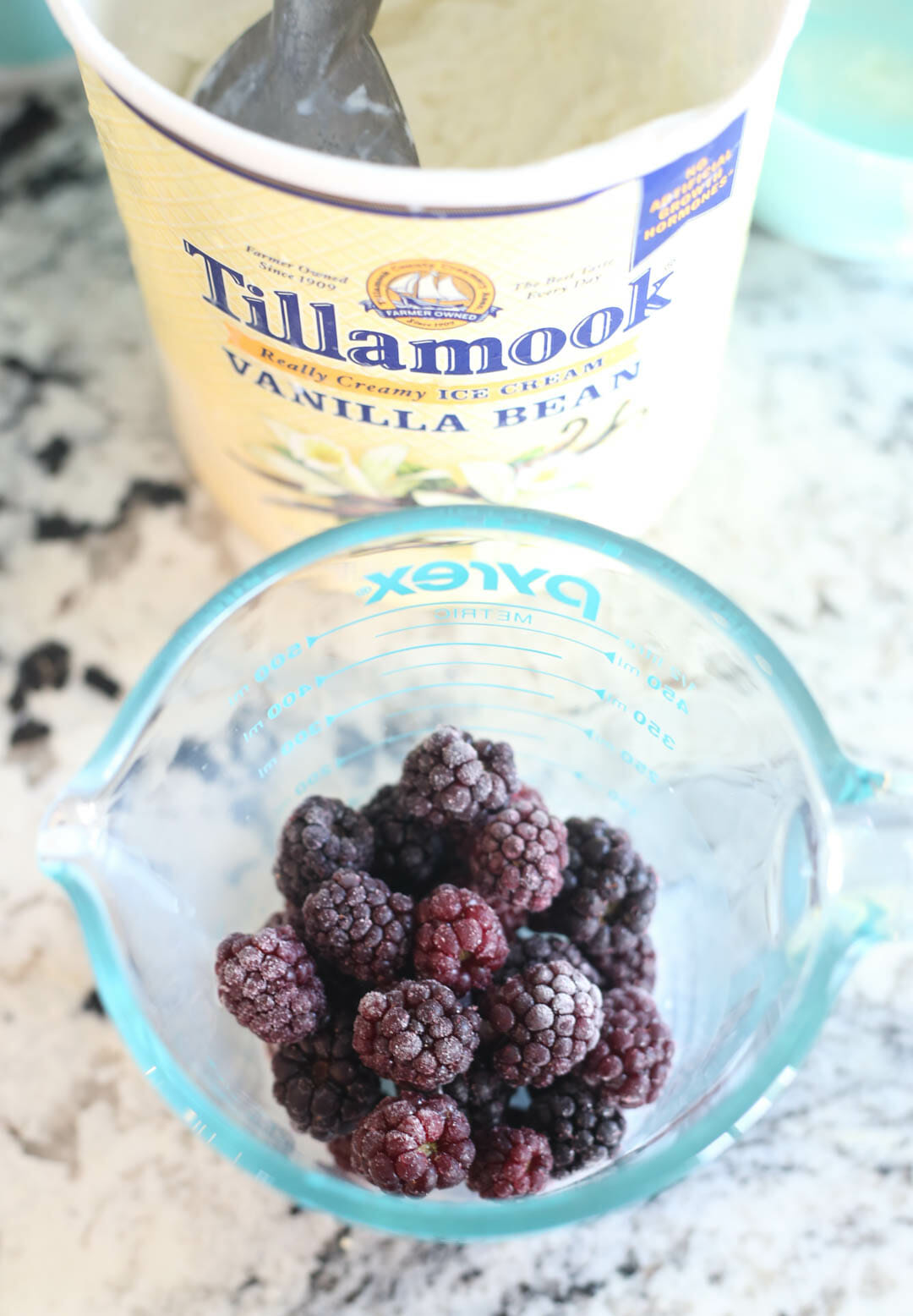 Now I'm not joking when I say I pushed the limits here.  One of my pet peeves is throwing a ton of stuff into my blender to make milkshakes for my family and in the end everyone gets a shot-glass sized serving.  So I decided to see if I could make this feed a crowd.  If you're going to use the full recipe like I did, start with only half the ice cream in the blender.  Once you start blending everything will shrink and you can add more and more.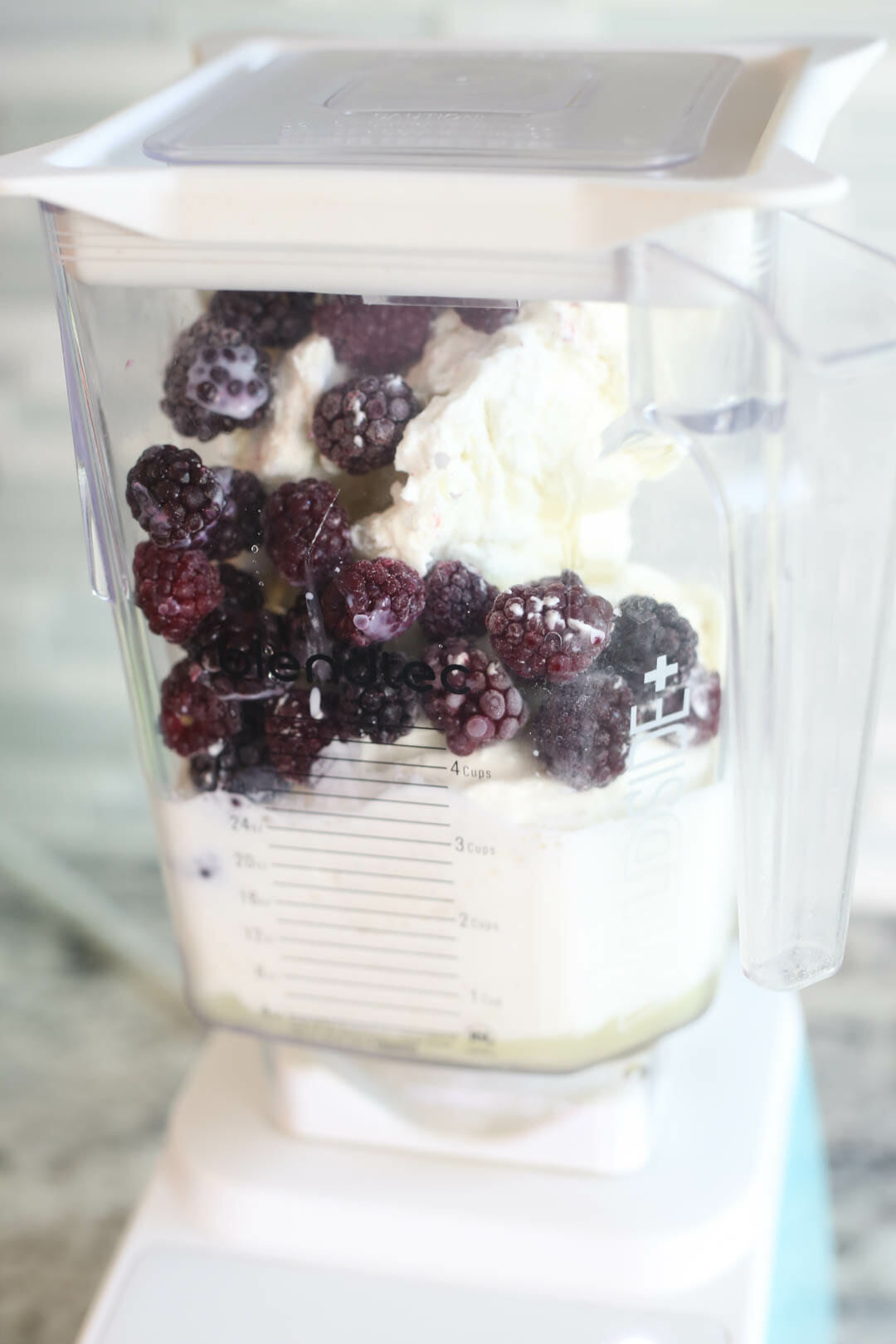 In my Blendtec, you can see it goes to the verrrrry top!  If you have a different blender and you're not sure if it will fit, definitely start with half!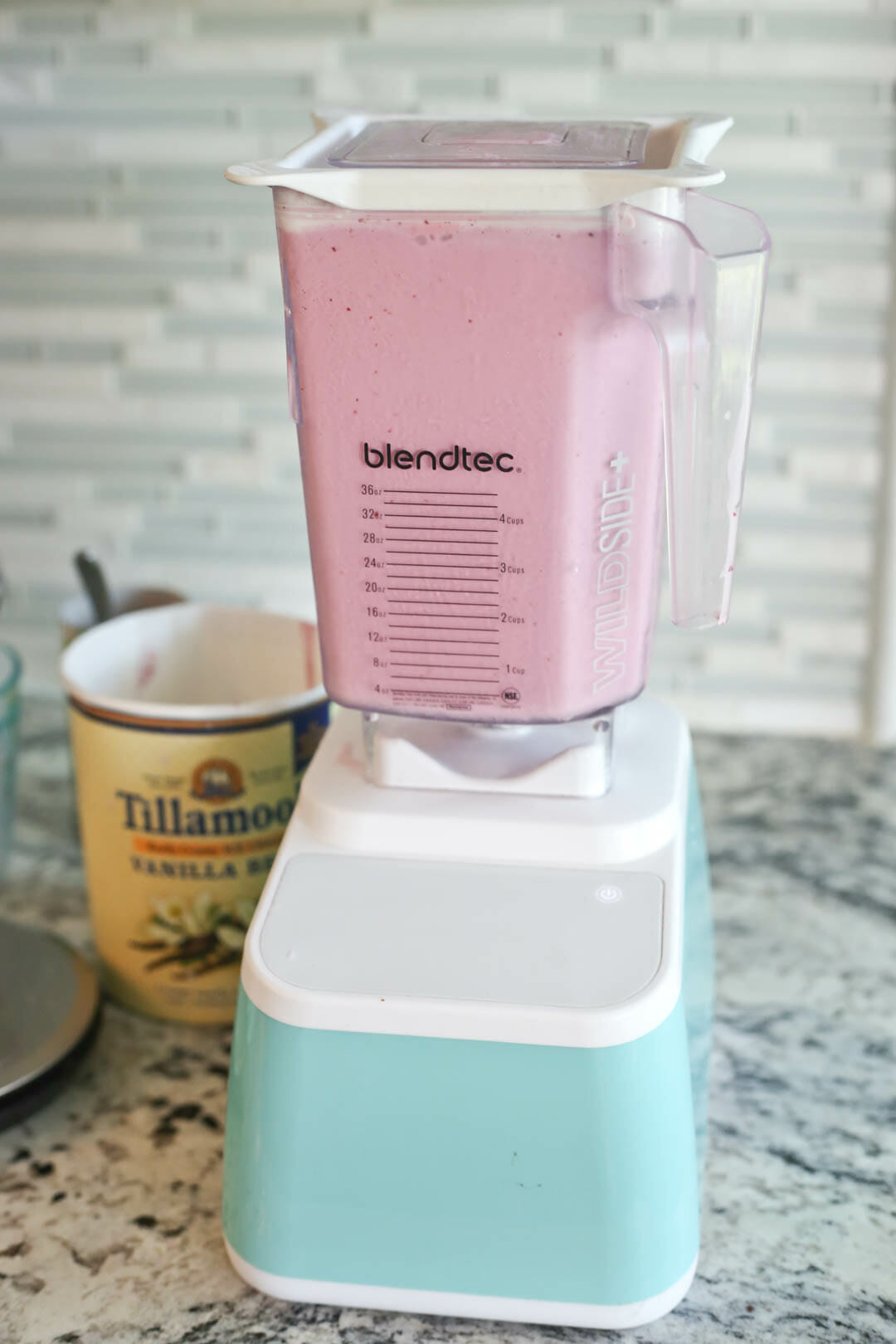 You can also adjust the proportions to your liking.  These are thick like milkshakes.  You could add less ice cream for more of a creamy slush consistency.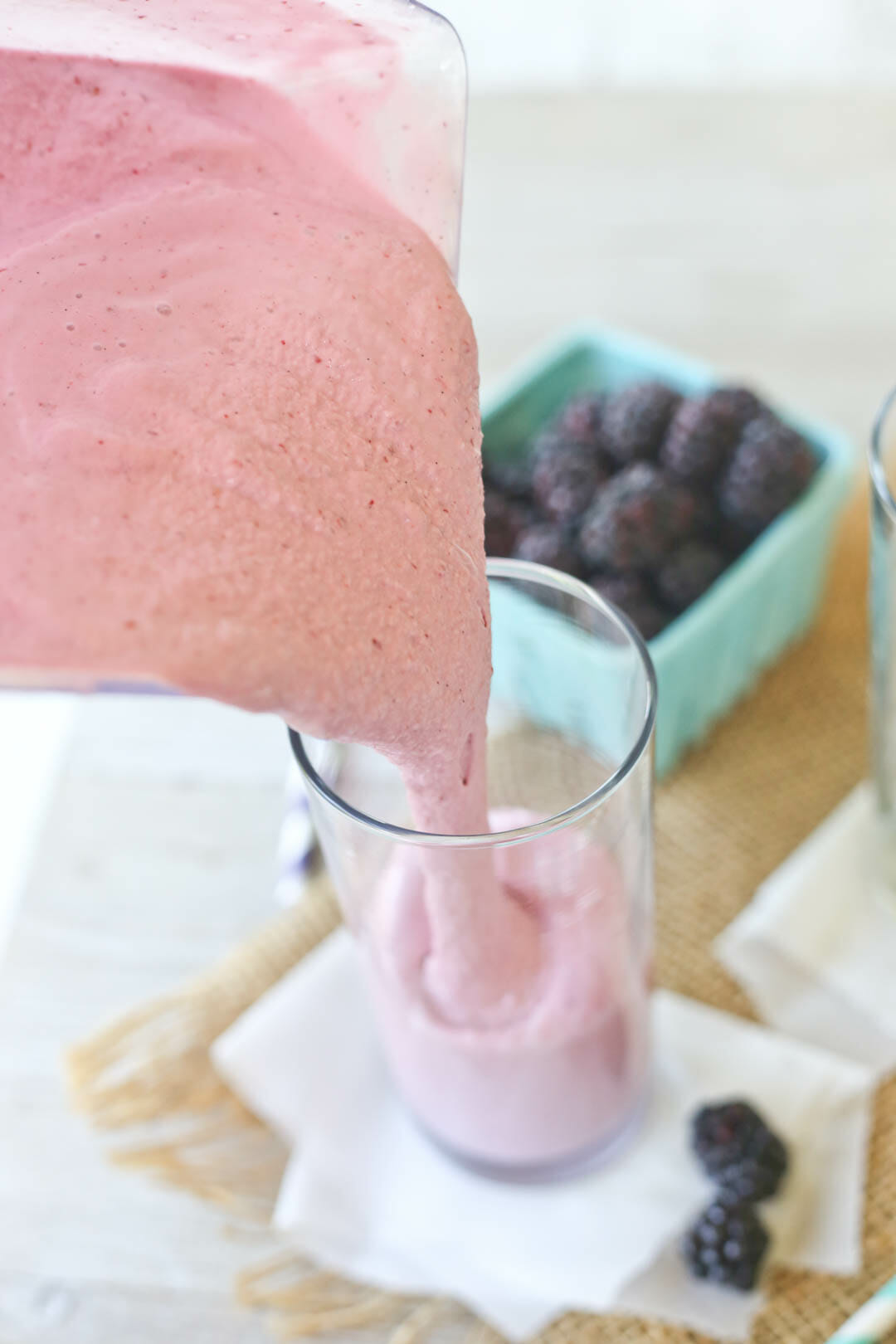 My kids all sat on the porch and drank these up so fast!
This full batch will definitely feed a crowd.  My family of 6 each got these big, full glasses.  But if you have a lower-powered blender (ie: not a Blendtec, Vitamix, or something similar) or if yours is smaller, I would suggest you cut the recipe in half and start with that, and then slowly add until you know it fits!
Oh, also!  In the notes section of the recipe below, I've also included a small-batch light version of this same treat, using a lighter ice cream or frozen yogurt of your choice.
Print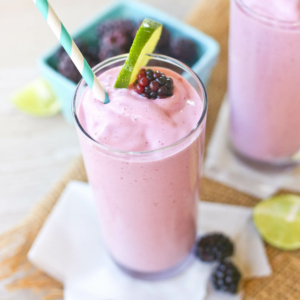 Frozen Blackberry Limeade
---
Description
Creamy, fruity, with a hit of tangy lime, these are refreshingly delicious!
---
1

12-ounce container limeade concentrate

3 cups

water or milk

1.5 cups

frozen or fresh blackberries

1.75 qt

container ice cream
---
Instructions
Place limeade concentrate, water, and berries in a blender and pulse several times until mixed. Add in half of the ice cream container and blend again until there's room in the blender for more. Continue adding until all ice cream is added and blend until smooth.
---
Notes
This is a VERY large batch! You may want to start with the recipe cut in half and then add more so you know it can all fit in your blender.
Smaller Low Calorie Version
1/3 cup water
Juice from 1 1/2 limes (about 3 tablespoons)
1/3 cup frozen or fresh blackberries
1 pint Halo Top Ice Cream or frozen yogurt of your choice
Sweetener of choice
Alter ingredients to taste, add more liquid if necessary!