I've been seeing the classic frozen peanut butter pie making a trendy comeback recently, probably due to one of those catchy Buzzfeed recipe videos going around, and realized it wasn't a recipe we had here on the blog, even though I've been making it since I was a kid. My peanut butter pie is a little different though. If you've made one of these before, you know it's suuuuper rich. Like tingles-your-throat sweet. So much so, that a single pie can really serve about 20 people because a sliver is enough. Most traditional recipes call for a large quantity of peanut butter and generally about a cup of sugar, in addition to other ingredients that contain sugar. It's just, a lot. My version has, wait for it…2 tablespoons of sugar. Seriously, that's all it needs. I don't know why people load so much into it! The lower sugar amount lets the peanut butter really shine through, and keeps it rich, yet light and creamy. It's pretty divine if you ask me, and gets bonus points for the fact that it literally takes about 10 minutes to make and there's zero baking involved. Can I get a high-five here?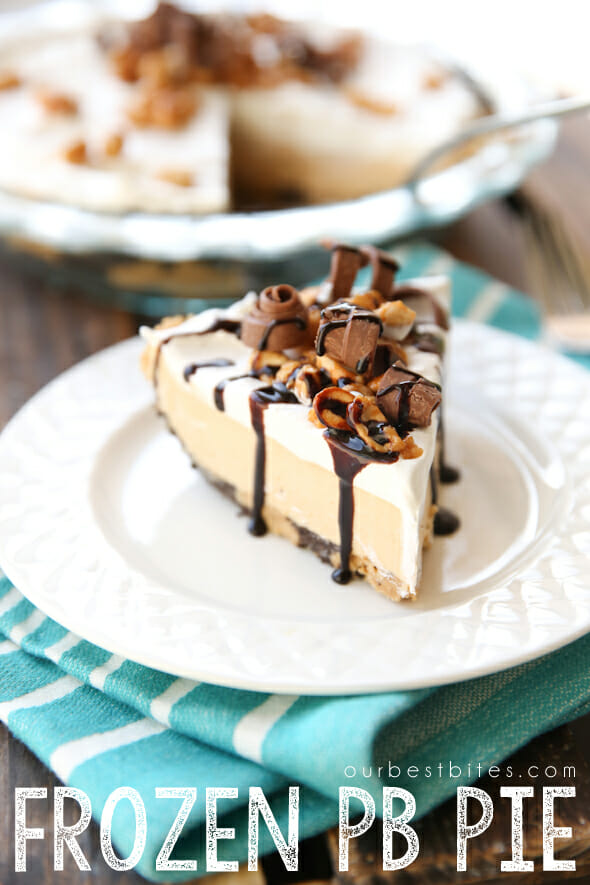 Sometimes I make this with a chocolate Oreo crust, and sometimes with a peanut butter Nutter Butter crust (or you can even do a traditional graham cracker crust). This time around I had both and I asked my little helpers which one they wanted and since the vote was split, we decided to get crazy and use both. My cute niece helped me make this; it's a great recipe to let young cooks help with because it's easy to do, and doesn't even require the oven!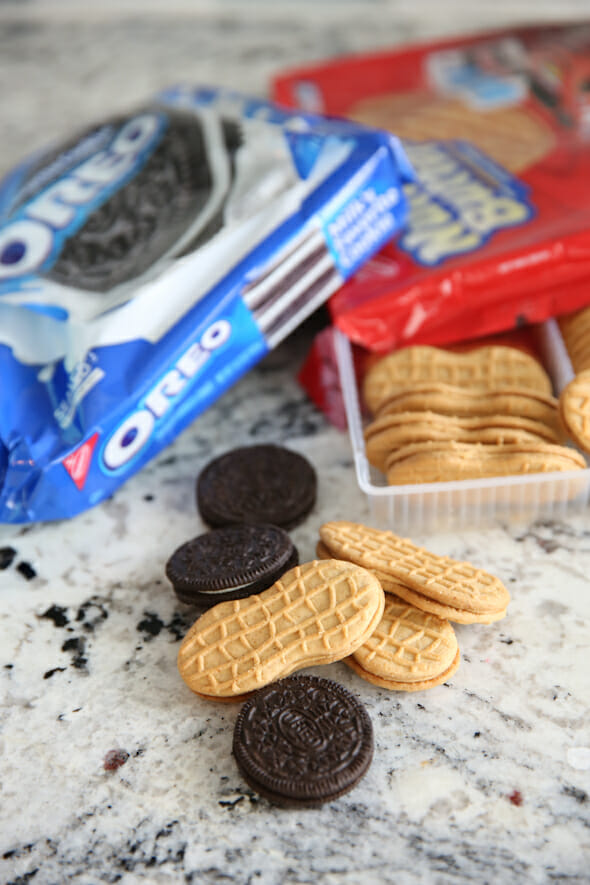 You'll crush those crumbs up in a food processor, or in a bag with a rolling pin or hammer, whatever fits your fancy. Mix with a little butter and then just spoon it into your pie pan. You don't have to make it complicated. Just spoon a bit of chocolate and then a bit of oreo, etc etc.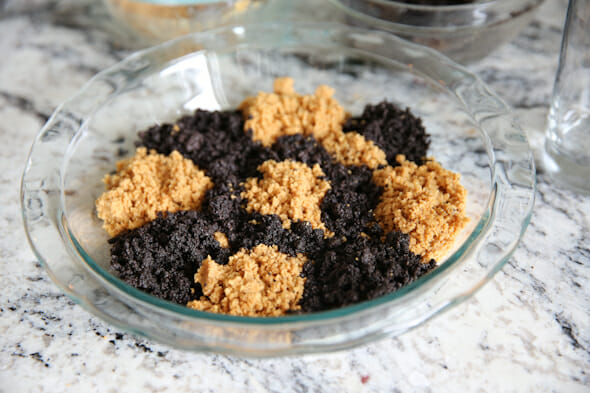 Once it's all in there, use a cup with a flat bottom to gently press it down flat.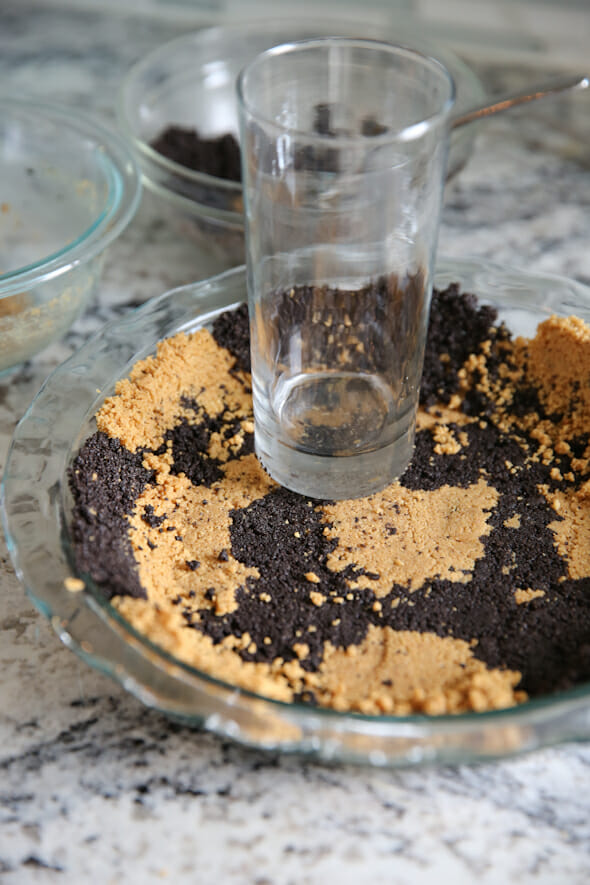 And there you have your speckled peanut butter chocolate crust.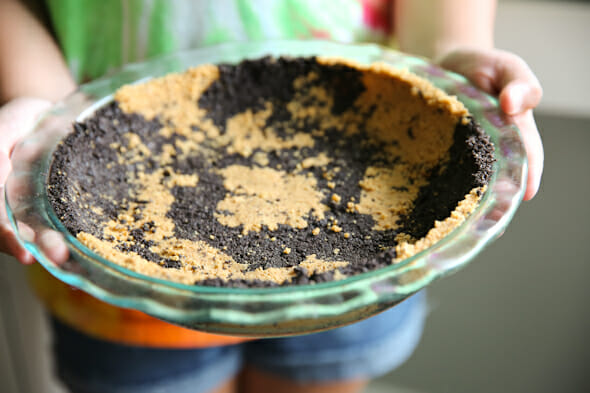 The filling is super duper easy. Just whip up some peanut butter and cream cheese, add it a little vanilla and a pinch of salt,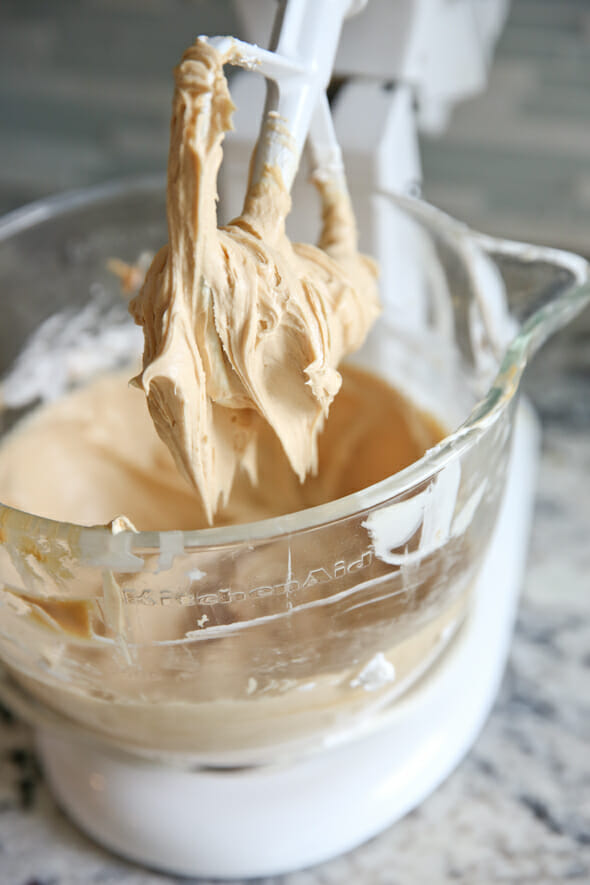 and then to make it light and fluffy, you'll fold in some Cool Whip. Now. I like Cool Whip. I buy Cool Whip. I eat Cool Whip with a spoon. It works well in recipes like this because it holds it shape and freezes well and creates a really great texture overall. If you want to try it with whipped cream, you certainly can, but you'll need to fold it in really gently, and you might need to increase the sugar to get it sweet enough. Just don't ask me in the comments what happens if you substitute something for the Cool Whip, because this is the only way I make it 🙂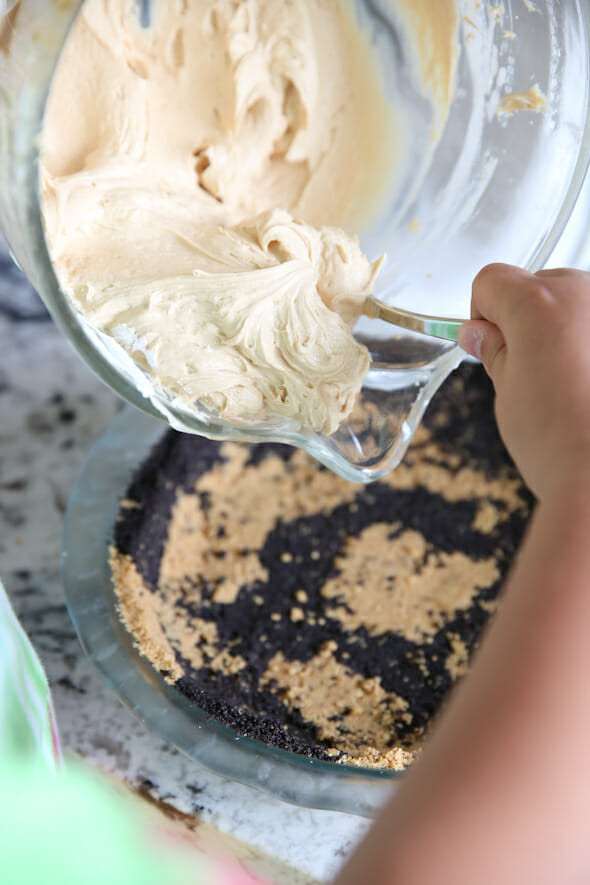 Just fill up that pie crust and spread it out nice and evenly. And lick the spoon. That's a given.
This just goes into the freezer. I would suggest at least 6-8 hours, to really get it frozen, and certainly days ahead of time as well.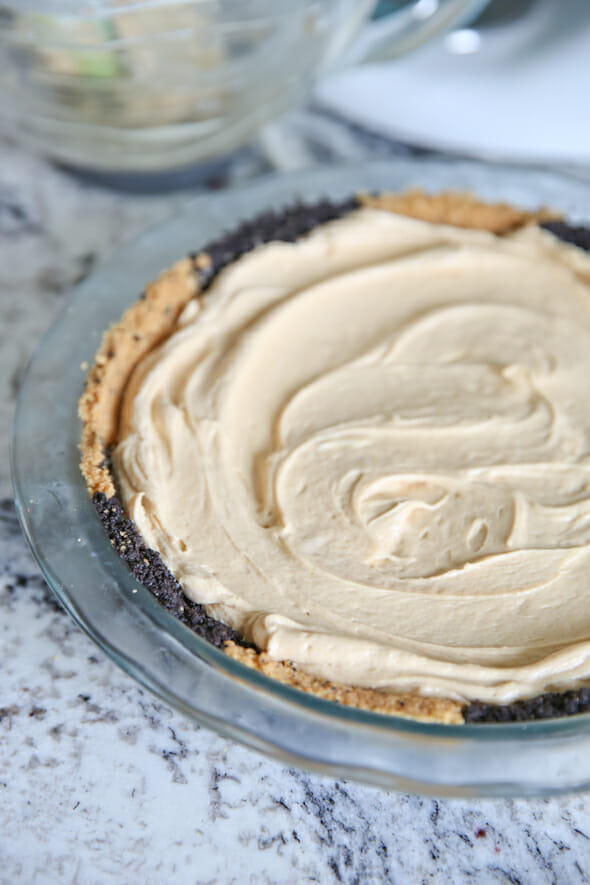 If you want to put a layer of cool whip on the top before freezing, you totally can, or you can wait until after. Either way, let the pie sit at room temp for about 10 minutes or so, to thaw out just a bit before serving.
For the topping, you can use the additional cool whip you have left over, or if you prefer, you could use fresh sweetened whipped cream, or whipped cream from a can. I like to add Candied Peanuts to mine, and some quick chocolate curls.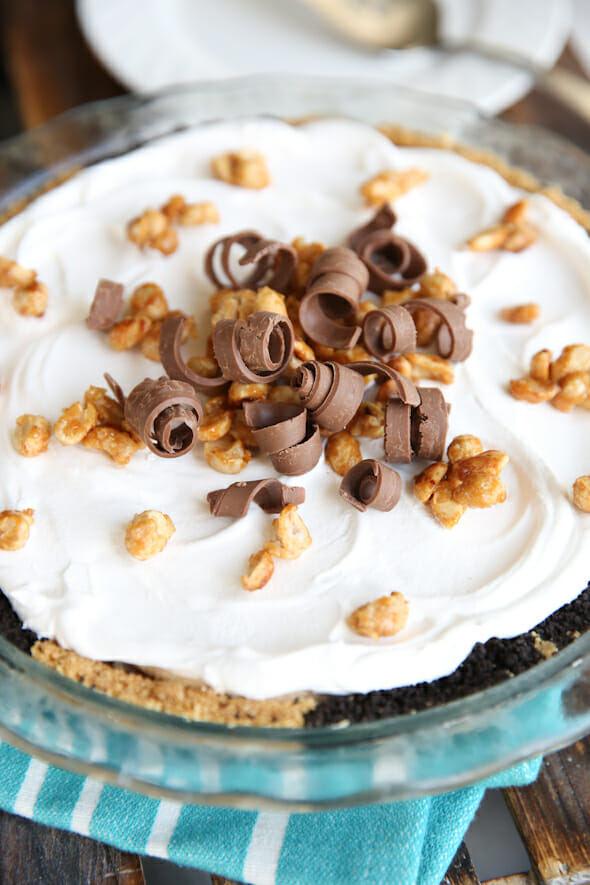 See that best-of-both-worlds crust?? Love it.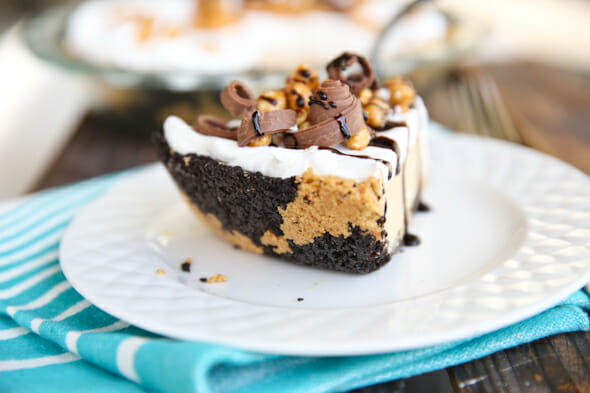 A drizzle of chocolate sauce is also welcome.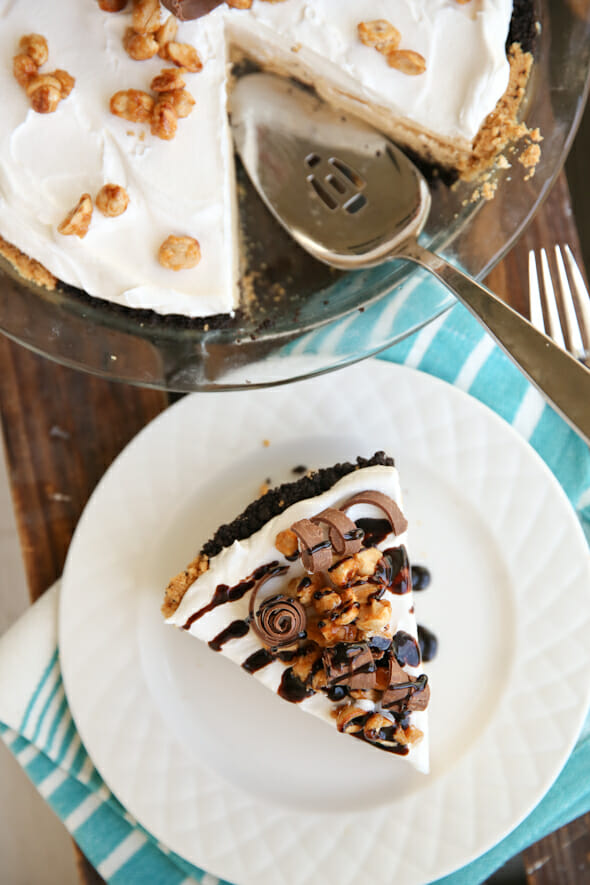 I might suggest, since this pie is creamy and soft, that you slice the pie and serve and then sprinkle on all of the goodies on top of the individual servings.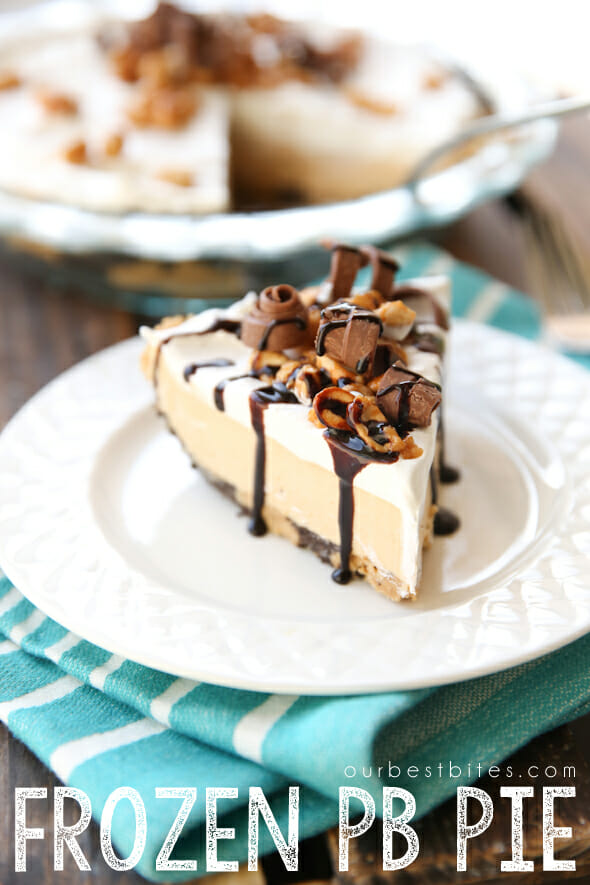 When it's frozen, the consistency is like ice cream and it's spectacular. Pin this one so you don't forget it!
Print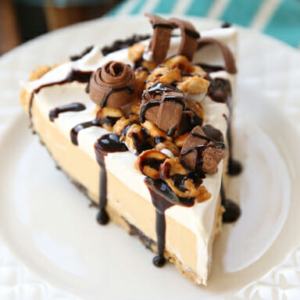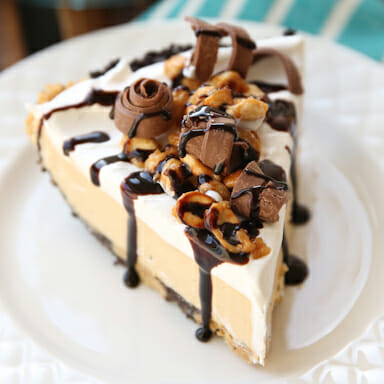 ---
Description
A delicious and easy frozen pie. It's no-bake!
---
For the Crust (see another option in Notes)
12

Nutter Butter Cookies, ground to crumbs

16

oreos, ground to crumbs

5 tablespoons

butter, melted, divided
For the Filling
2/3 cup

creamy peanut butter

4 ounces

cream cheese

2 tablespoons

powdered sugar

1 tablespoon

milk

1/2 teaspoon

vanilla

1

pinch salt

8 ounces

Cool Whip, thawed. If topping with Cool Whip, buy the 16 oz container.
Candied Peanuts for garnish (see link in post)
Optional: chocolate sauce and chocolate curls
Optional: May top with whipped cream, either fresh or from a can if desired.
---
Instructions
In a small bowl, combine nutter butter crumbs and 2 1/2 tablespoons butter. Stir with fork to combine. In a separate bowl, combine oreo crumbs and 2 1/2 tablespoons melted butter. Stir with fork to combine. Drop spoonfuls of each crust mixture into a pie plate, alternating between the two. Use a flat glass to press the crust flat on the bottom of the pie plate and up the sides.
For the Filling
Beat peanut butter, cream cheese, milk, powdered sugar, vanilla, and salt until creamy. Gently fold in Cool Whip until combined. Spread into pie plate. If desired, top pie with additional Cool Whip. Cover pie and freeze at least 6-8 hours or until firm.
Let pie sit at room temp for about 10 minutes before cutting and serving. Top with desired toppings (whipped cream, candied peanuts, chocolate sauce/curls, etc.)
---
Notes
Crust: If you'd like to use one cookie for the crust (Nutter Butter OR Oreo) simply omit the other and double the cookie you'd like to use. Obviously double the butter as well.
If you'd like to top with Cool Whip, just buy the big container and you'll have enough for both the pie and the topping. Otherwise feel free to top with whipped cream, either fresh or from a can.