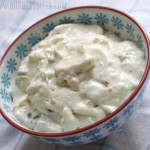 So if words like "aioli" make you think, "Ew, weird, clicking away now," don't–clicking away from things that sound weird will keep you from enjoying things like Portlandia clips and naughty, hilarious websites that chronicle text message typos. Aioli is just a fancy word for garlicky mayonnaise. And this magical, garlicky mayonnaise, which is fabulous with homemade fries (like these ones or these ones), as a dipping sauce for fish (like these fish sticks or the beer-battered fish from these tacos) is a crucially delicious element of the sandwich I'm going to post next week.  Mark your calendars. Prepare yourselves.
You'll need mayonnaise (homemade would be delicious, just leave out the garlic and rosemary; clearly, I'm not using homemade mayonnaise here…), kosher salt, freshly ground black pepper, garlic, lemon juice, and capers. Unless you really hate capers–just leave 'em out if that's the case.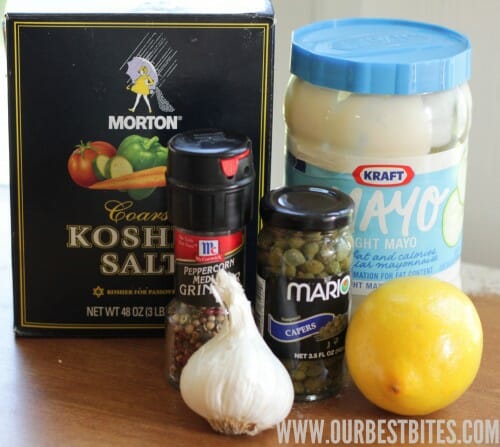 Chop the capers and then peel the garlic and mince or press it. Now…some of you may remember last fall when I was using a big knife to smash and peel my garlic and the blade wobbled on the garlic and I sliced the heel of my hand open. We can't forget it around our house because, in addition to my lovely scar, my four-year-old keeps talking, especially to strangers and visitors, about the time I used a big knife to cut my wrist open while I was making dinner. Since then, I've been scared of smashing garlic with big knives, so I've put my once-rarely-used meat mallet to good use.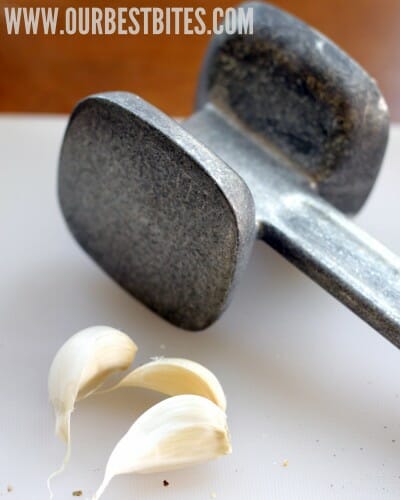 Just give each clove of garlic a good smash (which is also a great way to take out some unresolved aggression) and the papery skin slips right off, no stitches required.
Anyway.
Whisk the capers, garlic, and lemon juice into the mayonnaise. Season with salt and pepper…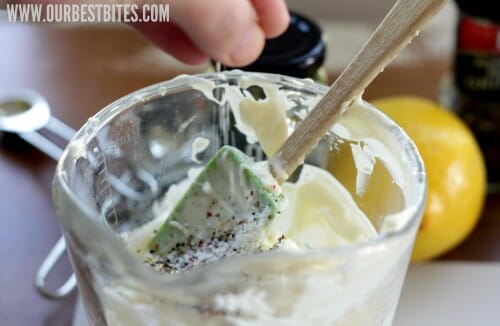 and whisk together until combined. Chill in the refrigerator for at least 30 minutes before serving.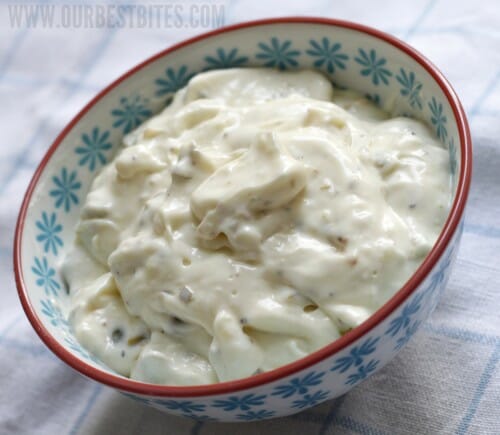 Spread onto sandwiches or use as a dip for fries, veggies, chicken, or fish. Or whatever sounds good (because garlicky mayonnaise sounds good with an abnormally large number of food items, at least for me).
Garlic & Caper Aioli
Recipe adapted from Allrecipes
Ingredients:
3/4 cup mayonnaise
3 cloves garlic, minced or pressed
2 1/2 tablespoons lemon juice
1 tablespoon capers, chopped
1/2 teaspoon kosher salt (add more if necessary)
1/2 teaspoon freshly ground black pepper
Instructions:
Whisk together all the ingredients. Cover and chill for at least 30 minutes before serving.