I've told you before that I have a weird habit of watching shows on the Food Network while working out.  The other day I was sweating my cookie-pie filled love handles off on the treadmill while watching Diners, Drive-ins, and Dives.  They were at some little hole-in-the-wall that was famous for their meatloaf sandwich.  Not only have I never had (or had a desire to have) a meatloaf sandwich in my entire life, but I have only made meatloaf one time in the past 10 years.  There's something about the words meat and loaf that tells me they shouldn't go together in the same sentence let alone the same dish.  Strangely though, I couldn't stop thinking about that dumb sandwich.  Why did it look so good??  Why could I not stop thinking about something I was pretty sure I detested?  We've actually had a lot of requests for meatloaf, and since I couldn't get it out of my head, I started to poke around for a recipe.  Oddly, that very same day Kate randomly texted me (not that texting on its own was random, we only text each other like 879 times a day…) and said she had made meatloaf that day and it was good.  I think the universe was trying to tell us something!  Maybe she'll share her recipe too sometime.
I happened to stumble across a segment from The Early Show, where Chris Kimball of America's Test Kitchen was making classic comfort food, featuring meatloaf.  Meatloaf is a perfect example of a recipe that would benefit from endless testing of proportions, meat combinations, fillers, flavors, baking methods, etc.  so I knew this would be a good one to trust (besides the fact that I trust just about everything from Chris Kimball!) You can check out this link to read all about the impacts of all of those things, it's actually really interesting.  Understanding the science and reasoning behind food and recipes will really help you become a better cook!
The result?  I actually like meatloaf!  Who knew?  I guess I just needed a good recipe for it.  This one actually has great flavor, and perhaps more importantly, a good texture.  I have to say the sauce really did it for me.  Okay, and maybe the fact that it's wrapped in bacon.  And you better believe I have a post about a meatloaf sandwich coming up 🙂
Let's cook.  Start by sauteing some onions and garlic and then set them aside.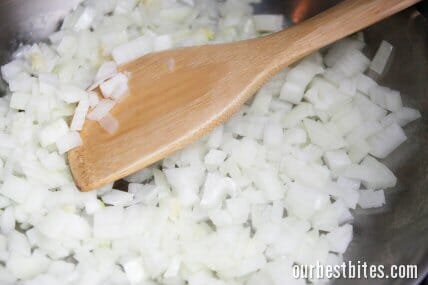 Next is all of the wet ingredients, and the spices.  A couple of eggs, worcestershire sauce, a little dijon mustard, a couple of douses of hot sauce, plain yogurt (adds tons of moisture), salt, pepper, and thyme.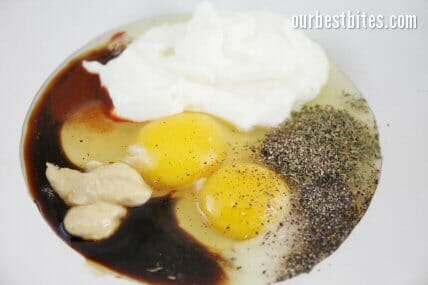 All whisked up it looks like a yummy salad dressing and it actually smells really good too!  PS, don't put this on salad.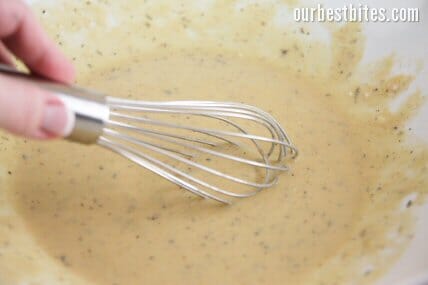 Into the same bowl goes the meat.  They recommend 50% beef and 25% each of ground pork and veal.  I used 50% beef and 50% pork because while I have no issues eating grown-up cows, pigs, and chickens, somehow I don't want to eat baby ones.  It's just mean.  Don't judge.  You'll also add the onions and garlic you cooked up, fresh parsley and some crushed saltines.  You can substitute fresh bread crumbs as well, but the saltines actually work great.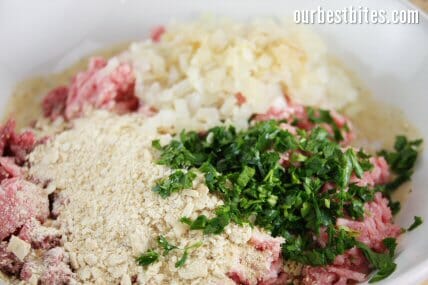 Mix 'er all up.
And…shape it.  Into a loaf.  It's meatloaf folks, don't try to get creative.  Place it on a foil-lined baking sheet, not in a loaf pan.  One of the things they noted from the test kitchens was that putting it in a loaf pan caused it to just sit in it's own juices and sort of boil instead of bake. You get a much better result when it's baked free form.
Smear some of the sauce over it and then wrap it up in bacon.  By the way, I love sentences that include the phrase "wrap it up in bacon." There's absolutely no way that can't end well.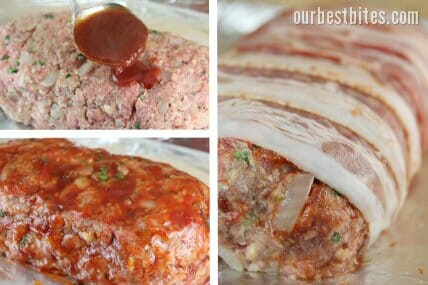 Pop that bad boy in the oven and bake for about an hour.  The bacon gets crispy on top and your house smells fantastic.
Then you can take more of that glaze and brush it right on the top while it's hot.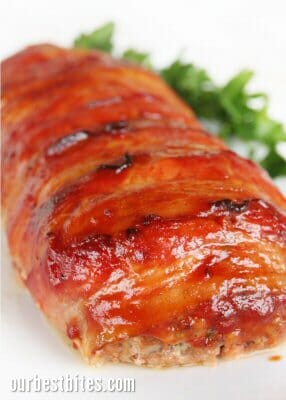 Slice it up and serve with extra sauce (a must!) and mashed potatoes don't hurt either.  (If you've got a copy of our cook book, the recipes on page 178 for Loaded Mashed Potatoes and Roasted Garlic and Parmesan ones are fantastic!)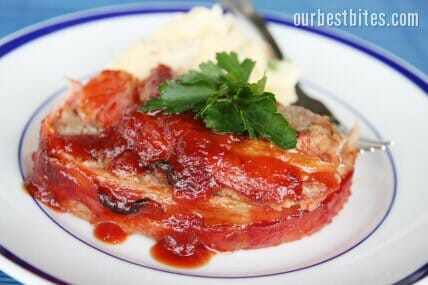 Try it.  You just might like meat loaf!
Glazed Bacon-Wrapped Meat Loaf
Recipe from America's Test Kitchen
Glaze
1/2 cup chili sauce (or substitute ketchup, but I liked chili sauce)
4 tablespoons brown sugar
4 teaspoons cider vinegar (or white vinegar in a pinch)
Meat Loaf
2 teaspoons vegetable oil
1 medium onion , chopped medium
2 medium cloves garlic , minced
2 large eggs
1/2 teaspoon dried thyme
1 teaspoon table salt
1/2 teaspoon ground black pepper
2 teaspoons Dijon mustard
2 teaspoons Worcestershire sauce
1/4 teaspoon hot sauce
1/2 cup plain yogurt (or whole milk)
1 pound ground beef chuck
1/2 pound ground pork
1/2 pound ground veal (I used more pork instead of veal)
2/3 cup Saltine crackers , crushed (about 18), or quick oatmeal, or 1 1/3 cups fresh bread crumbs
1/3 cup minced fresh parsley leaves
6 – 8 ounces bacon , thin sliced (8 to 12 slices, depending on loaf shape)
INSTRUCTIONS
1. For the glaze: Mix all ingredients in small saucepan and bring to a simmer.  Simmer for 2-3 minutes or until slightly thickened and set aside.
2. For the meat loaf: Heat oven to 350 degrees. Heat oil in medium skillet. Add onion and garlic; sauté until softened, about 5 minutes. Set aside to cool while preparing remaining ingredients.
3. Mix eggs with thyme, salt, pepper, mustard, Worcestershire sauce, pepper sauce, and milk or yogurt. Add egg mixture to meat in large bowl along with crackers, parsley, and cooked onion and garlic; mix with fork until evenly blended and meat mixture does not stick to bowl. (If mixture sticks, add additional milk or yogurt, a couple tablespoons at a time until mix no longer sticks.)
4. Turn meat mixture onto work surface. With wet hands, pat mixture into approximately 9-by-5-inch loaf shape. Place on foil-lined (for easy cleanup) shallow baking pan. Brush with half the glaze, then arrange bacon slices, crosswise, over loaf, overlapping slightly and tucking only bacon tip ends under loaf.
5. Bake loaf until bacon is crisp and loaf registers 160 degrees, about 1 hour. Cool 10-15 minutes. While meal loaf is cooling, re-heat remaining sauce and brush some over meat loaf if desired.  Slice meat loaf and serve with extra glaze passed separately.