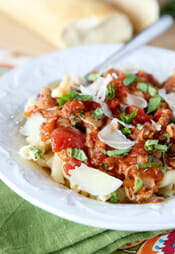 Sometimes the easiest meals, are the best ones.  This recipe isn't fussy.  It requires just a few fresh staples, and a couple that are in most people's pantries.  I've had this idea in my head for months, and a few weeks ago I finally started playing around with it and it didn't take long to reach perfection.  This simple method of cooking is one of my go-to's.  It involves searing some meat (in this case, chicken) adding some liquids and flavors, and then letting the oven do the work.  The result is similar to something that's been in a slow-cooker all day; chicken that is so moist and tender that it just falls apart, and a sauce so flavorful and rich, you'd think it had simmered for hours.  But it takes only 60 minutes.  This type of dinner is one of my favorites because I can prep and cook a little and then once it goes into the oven I have time to set the table, do the dishes, and get everything cleaned up before we sit down to eat so that after dinner, clean-up is quick and easy.
This recipe is specifically for boneless, skinless thighs.  Don't ask me about substitutions, just use the thighs.  They are specifically suited for this method of cooking, and the meat adds both flavor and body for the sauce.  Most packs of boneless, skinless thighs are between 1.5 and 2 lbs.  Shoot for something a little over 1.5 at least, since you'll trim a little off.  I shoot for something between 1.6-1.8 lbs.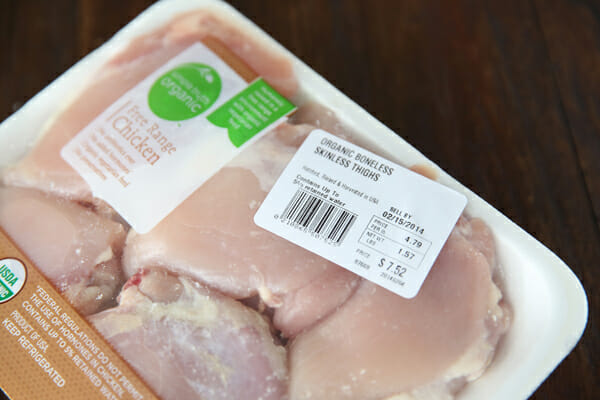 Even boneless, skinless meat sometimes needs to be trimmed up a bit.  To prep your meat, grab a pair of kitchen shears, or simply a clean pair of scissors (emphasis on the clean, and put them in the dishwasher when you're done.)  Set up a few layers of paper towels on a plate next to the sink and start running cold water.  Rinse each piece under cold water and use the scissors to snip off any remaining largish pieces of fat.  After each piece has been rinsed and trimmed, place on paper towels to blot dry.  Sprinkle with kosher salt and black pepper.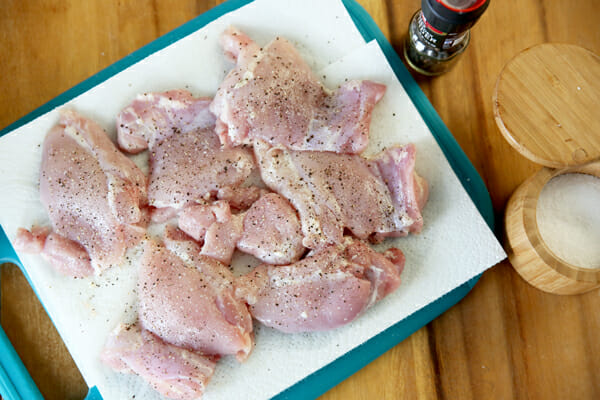 You just need a few basic fresh ingredients here.  Even when my cupboards are bare, I usually have garlic, onions, and a carrot (or at least baby carrots for my kids).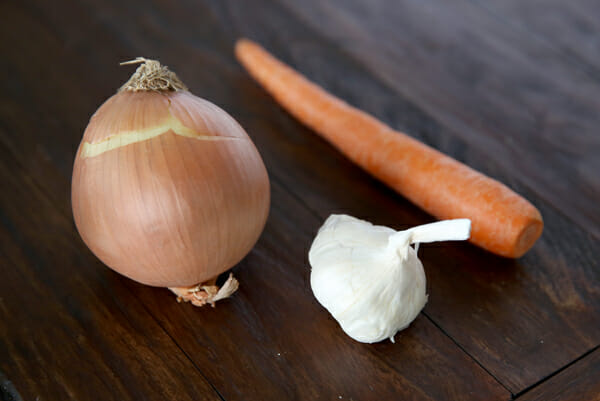 Heat up a large dutch oven on the stove top.  Don't stress out here if you don't have a giant Le Creuset.  They're beautiful, and high quality, but they also will cost you several hundred dollars.  You can find quality enamel coated cookware, that cooks just as well as those expensive brands, for under $100 (my favorite was purchased for $50 at Walmart years ago), which is a great deal.  A large pot like this is a great investment for your kitchen; it will last for years and can be quite the workhorse.  For half the year I'd say my big 6 qt Dutch Oven gets used more than any other pot in my kitchen.  Check out Lodge Brand for a great deal in fun colors.  You can also usually find them at stores like Walmart, Target, and even Costco usually has one in stock regularly.  I also see them often at stores like TJ Maxx/Home Goods, Marshalls, etc.
One trick, when you're using any pan to sear meat, is that you must heat up your pan first.  It needs to be hot before you add your fat (in this case, oil) and before you add your meat.  If you place your meat on cold, not only will it not get a nice brown crust, but it will most likely end up sticking.  So once your pot is hot, swirl in some olive oil.  Our Extra Virgin Olive oil is a perfect fit here, and our Basil or Garlic is even better.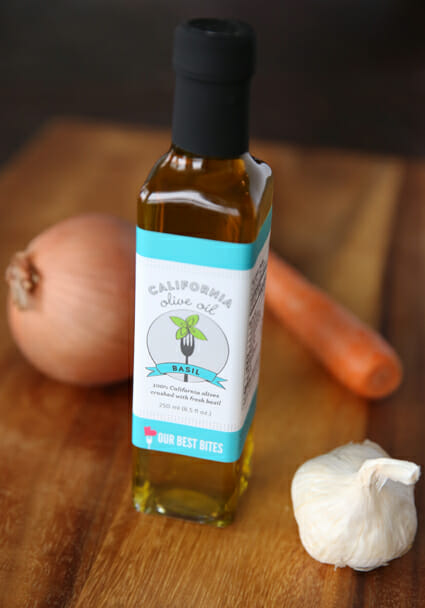 After searing the chicken pieces for a few minutes on each side, remove them and put them on a plate.  The chicken will have given off some fat and juice, plenty to cook your onions in.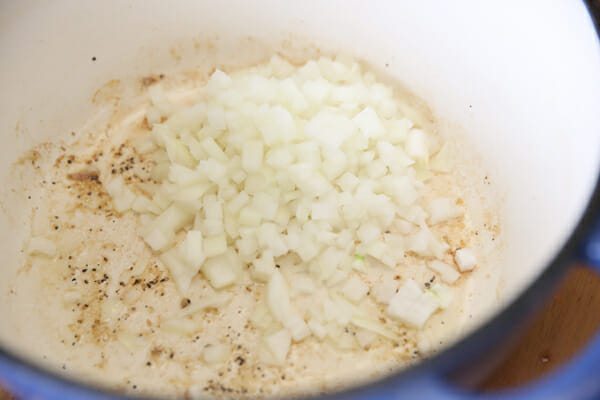 For sweetness, you'll also add some shredded carrot.  The carrot will just melt right into the sauce and you won't even notice it- we're only using it to balance the flavor and add necessary sweetness to the sauce.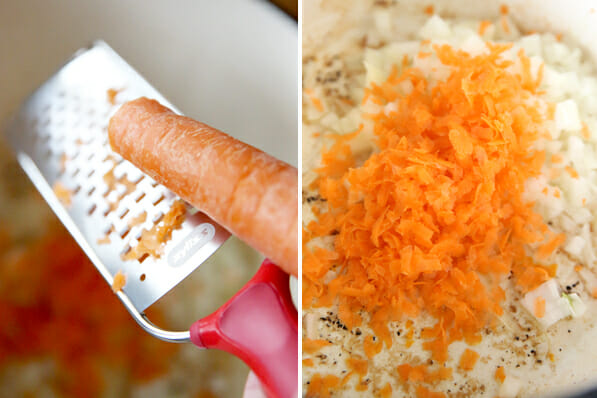 You'll also add a generous amount of garlic.  Once those veggies are softened a bit, dump in a can of diced tomatoes, and a can of tomato sauce.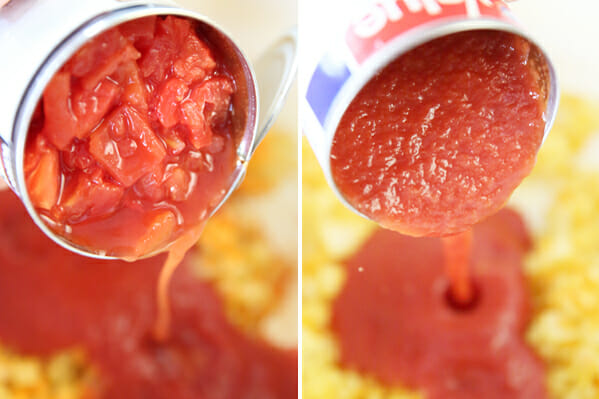 To keep this quick and easy, the only seasoning we're using is Italian.  It already has basil, oregano, rosemary, sage, marjoram, savory and thyme, all in one little bottle.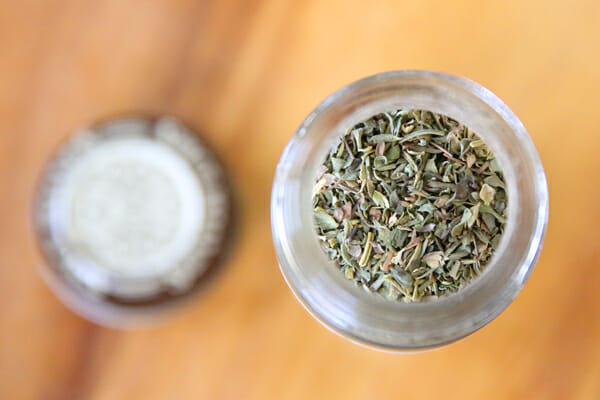 and also a drizzle of balsamic vinegar. That's it!  It takes less than 10 minutes to cook and dump everything in there.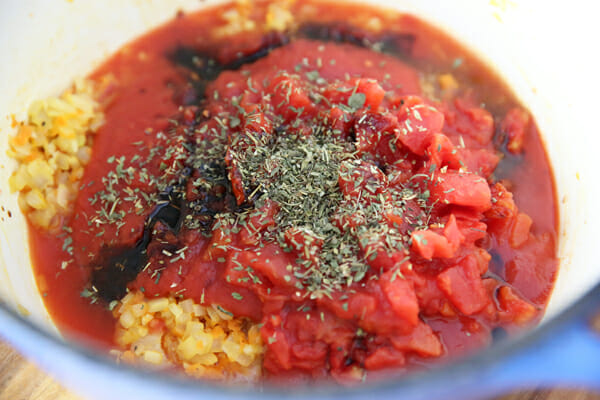 Bring that mix up to a simmer and then add the chicken back in.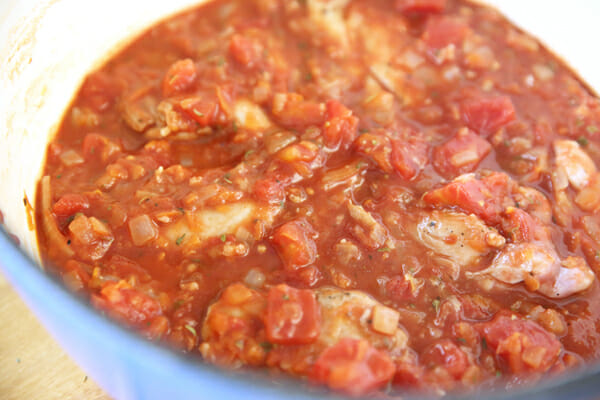 Pop a lid on your pot and stick it in the oven for an hour.
While it's cooking you can prep anything you want to serve it on.  Obviously it's good on pasta (this is one of my favorite cuts, they look like little roses!)  But it's also good over rice, quinoa, steamed veggies, or on toasted hoagies or slider buns.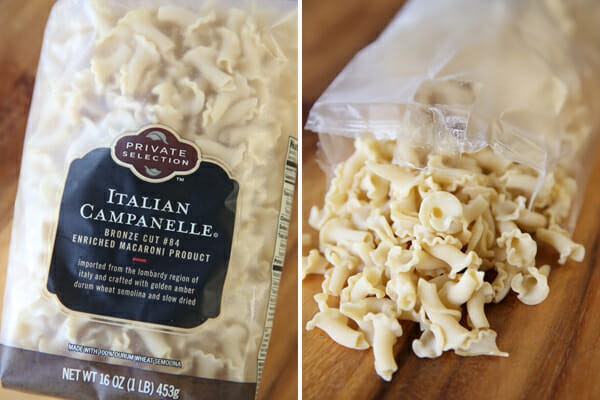 In the oven, the sauce becomes rich and flavorful,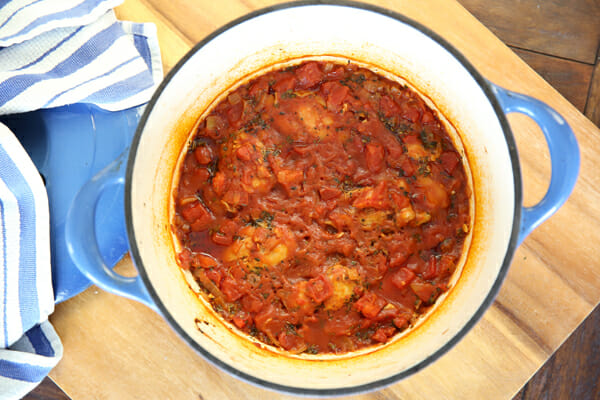 And the chicken is so moist and tender that it falls apart with a fork.  I like to break it into large chunks.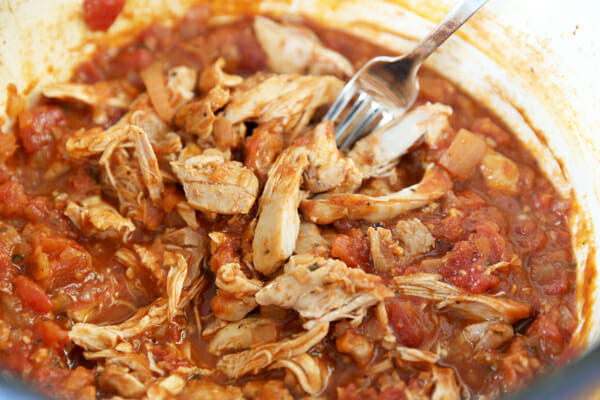 The last thing you'l need is one more drizzle of balsamic vinegar, and a handful of fresh basil.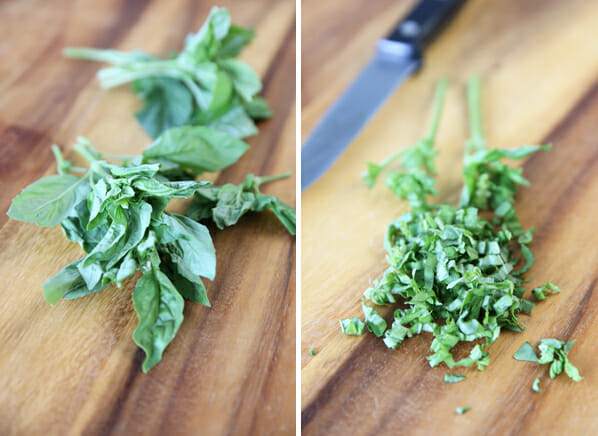 Stir it all in and you're done.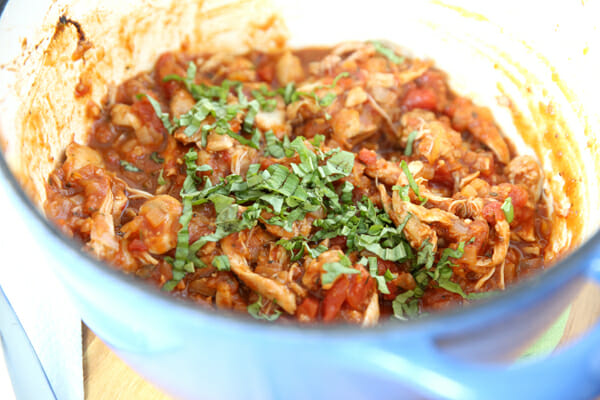 Before serving (on noodles, or sandwiches, or anything) give it a sprinkle of fresh Parmesan cheese.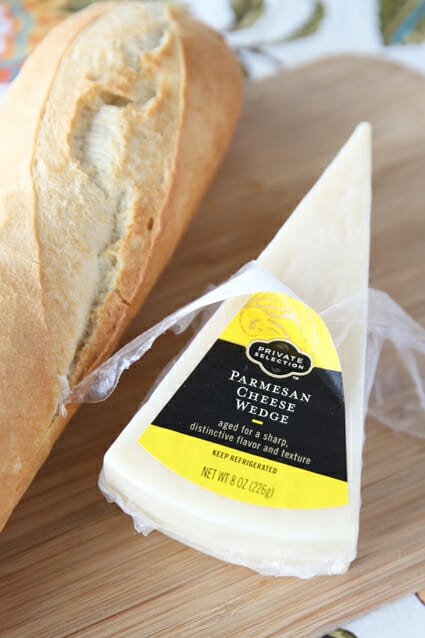 This would be extra yummy with some of Kate's Make Ahead Garlic Bread!
Hover your mouse over the image below to Pin it!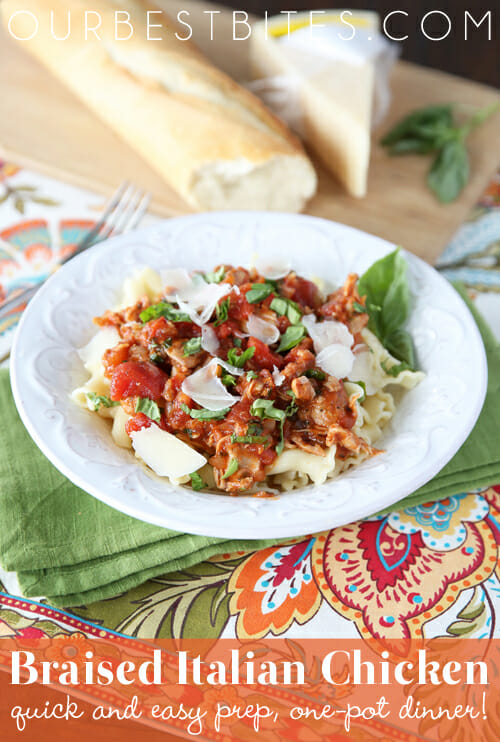 Braised Italian Chicken
Recipe by Our Best Bites
Ingredients
1 1/2-2 lbs boneless, skinless chicken thighs (6-8 thighs)
1/2 teaspoon kosher salt, divided
fresh cracked black pepper
2 teaspoons extra virgin olive oil (our basil or garlic oil is awesome here)
1 cup diced onion
1/4 cup shredded carrot
5-6 cloves garlic, minced
1 14.5 oz can diced tomatoes (not drained)
1 14.5 oz can tomato sauce
2 teaspoons Italian Seasoning
1 tablespoon balsamic vinegar, divided
2-3 tablespoons chopped fresh basil
freshly shaved Parmesan cheese
Instructions
Preheat oven to 350.
To prepare chicken, rinse all pieces in cold water and use a pair of kitchen shears (or clean scissors) to snip off any remaining fat.  Blot dry on paper towels.  Season one side of chicken with 1/4 teaspoon kosher salt and several cracks of black pepper.
Heat a large Dutch oven to medium heat.  When hot, add olive oil and make sure it spreads across bottom of pot.  Place chicken salt side down and cook for 2-3 minutes.  While it's cooking, sprinkle remaining 1/4 teaspoon salt plus a few cracks black pepper on other side of chicken.  Flip chicken pieces and cook for 2-3 minutes.  Remove chicken and place on a plate.
Add onions and carrots to pot and cook for 2-3 minutes, add garlic and cook for an additional 30 seconds, or until fragrant.  Add can of diced tomato (with all the juices), tomato sauce, Italian seasoning, and 1/2 tablespoon balsamic vinegar.  Stir ingredients and bring to a simmer.  Add chicken and all accumulated juices from plate.  Cover chicken with sauce and cover pot with lid.
Bake for 1 hour. Remove from oven and remove lid.  Use 2 forks to gently shred shred chicken into large chunks.  Add remaining 1/2 tablespoon balsamic vinegar and chopped basil.  Add additional kosher salt and pepper to taste.  Serve over pasta, rice, quinoa, or steamed vegetables, or on french rolls or slider buns and garnish with fresh Parmesan cheese. Serves 6.
Nutritional Info (3/4 cup shredded chicken with sauce, and 1 tablespoon fresh Parmesan):
Calories:  201, Fat: 14g, Protein:  20g, Carbs: 8g, Fiber: 2g