I've had two really great Greek appetizers at local restaurants lately.  One was the Pita Nachos at The Dish, and another was Falafel Waffles and hummus at Grit.  They both inspired this quick-fix homemade version and I've had it on repeat the past few weeks.  Crispy baked pita chips are drizzled with both hummus and tzatziki, topped with crumbled falafel, a fresh Greek Salsa, and tangy feta cheese.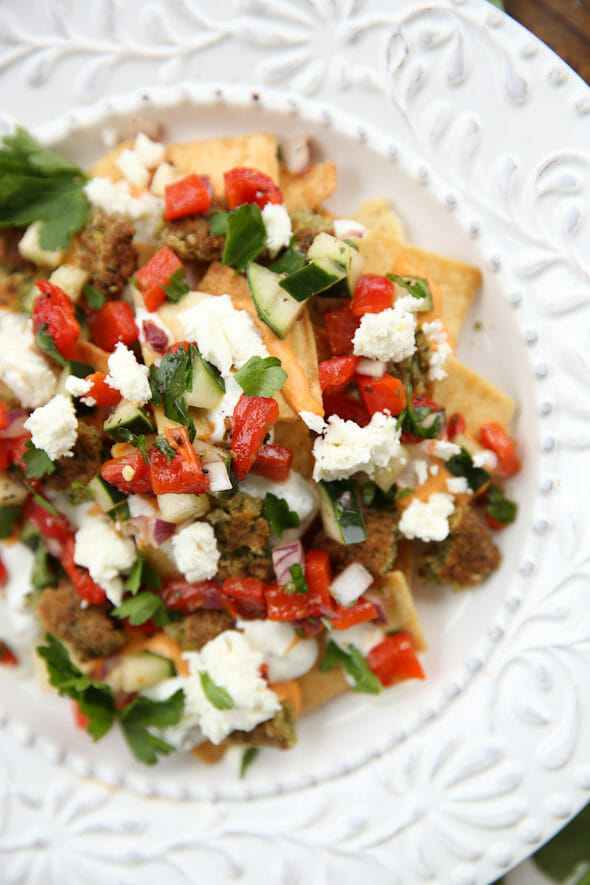 The first thing you'll whip up is what I call Greek Salsa.  I actually am wishing now that I would have maybe made this part its own post because it's a really great condiment on top of grilled chicken or fish, and awesome with pita chips as a twist on chips and salsa.   Maybe one of these days you'll see that recipe pop up here, but for now we're just mixing up a mini-batch to top our plate.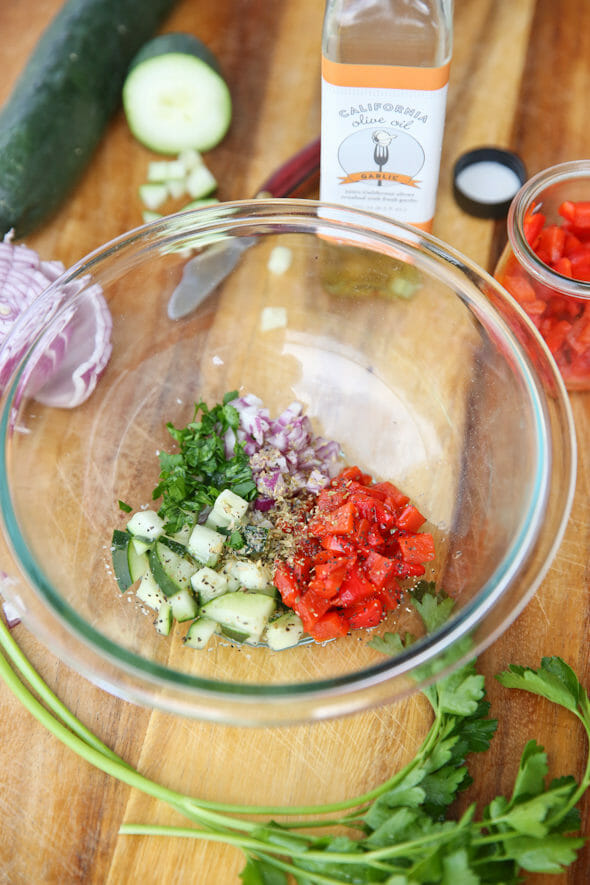 Combine some diced cucumber, roasted red pepper, red onion in a bowl.  We'll season with a little dried oregano, fresh parsley, salt and pepper.  Lastly, drizzle with some olive oil (Garlic Olive Oil if you have any, if not- go grab some!) and a squeeze of fresh lemon juice.  Set that aside to marinade for a minute while you prep the rest.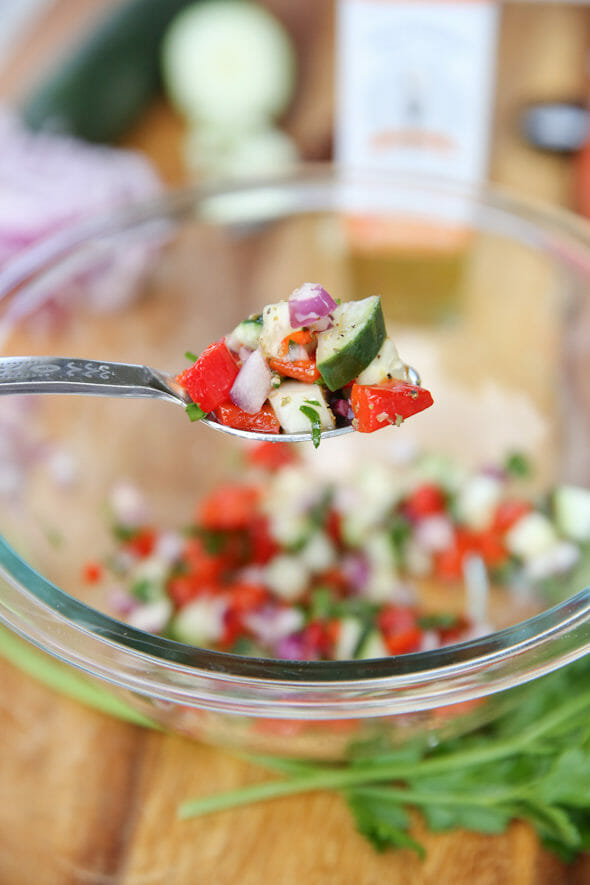 You can make this recipe as homemade or semi-homemade as you like.  I grabbed an easy container of ready-made hummus and tzatziki in the deli department of the grocery store, but you could also make your own if you like.  My go-to hummus AND homemade pita chip recipe are in our first cook book, and we have this great Roasted Red Pepper Hummus recipe right here.  This White Bean and Artichoke Hummus would also be amazing.  You can also whip up your own tzatziki if you like.  I'm going for quick and easy here, so store-bought it is.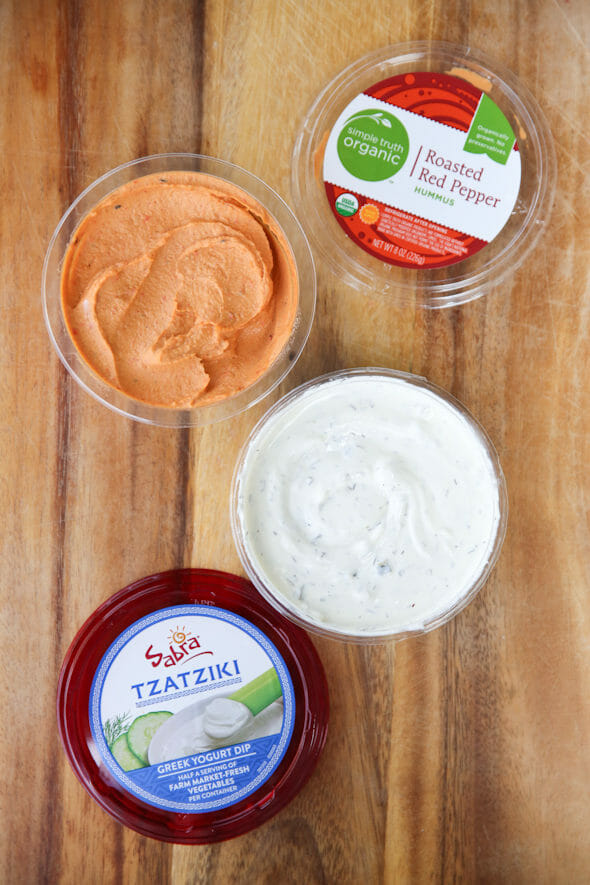 My one tip is that both the hummus and tzatziki tend to be thick, and I want it to drizzle nicely, so I just stir a big spoonful with a little bit of either water (for the hummus) or milk (for the tzatziki) to thin it out just a bit.  I'm drizzling both over some store-bought pita chips.  I grabbed Stacey's brand, the garlic and herb variety.  If you want to make your own pita chips, just slice pita bread into wedges, brush with olive oil and sprinkle with salt, and bake on a cookie sheet at 400 until they're toasted and golden brown.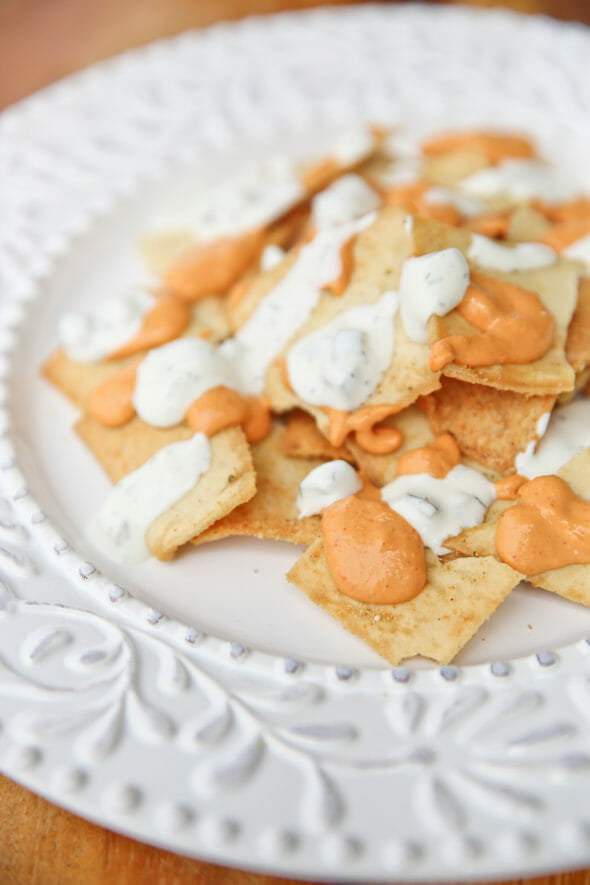 The next step is optional, but if you can find falafel in the frozen food section of your grocery store, grab them!  Falafel are little balls made from chickpeas, parsley, garlic…kind of a vegetarian meatball, but then deep fried so they're crisp on the outside and soft in the middle.  They're awesome, and you might be able to find them pre-made and frozen.  You could also make your own, but that's kind of a whole other project and I'm going for quick and easy, here! Check a whole foods store if your normal grocer doesn't carry them.  I just break them up into chunks and pile them on the pita chips.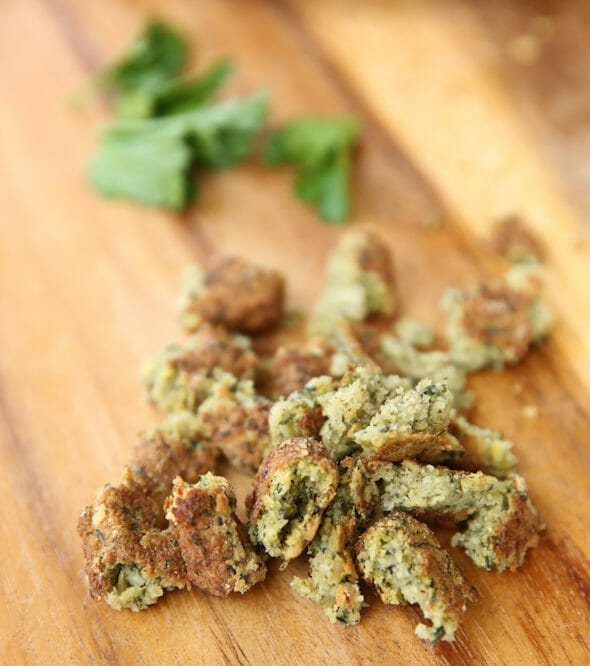 After that, spoon the Greek salsa over the top and then give them a nice sprinkling of feta cheese.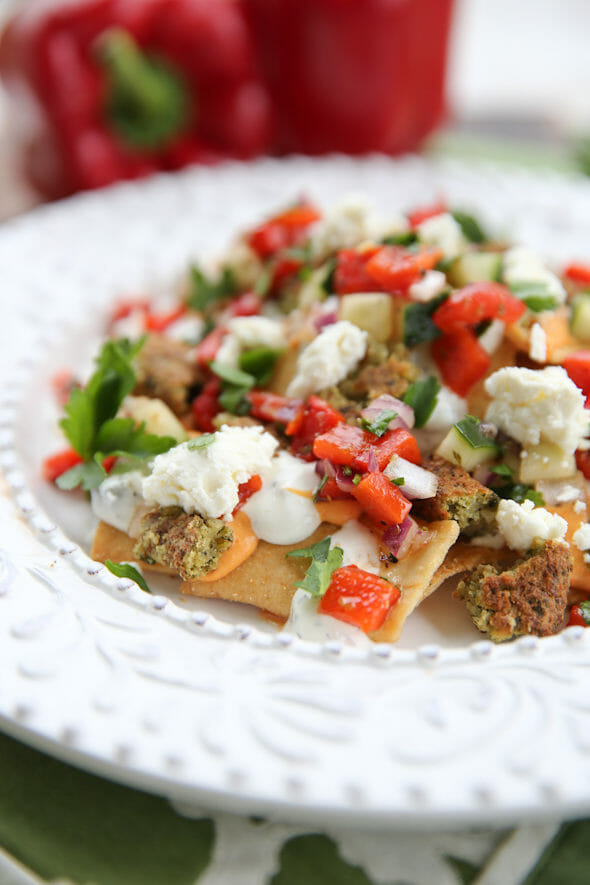 You get soft, crunchy, cold, warm, creamy, tangy, all in one bite.  These are SO good!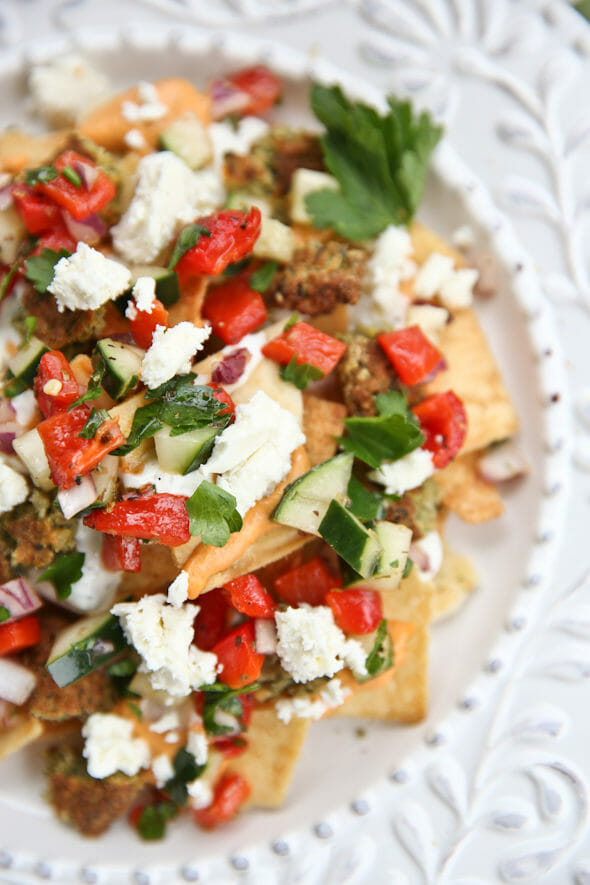 They're great for a party or appetizer, but I also love them for lunch or a quick meatless dinner.  #eatup
Print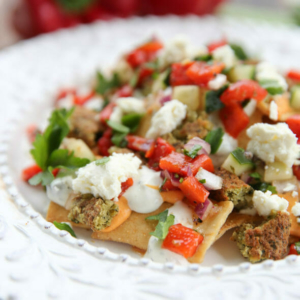 ---
Description
A fresh plate of crisp pita chips, topped with an array of bright Greek-inspired flavors for a fun twist on nachos.
---
Greek Salsa (multiply if making an extra large plate!)

1/4 cup

diced cucumber

1/4 cup

diced roasted red pepper

2 tablespoons

finely diced red onion

1/4 teaspoon

dry oregano

1/2 teaspoon

lemon juice

1/2 teaspoon

garlic olive oil

2 teaspoons

chopped parsley
salt and pepper to taste
Other Ingredients
pita Chips (I like Stacey's Brand)
hummus
tzatziki
feta cheese
chopped parsley
optional: (if you can find them) prepared falafel from the fridge or freezer section of the grocery store, prepared to package instructions and then broken into chunks
other optional ingredients: olives, pepperoncinis
---
Instructions
Combine all ingredients for Greek Salsa in a bowl and stir to combine. Set aside.
Mix a big spoonful of hummus with small amount of water to thin it out just a bit. Do the same thing with the tzatziki with milk. Fill a large dinner plate with pita chips and drizzle hummus and tzatziki over them.
Sprinkle chopped falafel on pita chips, and then the prepared Greek salsa and feta cheese. Garnish with additional chopped parsley if desired.
---