Let's be honest, for some of you this will be a head-nodding, amen-sister, comical read.  For others, a shocking awakening of self-awareness.  Let's do the world a favor and share this post far and wide to spread the message ever-so-tactfully to those who need it.
I brought this up on our Fit Club Instagram account recently, asking for your biggest pet peeves at the gym, and boy did you all have a lot to say!  With so many people with so many of the same pet peeves, it kind of baffles me that there still so many offenders!  Let's get right to it.  Here are some general rules of gym etiquette, or in other words, things you should do (or avoid doing) so as not to be labeled "that one annoying guy/girl at the gym."  Plus a few funnies to keep the mood light.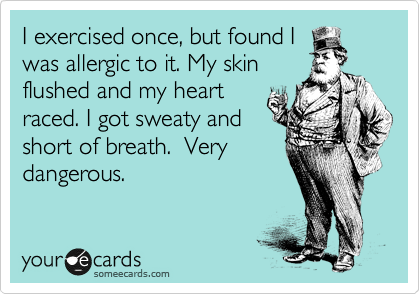 I'd like to make it VERY clear that this is a list compiled directly from our thousands of fans on Instagram.  I'm not just a grumpy hater.  I'm a pretty tolerant person in general, but when when it comes to gyms, it seems like most people have the same gripes, so let's laugh about it together!
1.  Do: Clean up your stuff.  
This is probably my #1 personal pet peeve.  And sorry boys, but you are usually the worst offenders.  I have a very limited time to spend at the gym, and the last thing I want to be doing is wasting my time racking all of YOUR weights so I can use the space.  I sometimes wonder if these people grew up with their Mom always picking up after them or if their spouse does it currently because seriously, put your stuff away.  I'm not your Mom.  If you get something out, put it away when you're your done.  Stack up plates on a machine?  Put them back on the rack before you walk away.
2.  Do: Wipe down your Machine.
But I was only on it for 10 minutes!  But I didn't break a sweat!  Listen very carefully:  just wipe it down anyway.  Every time.  Leaving a machine sweaty is definitely gross, but even if you don't feel you left your mark, germs are everywhere.  Who knows what you've got on your fingers that pushed those buttons.  Just keep everything sanitized and we all win.  PS: wiping down the machine with the same towel you used to wipe your sweaty face doesn't count.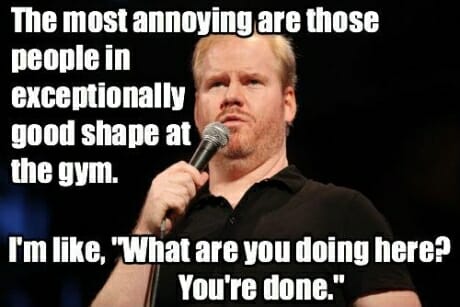 3.  Don't: Wear cologne or perfume.
Heat, sweat, and increased heart rates accentuate all the smells.  Please for the love- skip the perfume and cologne.  You don't need it.  You need deodorant, period.  You think you're making yourself more attractive at the gym with the smelly stuff, but really it's probably making the people around you gag.
4.  Don't: Talk on the phone while working out.
This is what started this whole conversation on Instagram.  The girl on the treadmill next to me was yapping on the phone SO loud for a full 30 minutes.  Keep in mind the entire gym can hear your conversation when you're doing this.  It's distracting (and mildly awkward) so maybe have a text convo, or tell them you'll call back after your workout.  Because let's be honest, if you are carrying on a conversation, you're probably not working out very hard.
5.  Don't: Be an equipment hog.
What's an equipment hog?  Do you sit on the same piece of equipment waiting 5 minutes playing on your phone between sets?  Do you workout with friends and rotate through the same few pieces of equipment for a full 30-60 minutes so no one else can come near it?  Do you grab weights and carry them to another part of the gym and then keep them there for your whole workout?  Do you plan your entire workout around one piece of equipment?  Do you lean on a machine while you visit with people so no one else can use it?  If you answered yes to any of these questions then congratulations!  You're an equipment hog!   Now stop.
6.  Don't: Offer unsolicited advice.
Unless someone asks you for advice, or is in serious danger of injury, keep your helpful commentary to yourself.  Most people, even if they really do have bad form, will be super annoyed by your telling them.
7.  Do: Leave a buffer zone.
Guys, it's just like the urinals.  Or so I've heard.  If there is an entire row of treadmills open and one person is running, don't hop on the one right next to them.  Respect the buffer.
8.  Do: Use headphones
It surprises me that people do this, but they do.  Don't play music from your phone speaker. If you want to listen to something, for pete's sake, bring some headphones.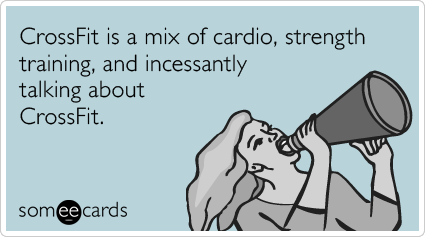 9.  Do: Use your inside voice
I can't even tell you the kind of personal information I learn about random people at the gym because they practically yell it.   Remember that people go to the gym to focus and maybe even relax a bit and both of those are hard to do when you're talking like you own the place.  Socializing is also super fun, heck I love to chat with my friends, and lots of people workout with a partner.  Talking and visiting at the gym is great, just be respectful of the people around you and maybe find an empty corner if you want to have chit-chat hour or get extra rowdy.
10. Don't: Bare it all (or at least be mindful about it.)
Several people mentioned this on the Instagram thread so it's worth a mention here.  Be mindful that just because you're comfortable with yourself in your birthday suit, it doesn't mean other people are.  Obviously locker rooms are for changing and showering, but cover up when you can to be respectful of the people around you.  I will say I still have VERY vivid memories from the shower room of our community swimming pool when I was only 4-5 years old.  That goes to show you that those images are burned into your eyeballs and you can't un-see them!
What are your pet peeves?  Any general etiquette rules we missed??