I'm calling this waffle bread, because people hear waffles, and assume they're just meant only for breakfast, or for eating with a knife and fork with some type of sauce or syrup (which, let's be honest, is never a bad thing). But these savory waffles can be eaten in so many ways; I like to think of them more of a roll or bread. They're awesome as a side dish with your favorite soup or chili (my kids like to dip them in tomato or chicken noodle) or you could even sandwich them with smoked turkey, tomatoes and lettuce for a killer sandwich. Top them with a fried egg and a little side salad for an awesome meal on their own. They're super crispy on the outside, and tender and fluffy on the inside, with bits of salty ham, creamy cheese, and flavorful chives. They're SO good on their own, and the perfect side for an easy meal. Plus they're super fast to whip up, so they can be on the table in a hurry!
Start with some basic dry ingredients: flour, cornstarch, baking soda, baking powder, salt, and a little dry mustard.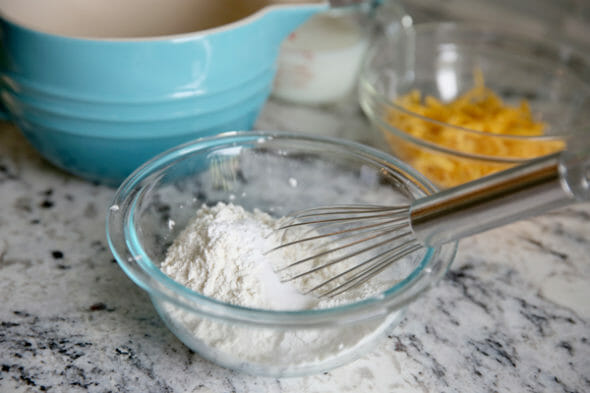 Add in some shredded cheddar cheese (I suggest shredding your own from a block as opposed to using bagged, shredded cheese, which doesn't melt as well).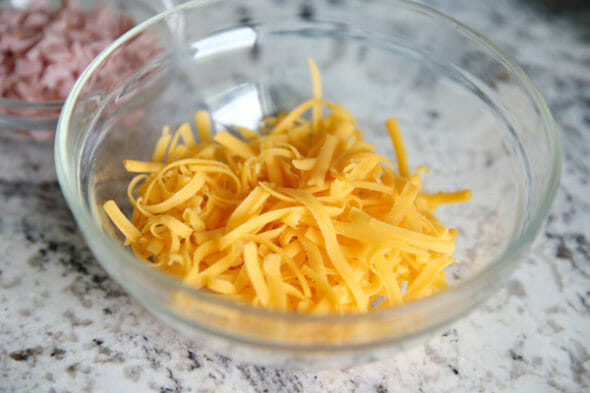 Throw in some diced deli ham for a flavorful, salty bite (I've used bacon before, and it's amazing),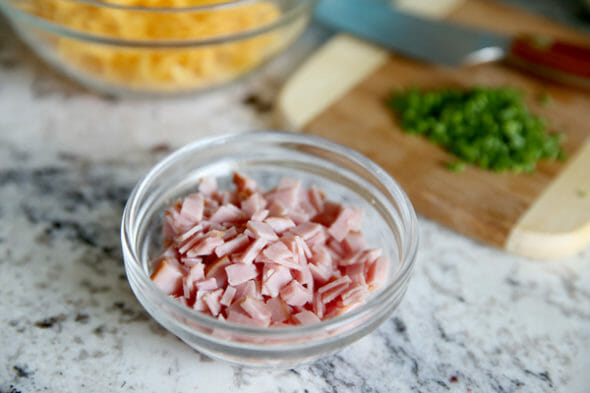 and a handful of chopped chives. (finely sliced green onions would work as well.)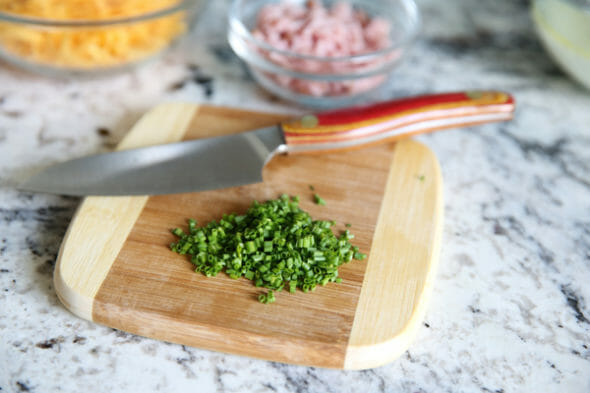 Toss that all together and place in a mixing bowl.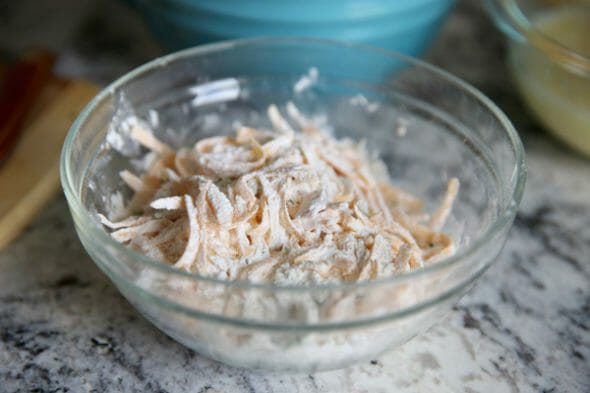 Then use that same bowl to mix up your wet ingredients: buttermilk, egg, and oil.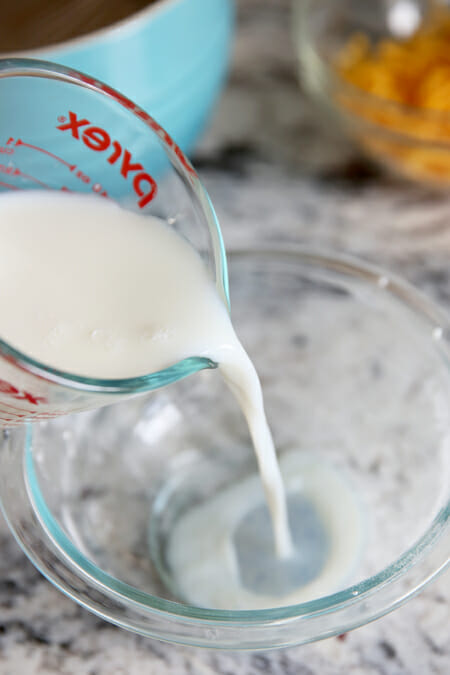 Mix those together and cook them up in a waffle iron until they're golden brown.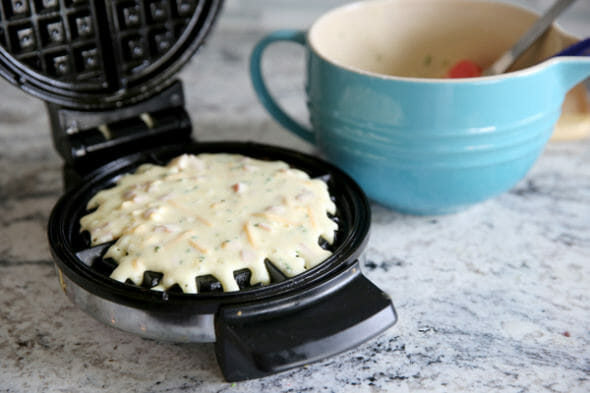 They'll be golden and crisp on the outside and so soft and fluffy on the inside.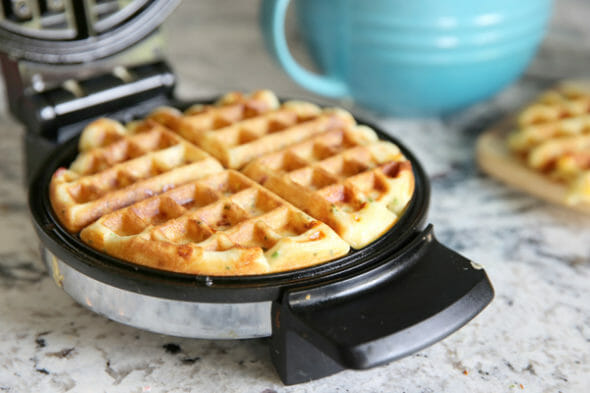 You'll definitely want to heat them hot and fresh, so keep them warm in foil, or in a hot oven while you cook all the batter.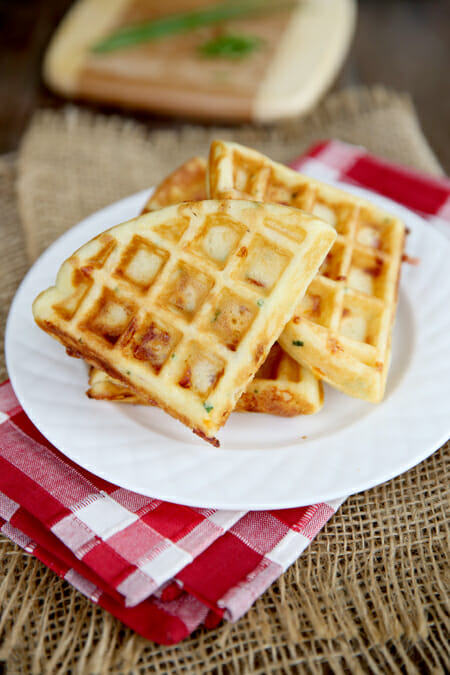 When you break them open, there will be strands of gooey cheese melting throughout, little bits of the savory ham, and I love, love chives.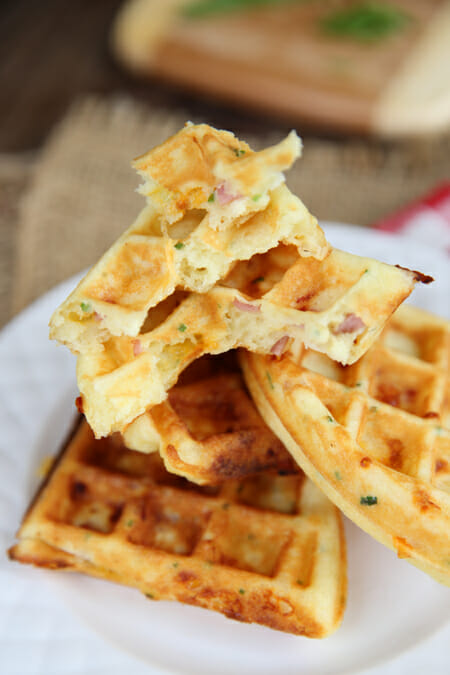 One of my favorite ways to eat these is with a simple fried egg on top.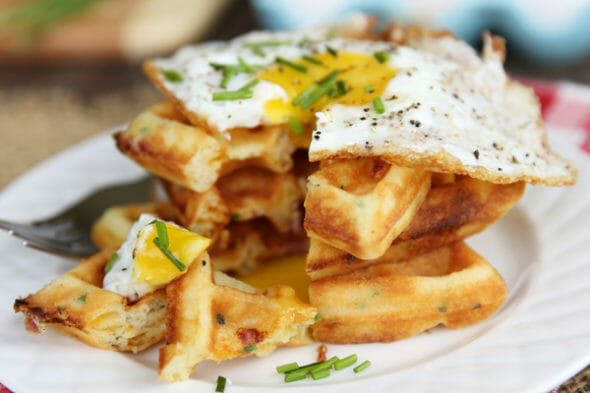 Cook it over-easy or sunny-side-up and the yolk kind of acts like a sauce. It's awesome.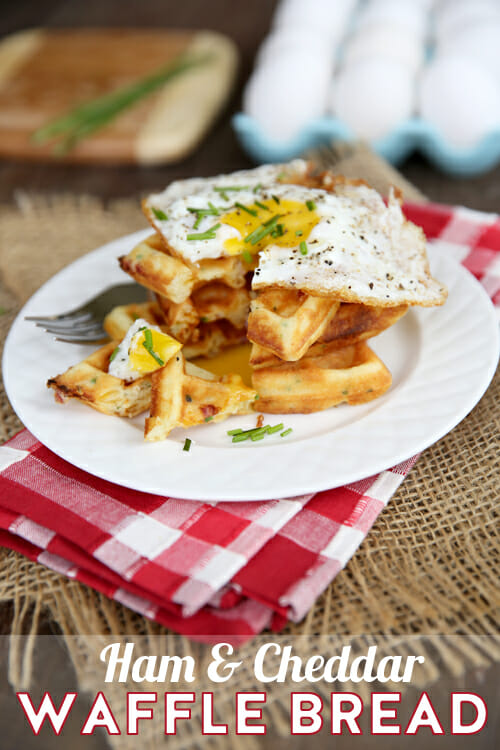 Ham and Cheddar Waffle Bread
Recipe by Our Best Bites
Ingredients
3/4 cup all-purpose flour
1/4 cup cornstarch
1/2 teaspoon baking powder
1/4 teaspoon baking soda
1/4 teaspoon table salt
1/2 teaspoon dry mustard*
3/4 cup shredded cheddar cheese
1/2 cup chopped deli ham
1 heaping tablespoon chopped chives, or thinly sliced green onions
1 cup buttermilk**
1/3 cup vegetable oil
1 egg
*If you don't have dry mustard, sub 1/2 tablespoon regular yellow mustard and add to wet ingredients instead of dry.
**If you don't have buttermilk, place 1 tablespoon white vinegar in a measuring cup and fill with milk until it reaches 1 cup. Let sit for a few minutes before using.
Instructions
Whisk together flour, corn starch, baking powder, baking soda, salt, and dry mustard. Add cheese, ham, and chives and lightly toss. In a separate bowl whisk buttermilk, oil, and egg. Add wet ingredients to dry and stir until everything is incorporated. Don't over-mix. If you have time, allow to sit for 20-30 minutes before cooking, the waffles will be a bit fluffier. If you're in a time crunch, go ahead and cook them.
Heat a waffle iron. Ladle batter into machine and cook according to your waffle iron's instructions until just golden. All waffle irons will vary. In my basic, 8″ round, I use a full 1/2 cup batter and it yields 3-3 1/2 full rounds, or 12-14 wedges.
Serve hot and fresh. To reheat, pop in toaster until heated through.