My darling sweet children have been less than darling and sweet lately at dinner time.  I can't complain because honestly they're pretty good eaters most of the time and are great about trying new things.  But the past few weeks it's been one grumpy face after another and out of the blue, my perfect I'll-eat-anything four year old turned into "I like everything about this chicken except for the crunchy brown stuff and gooey white stuff" kid (Oh, you mean the freaking breading and melted cheese?  That I put on to make it like a giant chicken nugget but only better so you would actually eat it?  So basically you like the plain chicken inside.  The same plain chicken you complained about last night.  Hmph.)  Since they're on a picky kick, I decided to let them each pick a night and decide what we'd have for dinner.  That night they'd be the special helper and help make the food and set the table and serve everyone else.  It worked like a charm for kid #1, my 7 year old, who picked tacos (remind me to tell you about the time that I realized my 7 year old has never eaten a taco before.) and everyone licked their plates clean and asked for more.  Kid #2, the 4 year old pulled a fast one and chose waffles.  Of course he'd pick a food that's basically dessert.  Waffle night was scheduled for this weekend, but then this happened this morning: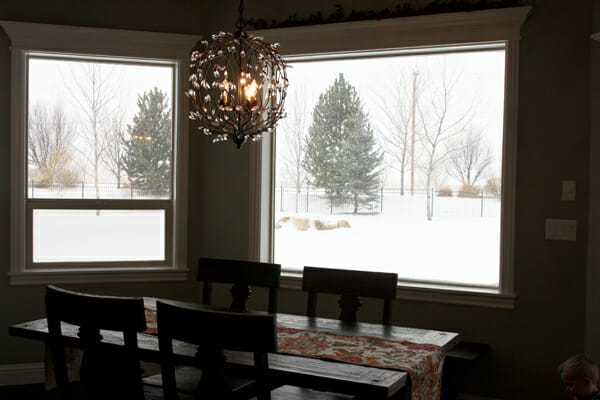 Those are my kitchen windows, and what you see is a sudden winter storm that resulted in school cancellation.  A snow day meant that suddenly my quiet day at home to work on today's chicken dinner post was quickly interrupted by shouts of "NO SCHOOL!!"  "I'm hungry!"  "When is it gonna be waffle day?!"  I couldn't argue.  Seemed like a perfectly good waffle day to me.  But little do they know that their favorite waffles are actually nutrient-packed-super-waffles.  Mom win.
I know "whole grain" might turn some of you off, but trust me, I'm very picky when it comes to healthy versions of traditionally non-healthy foods and these waffles are truly crisp on the outside and light and fluffy on the inside.  So keep reading and make sure you get all the way to the bottom half of this long post because I have some really fun stuff down there!  It's like a choose-your-own-adventure book, but for waffles.
Now.  It's not often I recommend baking with all whole wheat flour.  There are certainly recipes that work well that way, but most of the time in general baking both the texture and taste are best when only part of the flour in a recipe is subbed out for whole wheat.  These waffles however, are 100% whole wheat, and that's the way I like them.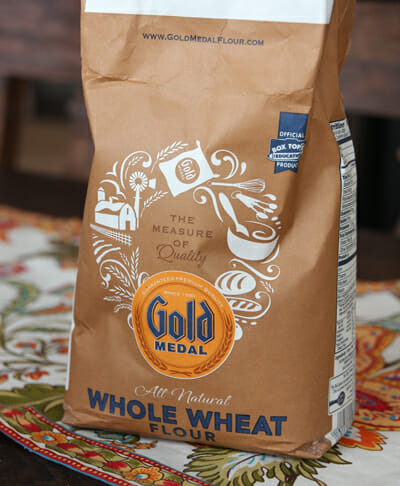 When it comes to healthy grains, the sky is the limit.  Lots of recipes will call for 12 different kinds and I wanted my waffles to be simple.  I also didn't want people to have to go buy a million bags of things to make a quick breakfast.  I'm not grain-crazy, but 2 things I do keep in my freezer and use fairly regularly are wheat germ and flaxseed meal, so that's what's going in here to boost up our nutritional content.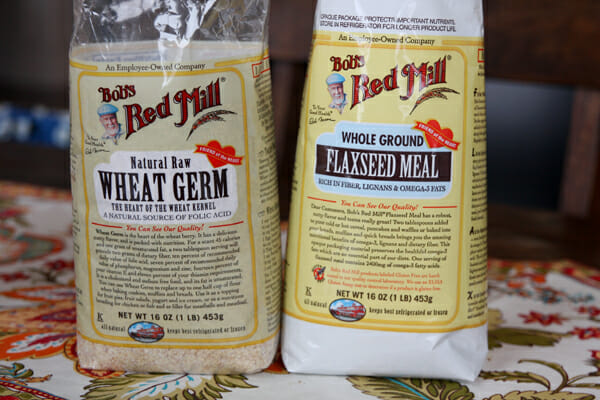 Now, let me be honest.  When I'm looking at recipes I often tune out the moment I start seeing words like "wheat germ" and all sorts of other weird things I don't have and don't want to go buy for $5 a bag just to use the tablespoon a recipe calls for.  I also feel like there are limits in how far I'll go to make something healthier and it has to be balanced against the satisfaction in eating said thing.  (As in, if making it "healthy" also makes it taste gross, I'm not going to make it healthy.)  So here's what I want to say before people like me tune out.
1.  You can make these plain ol' whole wheat waffles without the flaxseed and wheat germ so don't sweat if you don't have any or don't want to buy it.
2.  Both wheat germ and flaxseed meal are pretty easy to find in a normal grocery store so you don't have to go hunting around in weird places for it and spend a fortune.  If you've never bought them before, ask a store employee right when you go in so you don't have to go on a search.
3.  Although we're just using a little bit, these will keep in the freezer for a long time and there are lots of ways to use them (I'll list some below.)
4.  These taste good.  Really good.
This is Wheat Germ: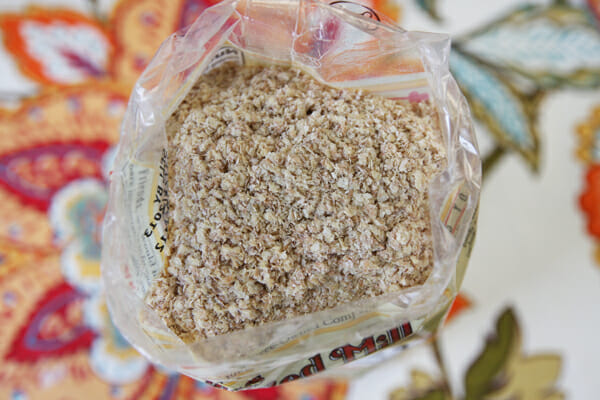 Wheat germ is the heart of the wheat berry.  It's a great source of dietary fiber,  folic acid, and Vitamin E.  It kind of has the consistency of a roughly chopped oatmeal and has a great nutty flavor.  You can use it to replace some of the flour in baked goods, and it works well in many of the ways oats do, like as a filler for meatballs or meatloaf, breading for chicken and fish, or I like to toast it and sprinkle it on yogurt and fruit.  It's also great mixed into smoothies (try it in Kate's Power Smoothie)
This one is flaxseed meal: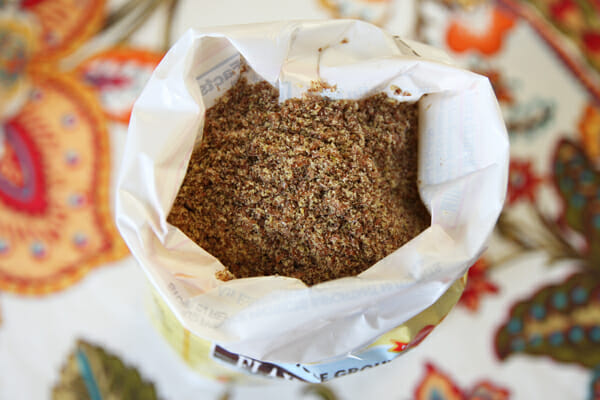 Flaxseed is known for it's fiber.  I don't think there are many other grains with as high of a fiber content as it has.  (4 grams in 2 tablespoons) It's also incredibly high in natural antioxidants called lignans- 75 times higher than any other plant food!  It's also packs a punch with high levels of omega-3s.  This is a power seed, my friends!  The seeds themselves are incredibly tiny and hard, so I love flaxseed meal because it's ground up into a fine crumb and works great mixed into things- like waffles.  Interestingly enough, when mixed with water, it functions as a great substitute for eggs.  I toss this one in smoothies as well.
So, now that we've got the healthy stuff out of the way, let's mix these up.  So easy.  Flour, wheat germ, flaxseed meal, baking soda, sugar and salt go into a bowl (doesn't that sound like the start of a good joke?)  I often use Splenda in place of sugar as well.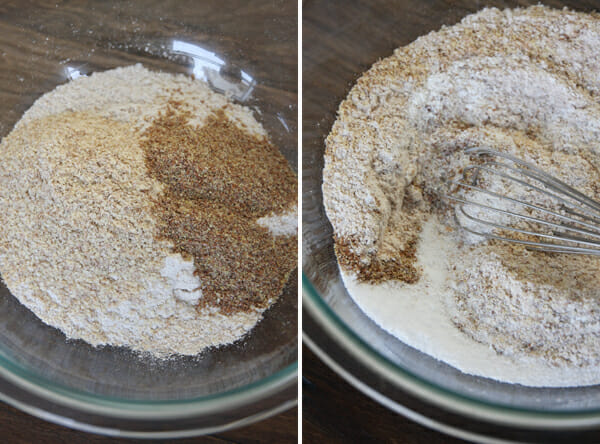 After those are whisked together, mix up the wet ingredients.  And egg, some vanilla, milk, and a little canola oil.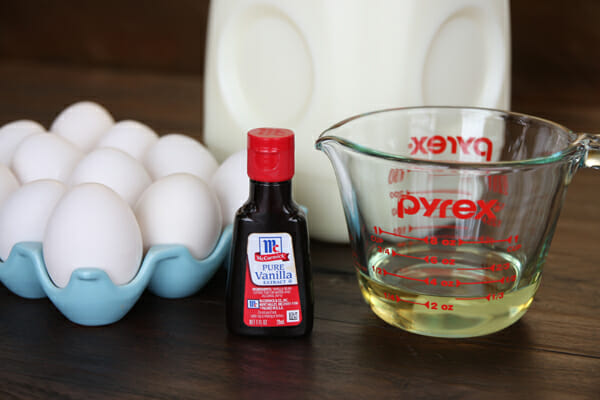 Mix the wet and the dry together.  Pretty straight forward.  Just don't overmix!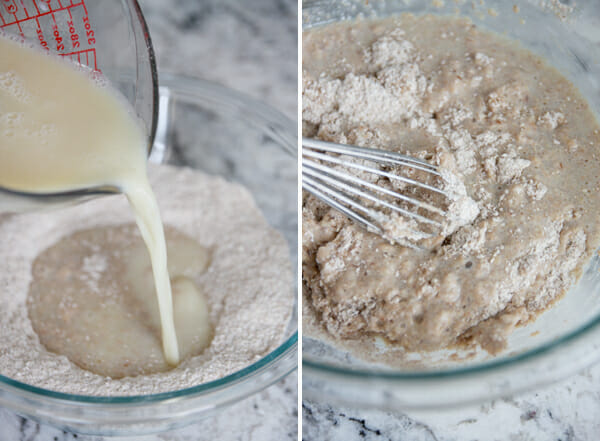 Cook them in a waffle iron until they're golden brown on the outside.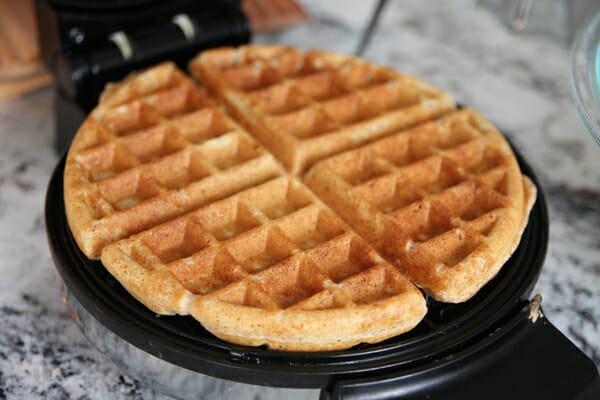 They're nice and crisp on the outside, but soft and sweet in the middle.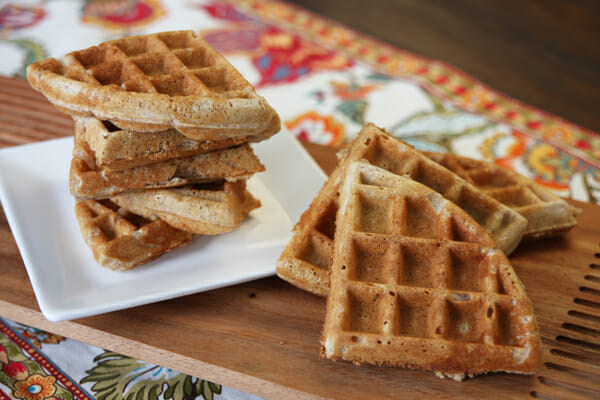 The whole grains definitely give them a nutty flavor and a nice chew, but they are still tender and fluffy at the same time.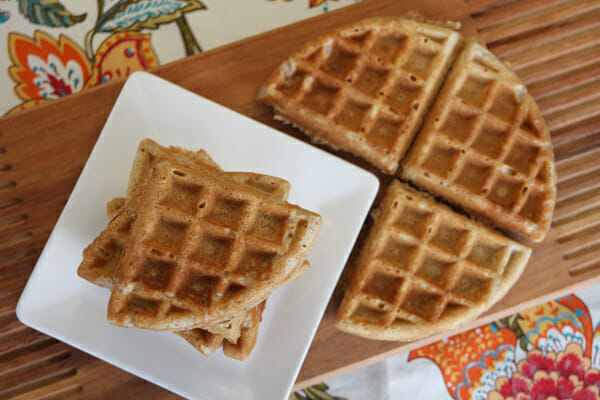 Now for the fun part.  Toppings!  I'm going to give you some options of different ways I like to eat these.  This is a great example of how you can still eat really great food while counting calories or simply trying to eat fresh and healthy.  Each triangle (1/4 of the circle waffle) is under 100 calories, so stack a couple and add on some yumminess!
Honey-Berries with Yogurt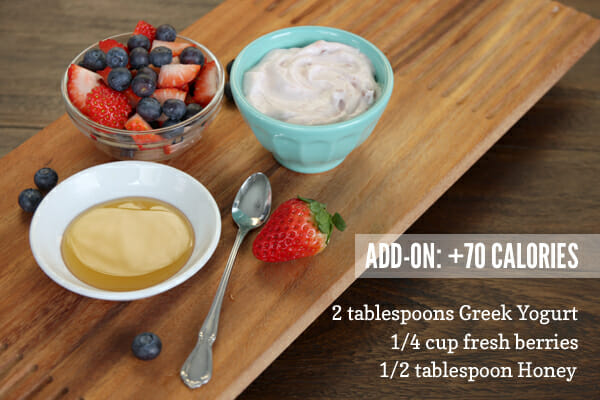 Berries and honey is a classic combination.  In the winter months, when fresh berries are expensive (and not always tasty) I use frozen berries.  Mixed with a little no-calorie sweetener or a spoonful of jam, they turn into a great syrup.  A dollop of fruit-flavored greek yogurt adds a little protein.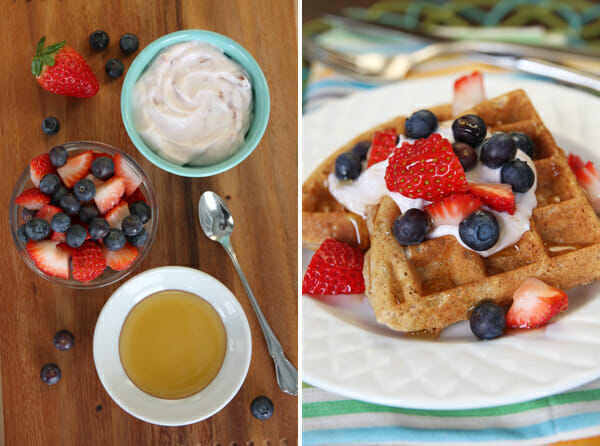 Apple-Cinnamon Nut Crunch with Cream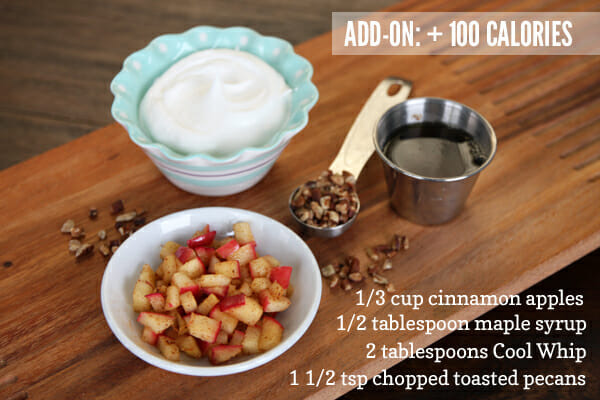 This one tastes like a dessert waffle.  For the "Cinnamon Apples" I just toss 1/3 cups diced apple in a little saute pan with 1/2 teaspoon brown sugar, a dash of cinnamon, and a spritz of cooking spray.  Just stir them around and let them cook for 2-3 minutes, just when they soften a little, and then pop them on the waffle.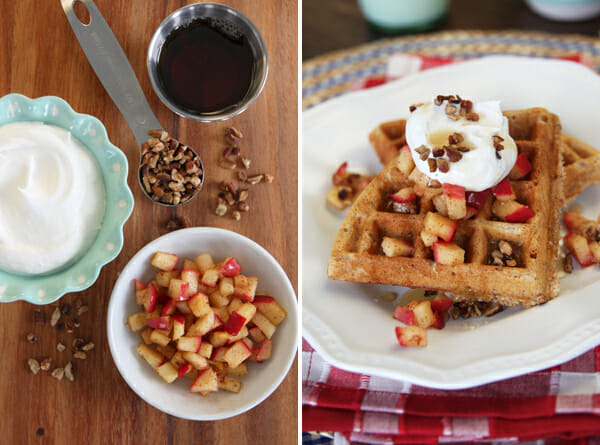 Sweet Drizzled Peanut Butter-Banana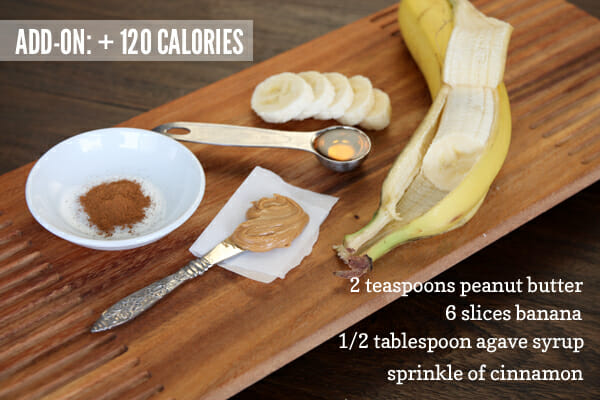 When I was a kid, pancakes and waffles on the weekends were drenched in butter, syrup, and whatever else we wanted, but if we were eating them on a school morning (and I'm talking frozen leggo-my-eggos here) it always, always had peanut butter and bananas on it.  I've continued the same habit with my own kids.  I feel like the PB adds a little protein and sticks to their tummies a bit longer and the banana gives them some energy.  This is also my go-to pre-work out snack (only I have it on a whole grain english muffin).  If you aren't used to using agave syrup, it's one of my most favorite things.  Calorie-wise, it's similar to honey, but it has a very low glycemic index.  And I honestly love the flavor; it tastes like caramelized sugar.  I like the brands they sell at Costco so I always stock up there.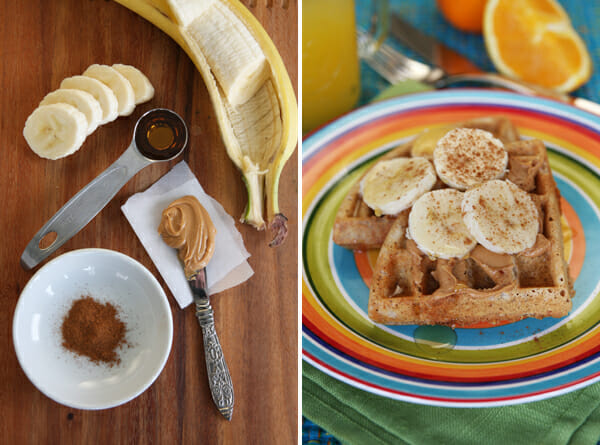 The great thing about these is you can whip up a batch and either freeze or refrigerate them.  During the week, just pop them in the toaster to heat up (and re-crisp) a quick breakfast.
Print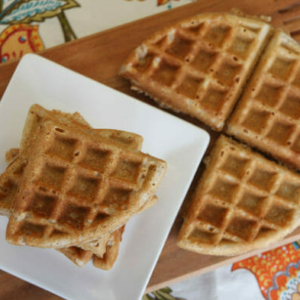 Healthy Whole Grain Waffles
---
Description
These waffles are truly delicious, and packed with nutrition, too!
---
1 1/2 cups

100% whole wheat flour

1/4 cup

wheat germ*

2 tablespoons

ground flaxseed meal*

2 teaspoons

baking powder

2 tablespoons

sugar or no-calorie sweetener, like Splenda

1/2 teaspoon

salt

1 1/2 cups

nonfat milk

1/3 cup

canola oil

1

egg

1 teaspoon

vanilla
---
Instructions
Whisk together flour, wheat germ, flaxseed meal, baking powder, sugar, and salt. In a separate bowl mix together milk, oil, egg, vanilla, and oil and whisk until combined. Add wet ingredients to dry and whisk until just mixed together, (it's okay to have some lumps) don't over-mix.
Ladle into an electric waffle iron and cook according to your waffle-maker's instructions until golden brown. (I use a heaping 1/2 cup batter for my 8″ round waffle iron). Serve warm with desired toppings.
---
Notes
Notes
If you choose to omit wheat germ and flaxseed meal, add an additional 4 tablespoons flour (whole wheat or all purpose) instead.
Freezer Instructions
Lay waffles in a single layer on a baking dish in the freezer for a few hours. When frozen, place in a ziplock bag or freezer container. Reheat in toaster. Can also keep cooled waffles in fridge and reheat in toaster.
Nutritional Information
(Calculated using Splenda)
Serving Size: 1/2 round, 2 triangle wedges
Calories: 193, Protein: 7, Carbs: 20, Fat: 9, Fiber: 4
---
If you're in the mood for breakfast now, check out my Whole Wheat Buttermilk Pancake recipe.  All of these toppings work great on that too!
Here's a fun little graphic for you Pinners out there…pin away!

Save