As part of our partnership with American Heritage Chocolate, we've been able to explore some amazing locations in America with great historic significance.  I didn't know much about St. Augustine before my first visit, and what I discovered was a city rich in history, culture, and beauty. This is a place I would love to return to some day, with my family- or even a girls trip!  Have any of you been there?  They call it the "First Coast" because it is literally the first city in America.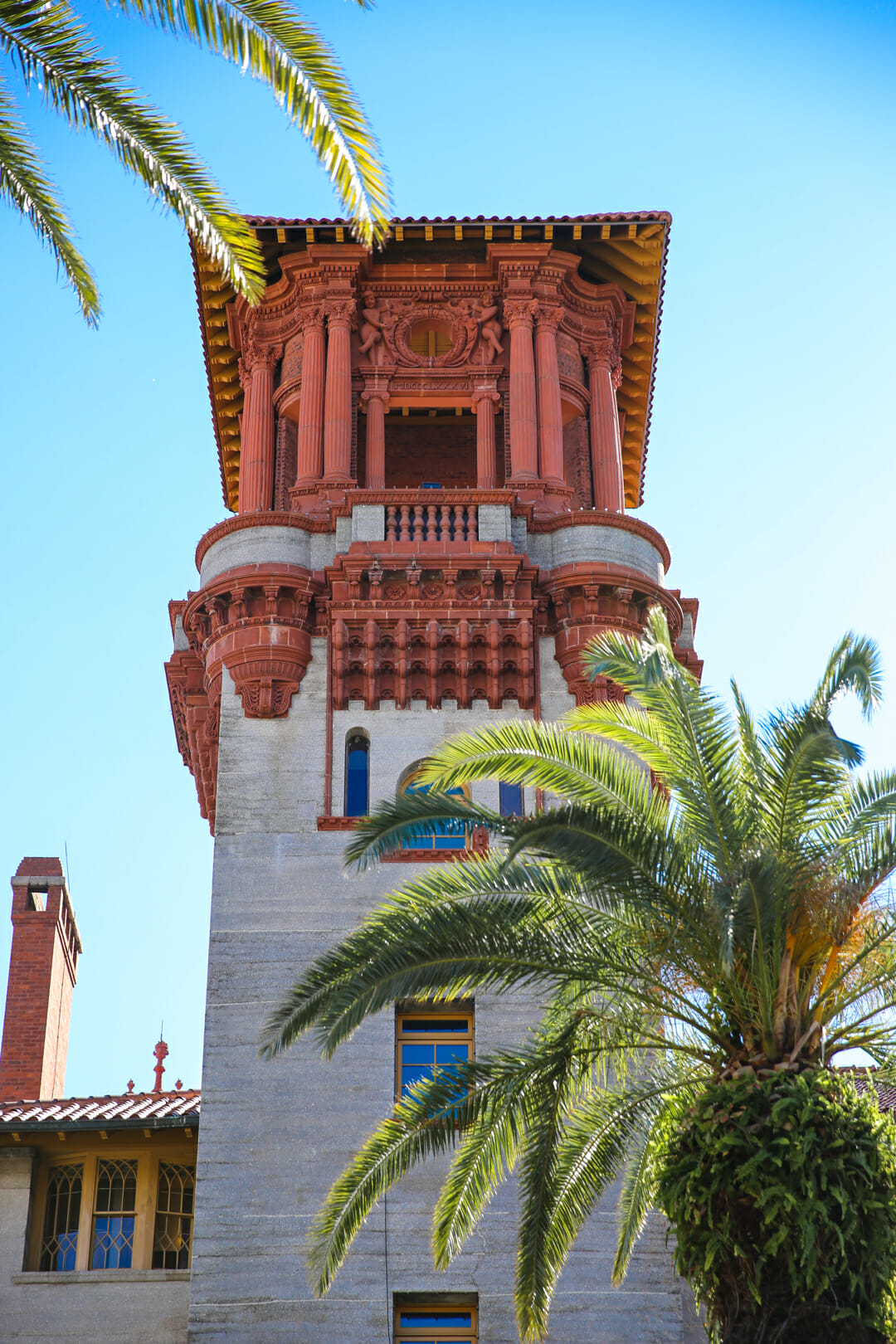 Founded on September 8, 1565, by Spanish admiral Pedro Menéndez de Avilés, St. Augustine is the oldest continuously occupied European settlement in America, which is pretty amazing.  The Spanish influence is everywhere, from amazing restaurants to the stunning architecture. Check out Flagler College– how stunning is that?!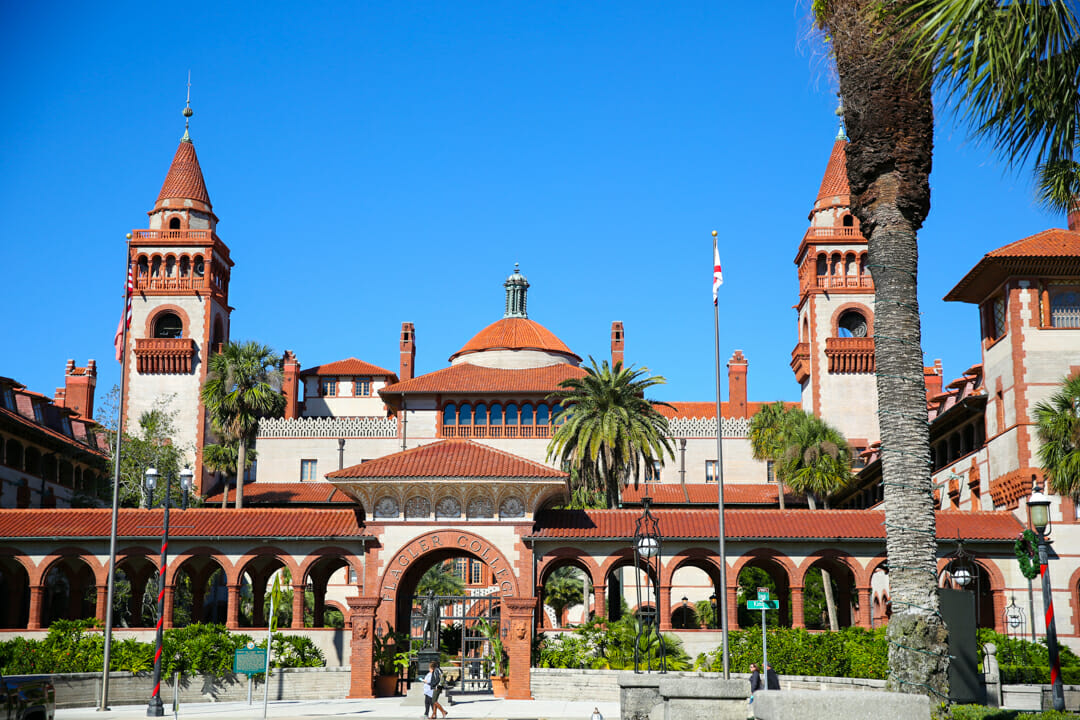 St. Augustine has the most charming down town streets full of old, historic landmarks mixed with new, hip additions, like Hyppo, which lots of our readers told us we would love- and we did!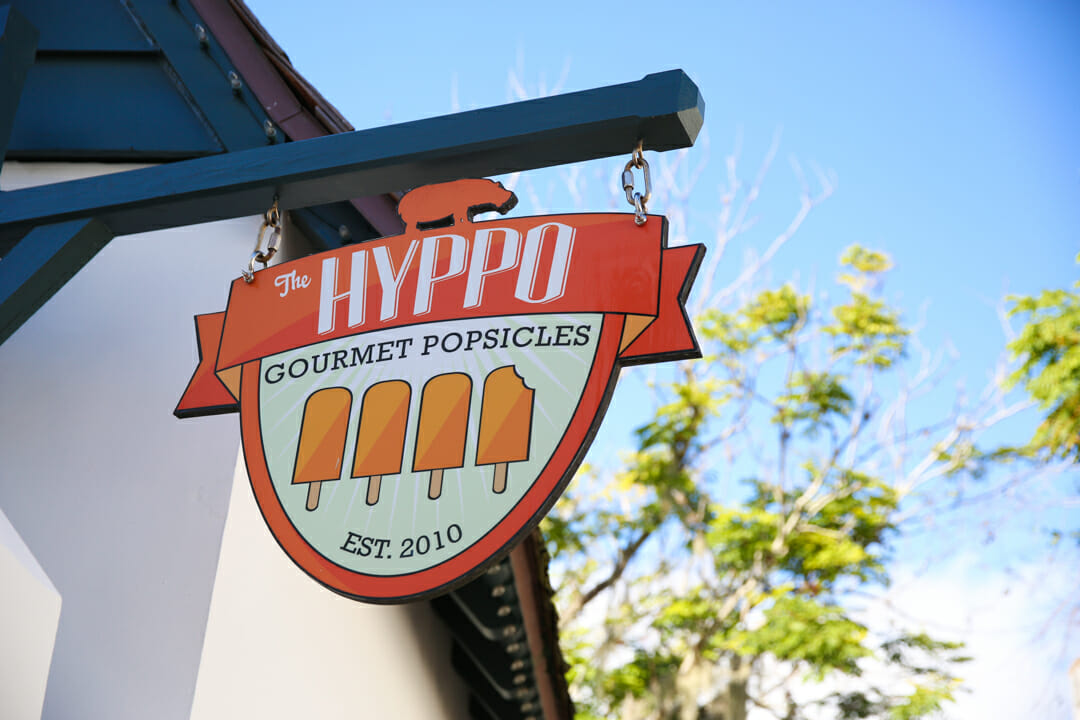 We also loved eating at the St. Augustine's famed Columbia Restaurant, which sits in the heart of the historic district and serves up Spanish/Cuban fare (tapas for days!) . We especially loved the beef empanadas, lobster flat bread, and black bean cakes.
As a horticulturist, I always take notice of the different plant species I see in other parts of the world and this live oak covered in resurrection ferns stopped me dead in my tracks.  It's HUGE.  It's covered in twinkly lights and lanterns and arching over picnic tables where they play live music and it's simply magical.  Speaking of music, it was everywhere in St. Augustine!  It seems to be a mecca for local talent as we passed by fantastic live music just about every restaurant we passed.
I loved all of the charming houses tucked away in between bed and breakfasts and little shops.  The entire place kind of looks like a movie set it's so charming!
One of our favorite parts of this trip was spending the day in the Colonial Quarter.
This dashing man is John Stavely and he and his wife Cindy were the most gracious hosts.  John gives tours in the Colonial Quarter and knows more stories and facts about St. Augustine history than possibly anyone else!  He's a fantastic story teller and helped us dive into the history of this beautiful city.
In a city as old as St. Augustine, I notice every little detail, and can't help but wonder if it's as old as the city itself.  What stories would these old doors and buildings have to tell?
We climbed a watch tower looking over the city and got the lay of the land.
And in the Colonial Quarter they have tons of activities and tours where you can learn more about the history of St. Augustine and the people who lived there.
One of my favorite details were the walls. If you look closely you'll see they're built with a mix of concrete and seashells.
My boys would have LOVED this demonstration with old authentic weapons.
And of course we enjoyed a chocolate demonstration, showing how chocolate was made in colonial times.  American Heritage Chocolate is sold at historic locations like St. Augustine's Colonial Quarter so it was fun to watch it being made and then sip on a cup of warm melted chocolate drink (because believe it or not, it was chilly in Florida!)
Another stop we loved was the St. Augustine Pirate and Treasure Museum.  Most of what we know about pirates comes from Hollywood movies, but this place was full of actual artifacts and treasures and I found it fascinating!  I actually face-timed my kids inside this place because I knew they would have loved it so much.
The culminating finale of our trip to St. Augustine was their "Nights of Lights" tour.  Every winter this city is COVERED in white twinkly lights.  Over 3 million of them!  Local businesses as well as city buildings participate to literally light up every corner of the city and it was breathtaking!  We took a fantastic trolley tour where they drive you around to see the lights and blast Christmas music, and it was perfect.
After our Night of Lights, John and Cindy took us to Raintree Restaurant for dinner where we both ordered the filet since everyone we met told us it was amazing- and it was!   As was the rest of our meal.  Nothing makes me happier than great food with great company.
I'm so glad we had the opportunity to experience St. Augustine and I loved teaching my kids all about it's significance in our country's history.  I would love to visit more historic US cities and we'd love to hear your suggestions!  Leave a comment if you have a great place we should visit!
And if you'd like to try an amazing recipe inspired by St. Augustine, Click Here!
*This trip was is in partnership with American Heritage Chocolate, a company we love and a chocolate we use!