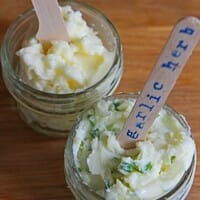 So growing up in Utah, I pretty much thought that July 24 was a national holiday celebrated by all with fireworks and work being cancelled. And then I got married to a non-Utah boy who didn't understand why life shut down every Pioneer Day. Now that I don't live in Utah anymore, July 24, the day Utah celebrates the pioneers reaching Salt Lake City and deciding that was the place, is barely a blip on my radar, but growing up, it was a day full of pioneer bonnets, neighborhood bike parades, and butter-making. We knew how to get down.
Anxious to impart to my children the traditions of my childhood, in preparation for the big day, we decided to make our own butter this year.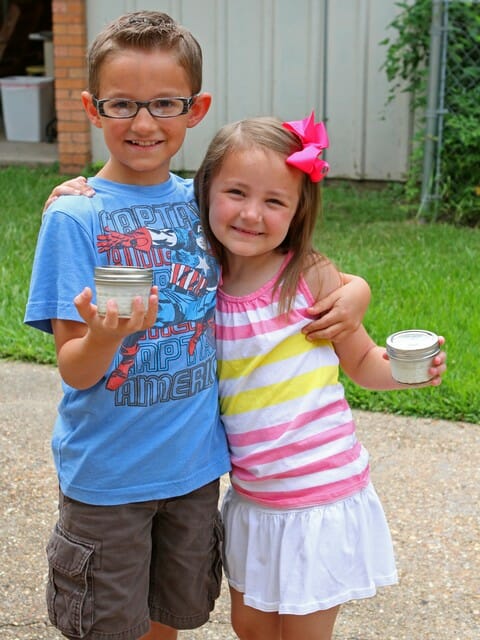 I almost ordered my daughter a pioneer bonnet and my son a wide-rimmed hat (seriously, they were in my Amazon shopping cart), but I could actually see their scowling, sweaty faces under their hatted heads, shaking mason jars full of cream in the Louisiana heat (because it must be done outside) and I decided it was a lot of money to spend on torturing my children for my own amusement, so I refrained.
For the actual butter, you're going to need heavy whipping cream and salt. I like kosher salt, but flaked sea salt would also be delicious. I think regular table salt is a little heavy-handed here and takes away from the sweet, delicate flavor of the butter, and coarser sea salts may not dissolve in the butter, which most people don't really dig.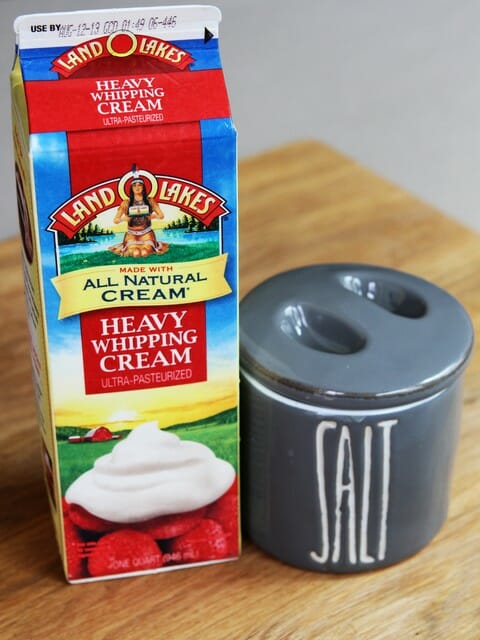 If you want to make a garlic-herb variation, you'll also need a clove of garlic, a tablespoon of chopped fresh chives, and a teaspoon of chopped fresh parsley for every 4 ounces of butter.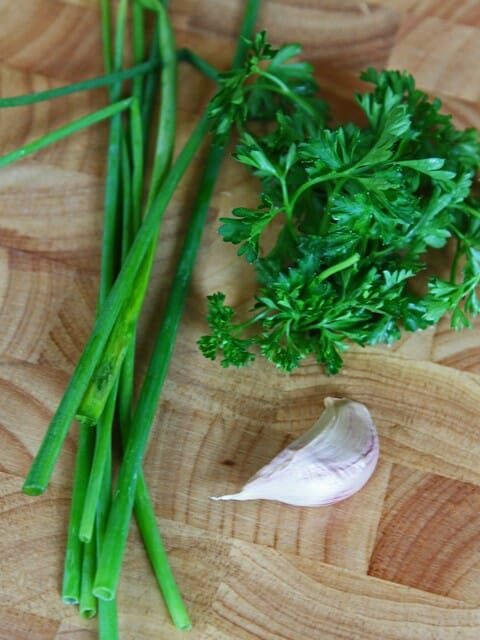 To make the butter by hand, fill a jar that has a lid halfway full with heavy whipping cream.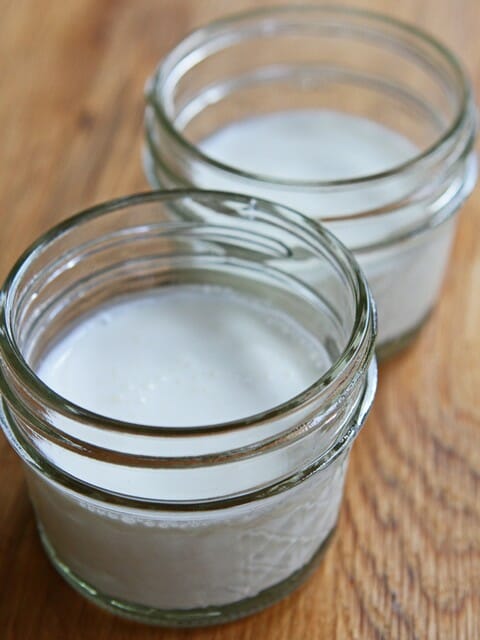 Place the lids on the jar and shake the jars vigorously until solids form (this took us about 10 minutes of consistent shaking). You should have a light yellow lump surrounded by thinner liquid.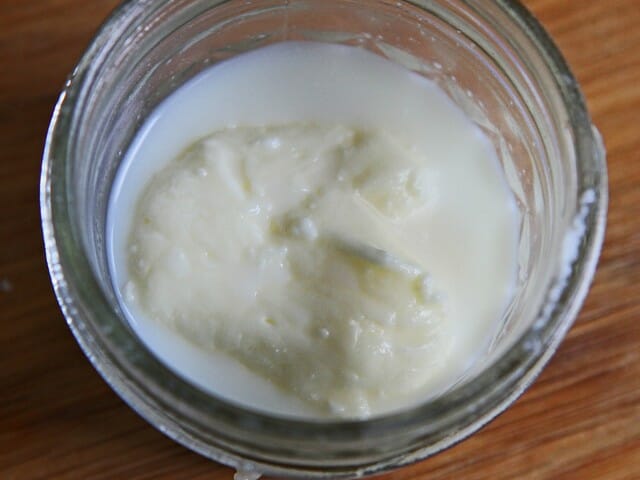 I cheated and poured the rest of my cream into the bowl of my KitchenAid and whipped it until it separated. It looked curdled, but it was actually small bits of butter floating in the "buttermilk." I lined a strainer with a clean dish towel (think super clean, not clean like you just pulled it out of the drier with the cat's favorite blankets…and cheesecloth would have been ideal, but I didn't have any) and poured the contents of the bowl into the strainer. Over your sink. Sometimes I have to stress the obvious.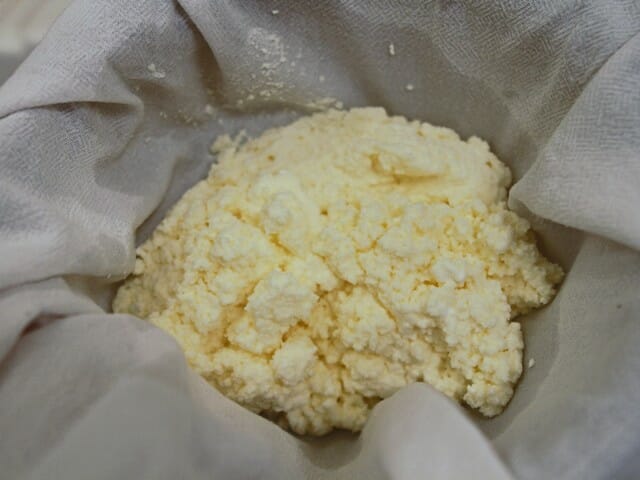 If you're going the handmade route, you'll still need to separate the butter from the buttermilk, so just pour it into the cloth the same way.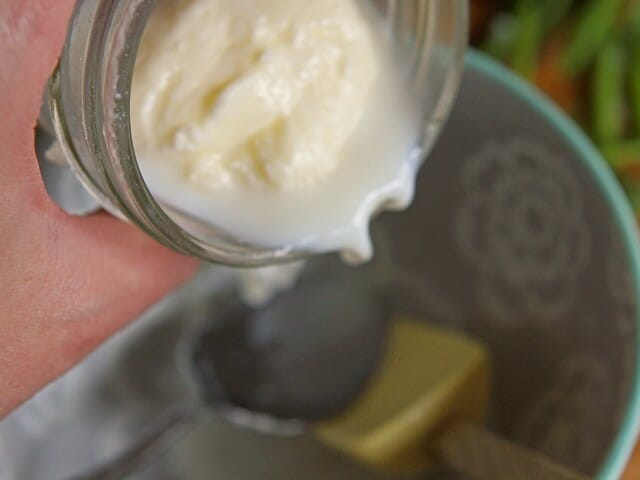 I know it looks scary. I'm not even going to go into all the things it could look like, but don't be scared. It's all going to be okay. We're making butter.
Twist the top of the towel around the butter, making a ball. A butterball.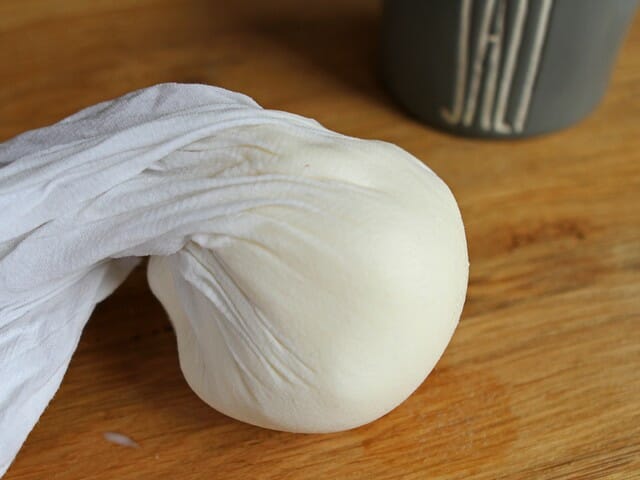 Squeeze as much of the liquid out of the butter as you can. There will bet a lot of liquid. Don't be alarmed–assuming you used at least a pint of cream, you'll still have plenty of butter. Keep squeezing until you're not getting any liquid out, then open up the towel.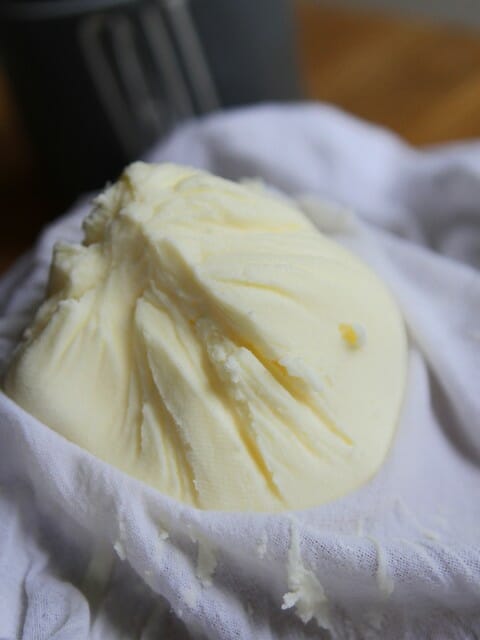 Isn't it gorgeous?! It's so fun to see it all come together.
Transfer the butter to a clean cutting board, but keep the towel close by to soak up any rogue liquid you might encounter as you work with it. Sprinkle it with salt.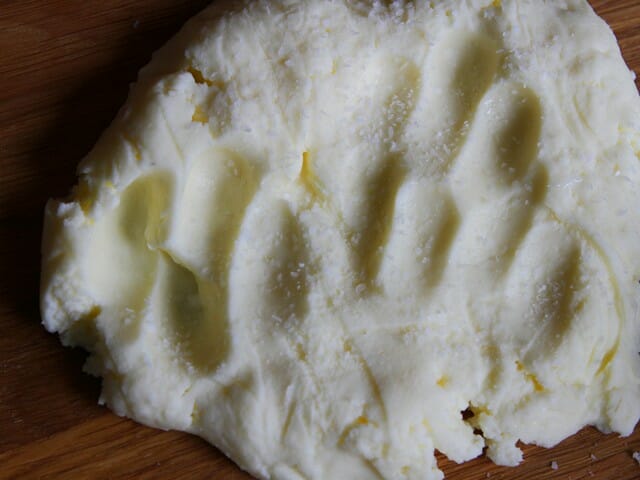 Using your fingers, knead the salt into the butter, using the towel/cheesecloth to soak up any liquid. Just salt it to taste, but keep in mind that it will become saltier over time as the salt dissolves.
If you want to add some herbs, measure out about 1/2 cup of butter and then add 1 tablespoon chopped fresh chives, 1 teaspoon chopped fresh parsley, and a chopped clove of garlic.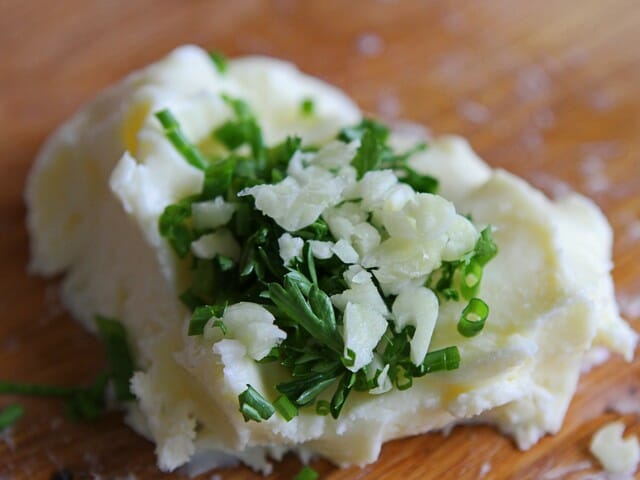 Mix it in with your hands (yes, I know this is getting very hands-on, but really, it's the best way) and then transfer into a container for serving/storage.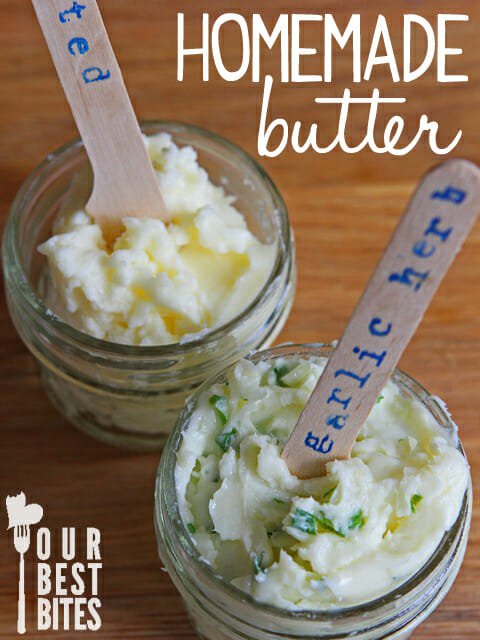 I'm not sure how long this will keep–ours has never made it very long. The more liquid you get out of it, the longer it will last. Just be sure to store it in the refrigerator. As far as baking goes, I'd be a little hesitant to use it here; sure, they did it once upon a time, but today's baking recipes are pretty much always formulated for commercial butter and you never know what variables could exist in homemade butter; we use ours for eating (on stuff…not straight up). 1 pint of cream will yield about 1 cup of butter.
How To: Homemade Butter (Salted & Garlic-Herb)
By Our Best Bites
Ingredients:
Heavy whipping cream (some naysayers say that ultra-pasteurized doesn't work, but that's all I can find and we've done just fine)
Flaked sea salt or Kosher salt
1 clove garlic (optional)
1 teaspoon fresh parsley, minced (optional)
1 tablespoon fresh chives, minced (optional)
Instructions:
Handmade: Fill a jar with a lid about halfway full with cream. Place the lid on the jar and shake until you get a buttery lump. Place the lump in a clean towel and twist the top of the cloth around the butterball, squeezing the excess liquid out. Salt to taste. If desired, add chopped herbs. Refrigerate.
Electric mixer/blender: Pour at least 1 pint of cream into the bowl of a mixer/jar of a blender/mixing bowl (to use a hand-held electric mixer). Blend/mix until the butter and milk separate. Pour into a towel-/cheesecloth-lined strainer. Twist the towel around the top of the butter and squeeze out as much excess liquid as possible. Turn the butter onto a clean cutting board/plate and salt to taste (keep in mind it will get saltier with time), mopping up any excess liquid with the towel or cheesecloth. If desired, add the chopped herbs and refrigerate.
1 pint of cream yields approximately 1 cup butter.