What is Hawaiian Style Shave Ice?
I've learned over the course of almost 10 years to never, ever claim to make anything "authentic" to a certain culture, or the internet will freak out on you.  But let's talk about authentic Shave Ice.  For starters, if you want to sound legit- say "Shave Ice" and not "Shaved Ice!"  The difference between a snow cone and shave ice is that snow cones are finely crushed ice and shave ice is shaved across a sharp blade creating a smooth, melt-in-your mouth velvety snow kind of texture.  It actually absorbs and suspends the flavored syrups instead of them running straight to the bottom as a typical snow cone would.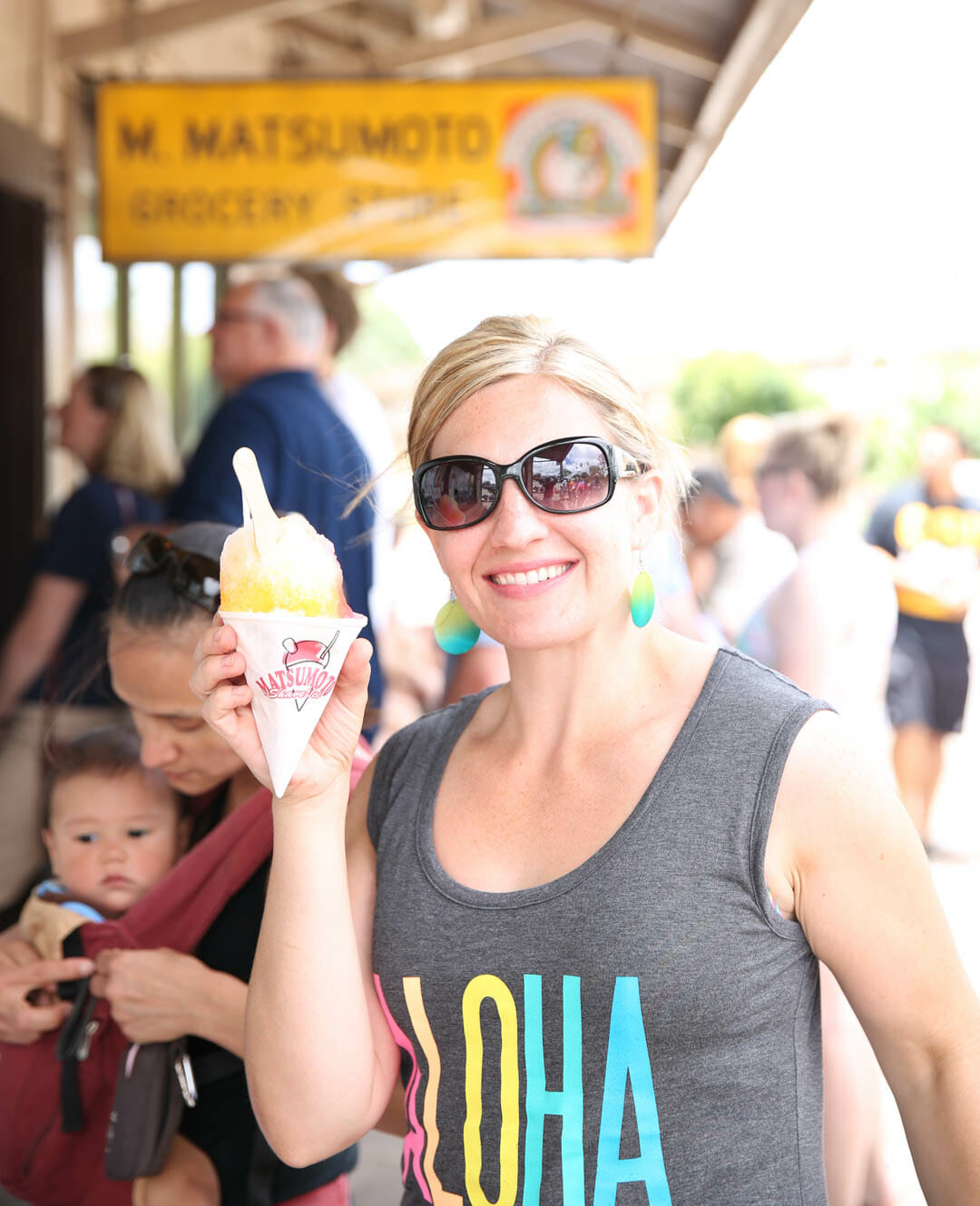 If you've ever been to Hawaii, Shave ice stands are everywhere.  (The photo above is from the famed Matsumotos on Oahu) They pile up scoops of cool, frosty snow and pour flavored syrups over the top.  The crowning glory comes from a drizzle of sweetened condensed milk poured over the top, commonly known as a "snow cap"and you can include a scoop of ice cream on the bottom if you wish (and I always wish).  On the islands you'll often find tropical flavors like macadamia nut, coconut, and pineapple ice cream, along with the standard vanilla.  Sounds weird if you've never had it, but if you have had it, you know what I'm talking about.
Let's review:  Creamy ice cream, fluffy snow, fruity syrup, sweet milk.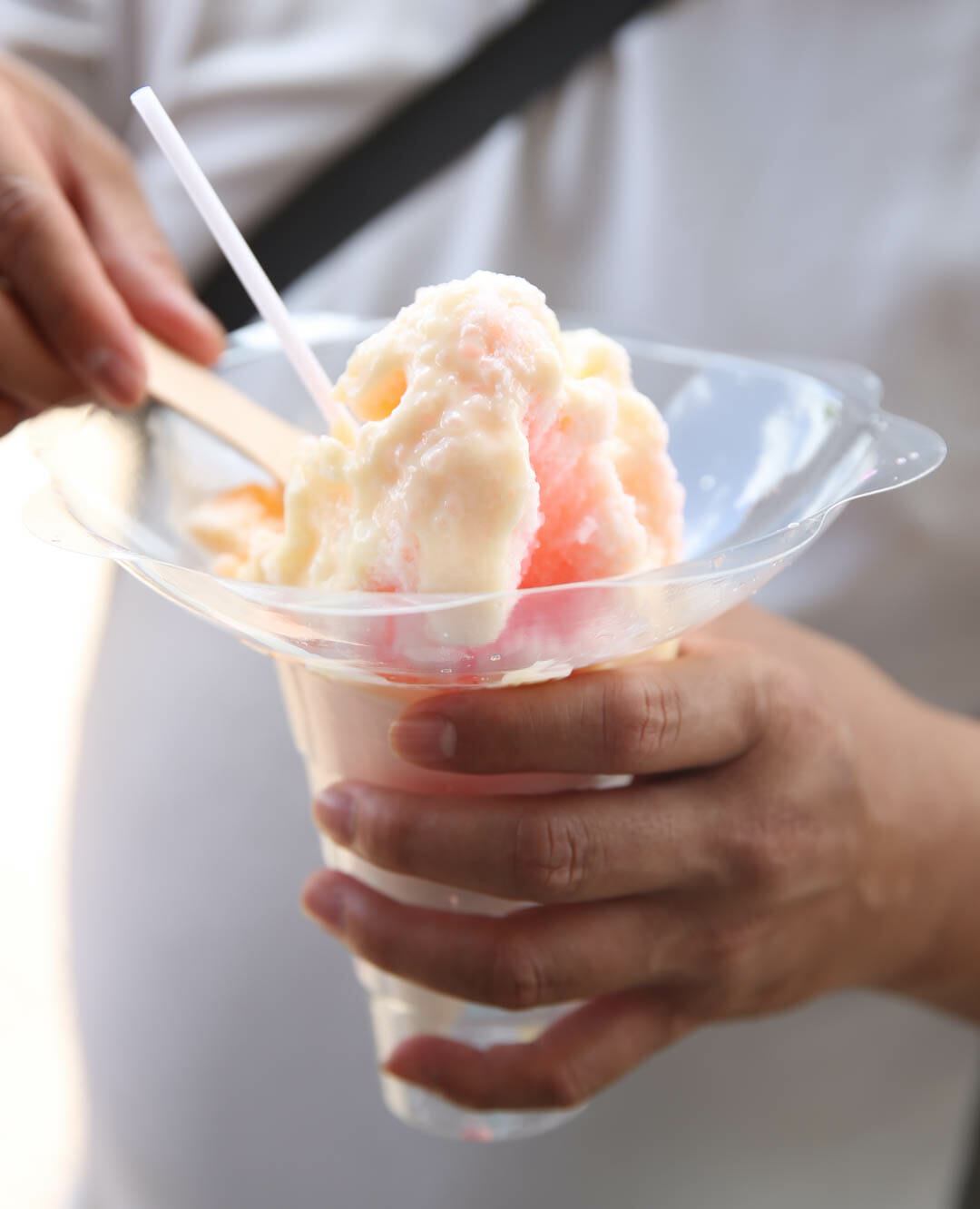 How to Make Hawaiian Shave Ice at Home
Yes, you can make a pretty darn good shave ice at home.  We've had some little starter machines over the years but we've settled on couple great ones that we've had for several years now and are working great.  I'll tell you about both of these and why we like each one.
1.  Little Snowie: Hands down, the best small counter machine for every day use.
2. Great Northern Commercial Shaver: Great for large crowds and high quantities.
Large Commercial-Style Machine
There are some super nice, and incredibly expensive options available that will run into the thousands of dollars!  We bought one on the lower end of the nice commercial ones and have been really happy with it.  It's the Great Northern Commercial Ice Shaver and at under $250 and almost 300 nearly 5-star reviews, it's a good buy for a commercial-level machine.  You can find it by clicking here.  It's super heavy, and really well made.  We've had ours for about 5 years and have used it lots and have had zero issues with it.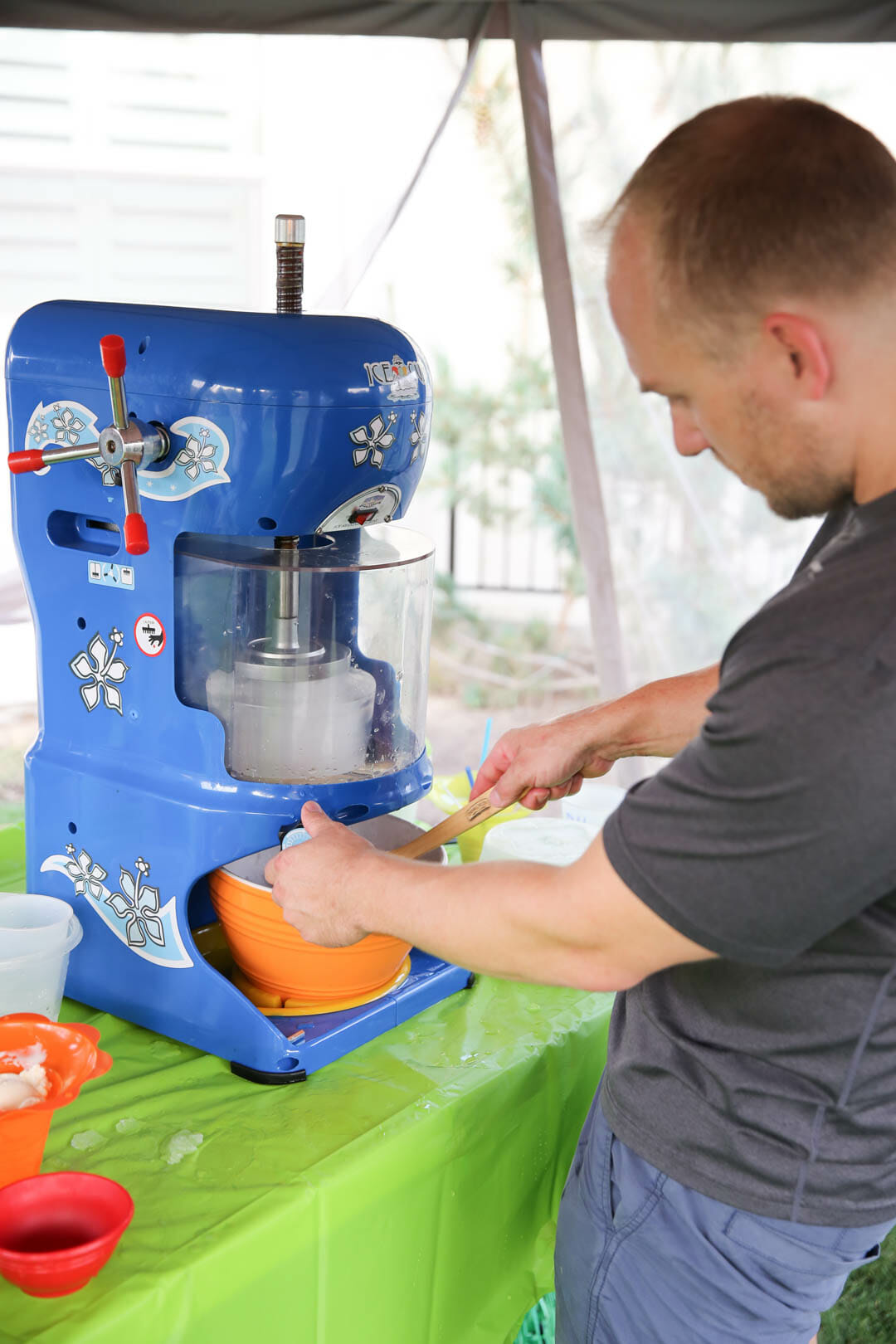 Things to know about a large commercial shaver:
This machine is heavy and large.  You'll need a place to store it.  You also need large frozen blocks of ice to shave.  After simply some trial and error testing, we found some cheap, round, plastic containers that are the perfect size.  Some machines recommend ice blocks for shaving, but we found that smaller, round blocks had the best results for us.   This requires a little planning ahead to freeze the ice before we want to use this machine.
The ice will shave best if it sits to "sweat" for a few minutes before shaving, so we keep a cooler close by and load it up so we can crank them out constantly.
Pros of a large commercial shaver:
Quantity and speed.  If you're having a party and want to crank these out, this is your best option.   You can make lots, fast.  We pull this machine out for large family gatherings and neighborhood parties.  You can feed the masses with ease!
When we set up a party table, we do it something like this (this was from a family party we had a while back).  We shave a ton of ice into a bowl and then someone scoops servings out of the bowl so we can keep it moving.  It works great.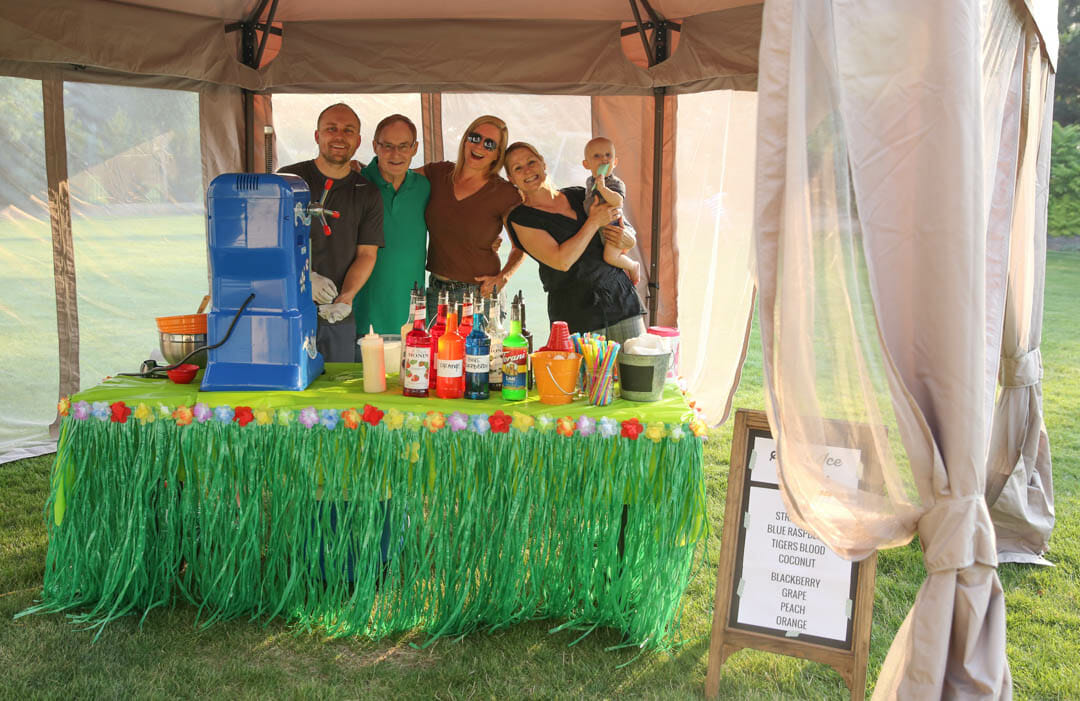 Best Every Day Counter Top Ice Shaver:
Hands down the Little Snowie is the best.  Some people are turned off by the price tag of such a small machine but don't be fooled.  The price is apparent in the top of the line mechanics that produces a fluffy, soft, high quality ice shave in a model so small you can keep it out on a counter or tuck away in a cupboard.  Another handy feature is that no frozen ice blocks are needed, you simply fill with standard ice cubes from your freezer.  We leave this on our counter ALL summer long and literally use it every day.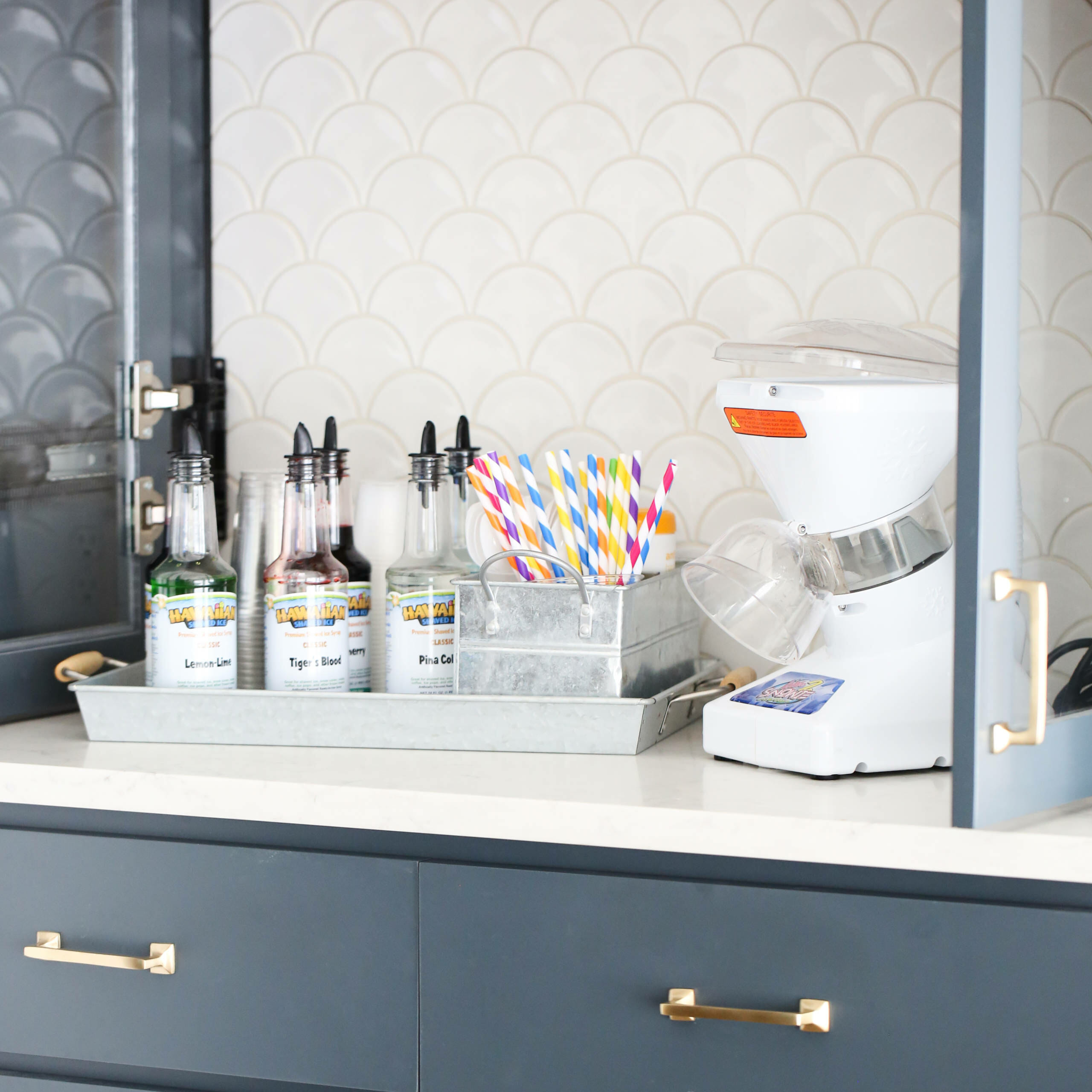 Pros of the Little Snowie: Small, powerful, fluffy ice.   Easy to store, easy to move. Uses ice cubes from the freezer. Kids can operate by themselves.
How to Flavor Shave Ice / Shaved Ice
I love making a menu of flavors for people to pick from.  Our kids' friends love this and we often do it for summer birthdays instead of cake!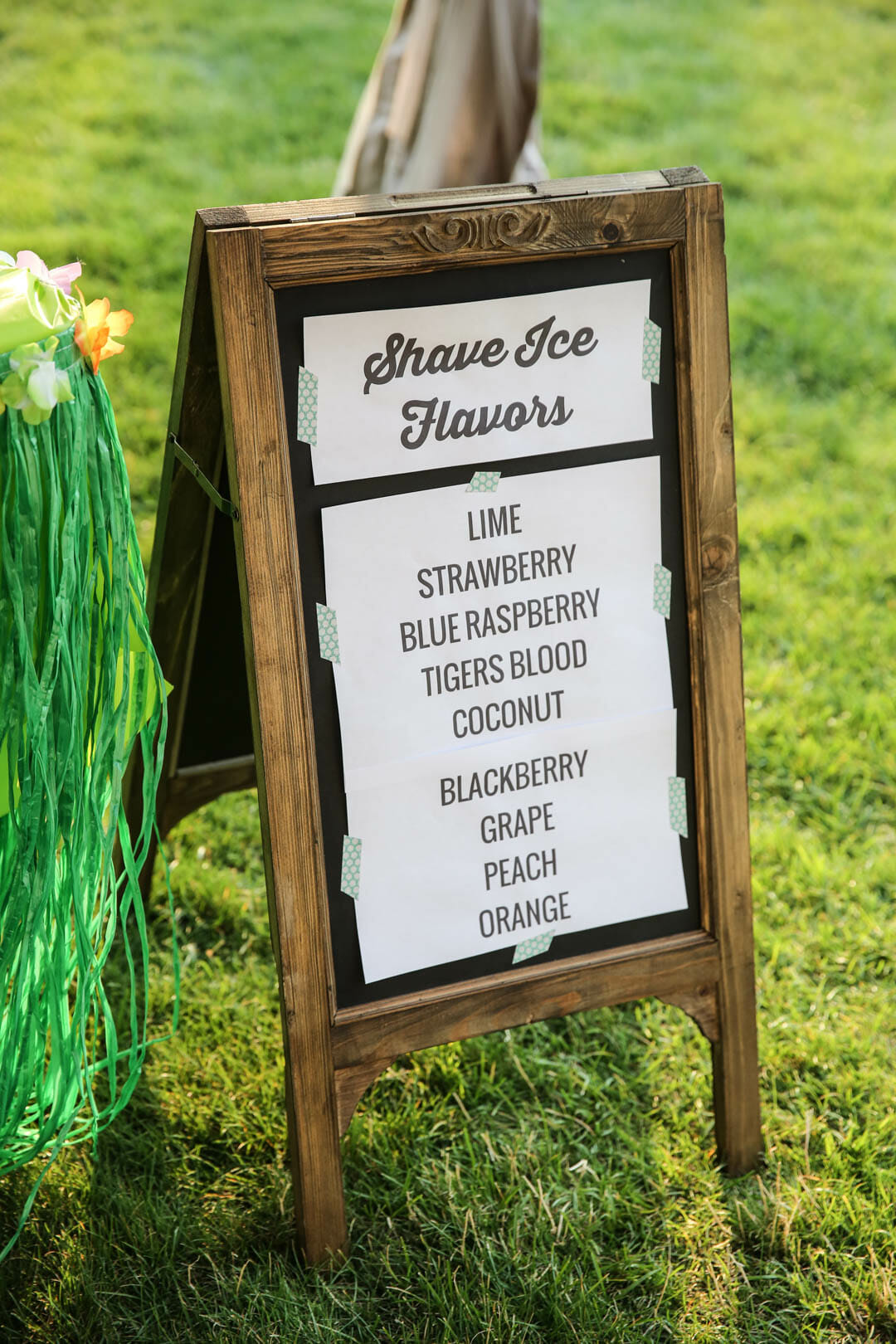 You have lots of options when it comes to flavorings. 
1. Make your own syrup: Simply involves Making simple syrup (sugar + water) and then adding concentrated flavor.  There are tons of places online to buy fun and unique flavors.
2.  Premade Snowcone Syrup: You can buy large jugs of prepared flavor syrups at restaurant supply stores in very basic flavors.  These are great for things like school parties, youth camps, etc.  Anything where you want an economical options and don't care too much about variety and creativity.
3.  Coffee Shop Bottled Flavored Syrups: Torani (and similar) syrups, which aren't quite as thick as the sugar syrups, still taste really great.  This is what we use the majority of the time!  The endless flavor options provide fun and creativity.  Look for the best prices on these at restaurant supply stores.
4.   Little Snowie now makes all natural flavor packets.  I haven't tried them yet, but it's an option.
Tip:  At restaurant supply stores, or on-line, you can buy toppers for your bottles that make them easily pourable, or for use with a pump.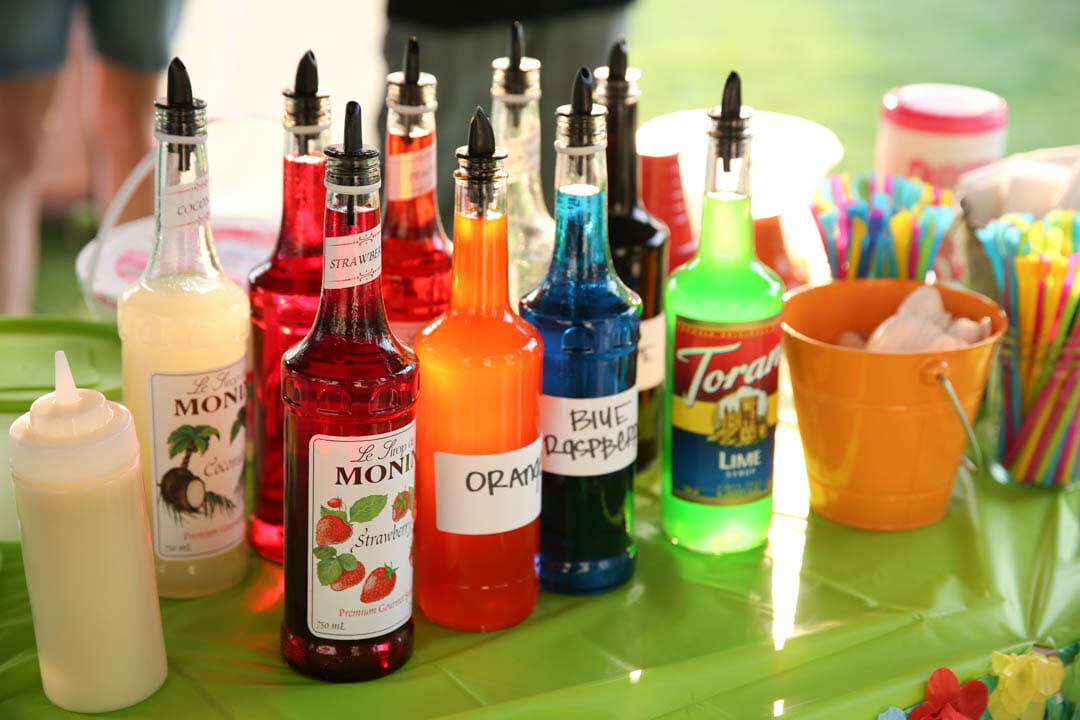 What else do you put on Shave Ice?
For the "Snow Cap", put your sweetened condensed milk in a condiment squeeze bottle to make things super easy.  Have your ice cream nearby for the bottom!
You can also buy the fun traditional cups and spoon-straws on Amazon.  We buy them by the case!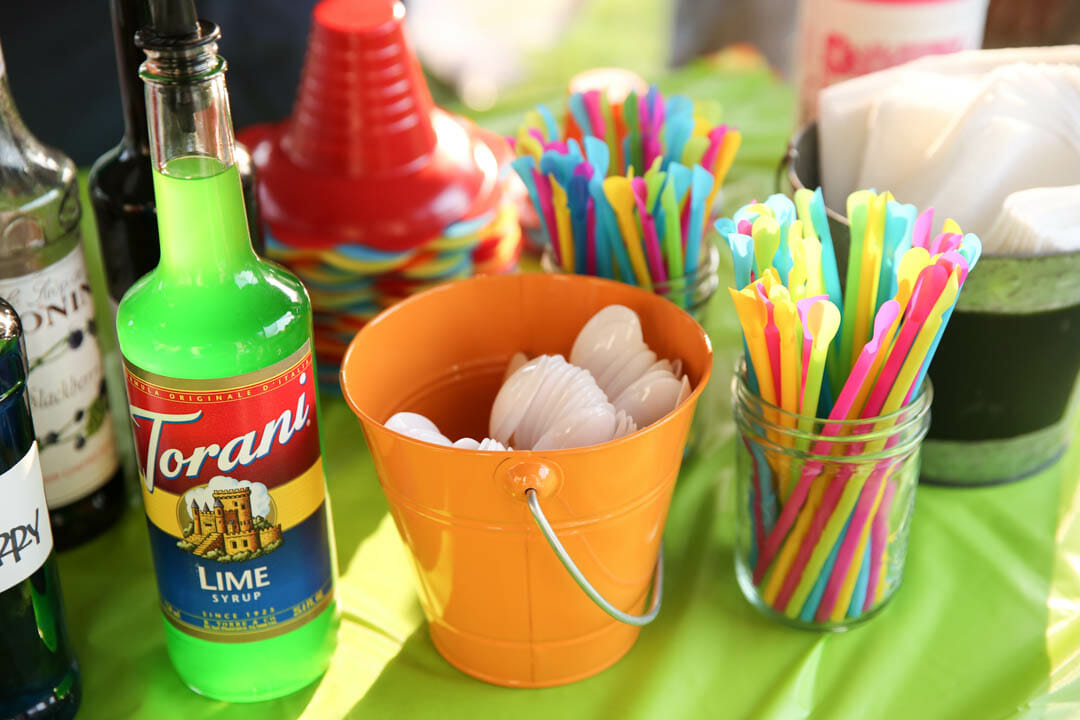 Scoop a big scoop of vanilla ice cream into a cup and pile snow on top.  Pour flavored syrup over the top generously and then drizzle with some sweetened condensed milk.  That's it!  I also make a low-calorie version by using frozen yogurt or high protein ice cream and sugar free Torani syrup.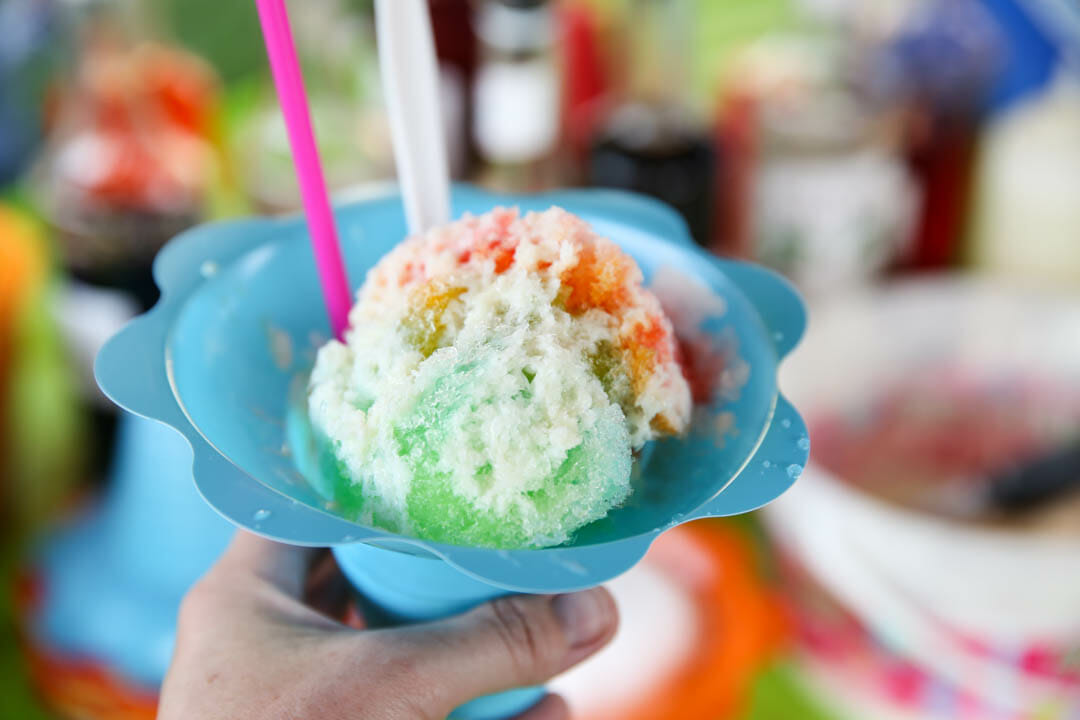 This is one of our family's favorite foodie traditions, and I hope it can become the same for some of you!  Let me know if you have any questions or would like a video or something.  I'd be happy to share!
AND, if you're now craving some tropical eats, make sure to check out our Tropically-themed recipe index where you'll find all kinds of Hawaiian-inspired eats.  Click here!