Kate and I are long time fans of the Italian Soda (see our full how-to by clicking here.)  It reminds us both of pre-teen days walking around the mall feeling cool after buying drinks from espresso stands.  And now, we're all grown-up, and strangely enough, so is the drink.  It's made a come-back (or maybe it never left?) as a trendy, fun, and unique idea for parties.  One of my very favorites was this Patriotic Party we styled last summer.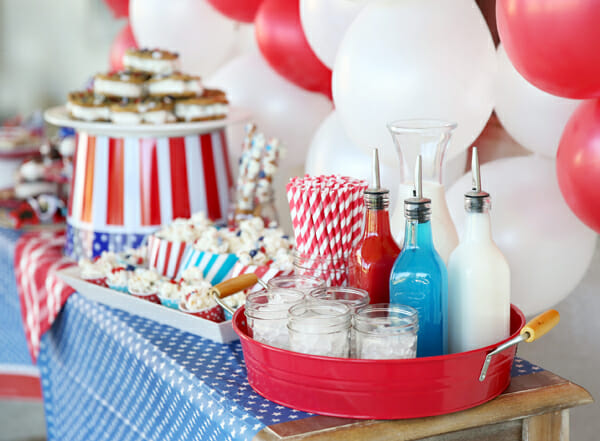 Setting up a bar-style Italian Soda spread is a fun way to let guests customize their own drinks.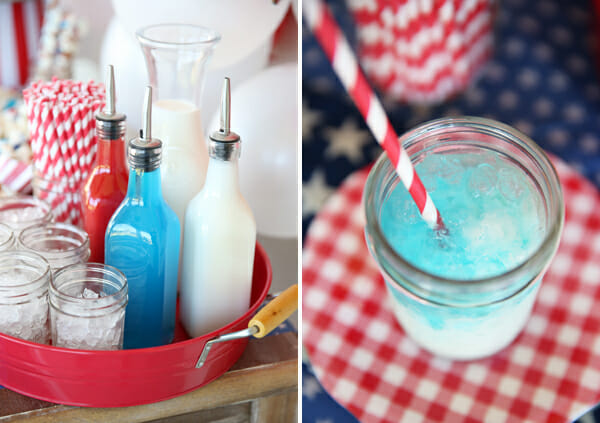 Last fall I helped host a baby shower where we did an Italian Soda Bar (the preggo girl-of-honor had never had one before!) so I had these cute printables made and today I'm sharing them with you.  You can download them (for free, of course) at the end of this post!
Since many people don't know how to make an Italian Soda, there's an easy how-to sheet.  It's kept vague for a reason; there's not perfect amount of syrup or cream, it's really up to the person making it, and everyone should feel free to add more or less of what they like.   I place this main sign somewhere very visible, and then set out all of the fixin's around it.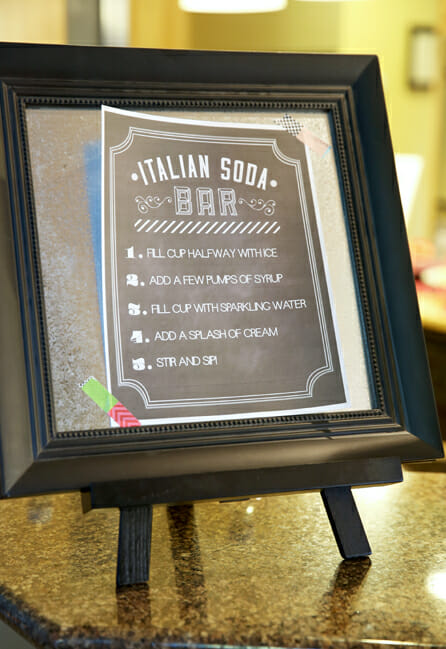 Next to the bowl of ice, set out your syrups.  There's many brands of syrups and they all work.  I suggest a variety of fruit flavors (strawberry and raspberry are always winners) and a few caramel-y, hazelnut are a good contrast as well.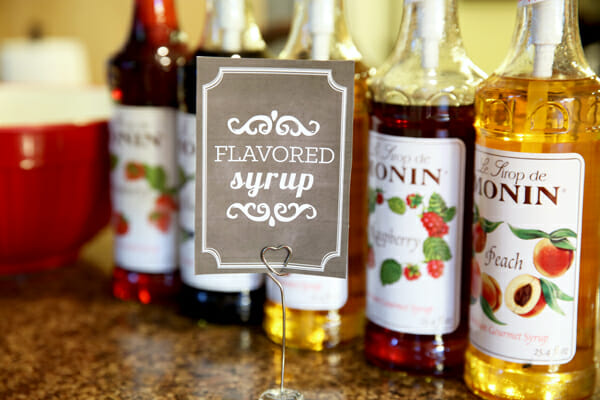 I sometimes like to buy Monin brand for baby or wedding showers because the bottles are so darn pretty.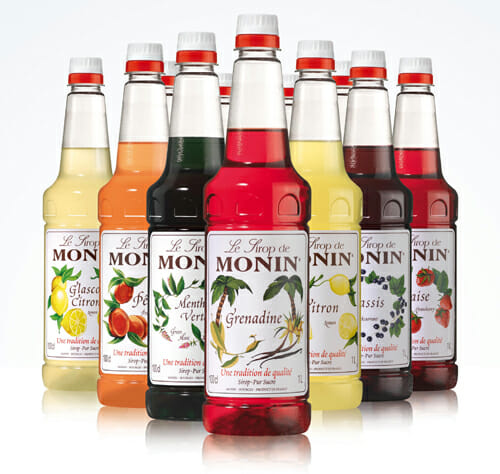 For a party, it's definitely a good idea to buy pumps for your bottles as well.  I strongly suggest buying pumps specifically made for your brand of bottles.  There are some generic ones available on Amazon, but I've found they don't always fit all of the bottles and that can be a huge pain.   Often, if you find your syrups at a local store (check restaurant supply stores) they sell the pumps as well.  Here's some helpful Amazon links (even with these links, make sure the size matches your bottles):
Torani Pumps
Monin Pumps
DaVinci Pumps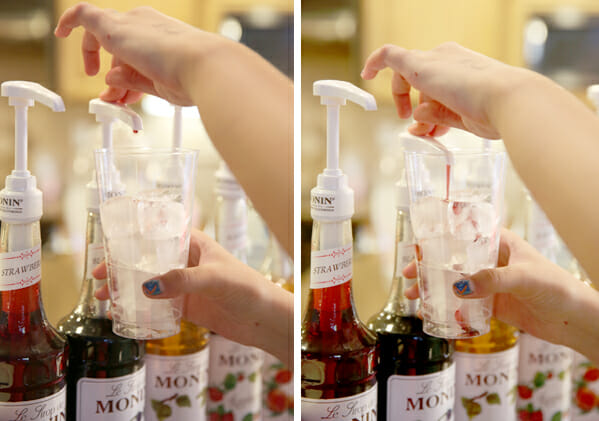 After the syrups, put out your sparkling water,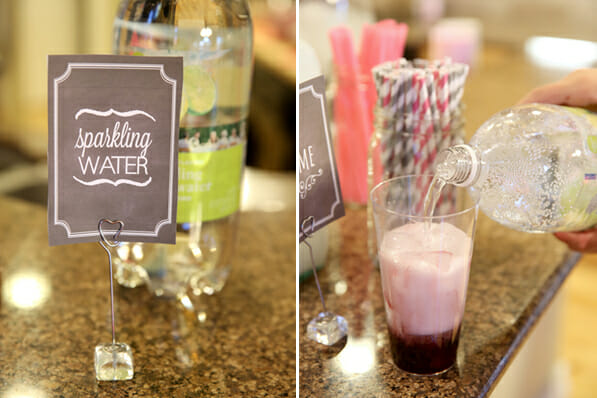 and a cute jug of cream or half and half.  One thing Kate and I discovered is that the sugar free syrups sometimes cause cream to curdle, so that's something to think about.  You might want to just go for the good sugar-y stuff.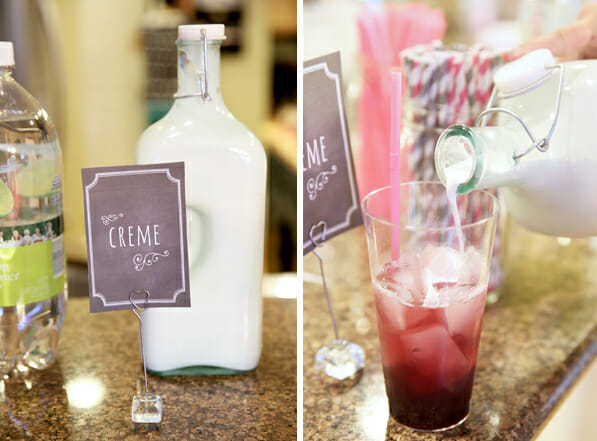 Set out some cute straws and you're good to go.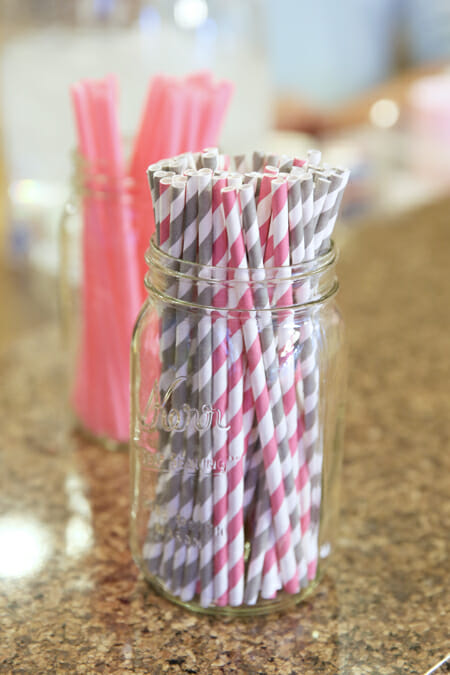 These cute printables make parties so easy because everyone will love following the simple instructions, and then you don't have to play bartender!
Here's a pinable graphic for you- just hover your mouse over the image to Pin!  You'll be glad you did, the next time someone asks you to help out with a party.  This is especially fun for baby and bridal showers.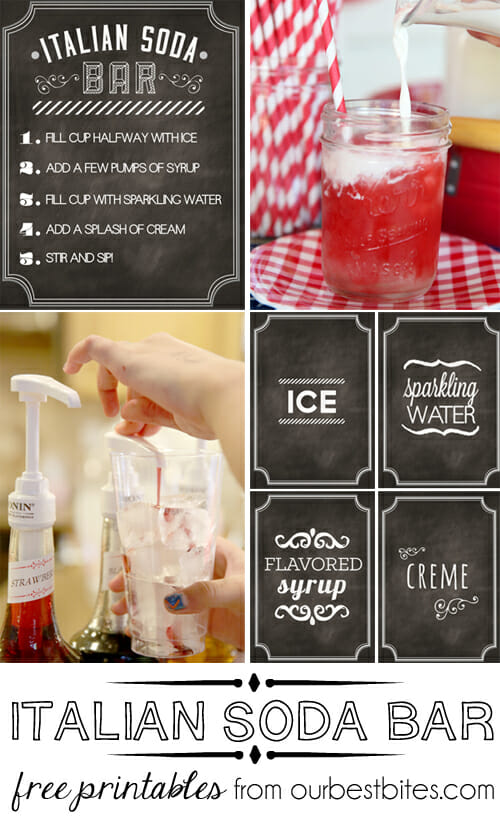 Italian Soda Bar Printables
By Our Best Bites
Supplies Needed:
Free Printables
Cups
Ice
Flavored Syrups
Cream or Half and Half
Straws
Good company 🙂
Click Here to Download Page 1
Click Here for Page 2