Yes, this is a big week for us, so if you're already tired of hearing about upcoming events and books that are now on shelves (Yay!!) and all you really want is food, go take a peek at our recipe index!
First item of business today: our big, fun, awesome, food-filled party is happening TOMORROW!  Thursday, September 13.  It will be at the dreamy kitchen mega-store Orson Gygi, in Salt Lake City Utah from 11-1.  There will be cupcakes for kiddos to decorate, samples for everyone, dancing monkeys, and general happiness overflowing everywhere.  Okay, so no monkeys, but still.  It will be epic.  Please, please, come if you can!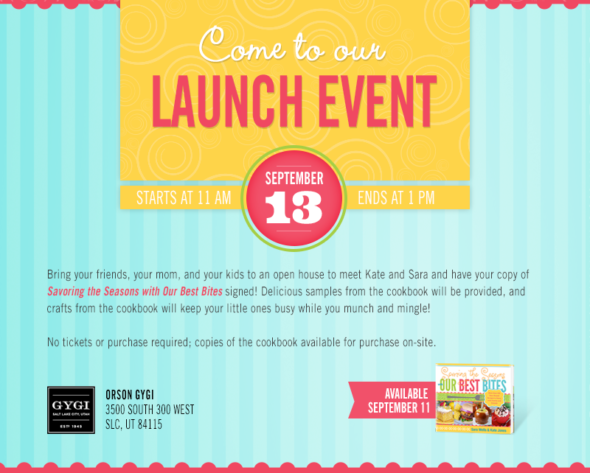 Next up:  It's official, Savoring the Seasons is on book shelves now!  The official launch date was yesterday, so you should be able to easily find our book in a store near you.  It's in a lot of different places, but one thing we are really excited about is that it can be found in Walmart stores nation-wide.
That means even way down south in who-knows-where-the-heck-she-actually-lives, Louisiana, Kate can walk into her local Walmart (or Sam's Club) and grab a book!  (Yes, we buy our own books.  People seem to think we have a limitless free supply- if only!)  I walked into my Walmart today in Boise to grab produce for my next recipe post and there it was, sitting right in there with The Hunger Games and 50 Shades of Gray in the Bestseller section.
Note that the Walmart "Neighborhood Market" stores, don't carry books and therefore won't carry ours.  Almost all of the Sam's clubs sell books, but the few that don't obviously won't carry ours.  Look for "Savoring the Seasons" in the book section, either on the shelf or in an independent display.  And if you can't locate it, just ASK!  They do all carry them, but the shelves don't hold that many at a time, so they might just be out if you don't see it.  All of the stores should have lots in back, so just ask someone! One of the best things is that you can just slip it into your grocery cart and no one has to know you didn't just buy eighteen bucks more worth of vegetables. So head on out to your local Walmart this week and grab a book!
In addition to Walmart stores, you can also find our cook book in the following locations:
Deseret Book (in stores and online)
Amazon
Costco
Barnes and Noble (in stores and online)
It also may be available in other bookstores and you can always special order it if you can't find it!
Lastly- we had a greeeat idea about a little contest where you tag photos of yourself with our book, but it seems like there have been tons of facebook issues with that process!  If you want to participate in the fun, read Kate's post about it, and if you prefer, instead of posting a photo to facebook, email us!  You must must must use the subject line: "I Savored the Seasons!" and attach a photo of yourself and the book.  Be creative!  Our favorite photos might be featured on the site, and win prizes, so get snapping!