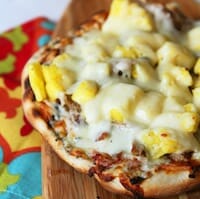 When I was growing up, when it came to pizza, we were a strict pepperoni and mushroom family. When I got to be a teenager, I started to feel the urge to rebel and added black olives and fresh tomatoes. And then…then it happened. I broke my father's heart. I got married and made the switch to Hawaiian. You know, Canadian bacon (because nothing says "Hawaii" like the name of a country that's famous for its chilly weather and rugged antlered wildlife) or ham and pineapple. And by the way, my dad is so funny about Hawaiian pizza. When we order it, he always makes a big stink about how disgusting it is and how pineapple doesn't belong on pizza and blah blah blah. And then we catch him eating it. Every time.
When we went to Hawaii this last summer, there were lots of places that served lots of Hawaiian pizzas, but our very favorite of them all didn't have ham (or Canadian bacon) at all–it had Kalua pork (and fresh pineapple, of course). Smokey, salty pulled pork. Ummmmm….yes, please.
You can make this in the oven, but if you're experiencing gorgeous fall weather (or if you're like us and still haven't hit fall yet), I totally recommend making it on the grill. You're going to need one recipe of pizza dough, pizza sauce, shredded mozzarella cheese, Kalua pork, and chopped fresh pineapple. If you like other things on your Hawaiian pizzas like colored bell peppers, crumbled bacon, roasted red peppers, red onions, roasted garlic, and/or pepperoncinis, feel free to toss them on there, too.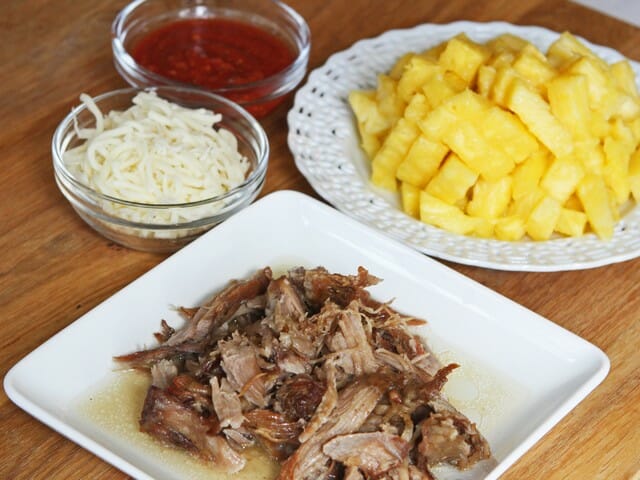 If you're making the pizza in the oven, follow these directions.
If you're making the pizza on the grill, follow these directions (also, make 2-4 smaller pizzas instead of one large one unless you're so exceedingly skilled that you could successfully make this into one large pizza, in which case, I want you to come and live and my house and cook my food for me.)
When you're done, you have THE BEST Hawaiian pizza. Ever.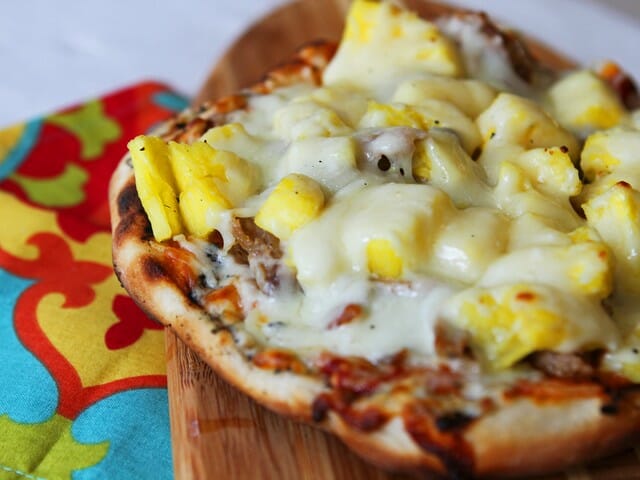 You might think I'm overstating things here. I totally never do that. EVER.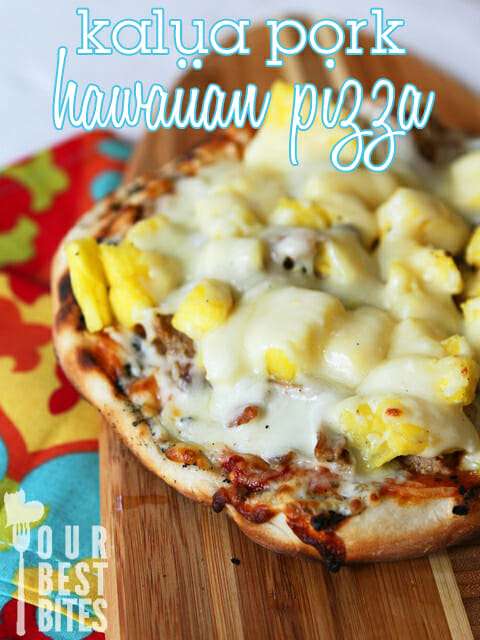 Kalua Pork Hawaiian Pizza
Recipe by Our Best Bites
Ingredients:
Pizza Dough (1 recipe)
Pizza sauce
Shredded mozzarella cheese
About 2 cups shredded Kalua pork (you may use less, it just depends on your preferences)
About 1 cup fresh chopped pineapple
Any  other desired toppings like sliced colored bell peppers, sliced red onions, roasted garlic, pepperoncinis, crumbled bacon, etc.
Instructions:
To make the pizza in the oven, follow these directions.
To make this pizza on the grill (my recommendation), follow these directions.
Spread about 1/2 cup sauce (you'll want an even layer, not too thin, not too thick) over the pizza crust. Top with the shredded pork, pineapple, and any other desired toppings. Top with shredded cheese and cook according to directions. Makes 8 servings.