Happy Monday y'all!  We spent the weekend in Texas and I have been saying y'all way too much since then 🙂  I'm barely recovering from jet-lag, a 4 am (Boise-time) flight, and coming home to a couple of sick boys.  But we can't ever leave you empty-handed (or is it "empty-posted?) especially on a Monday!  So I wanted to share a quick tip with y'all (YES, I said it one more time.)  I've been doing this lately and it's been sooo convenient!  I love to share a good tip when I find one; this one came from Karen's Cookies.
There are a million options when you're using piping bags.  You don't always need to use a coupler, and sometimes you can even just pop your frosting in a ziplock bag and toss it when you're done.  There are re-usable bags, disposable ones, or you can make your own with parchment.  No matter which option you choose, when you start working with multiple tips, flavors, or colors of frosting, it can get a little tricky.  I have to always think ahead of time, "okay, do I need to change the tip on this bag at any point?  Do I need to use this tip on more than one bag?  Will I need to wash this bag to use a different color? Etc. etc.  This little trick is actually really handy.  You can use one bag and several colors of icing and never even have to wash the bag!  Check it out.  Y'all.  🙂
After your frosting is prepared (this is a new chocolate one from our new cook book!)  plop it right on a piece of plastic wrap, like so: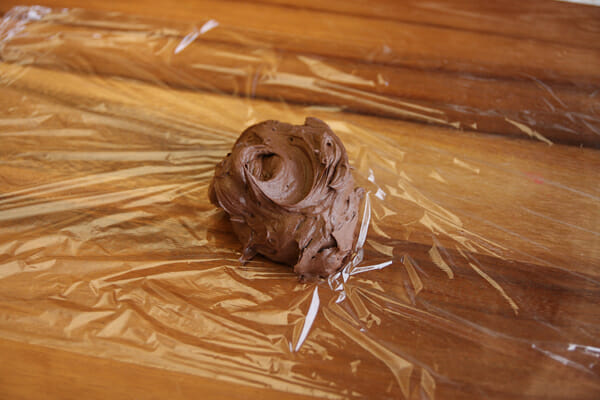 Wrap the plastic around your frosting, kind of like a log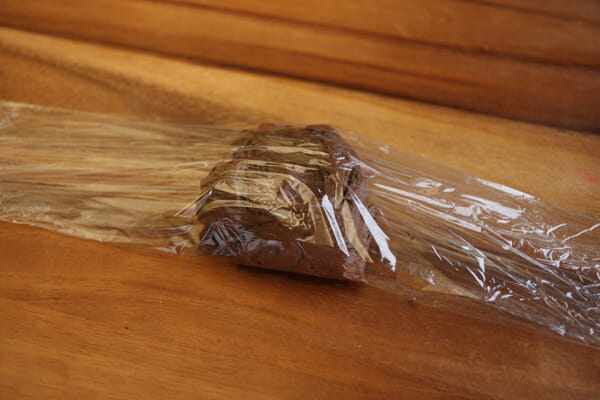 And then take both ends and swing it like you would a jump rope.  You know, a tiny little jump rope for someone who is 6 inches tall.  The long ends of the plastic wrap with roll up tight like this: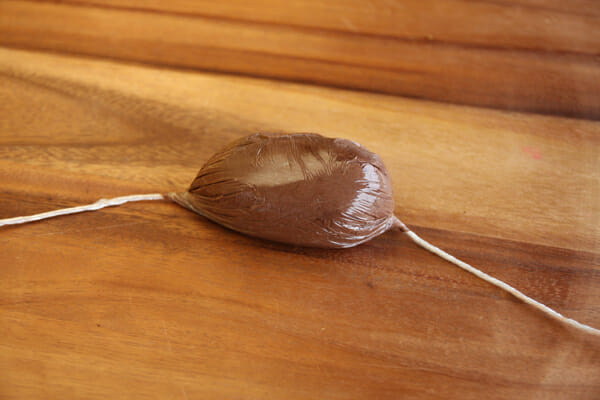 I know.  Weird, right?  Watch this.  Take one end of that frosting-jump-rope and string it right into your piping bag and through the tip.  I've got a coupler in my bag so I can change tips with the same batch of frosting.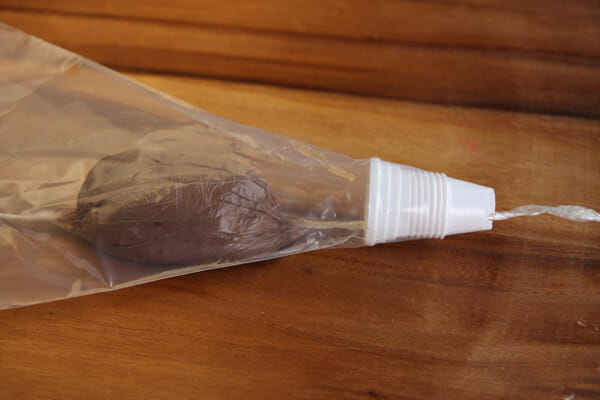 Pull it really tight, and then take a pair of scissors and snip that end off, as close to the coupler as you can get.
That's it!  Pipe away, and make beautiful cupcakes (I'm writing a whole huge tutorial right now about decorating cupcakes, and different frosting techniques, so stay tuned for more info on that!)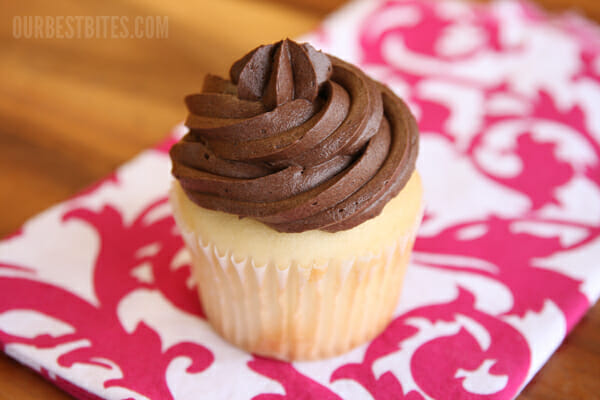 But here's the coolest part.  When you're done- or if you want to change colors or tips, just pull the plastic-wrapped frosting out from the back end again: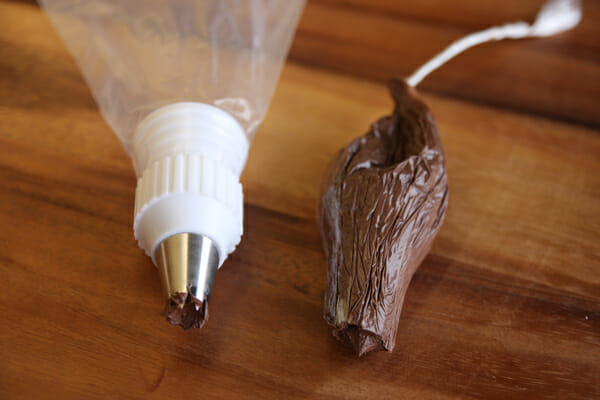 There's a little bit of frosting left in the tip, and all you need to do is remove the tip, or wipe it out.  The bag itself is completely clean!  You put it away to use again later, or fill it with a different color and be piping away again in a matter of seconds.
I thought that was a great little trick and if you work with frosting a lot, you'll quickly find how useful it is!  Enjoy your Monday, and make sure to eat a cupcake.  Words of wisdom:  weeks that start out with cupcakes are always better than weeks that don't.  Make sure to check in on Wednesday- I'm going to show you tons of behind-the-scenes fun from our weekend trip to Texas!