So last week, when I posted these fish tacos, I promised to post my grilled fish tacos, too. Which I am doing today, but really, especially since once you've cooked your fish, you basically assemble the tacos in the same fashion that you put together the fried tacos, I want to share another recipe with you today as well.
We've posted a lot of Cafe Rio/Costa Vida-esque knockoff recipes that we've developed, like the Creamy Lime Cilantro Dressing and the Green Enchilada Sauce. Well, while I was living in Utah, but especially since I haven't lived close to my favorite Mexican restaurants in over two years now, I have wanted a recipe for their Lime-Cilantro Vinaigrette. See, some people are die-hard fans of their creamy dressing, while others prefer the vinaigrette, and I'm somewhere in the middle. In fact, I used to order a little cup of each because I could never make up my mind.
Well, I searched and searched the internet over and have not found any knockoffs of the vinaigrette. So I decided it was time to make my own. And I failed. A lot. This dressing has been a work in progress for a long time. But, my friends, the stars have aligned and the second I tasted this, I knew it was right. It doesn't look exactly like their dressing because I emulsify the oil, but I promise, it tastes amazing.
I love this dressing on just about any salad, but I also love it because it works fabulously as a fresh, bright marinade for just about any kind of meat. For fish tacos, just marinate any kind of mild white fish (like cod, tilapia, red snapper, or mahi mahi) for about 20 minutes and then lightly brush a grill with oil and cook over medium heat for 8-12 minutes (depending on the thickness of the fish) until the fish flakes easily. Flake the fish and season with Kosher salt and a little extra dressing if you like. Serve the flaked fish in either homemade flour tortillas or corn tortillas. Like with the fried fish tacos, you'll need to slightly cook the corn tortillas so they don't overwhelm the flavor of the fish; you can brush them with olive oil and bake them in an oven set to 425 for about 5-10 minutes, cook them in a skillet with some olive oil until they start to brown but are still flexible, or, as one of our readers suggested, run them under some water and then cook in a hot cast iron skillet. Serve with pico de gallo or mango pico de gallo, cabbage (cole slaw mix), cotija cheese, guacamole, and lime wedges and salt for seasoning.
But back to the dressing. You'll just need a few ingredients that you may already have on hand–canola oil (olive oil was too strong), rice or white wine vinegar (regular white vinegar would also work), lime juice, sugar, Kosher salt, lots of garlic, and cilantro.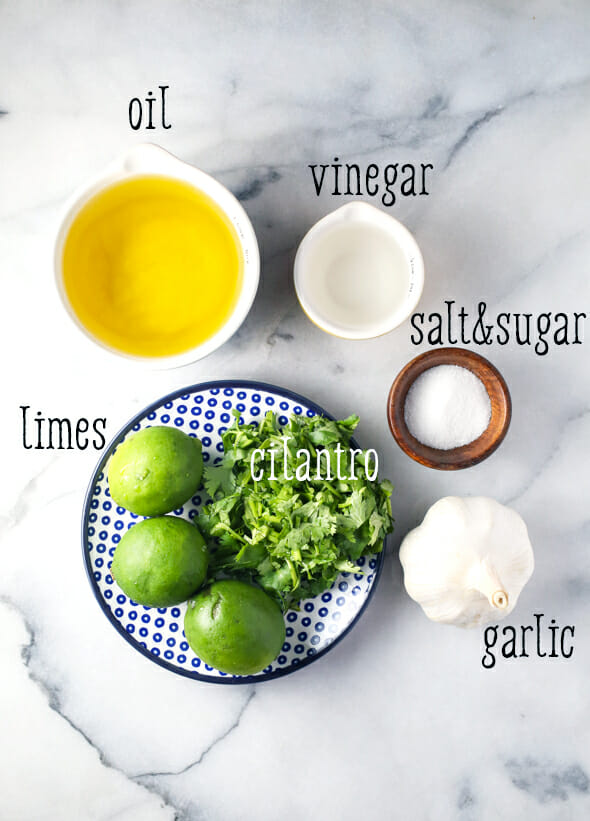 In the jar of your blender, combine the lime juice, vinegar, garlic, salt, and sugar. Blend on high until everything is combined. With the blender running, pour the oil in as a steady stream. Add cilantro and blend until the cilantro has broken down but it isn't completely pureed–you want to see some of the texture of the cilantro leaves.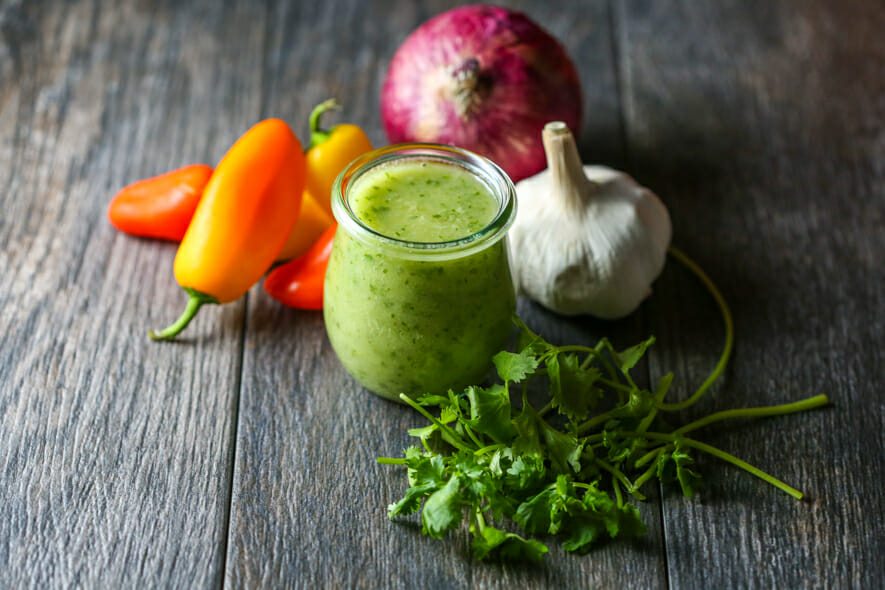 Serve over greens, any kind of Mexican salad, or use as a marinade for meat or vegetables.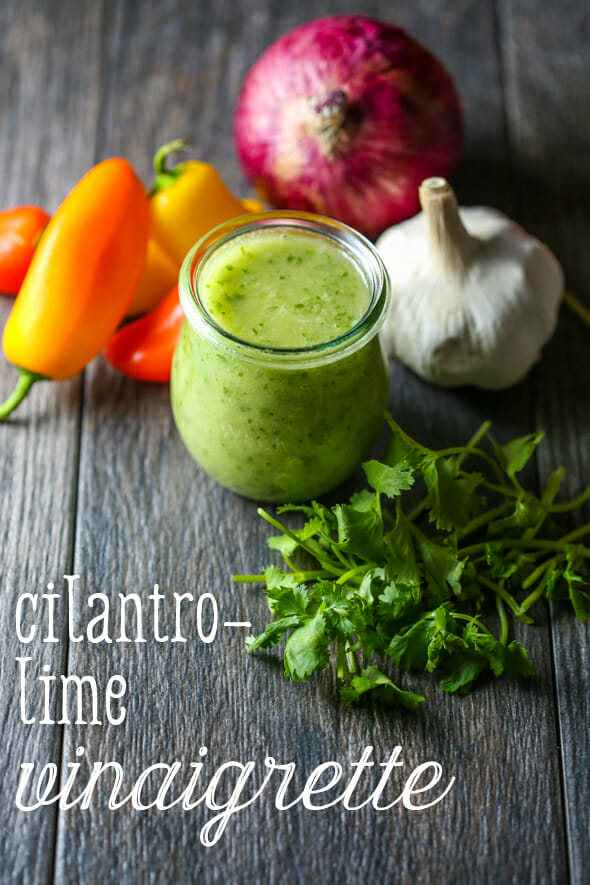 Print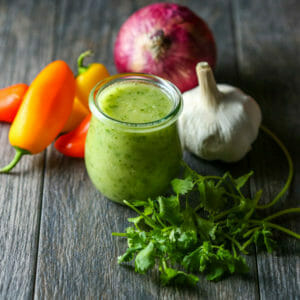 Cilantro-Lime Vinaigrette
---
Description
A fresh-tasting Latin-inspired vinaigrette, this is perfect for salads or as a marinade for fish tacos.
---
1/4

c. fresh lime juice (about

2

–

3

juicy limes)

1/4

c. white wine vinegar or rice vinegar

4

–

5

cloves garlic

1/2 tsp

. Kosher or sea salt

2 tsp

. sugar

1

c. oil (extra-virgin olive oil, peanut oil, etc.)

1/2

c. roughly chopped cilantro, stems removed
---
Instructions
In the jar of your blender, combine lime juice, vinegar, garlic, salt, and sugar. Blend until ingredients are completely combined. With the blender running, add the oil in a steady stream. Add cilantro and blend until the cilantro has broken down but still maintains some of its texture. Serve with greens, on any type of Mexican salad, or use as a marinade.
---