Happy hump day! You've made it half way through the week, congratulations. You probably deserve a cookie or something. Before I get to today's recipe, I have an announcement for my Idaho friends. I'll be setting up shop at a local boutique this Thursday, Friday, and Saturday. Our awesome Olive Oil line will be for sale (and sampling!) as well as tote bags, cook books and TONS of baked goods. We're talking Salted Caramel Dark Chocolate Popcorn, Apple Cider Caramel and Pumpkin Spice Caramels, Jumbo Fudge Brownie S'mores Cookies, Freeze-Dried Mallows, and so much more. Head toward the kitchen island to find my stuff! These boutiques happen a few times a year (follow their Facebook page to know when and where), and it's not one of those awkward things where vendors are sitting there trying to sell their stuff. It's set up like a store where you can just go browse from tons of awesome local artisans in food, crafts, clothing, home decor, and more. It's in the Foxtail neighborhood, which is so new it won't show up on maps. It's off Chinden between Linder and Meridian, just East of Fred Meyer. Just follow the signs from there! (Utah, we're coming to you soon, too!)
Now- salsa! I am in love with small batch canning. I don't do the whole 97-pints-at-a-time thing. I love making small batches that don't trash my kitchen and don't take all day. And salsa canning is just about as easy as it comes. All you need is a pot of boiling water to seal the jars! Read more about canning, and how to get started, here.
I saw this recipe for Mango-Pineapple Salsa and it had my name all over it.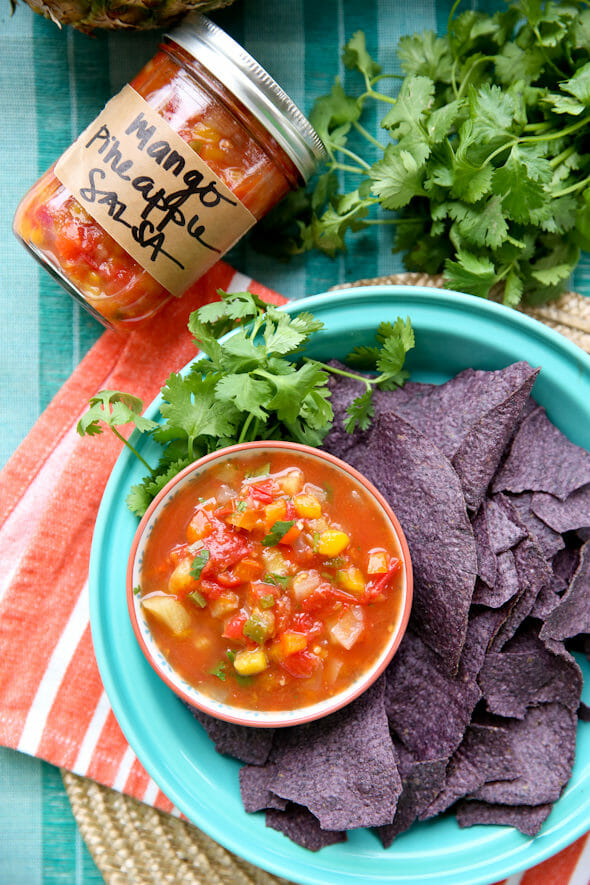 It starts with a blend of 3 main components: mango, pineapple, and tomato. The mango and pineapple combined, outweigh the quantity of tomato, so this is a really sweet salsa- almost more like a sweet and sour sauce. If you've had the mango salsa from Costco, I thought this tasted really similar.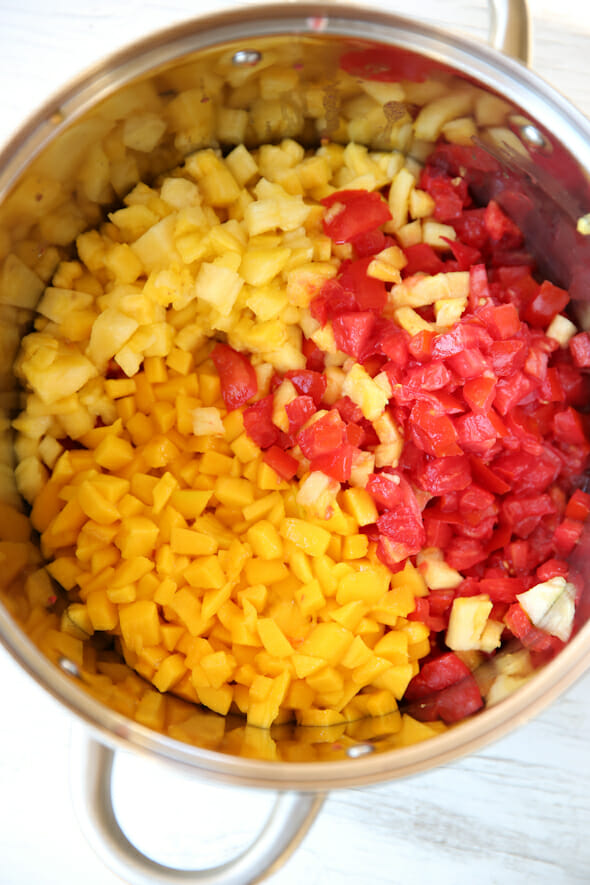 You'll also get some great red color and texture from a bell pepper, and flavor from jalapeno, fresh garlic, and ginger. Also an onion that's not pictured here.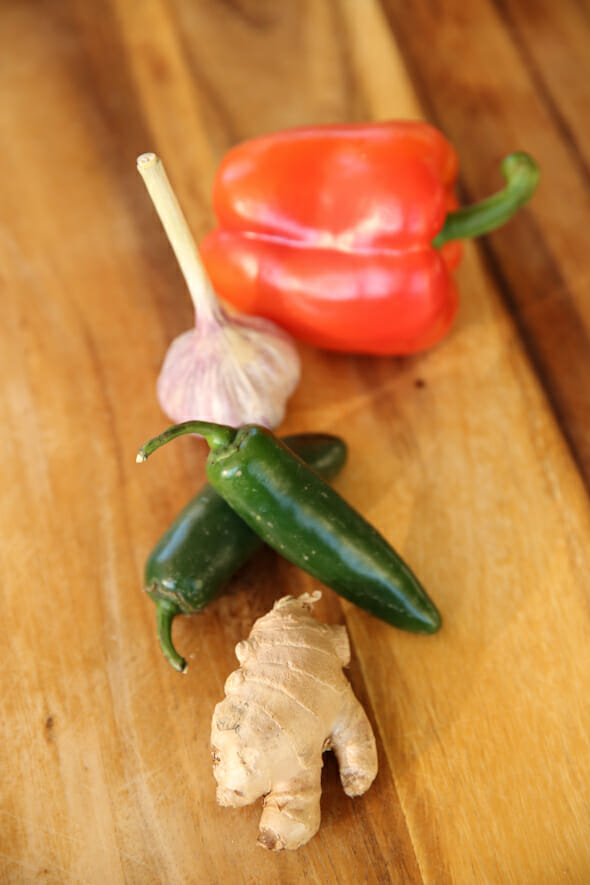 The level of acidity is crucial when canning, and in this recipe you'll use lime juice and apple cider vinegar. If you're canning, you'll bring it to a boil and ladle it into warm canning jars. Otherwise, you could just put it in a container and pop it in your fridge or freezer.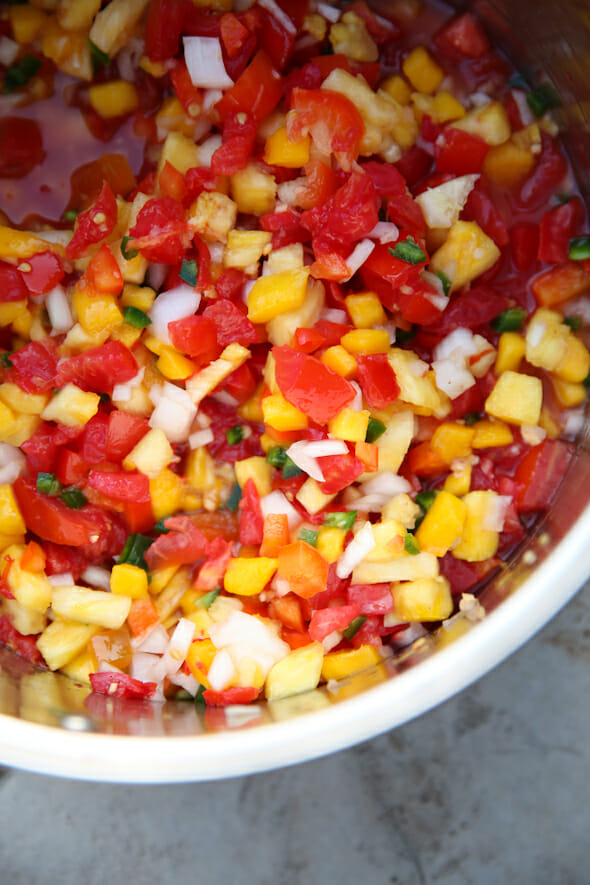 I love canning salsa because it only requires a hot water bath. I've always used a ginormous pot on the stove to accomplish that but this year Ball sent me an Electric Water-bath Canner to try out and it's a game-changer. I've been telling everyone about it. I should have taken a photo with me in it so you could grasp the size of this thing. The awesome thing is that besides processing jars, it's basically a giant slow-cooker (and I mean giant, it holds 21 quarts) so you could make enough soup or chili to feed your entire church congregation or- see that little spout on the bottom left? Hello hot cider party! The spout is there to make it very easy to drain boiling water when you're done, but c'mon. It's practically begging for hot chocolate. Honestly though, I'm in love with this. This isn't a sponsored post, but seemed like a good time to share my love for the giant slow cooker. If you like to can and you've thought about this, I definitely love mine.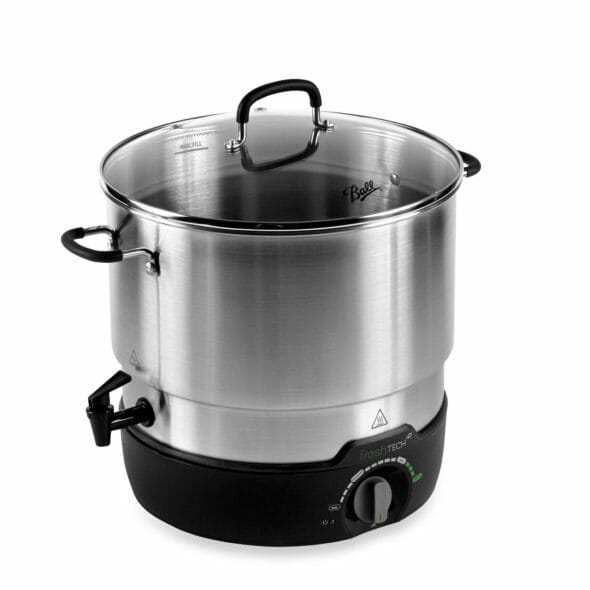 Back to our regular programming. After you crack open your jars, feel free to toss in some fresh cilantro, it really brightens things up. I also sprinkle a little salt on it.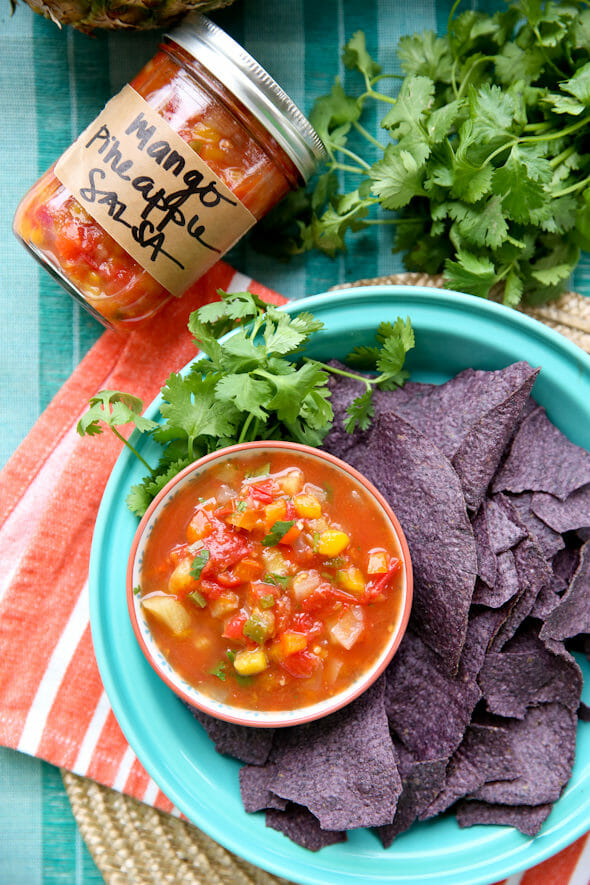 It's fun and different and I loved the unique flavor profile.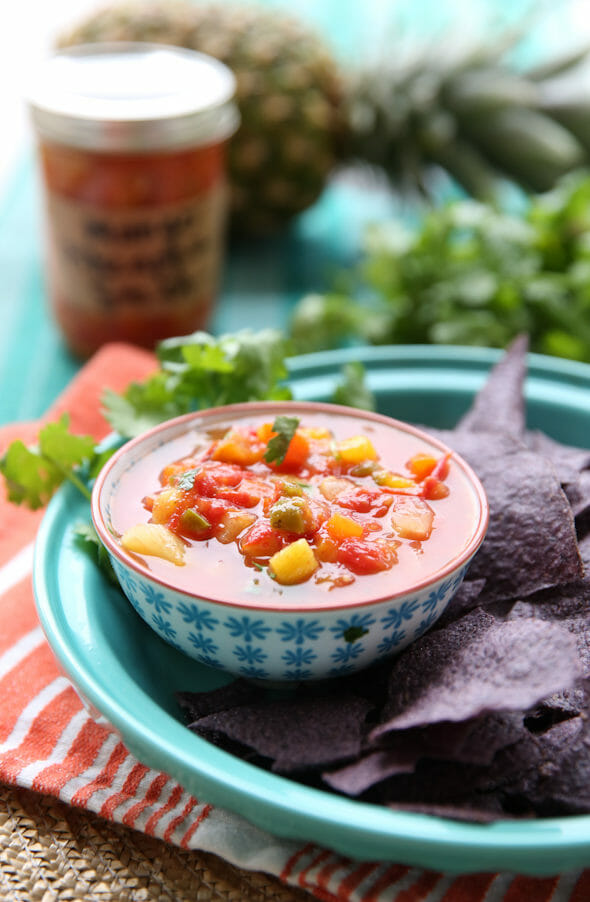 It also makes a fantastic sauce for chicken. I dumped a whole jar of it over a few chicken breasts in my slow cooker one day and it was sooo yummy. We ate it over rice with avocado and a squeeze of lime and my whole family loved it.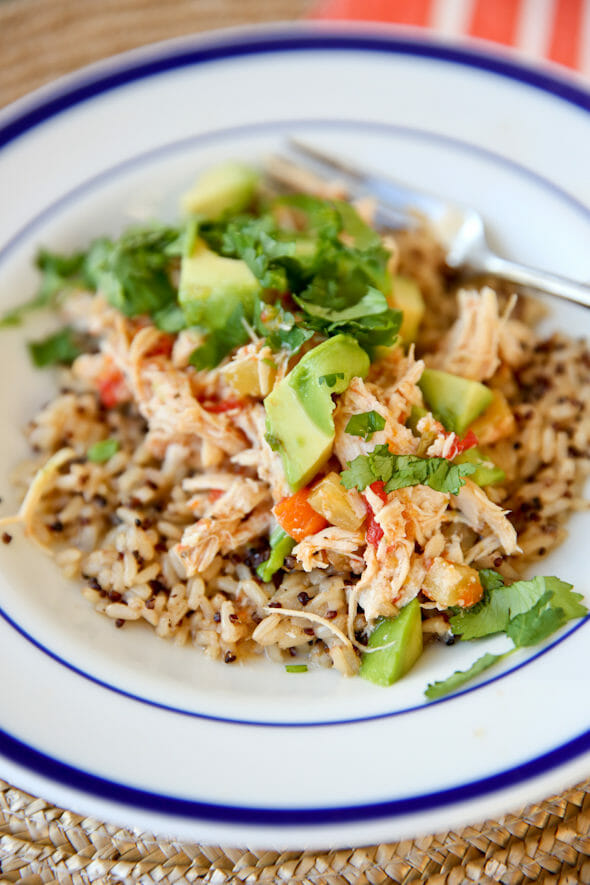 So if you can and want to try something new, check it out!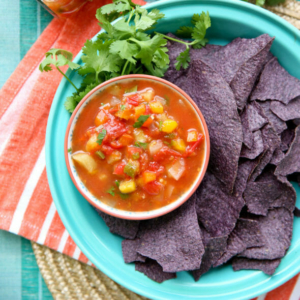 ---
Description
A sweet and savory salsa perfect for dipping your favorite chips or pouring over chicken in the crock pot!
---
1 1/2

lb ripe tomatoes, cored and chopped (

4 cups

)

3 cups

chopped pineapple

2

medium mangoes, peeled and chopped (

2 cups

)

1

large sweet onion, finely chopped (

1 cup

)

1

red sweet pepper, finely chopped (

1 cup

)

2

jalapenos, finely chopped (

1/4 cup

)

1/3 cup

sugar

1/4 cup

bottled lime juice

1/4 cup

cider vinegar

1 teaspoon

grated fresh ginger

2

cloves garlic, minced

1/2 teaspoon

salt
snipped fresh cilantro (optional)
---
Instructions
In a 4 to 6-quart nonreactive heavy pot combine tomatoes, pineapple, mangoes. onion, sweet pepper, jalapeno peppers, sugar, lime juice, vinegar, giner, garlic, and slat. Bring to boiling; reduce heat. Simmer, uncovered, for 10 minutes, stirring occasionally. Remove from heat.
Ladle hot salsa into hot sterilized pint canning jars, leaving a 1/2-inch headspace. Wipe jar rims; adjust lids and screw bands.
Process filled jars in a boiling water canner for 20 minutes (start timing when water returns to boiling). Remove jars from canner; cool on wire racks. If desired, stir snipped fresh cilantro into salsa before serving.
---
Notes
Nutritional info per 2 tablespoons: 17 cal, 0g fat, 4 g carb, 0g protein
Utahns
, Have you registered for Pinners yet??
Use code BITES to save on registration. Our classes are the most filled of alllll classes, so if you want to join us, better sign up quick!