Happy (almost) Cinco de Mayo!  I am very much in the spirit of the festivities because I just got back from Puerto Vallarta.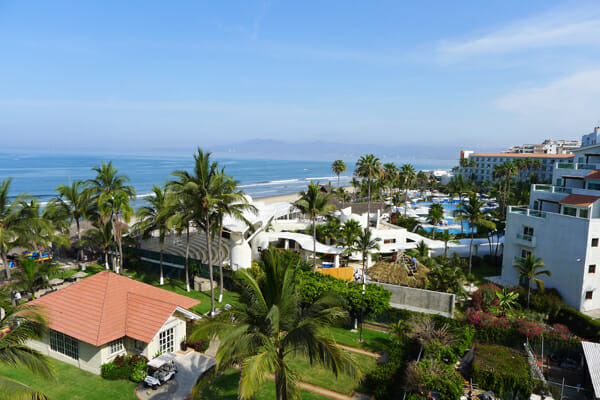 My husband and I spent our honeymoon in Cancun 8 years ago and decided we'd head back south for our anniversary this year.  Honestly it was one of the most relaxing trips we've done because we didn't do anything but sit here: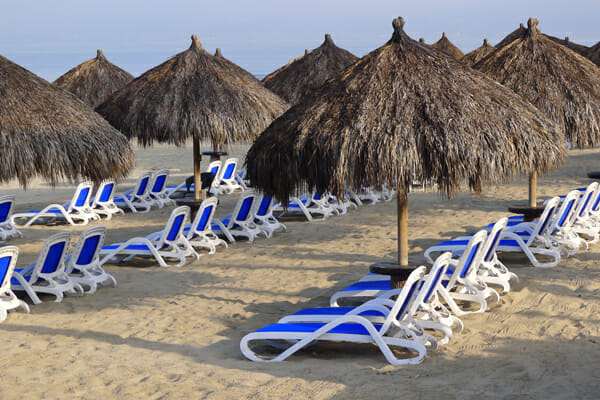 And down there: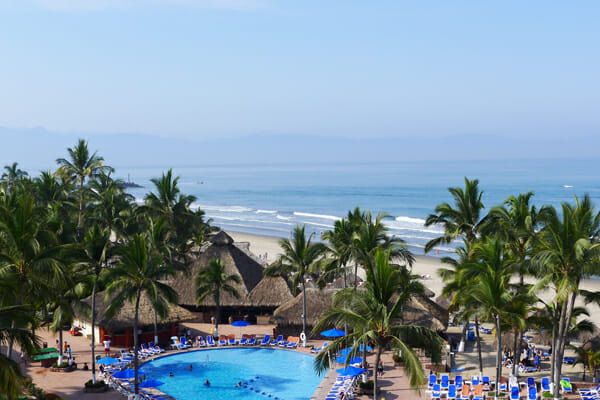 Lots of sunsets and beachcombing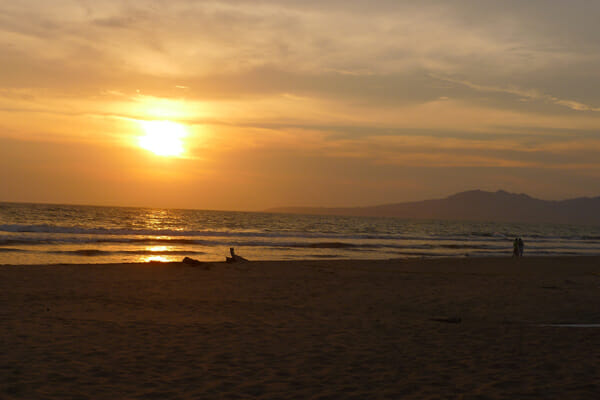 and plenty of virgin daquaris and pina coladas (aka tropical smoothies in grown-up cups)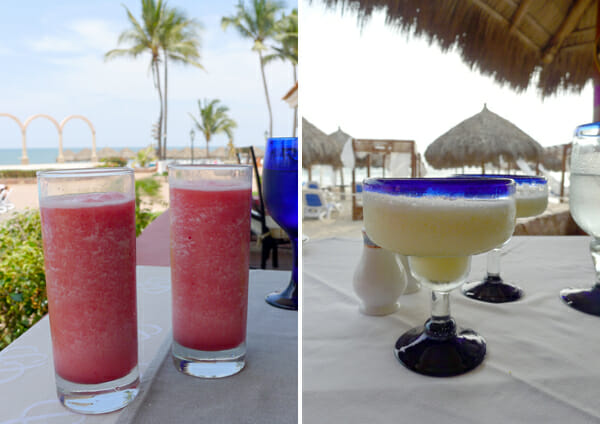 And of course eating.  Why is it that all-inclusive resorts are always on the beach?  They should be in locations where after you stuff your face for the 400th time, you can slip on a parka and elastic waisted snow-pants.  But I digress.  One of the yummiest things I ate the whole trip was this bowl of deliciousness.  Basically it's a bowl of hot, bubbly, melted cheese topped with grilled peppers, mushrooms and chorizo.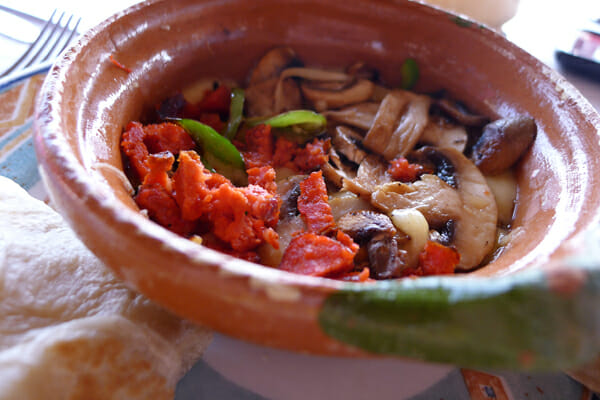 It's served with fresh warm flour tortillas and you just pull a gooey forkful out and stuff it on the tortilla.  Oh my gosh, amazing.  I gotta re-create that one.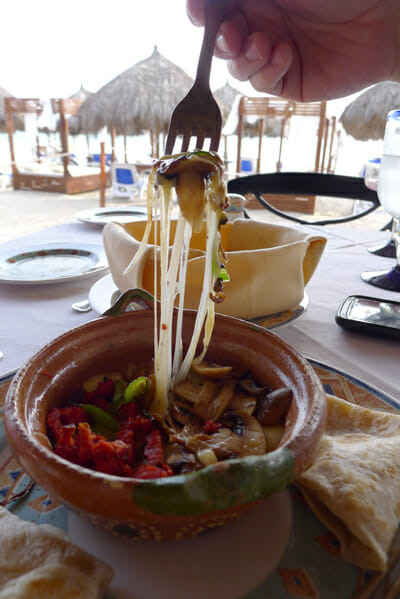 I have to say though, the best part about this trip was that we were 100% unplugged.  No cell phones, no computers, no internet.  I had no idea how therapeutic that could be!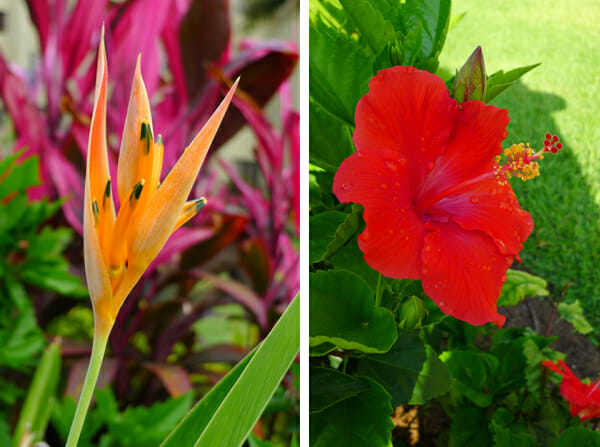 A few weeks ago we got an email requesting a recipe for a sweet corn cake, and I haven't stopped thinking about it since.  In Brazil, I often ate these wrapped in corn husks like a tamale and I've loved it ever since.  If you don't know what this is, it's not actually cake-like as the name suggests.  It's more of a…corn mush? lol  A lot of chain restaurants, like Chevy's, serve it as a side.  Have you guys had these Sweet Corn Tamale Cakes at The Cheesecake Factory?  (If you haven't, you need to drive there right now, order them, and eat the whole plate yourself.)  These taste really similar.  It's very soft, sweet and buttery- almost like a dough.  I've made recipes for "Spoon Bread," "Corn Pudding," and "Tamale Cakes" and they all taste very similar, but have slightly different consistencies (at least the specific recipes that I make).  A common one starts out with a Jiffy mix.  This is probably the softest of the bunch- the corn pudding I make is closer to a soft cornbread, where this is more of a cornmash.  It's kind of hard to explain until you eat it!
Grab a hand mixer and beat up a stick of butter (yeppers, a whole stick) some masa harina, and a little water.  Masa harina is a corn flour often used in latin cooking.  You can find it in the latin foods aisle of most grocery stores.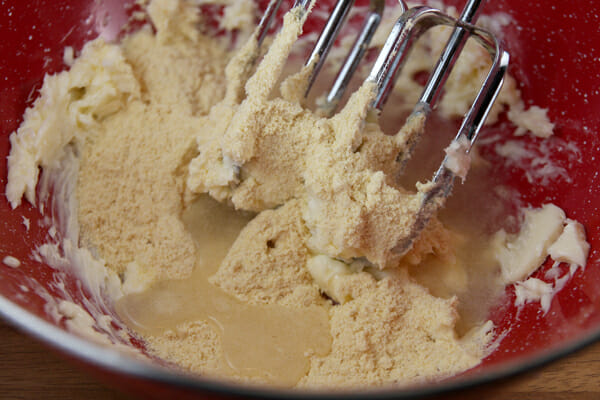 Honestly, you could probably just dump all the ingredients in this recipe in the bowl at once- but I went ahead and put the rest of the dry ingredients (corn meal, sugar, baking powder, and salt) on top of the butter mixture and just whisked them a little right in the bowl before beating them in with a little milk or cream.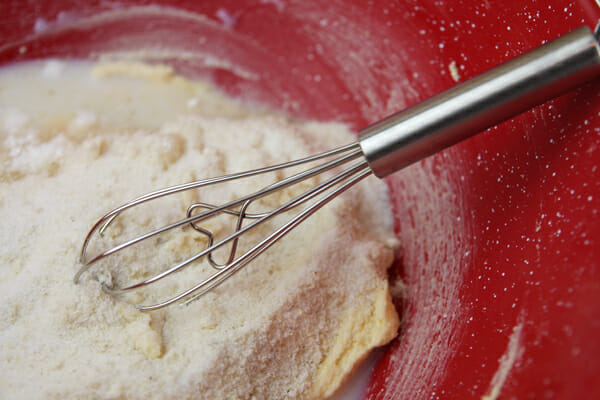 Cutest whisk ever, right?  Some sweet ladies from church brought that to me for my birthday last week.  I whisk with love.
Lastly, in goes the corn.  Use fresh, frozen corn.  It doesn't even have to be thawed. I pulsed it in my food processor until it was roughly chopped.  If you don't have a food processor, you could have at it with a sharp chef's knife.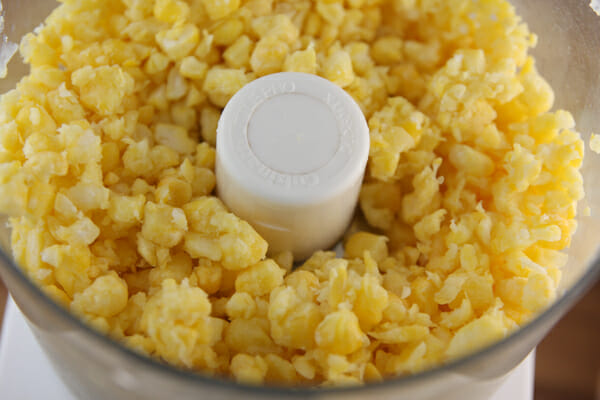 If your corn is frozen like mine, it will harden up your butter, which is why it looks crumbly. Totally fine!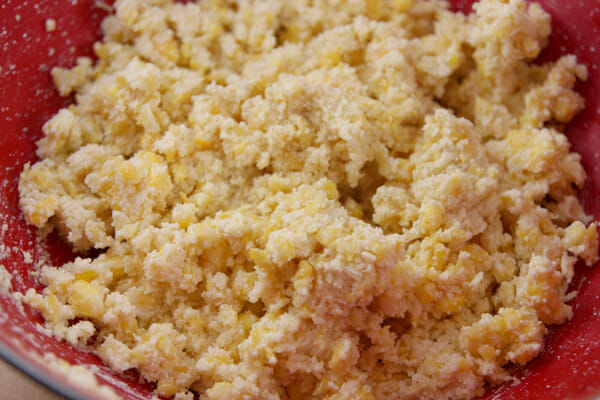 Pop it in an 8×8 pan to bake.  This recipe calls for a waterbath- which is no biggie.  Just place you 8×8 inside of a 9×13 and put a little hot water in the 9×13.  Honestly I don't know if it's necessary, but I went with it.  It bakes for about an hour and when it comes out it's really important that you let it sit for at least 10-15 minutes to sort of set up.  Most restaurants scoop it with an ice cream scoop, but I have serious issues scooping things with an ice cream scoop that aren't ice cream.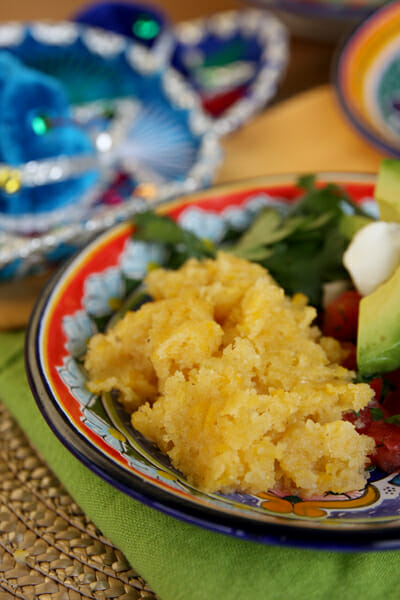 It's super soft, buttery and sweet.  You can serve it as a side dish- or it even bulks up a meatless meal served with grilled veggies and pico de gallo.  I love getting a bit on my fork along with a little avocado, pico, and some savory meat.  It might seem like a strange combo, but it's so, so yummy.  You get sweet, savory, smooth and crunchy all together.  Love it.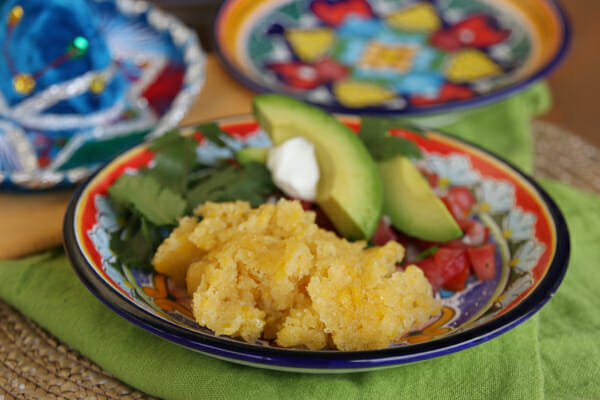 Mexican Sweet Corn Cake
Lightly adapted from allrecipes.com
Ingredients:
1/2 cup butter, softened (use real butter, not margarine)
1/3 cup masa harina
1/4 cup water
1/4 cup corn meal
1/3 cup sugar
1/4 teaspoon table salt
1/2 teaspoon baking powder
2 tablespoons milk or cream
1 1/2 cups fresh frozen corn
Instructions:
Preheat oven to 350.
Combine butter, masa harina, and water, and milk/cream, in a medium sized bowl and beat until creamy.
Add corn meal, sugar, salt, and baking powder on top of the creamed butter mixture and use a fork or whisk to lightly whisk just the dry ingredients together.  Beat the entire mixture until smooth.  Place corn in food processor (I leave mine frozen) and pulse until roughly broken up.  Add corn to bowl and mix until combined.
Spread mixture in an ungreased 8×8 inch pan and top with foil.  Place 8×8 pan inside a 9×13 inch pan and place both pans in oven.  Pour hot water in 9×13 inch pan just until it goes about an inch up the sides.  Bake for about 55 minutes.  Remove from oven, uncover, and let sit 10-15 minutes before serving.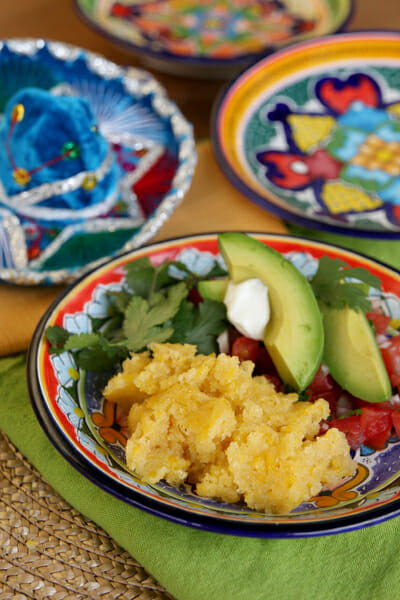 Did you know you can browse our Recipe Index by ethnicity?  And Latin is by far our largest category!  If you're looking for something fun to make for Cinco de Mayo, check it out.  You'll find everything from yummy drinks, to easy appetizers, to great main dishes.  Even dessert!