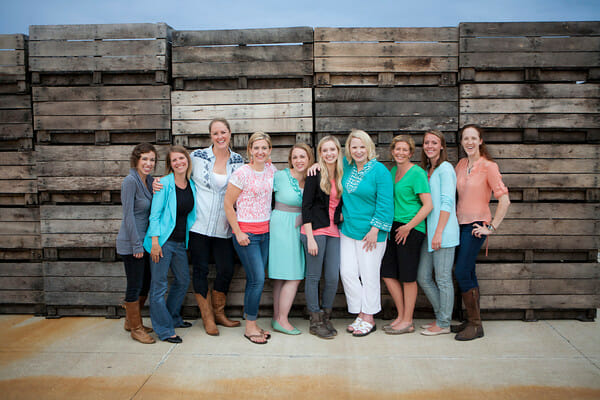 L to R: Coleen (Pretty Prudent), Tricia (Once a Month Mom), Heather (Heather's Dish), Sara (Me.  Our Best Bites.  Duh.) Kate (Ditto), Tessa (Handle The Heat), Christy (Southern Plate), Kelley (Mountain Mama Cooks), Kristy (Sweet Treats and More), Nicole (Baking Bites).
Let me tell you a little story about ice cream.  About the same time my husband and I moved into our new house last fall, a shiny new Fred Meyer store opened up literally 2 minutes away, so needless to say I'm there all. the.time.  That's when we discovered their house-brand ice cream, Private Selection.  And it became our favorite ice cream of all ice creams.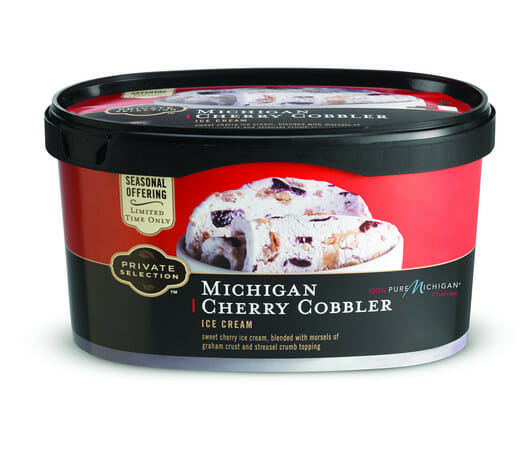 We seriously told everyone about it.  So much so, that one of my friends recently asked, "For real, how much do they pay you to promote their ice cream?  Do you have some sort of deal?"   Ha!  I wish.  No deal whatsoever, I just love it.  They have the most amazing flavors, and it's really really great quality.  I think it rivals all of the "fancy" brands of ice cream; it's a bit of a hidden gem in the freezer aisle if you ask me.  So imagine my sheer elation when Kate and I were invited by Kroger themselves (there are a bunch of stores that operate under the Kroger name, and depending where you live you might see Ralph's, Fred Meyer, Food 4 Less, Foods Co., Dillon's, City Market, Bakers, etc) to come out to Traverse City, Michigan to tour the very cherry orchards that provided the cherries for their Michigan Cherry Cobbler flavor, and stir up a little custom batch ourselves.  Heck yes!
The first day of our trip was all about cherries.  Sweet, gorgeous, plump, Michigan cherries.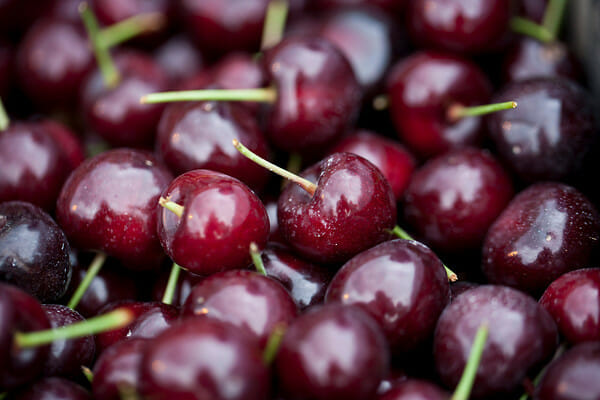 We toured the gorgeous cherry orchards at Old Mission Fruit Company with owners, Bern & Cheryl Kroupa.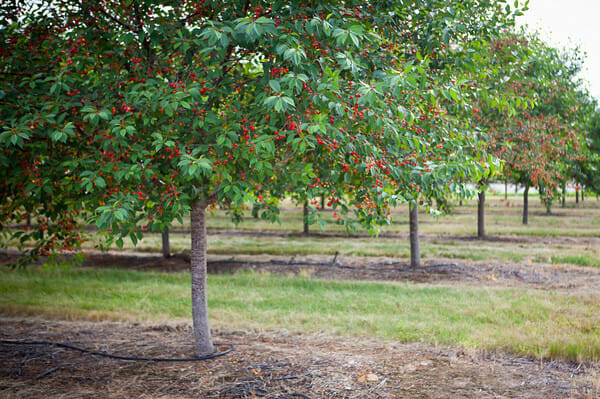 As a horticulturist myself, I felt right at home amongst the trees.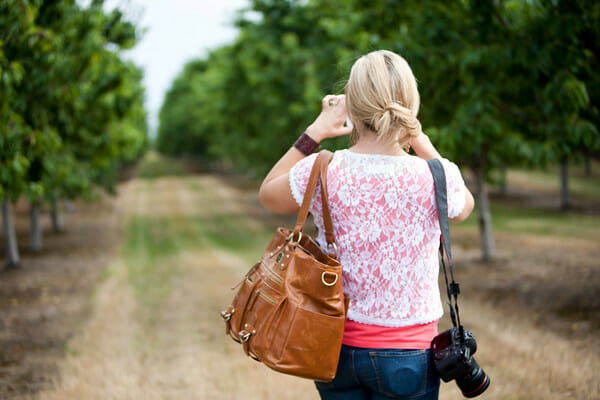 We learned all about the different varieties,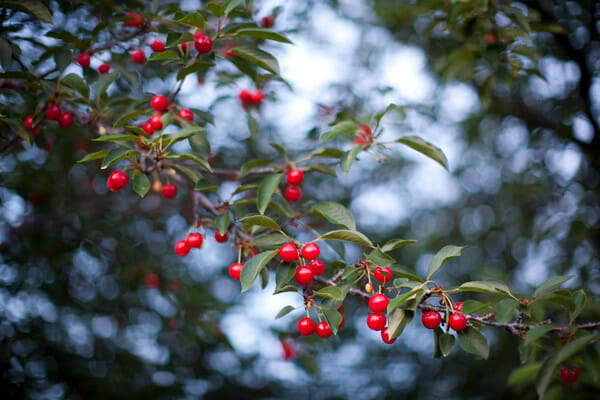 and the ins and outs of running a large-scale growing operation.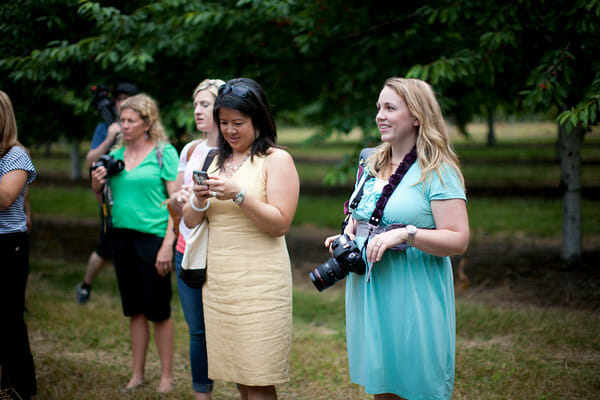 Annnnd we got to sample.  Lots of sampling.  Right off the trees.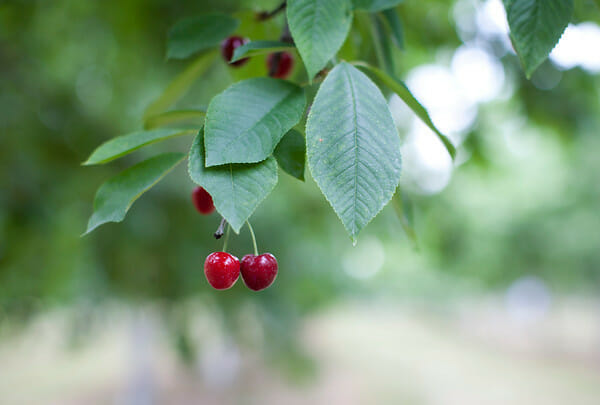 This was Kate and my first time visiting Michigan, and we both thought it was simply lovely.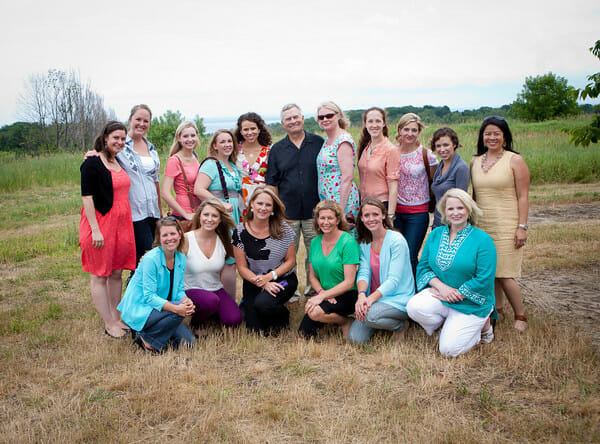 After nice tour around the cherry orchards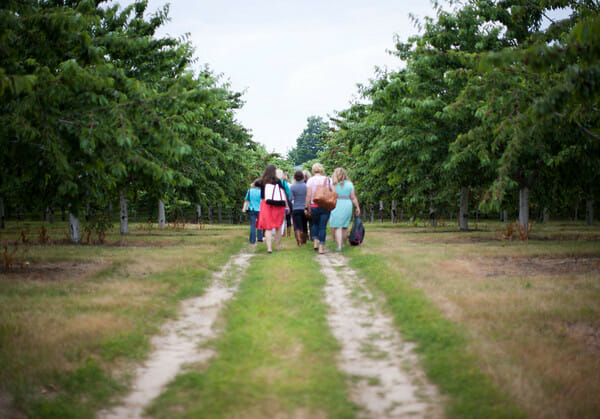 We enjoyed drinks and appetizers right on site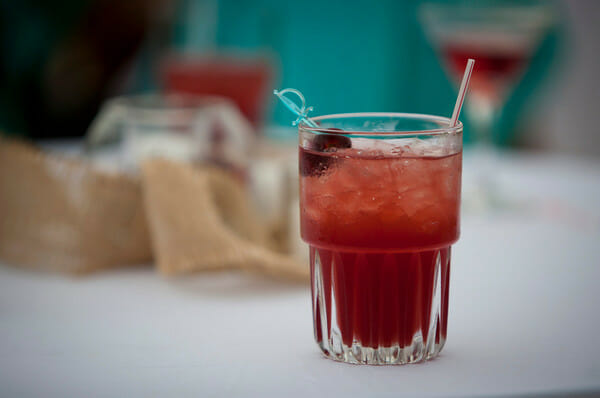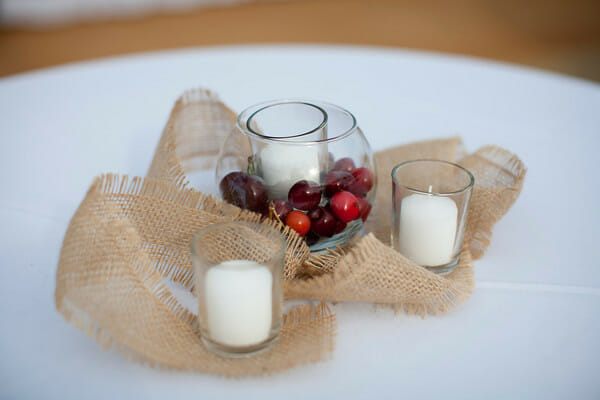 and had lots of time to visit.  Blogger events are always fun because you get put actual faces to the voices you know so well on-line.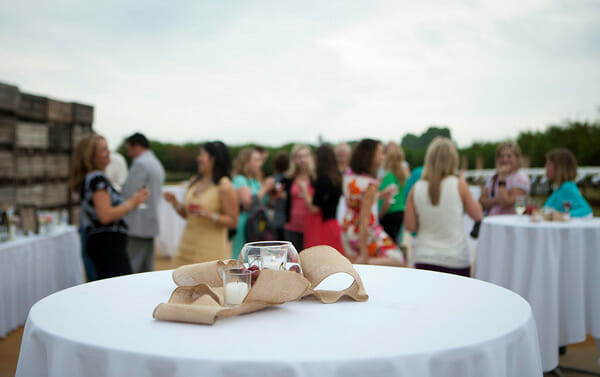 Everything was cherry-centric and we loved it!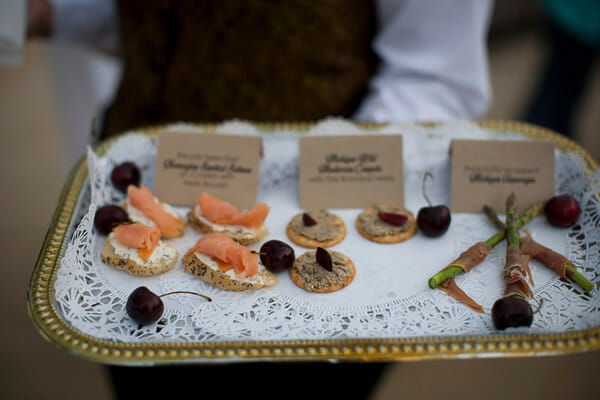 Being with a group of bloggers is sort of hilarious if you've never experienced it, because everyone takes pictures of EVERYTHING.  Like, nobody takes a drink until everyone has the perfect shot of all of the glasses lined up,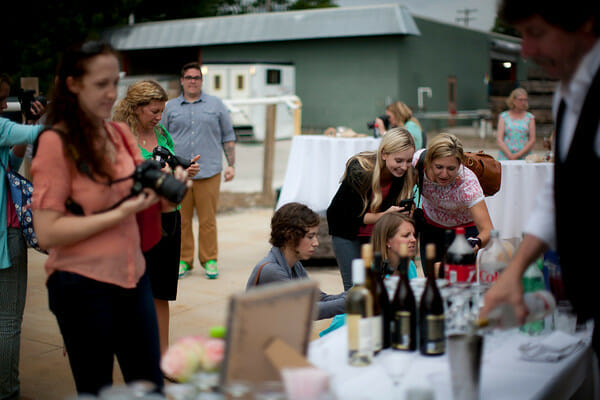 and we ooh and ahhh over things likes cherry baskets.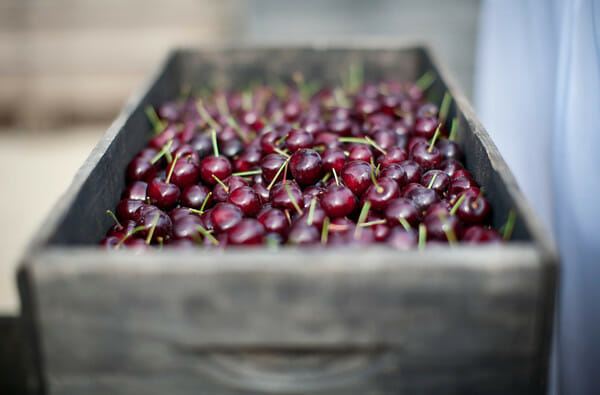 after drinks and appetizers we rounded a corner through some rustic pallets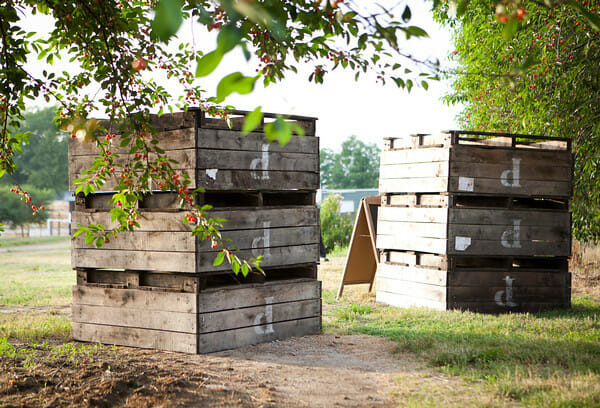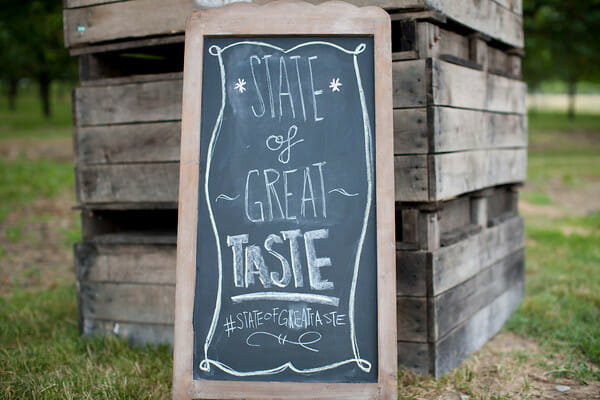 and into something that I can only explain as, magical.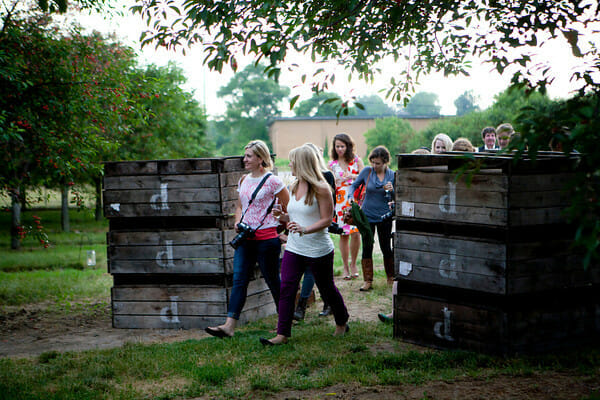 The most beautiful table right in the middle of rows and rows of cherry trees.
filled with fresh flowers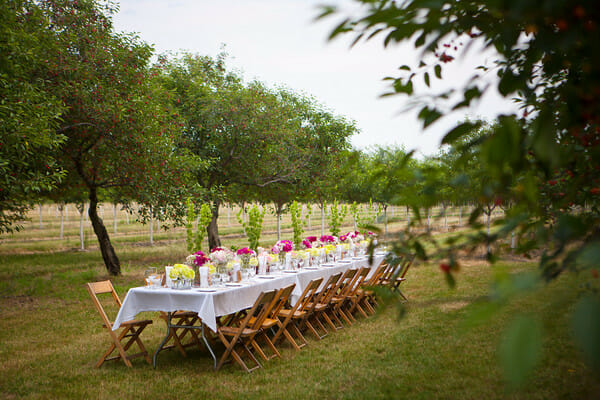 and cherry-filled votive holders, and pretty things like mason jars with our names on them.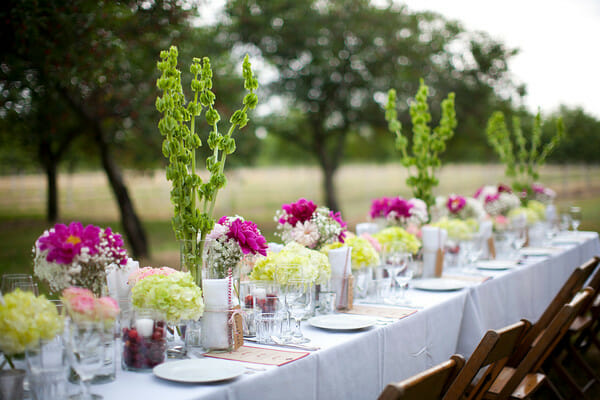 If you remember what I just told you about bloggers and their cameras, you can imagine we had a hay day with this one.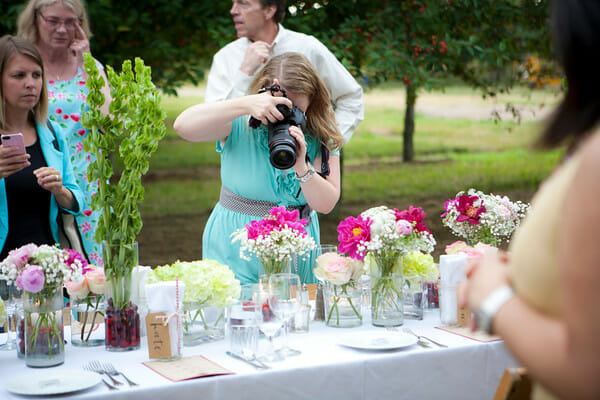 We chatted, and got to know new friends,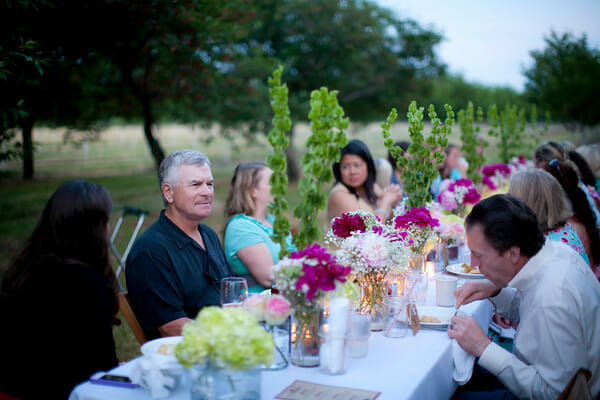 and toasted to a lovely evening.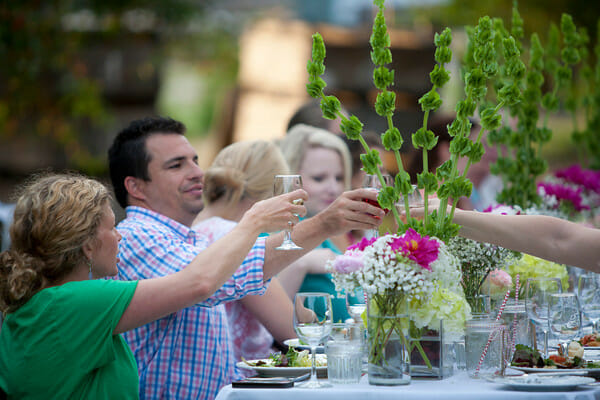 And then came delicious things like filet and lobster,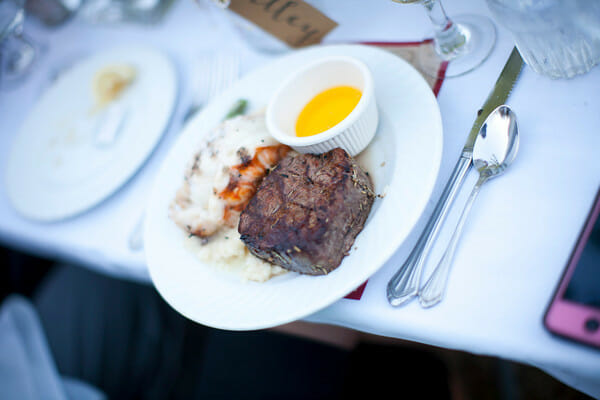 and apple pie with cherry ice cream and macadamia nut cookies.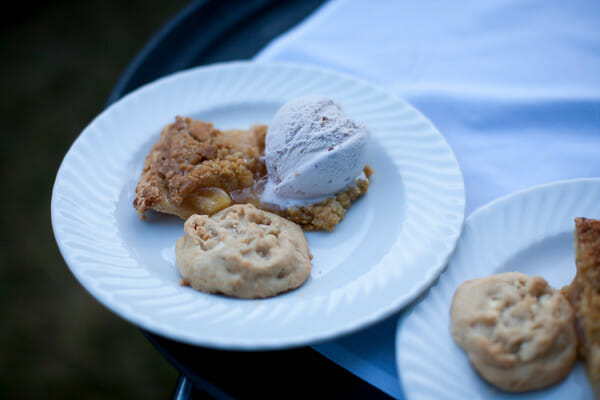 And as the sun went down, the table lit up.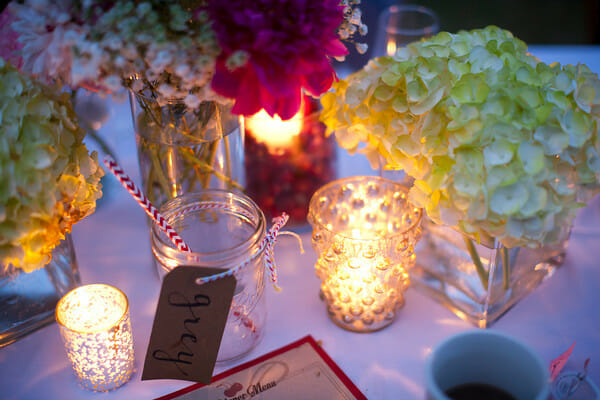 Looking at these photos is making me want to have a dinner party.  If only I had my own cherry orchard…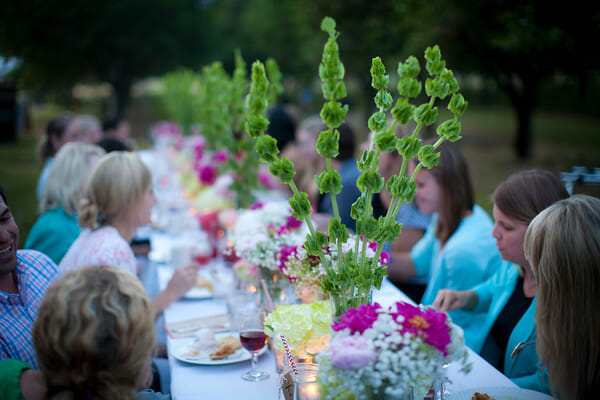 Now, we weren't in Michigan just to see cherries and eat yummy food, but I couldn't resist showing you photos of this fun day.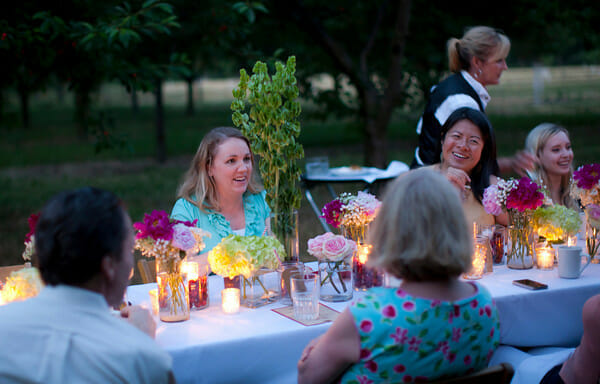 We actually had a little work to do, and Kate and I were both invited to represent our states to develop a new ice cream flavor.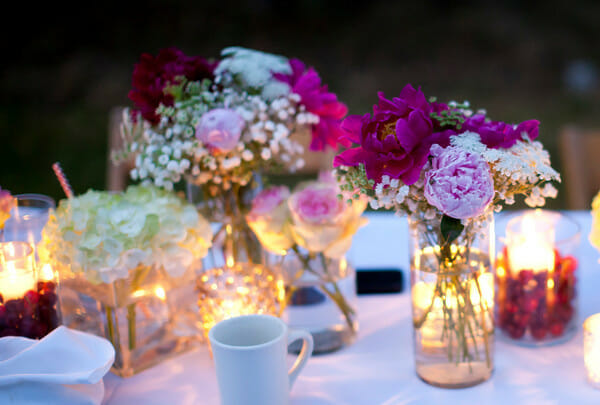 That all happened on day two and I can't wait to show you how it went down because we had a blast and you all get the opportunity to weigh in on our creations.  That's comin' at ya in a special TUESDAY post this next week, so tune in then!
Special thanks to Michigan photographer Leah Renee for all of the photos in this post- isn't her work fabulous?