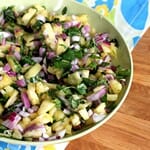 I remember a few times when I was a kid and my parents went to Hawaii sans children. I  thought that was super rude, not only because they visited a tropical paradise while the rest of us did the whole Logan, Utah winter thing (it's a thing, I promise), but also that they thought it was okay to leave us (I kind of get that now…) When my parents came back, though, they always came laden with fresh pineapple from Hawaii because buying a whole pineapple on this side of the Pacific Ocean was prohibitively expensive (totally unlike their trip to Hawaii…still.not.bitter…) in those days. So it's always kind of a shock to my system when I'm at the grocery store and I see whole fresh pineapples for, like, $1.87 each and I feel like I have to buy 22 of them and hoard them in Gollum-like fashion.
We have an awesome recipe for pineapple salsa in our new cookbook, but this one's a bit different–it's always good to have more than one way to use up those 22 precious pineapples. You're going to need a pound of fresh pineapple (if you're using a whole pineapple, that's a pound after you get it to a point where you could eat it without seriously harming yourself), a jalapeno, fresh cilantro, fresh mint, a small red onion, a lime, and some garlic.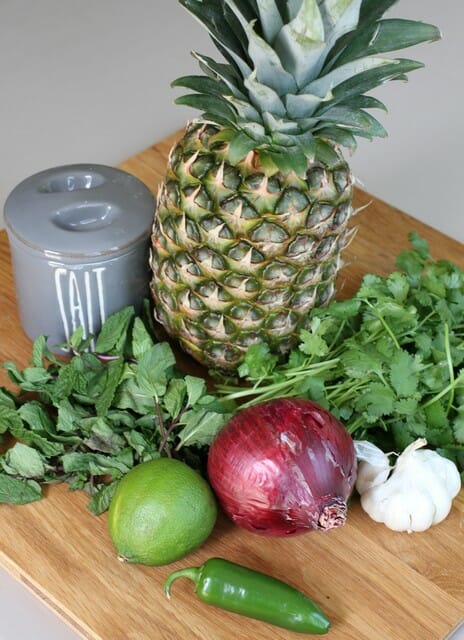 Mince the garlic, red onion, the jalapeno (seeded if you're worried about heat, which I am) and toss them together in a small mixing bowl.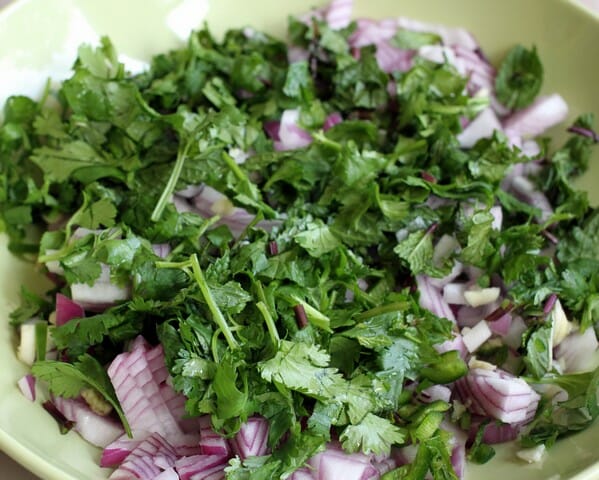 Chop the pineapple into small pieces and add it to the mixture.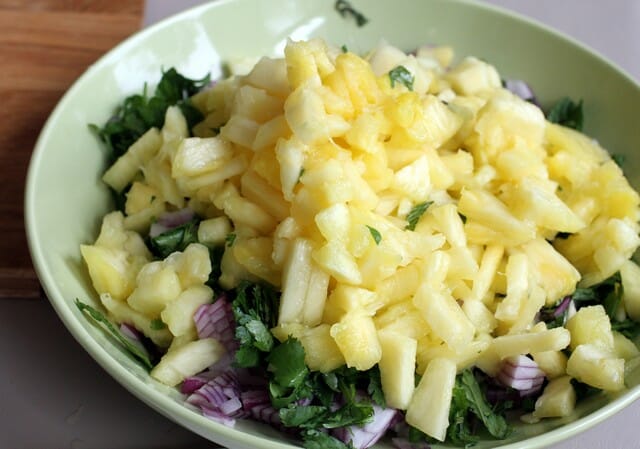 Squeeze the lime juice over the pineapple and season it with salt to taste. If possible, allow it to stand for 30 minutes before serving. You can serve this with tortilla chips or so many Asian and Latin recipes, especially ones that are cooked on the grill (and stay tuned for a few recipes in the near future where you can use this up!)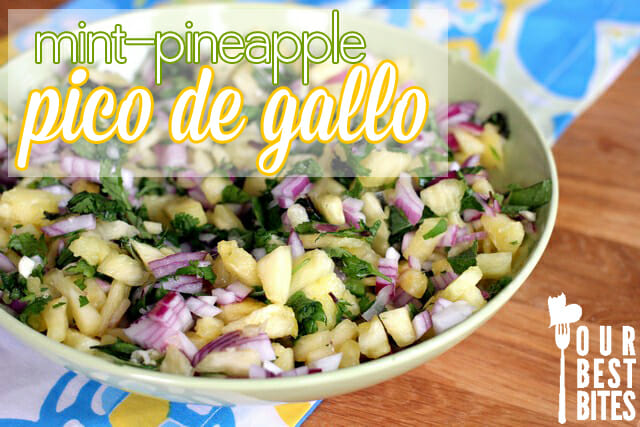 Mint-Pineapple Pico de Gallo
Recipe by Our Best Bites

Ingredients:
1 small red onion, minced
3 cloves garlic, minced
1 jalapeno, minced (seeded, if desired, to reduce heat)
1/2 cup chopped fresh cilantro
1/2 cup chopped fresh mint leaves
1 pound fresh pineapple, cut into small pieces (you can also use 1/2 pound mango, 1/2 pound pineapple)
Juice of 1 lime
kosher salt
Instructions:
Combine all ingredients except for the salt in a small mixing bowl. Season to taste with salt. If possible, allow to stand for 30 minutes at room temperature before serving. This will keep for 2-3 days in the refrigerator.