You know all of those fancy, color-coordinated, beautifully table-scaped dessert displays you see on blogs and all over Pinterest?  The ones that make it obvious they had an entire team of people with a slew of professional equipment and (conveniently) an entire collection of coordinating themed dishes and table linens to pull it off?  The ones you confidently attempt to replicate and an hour before showtime find yourself hiding in a dark corner drowning your failure in a package of double-stuff Oreos and smashed cake pops that look like a 4 year old made them?  I know you know.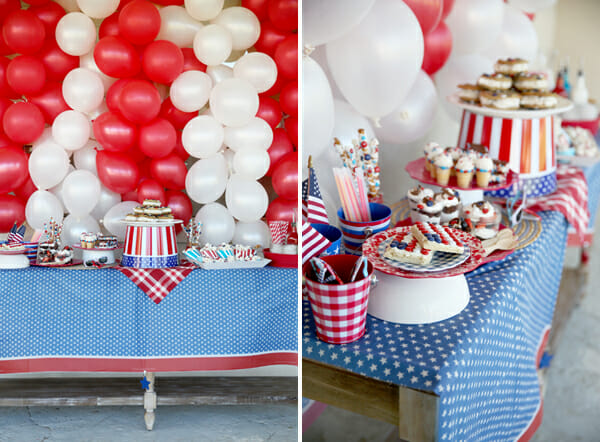 I'm here to let you in on a few secrets.  And I'm not lying; pinkie swear.  These are all easy ways to create an impressive spread!  Like, we're talking short-cut, looks-impressive kind of tricks.  First, mark my words: you can make anything color-coordinated, darling, and show-stopping, with these two things:  sprinkles and M&M's.  My first stop whenever I need to plan a fun party table is my local party store where I can stock up on the colored candies.  If you didn't know, you can purchase M&M's candies in bulk at most party supply stores, and they sell them individually by color.  (You might remember I stocked up on navy blue and white for my March Madness party)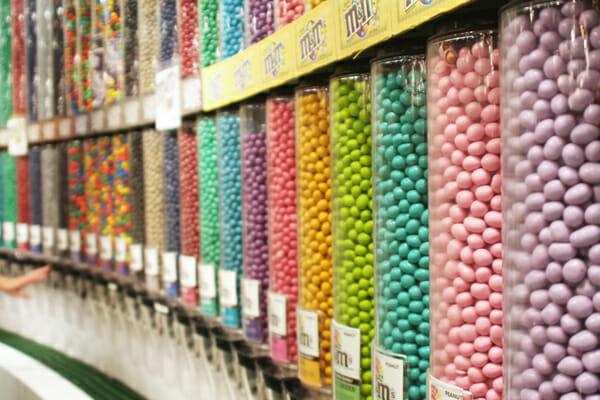 You can even find patriotic mixes this time of year in stores that sell bulk candy.  I snapped this picture just yesterday at my local Winco store.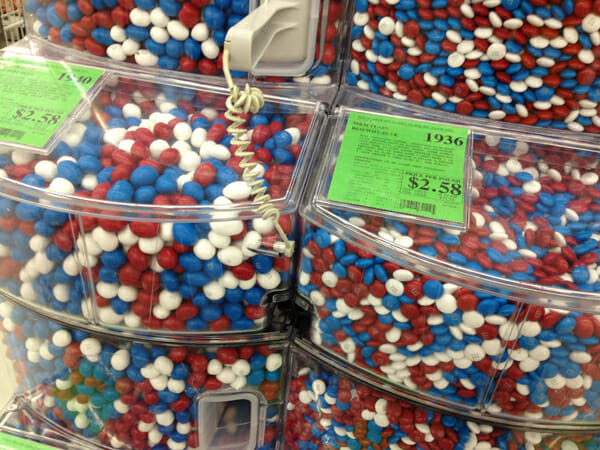 It's an awesome, and easy way to pull a coordinated party together.  Kate came to visit me recently, and since we rarely get to see one another in person, we wanted to throw this little get together, but we absolutely did not want to spend her entire visit slaving away in the kitchen!  So we literally pulled this all together in a matter of hours and had plenty of time to socialize with friends and family (and snuggle babies- how cute is Kate's little guy??)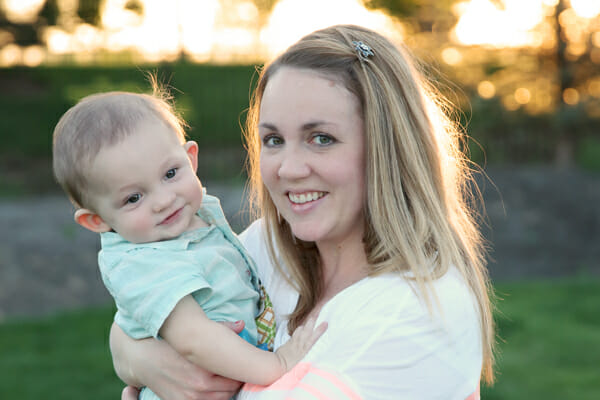 Everything in this spread has a super simple short-cut version so it really is simple!  And what's even better, you can make it all ahead of time.  You could make all of these fun things with any color scheme you want, but for our patriotic party, we went with red, white, and blue.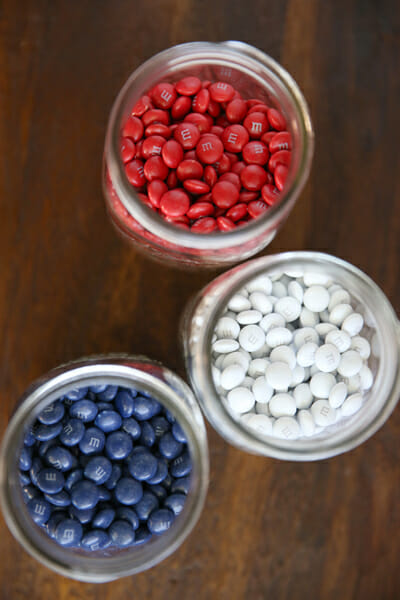 First thing: M&M Chocolate Chip Cookie Ice Cream Sandwiches.  Oh-my-gosh-yum.  Now, you can make your favorite chocolate chip cookie dough and add M&M candies (here's my favorite) or you can make the shortcut version like we did.  Grab a tube of chocolate chip cookie dough from the grocery store and smash some of the M&M's right on top.  I've actually discovered it works best to cook the cookies for half of the suggested time, and then pop the M&M's on there and finish baking.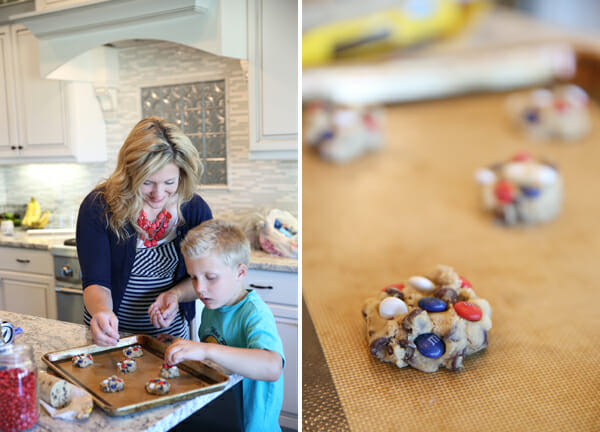 When they're done and cooled, sandwich them together with softened vanilla ice cream and then for best results re-freeze them before you serve.  Soft sweet chocolate-studded cookies with cold vanilla ice cream is one of the best things in life.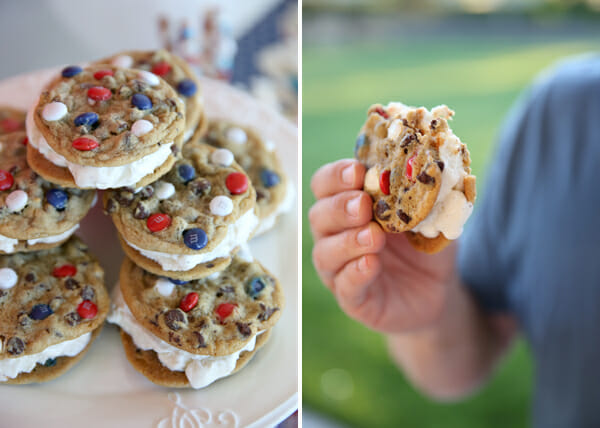 Next up: Pretzel Sparklers!  Drizzle melted almond bark (like white chocolate, sold in bricks in the baking aisle or online) over large pretzel rods,
and sprinkle on the goodies.
These are always a kid-favorite at parties, and bonus is that they have a salty-sweet combo that adults love too.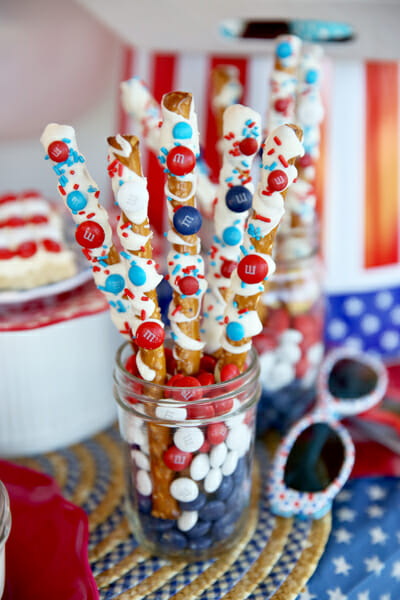 You should have heard my squeals in the middle of the grocery store when I saw that they make mini ice cream cones.  These are quite possibly the most adorable things I've ever seen in my life, second only to my own offspring.  They're only about an inch and a half tall and perfect for one cookie-scoop of ice cream!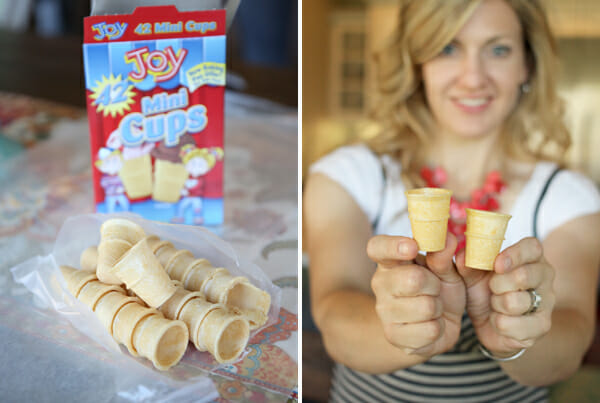 I got some help from Kate's cute daughter, who agreed about the level of adorableness of these cones.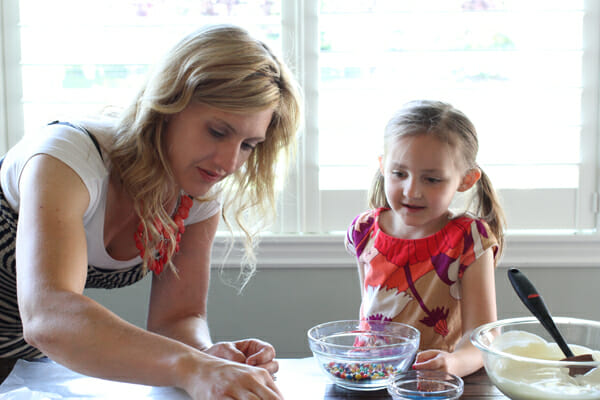 Since we already had melted almond bark, we dipped the very top of the cones in it and then added sprinkles and mini M&M's.  These dry fast and can be stored in a container until you're ready to use them.
We also decided that our jobs would be so much easier if we were both working on each photo shoot.  We've never done a post like this together, and having two people working and two people with cameras was crazy-awesome.
Those little mini cones are perfect for mini hands.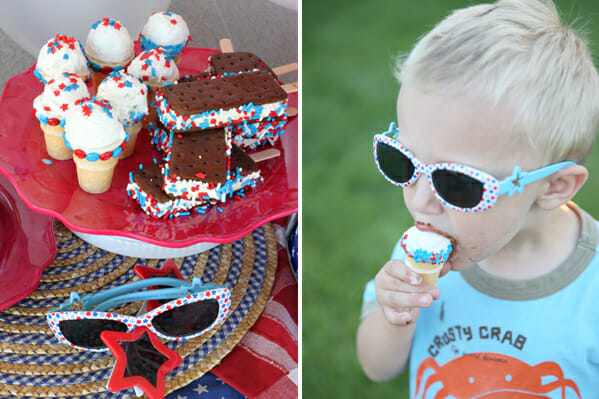 The other thing that's easy for  mini hands are ice cream sandwiches on sticks!  I swear those chocolate cookies are the messiest things on the planet.  Buy a box of sandwiches from the store, stick a popsicle stick in them and dunk the sides of the sandwich in sprinkles or M&M's or both.  5 minutes and done.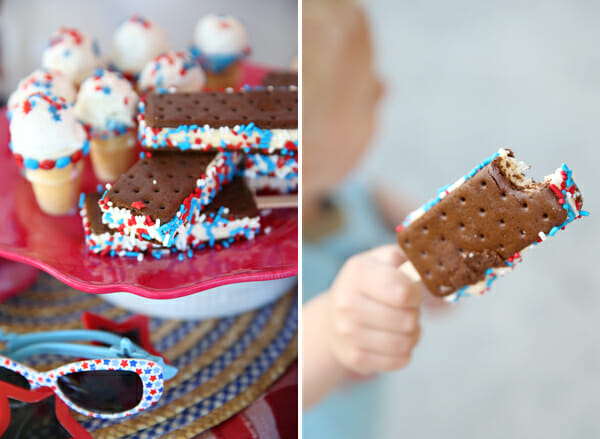 At least that way the mess stays on the face instead of the hands.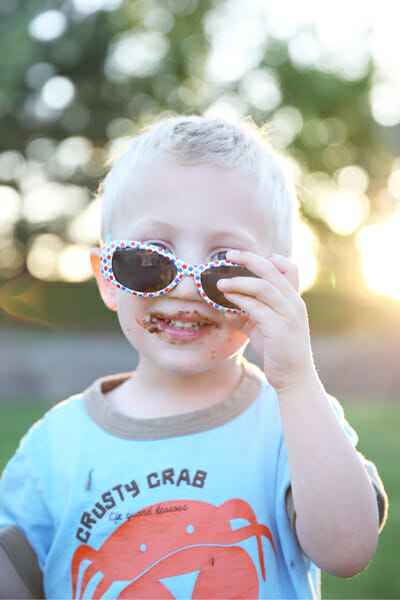 Here's another one of my go-to party desserts: mini trifles.  You can make them in any sort of container; little plastic cups are perfect for big groups.  The only thing we baked was a .88 cent bag of brownie mix from the store that took about 30 seconds to mix up.  We then layered the cooled brownie chunks, sliced berries, and cool whip (or you could do whipped cream) on top.  It's also great with cubed pound cake or angel food cake, but we wanted to stick to choc-0-late to go with our M&M's!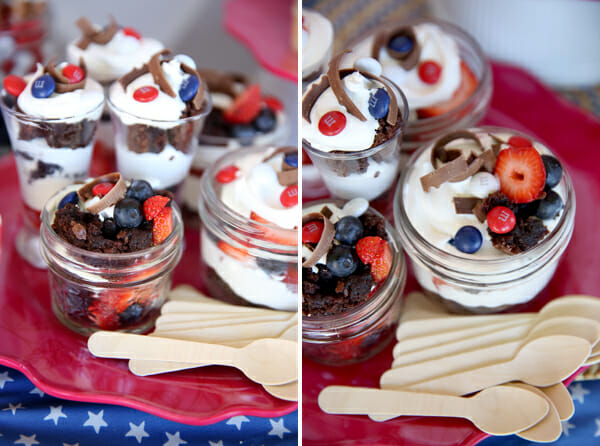 It's always good to have something that people can munch on in small quantities, and popcorn is always a crowd pleaser.  Just coat plain popped popcorn with melted almond bark and then sprinkle with M&M's and sprinkles.  So easy and so yummy.  We tossed in a few handfuls of salted peanuts as well.  Again, 5 minute project!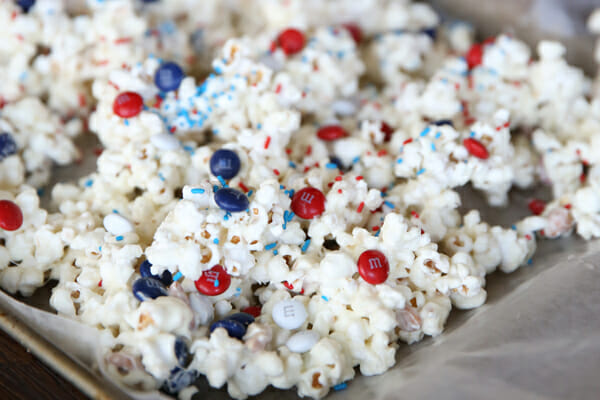 You can find cute little containers like patterned cups and fry boxes at party stores, and places like Orson Gygi.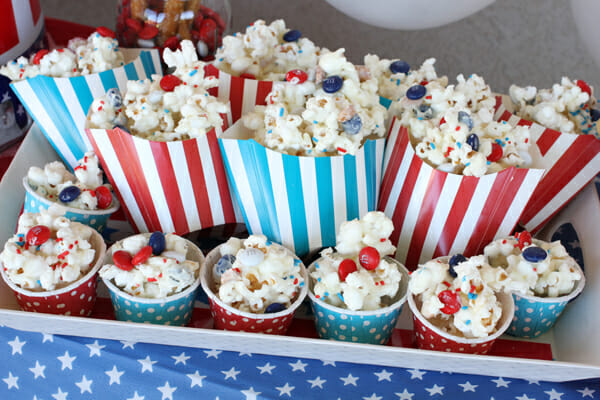 How cute are these little flag cookies??  Our easy short-cut version:  Take a tube of store-bought sugar cookie dough and press it into a foil lined 8×8 pan.  When it's cooled, remove from pan, cut into rectangles and spread a layer of frosting over the top.  Recruit some helpers to start making flags!  Not a fan of store-bought dough?  Just make your own- here's our favorite recipe.
We've got tons of great mocktails on this site, check out our beverage section for tons of family-friendly sips, like our Layered Patriotic Punch!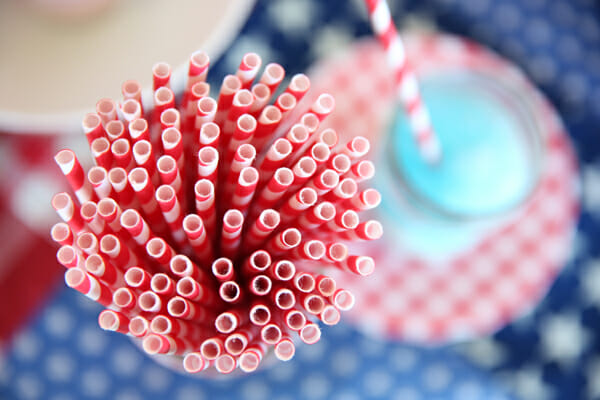 Recently, I introduced my kids to Italian Sodas, and found out my husband had never had one before either.  Wha…???  It rocked their worlds and they've been asking for them ever since.  Kate had a similar experience recently as well, so we went with a red, white and blue Italian (yes, the irony isn't lost on us) soda bar.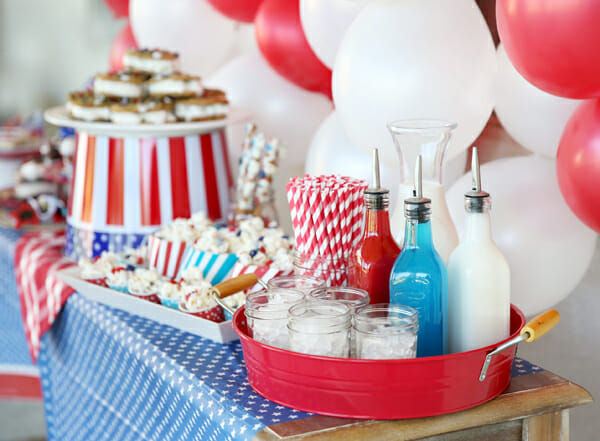 If you've never had an Italian Soda either, check out this fun how-to graphic from Orson Gygi.  Stores like World Market have a great selection of flavored syrups.
Coconut syrup is great for your "white," or we actually used Pina Colada mix!
The Target dollar section is my best friend when it comes to no-fuss get togethers.  I grabbed cute tablecloths there, some festive plastic plates, and some favors for the kiddos.
We had silly glasses,
and brightly colored glow sticks,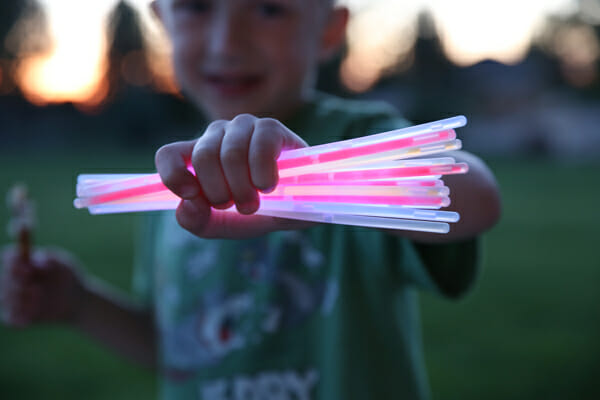 and when the sun went down, we busted out the sparklers.
Because what's a patriotic party without a little sparkle?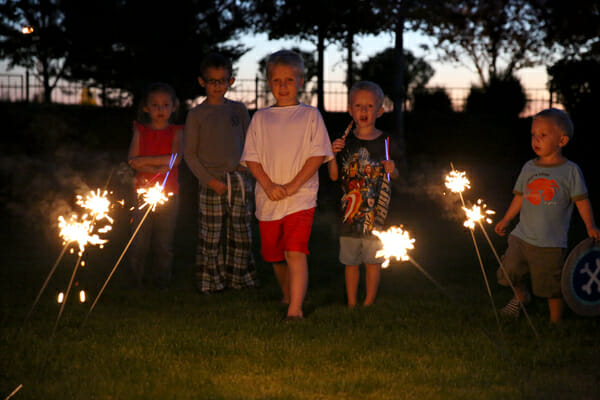 When our friends took off, we had little goodies to send them on their way.  These darling tags are free for you to download!  (See end of post.) Fill up little bags of M&M's for a festive treat.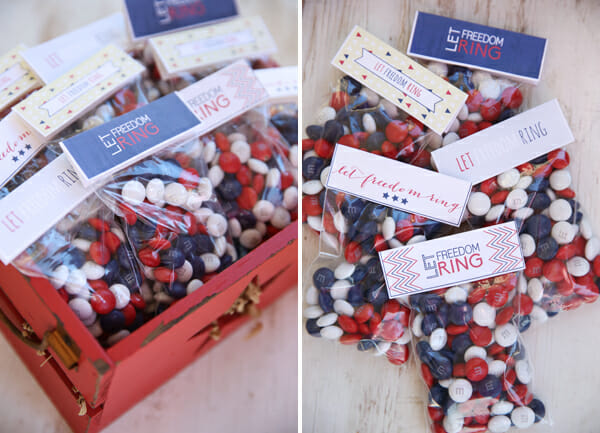 You can fold them over little cellophane baggies, or use some cute washi tape to stick them to just about anything.  They were custom designed for us by West & Main Design, check out her cute Etsy shop, we love it!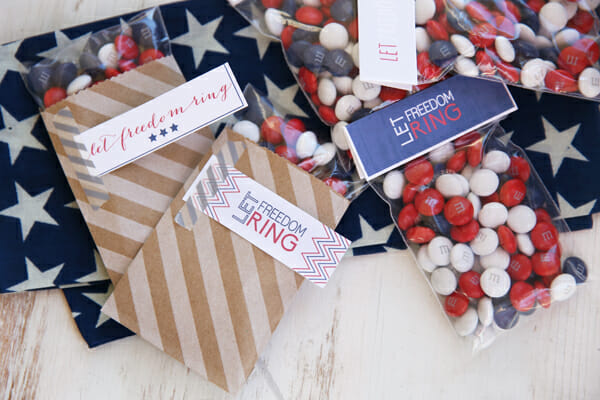 Now you're all set to create one killer party, and no one has to know about all of the short cuts!  Grab some M&M's and a few store-bought goodies and you will surely be the best host on the block!
Click Here to Download the Free "Let Freedom Ring" Printables!
This post is sponsored in partnership with M&M's.  All content and creative ideas are original to Our Best Bites.
Shopping Notes:  Most of the cute paper products you see in this post, like the paper straws, fun sprinkles, and paper containers are from Orson Gygi.  Click here to shop online!
Save