Yes, it's ironic that I'm naming this post "scrapbook" seeing as both Kate and I are hideously awful at actual scrap-booking.  But that's the point here.  I think subconsciously I'll feel better about myself if I can manage a snap-shot synopsis of the past 6 months that at least my parents can look at!  I kept meaning to do some posts over the past few months to share some photos of what we've been up to and it just never happened, so today seemed like a good day to re-cap.  First off, we're pushing rewind and heading backwards all the way into July.  While Kate was busy birthing a small human (no biggie)
I headed back east to New York City.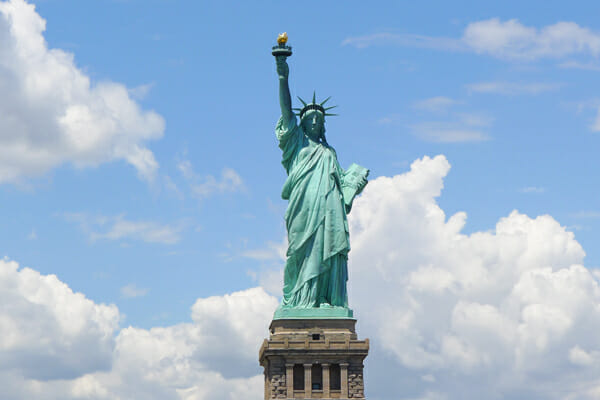 There is a huge annual publishing event called Book Expo America, and I went to represent Our Best Bites and our publisher, Shadow Mountain.  The event was full of every major publisher, lots of authors, and tons and tons of books!
I signed lots of books and met lots of great people.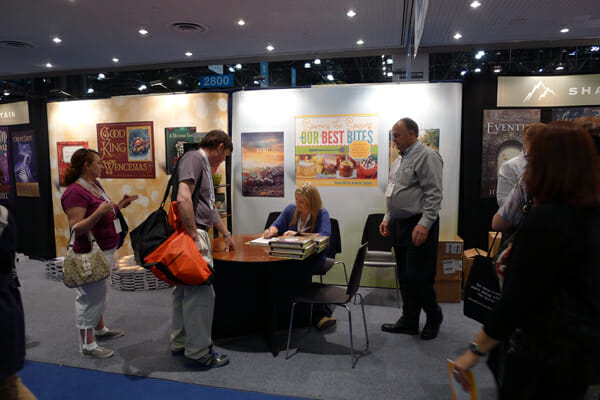 And ran into some familiar faces, too.  Jane Seymour was signing right next to me (look, she's wearing the necklace!)
And the lovely Bakerella was just around the corner.  She is every bit as darling in person as she appears to be online!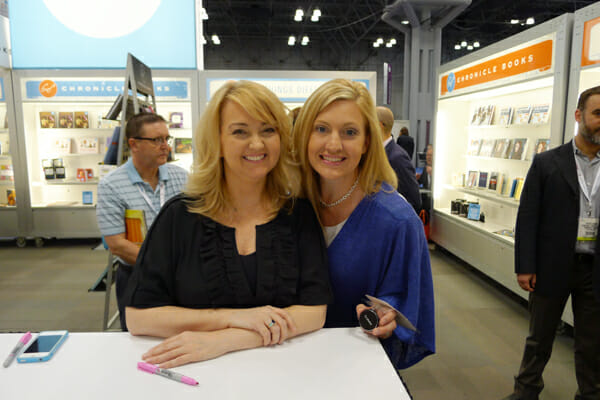 And since Kate couldn't be with me, I brought along my fun sister in law and we spent a few days seeing all of the amazing sights of the Big Apple.  We stayed right in the center of Times Square (oh my gosh, now I know why they call it the city that never sleeps) and made sure to see the Empire State building, the Twin Towers, the Statue of Liberty, Central Park, and you know the rest. SO much fun
We got a couple of months off from traveling during the summer and then hit the road again last month.  We headed down to Salt Lake City to launch our book and had a fantastic event at Orson Gygi (swoon.)
See all of that stuff?  It's only a small part of Orson Gygi and it's ALL kitchen stuff.  I have heart palpitations every time I enter that store…
We were so fortunate to have such a great team setting up the event.  We literally just had to show up and they had made and prepped all of the food.
They had lots of samples from the book so people could munch as they waited in line.  I'm pretty sure we need to incorporate food into all of our signings now.
We were thrilled, and not gonna lie- a little shocked- when hundreds of people came to see us and celebrate the launch of the new book.  We loved meeting so many new people, and seeing some familiar faces.  It's especially fun to connect with other bloggers in 'real life' and we got to see so many!  I wish we would have snapped pictures with everyone, and I wish we had more time to chat.  Below you can spy the lovely ladies from (clockwise starting at top left) Tatertots and Jello, House of Smith's, Jamie Cooks it up, The Crafting Chicks, and Two Peas and Their Pod.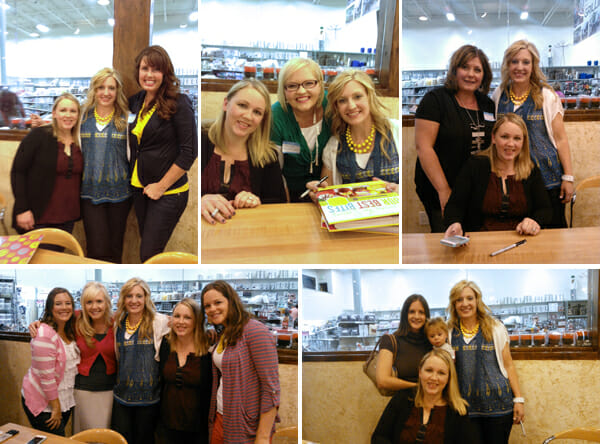 To say our hands were tired at the end of the day would be an understatement, but hey- you'll never find us complaining about having to sign too many books!
After the event was over, we slipped over to the gorgeous display kitchens at Orson Gygi to shoot some videos.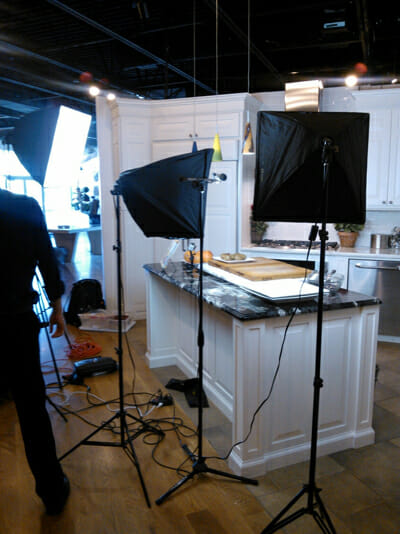 They told us to look like we were having fun with our food.  Clearly, Kate is unimpressed by my enthusiasm.
We went straight from Salt Lake City to Denver, CO to speak to an amazing group of women.  I literally took zero photos of that trip!  It all happened so fast, and I think we were in sort of a daze after such a whirlwind trip.  But Denver was wonderful and we especially enjoyed meeting so many of you OBB readers.
We were home for a few weeks and then jetted off to Logan Utah last weekend.  While driving on the freeway to our event, we spotted this billboard on the side of the road:
Well, we spotted it in the middle of a rain storm, which made it hardly recognizable.  A fantastic reader named Danielle snapped this nice sunny photo and sent it to us, thanks Danielle!  We had a blast with a sold-out crowd in Logan, and then since it's Kate's home town, she took me around to sample some of Logan's best.  Cookies from Old Gist Mill?  Wow.  Again, there were no cameras to be found on this trip.  What's wrong with us?
We're home this week and then off to Salt Lake City next weekend.
BOOK SIGNINGS: To those of you in that area, please note: we'll be signing books at the Flagship Deseret Book Store down town on Saturday night.  Please come!  6-7:30pm.  The very next weekend we'll be in Phoenix, Arizona (woot woot Phoenix!)  Again, we'll be doing an extra book signing there as well, Friday Nov 2nd, 6:30-8pm (Deseret Book Gilbert-Mesa South 1350 S Gilbert Rd #4, Mesa, AZ 85204)  So come and see us, and please help spread the word!
After that, our goal in life is seriously to NOT go anywhere for a while!  Kate is staying busy with her cute family, and especially her new little man (oh that face melts my heart!)  She needs to basically hibernate for the rest of the winter so she can get all caught up on sleep (am I right, Kate??)  I swear she's been Superwoman these past few months doing all of this traveling with a newborn.
And I'm up to my neck in moving boxes.  Have I ever mentioned that I HATE packing?  The house we're building is almost done and I plan on living there for the next 87 years so I never have to pack another box, ever.  I kid you not, this is a photo of my office desk as I'm sitting here writing out this post:
Bah!  I cannot wait for my house to be organized again.  We're getting soooo close.  Carpets are going in today and then it's clean up and final touches.  I especially can't wait to show you the new kitchen when it's all done:
It's getting there!  So if my posts start getting whacky (tutorials like "How To: Make a Peanut Butter and Jelly Sandwich") it's because my life is in complete chaos as I try to pack, move, travel, cook, and write, all at the same time.  Be nice.
Alright, that's a wrap.  Next week we're coming at ya with some awesome new recipes.  I'm sharing one that I seriously can't believe I've never posted before since it's one of my go-to fall yummies.  We also have a great giveaway coming up soon.  Have a good weekend and we'll see you next week!