If you follow me on Instagram, you saw some of my recent photos from a family vacation. We took a road trip from Idaho to Montana for a wedding and decided to pass through Glacier National Park. When this opportunity arose to write about our Nation's Parks, it was the perfect fit since I had just returned home from one!
When I was about 8 years old, my family took a big long road trip and passed through several National Parks in the West. The National Parks system sold (and still sells) these neat Passport Books. They have all of the National Parks in them and when you visit any park you can stamp your book. I begged my parents for one and I was recently telling my husband how I remember so vividly being so excited about it. When I saw they still sold them, I was so bummed I didn't keep mine! My family has such a love for the outdoors and this country absolutely amazes me with its beauty. I was telling my husband that I would love to visit all of the National Parks in the US throughout our years. He told me there are nearly 60 so that might take a while! I've been to several on the western side of the US, and most recently, Glacier National Park.
Glacier is nice because there's a main road "The Road to the Sun," that weaves through the over 1,500 square miles of park. If you aren't able or interested in hiking, the drive alone is spectacular, and there are constant pull-offs to the side of the road with stunning views and photo opps. We started our day early by a quick stop to the visitors center and then a stop along the shores of Lake McDonald, where the glass-like water was crystal clear, revealing colorful stones below.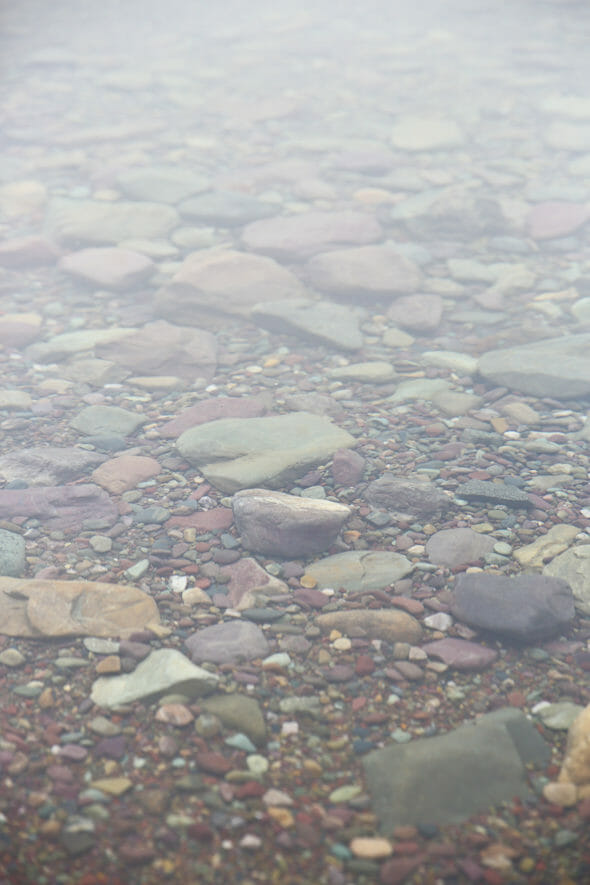 My boys could have stayed right there all day skipping stones and collecting rocks. They were in heaven.
We stopped by that same place after the sun came out and the water shined its true colors, which were amazing shades of turquoise.
Since we had our littlest outdoorsman with us, we opted for a nice little walk at first.
This "Trail of the Cedars" is nice because it's even wheelchair accessible. It's a beautiful little walk if you're wanting something peaceful and easy.
I loved the beautiful lines on this tree that had fallen over and turned into a work of art.
Since our kiddos did well on the little walk, we opted to take the hike that went further up the hill. The first thing we saw literally stopped us in our tracks. Turquoise glacier water meandering through boulders and mossy rocks.
It was insanely beautiful!
We continued up the mountain on a hike that took several hours round-trip, but the reward at the top was worth it. A photo simply can't capture the majesty of this place.
I have to add, if anyone is looking for a baby carrier, this one is awesome. Our little guy stayed in there for several hours at a time and stayed happy as a clam. He even comfortably took a nap in there while being toted around. We borrowed this one from my brother and loved it so much we'll probably buy one of our own since we do so much hiking. We also absolutely love our Camelbaks!
After hiking, we drove the long winding Road to the Sun, which makes you feel like you're driving through the Alps. I've been to the actual Alps, so I know what I'm talking about! At the right time of year, if you go high enough, you may run into mountain goats, moose and even bears.
The views were out of this world. We kept thinking we were on a movie set or something!
A lot of you were asking me for tips on Instagram in preparation for your own trips. My advice is to do some research about the best hikes according to the ability of your party and the time allotment you have. I could write about 10 posts on all of the amazing things found within the park, but this is just a little peek! If you're heading there, take advantage and see as much as you can.
If you live in other parts of the country, I highly suggest looking up National Parks near you. You might be surprised at what's hiding right in your own backyard, or at least within driving distance. For example, I had no idea that just hours from me lies over 600 square miles of ancient lava flow! We were able to pass through Craters of the Moon National Monument as well, which as you can imagine my boys thought was the coolest thing ever.
It literally looks like you're on another planet. Who knew something like that was sitting in the Idaho desert? Amazing.
One of my all-time favorite National Parks is Sequoia National Park in California. I've made that trip 3 or 4 times now because I love it so much. Look at the size of the trees there!

You see the pictures and you know they're big, but not until you've been there in person do you really understand the grandeur and majesty.
After attending college in Utah, I fell in love with the unique landscape of the southern part of the state where you have 5 amazing National Parks: Arches, Bryce Canyon, Canyon Lands, Capitol Reef, and Zion. My husband and I took a road trip to Arches shortly after getting engaged so that's always been a favorite of mine! (Photo Credit)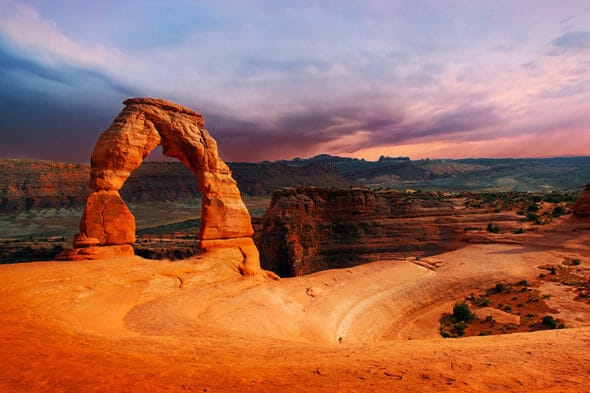 I have a lot more on my bucket list, but I am sure grateful for our beautiful country! I may have to go and get one of those Passport books afterall. I'd love to hear your suggestions of where I should go next! What's your favorite National Park?
This post is sponsored by the makers of ARM & HAMMER™ Clean Scentsations™. If you can't visit a park near you, you can certainly smell as fresh as one! Check out the Clean Scentsations™ with fresh scents inspired by the great outdoors. The makers of ARM & HAMMER™ are a proud supporter of the National Park Foundation.