I have a list of links bookmarked on my computer that's a mile long. Yes literally, a whole mile. That's super long. The biggest category is labeled "recipes to try" and there are some that have been there for years. This one is one I always see when I'm scrolling through the list because it's been there for like, 5 years. I thought I should finally make it just so I could delete it and let something else win the title of longest time on the list. Because I'm all about equal opportunity. These ooey gooey brownies have the look of a gourmet concoction, but they start off with a shortcut and are thrown together in no time. You'll use a devil's food cake mix (we like Duncan Hines) and turn it into a brownie. The middle layer boasts fluffy, melty marshmallow cream and dots of peanut butter morsels. Sounds like a winning combination, right?? It totally is.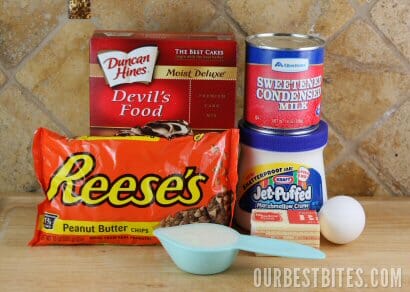 Start by mixing part of the sweetened condensed milk with the cake mix, butter, milk, and egg white. It doesn't look like a cake batter, it's super thick like this: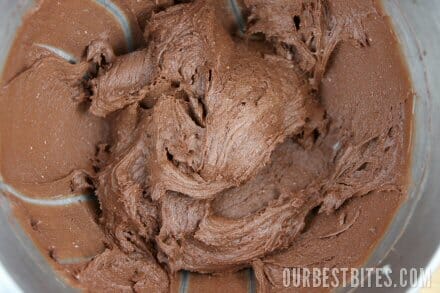 You'll need to pat part of this mixture into a 9×13 inch pan. You can either flour your hands, or spray them with cooking spray to avoid big goopy chocolate hands. That layer gets popped in the oven for about 10 minutes.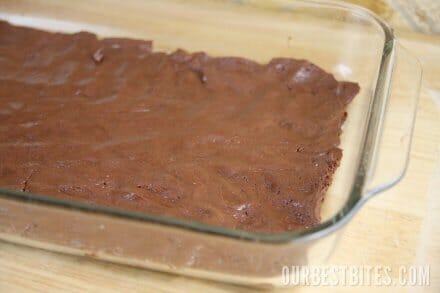 While it gets baked up, grab the marshmallow cream and scoop it all out into a bowl.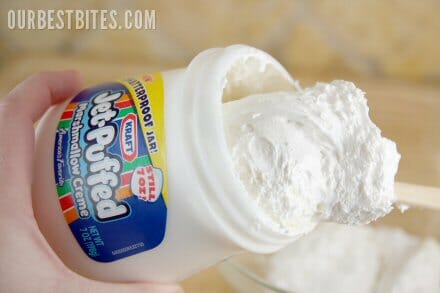 Add the rest of the sweetened condensed milk and stir it up till it's nice and smooth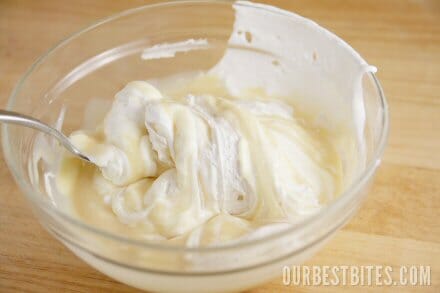 Lovely, isn't it?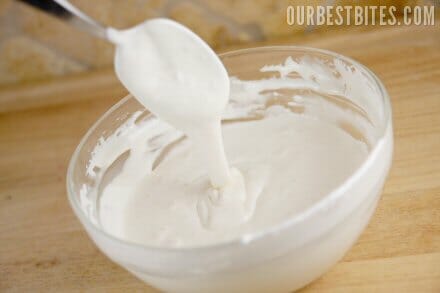 Then, we add peanut butter chips. Mmmm…peanut butter chips.
What a beautiful invention.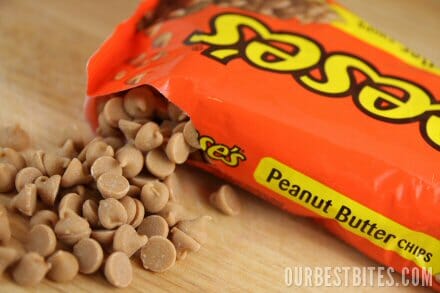 You can certainly measure them out. Or you can dump them in and accidentally dump way more than the recipe calls for. I won't tell.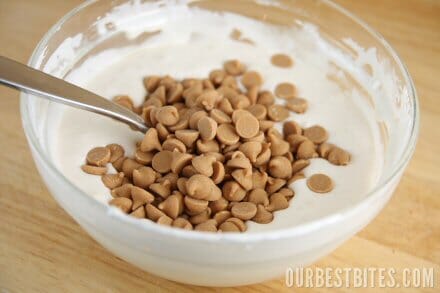 Stir them in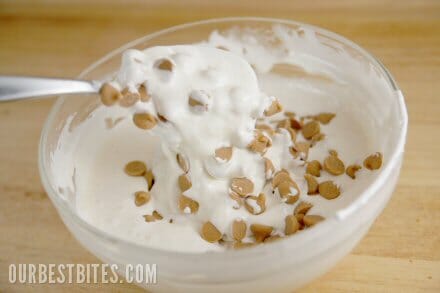 Then pour the marshmallow mixture over your pre-cooked brownie mixture. The marshmallow mixture is nice and sticky so just be patient and spoon it on a little at a time and very gently spread it around.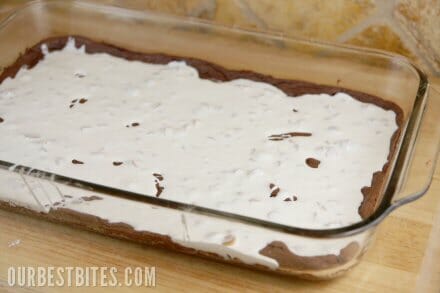 Then take the rest of that brownie dough and use your fingers to sort of smoosh it out into flat pieces and lay them on top.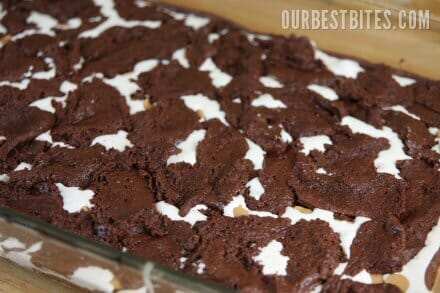 Ready for the oven! Bake for another 30 minutes and wa-lah…
(And if you're about to send me a rude grammar-correcting email or comment, I will just tell you now that I already know that's not the correct spelling of wa-lah and I'm using it anyway. Because it's my blog and I feel like it. And I don't like writing in French because people won't pronounce it wa-lah in their heads they will say viola.
And that just sounds lame. Seriously. Stop the emails. I'm sure you have better things you could do with your time. Like make brownies!)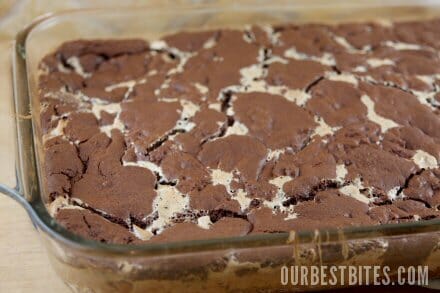 It will kill you to not cut into these right away, but trust me, they are much better after they've cooled down. You can leave them slightly warm, or cool them completely to really taste all of the flavors. They're awesome in big squares with a scoop of vanilla ice cream on top too.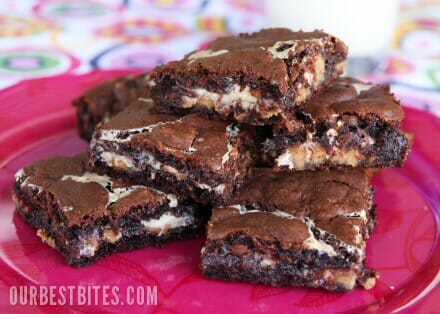 Or just stuffed in your face. Your call.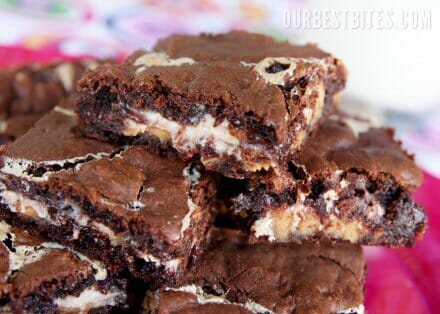 A few of you readers in the comments were surprised to note the source of such a naughty looking recipe: Cooking Light Magazine! I noted that the great thing about Cooking Light is that they skim calories where they can, but without sacrificing the recipe. So while these brownies are totally drool-worthy, they use non-fat milk and non-fat sweetened condensed milk, only 1 egg white in the whole recipe and only 4 tablespoons butter. All things considered, that's a pretty great line-up for a treat as decadent as this! So go ahead; eat one more 😉
Ooey-Gooey Peanut-Butter Brownies
---
Description
These ooey gooey brownies have the look of a gourmet concoction, but they start off with a shortcut and are thrown together in no time.
---
3/4

C sweetened condensed milk, divided (fat-free is fine)

1/4

C butter, melted and cooled (

1/2

stick)

1/4

C non-fat milk

1

box devil's food cake mix (

18.25 oz

)

1

large egg white, lightly beaten
cooking spray

1

7 oz jar marshmallow creme (about

1 3/4

C)

1/2

C peanut butter morsels (not gonna lie, I used a very "heaping"

1/2 cup

🙂
---
Instructions
With an electric mixer, combine 1/4 cup sweetened condensed milk, milk, butter, cake mix, and egg white. Mixture will be very thick. Spray 9×13 pan with cooking spray. Press 2/3 of the mixture into the bottom of the pan. Use either floured hands, or spray your hands with cooking spray in order to press it down without having it stick to your fingers. The layer will be thin. Bake for 10 minutes.
Combine 1/2 cup sweetened condensed milk and marshmallow creme in a bowl and combine until smooth. Stir in PB morsels. No one will tell if you stir in some extras.
Spread marshmallow layer over brownie layer in pan. Carefully drop remaining brownie batter by spoonfuls over marshmallow mixture. Bake at 350 for 20-30 minutes. (The original recipe calls for 30 minutes, but many readers have noted that 20 minutes was perfect, and I usually only bake for about 20-25). Remove from oven and cool before cutting into squares.
---