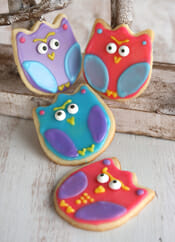 Happy Halloween!  I just have to first say thank you to everyone who gave me family Halloween costume ideas on Facebook a few weeks ago.  I think I am set for the next 10 years now!  We ended up going with the Avengers (like probably half the rest of America) because I'm super on top of things and scrambled to find costumes yesterday afternoon.  Yes, the day before Halloween.  (Like I said, I'm super on top of things.) And those were readily available!
Since my family has been building a house and we knew we'd be moving right about now, I started my oldest son at his new school at the beginning of the school year.  Since everything was new, I didn't know a darn thing about the first grade teacher he was assigned to.  I'm not the kind of mom that goes crazy about those sorts of things, but still- you hope your kids have wonderful, amazing, loving, engaged teachers who will make that year the best ever for your child, right?  So I just crossed my fingers and hoped for the best.  Lucky for us, his teacher is all of those things and more.  I actually had a feeling she'd be awesome when we stopped by "meet the teacher" night and I saw how adorable her classroom was.  Every last detail is expertly crafted in an owl theme.  The signs, the hall passes, the table labels, it's all just too cute for words.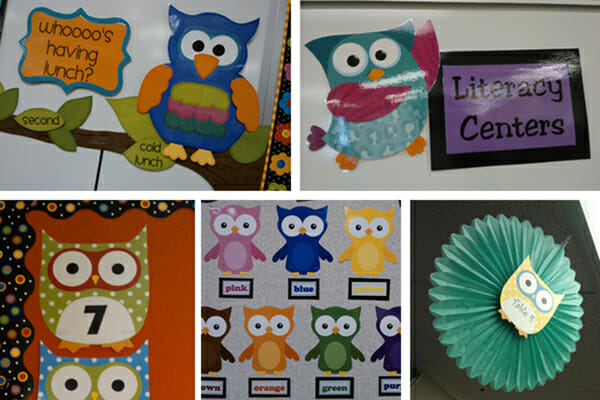 We have the class calendar on our fridge and my son has been counting down the days in the fall  because not only did he have a birthday coming up, his teacher did too.  A few days before, he brought me this card he had thought of and made all by himself: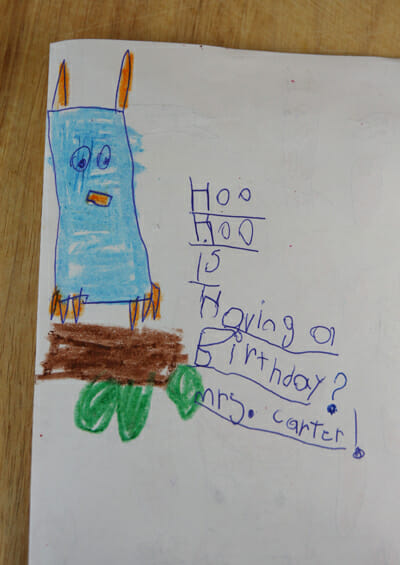 I melt!
Since he's my kid and apparently I've taught him that all special days deserve special cookies, he was dying to make cookies for his teacher.  Owl cookies.  I don't have an owl cookie cutter and you'd think I'd be able to find one around Halloween time, but nooooo.  I checked EVERYWHERE.  I didn't have time to order one online and was super bummed not a single store near me carried them.   As I was looking at a little owl graphic I had, I noticed it looked familiar, the shape was just like a tulip!  I knew a tulip cookie cutter would be easy to find, so I rested easy knowing that was always an option.  And I felt super smart for thinking of it.  As a final ditch effort, I posted on our facebook page, asking if anyone in my area had seen owl cookie cutters.  And a bazillion of you responded with helpful ideas, half of which were "just use a tulip."  Like, duh.
I hate it when I think of awesome ideas only to find out that everyone else thought of it first.  Let's just for this post pretend I'm brilliant, okay?  Okay.
A tulip cutter is pretty common.  You can find them easily in cooking and craft stores.  Wilton has a standard 3 pack that comes with a tulip like this: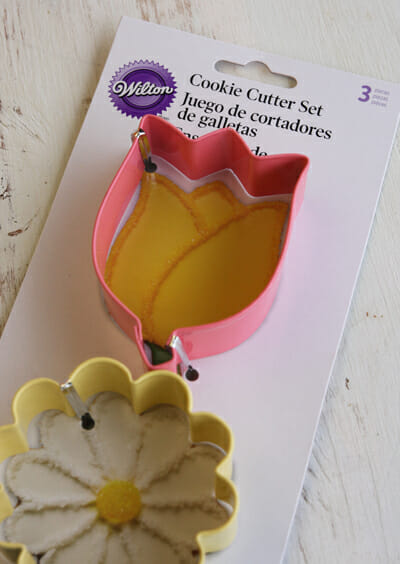 I took mine and even squished it a little bit to make my tulip shape a little shorter and more squatty.  So just roll out your favorite sugar cookie recipe (this is ours!) and bake and cool those tulipy-owls.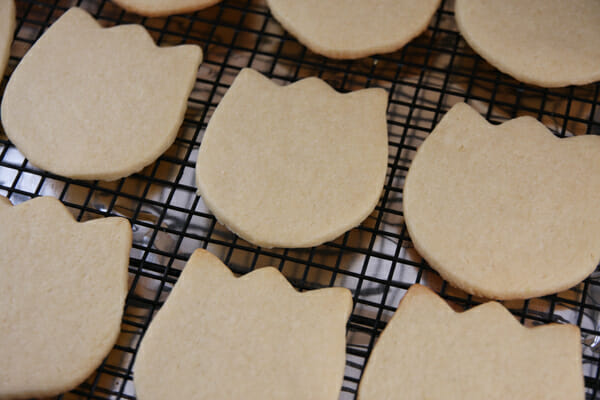 Whenever I'm taking on a big cookie decorating project (and by "big" I mean anything that takes more effort than just dipping the cookies in a bowl of frosting before I stuff them in my mouth.)  I bake and cool the cookies a day or more ahead of time and freeze them until I'm ready to ice them.  This kind of detailed decorating can be time consuming so that takes a huge step out of the picture.
You can use royal icing for these cookies (check out recipes and tutorials from our friend Bridget at Bake at 350 if you want to try that) or do as I did here and use our Glace Icing.  Click here for the recipe and tips on how to use it. 
I started by outlining all of the cookies.
By the time you finish outlining all the cookies, the icing will be set enough to fill.  Basically you're using a slightly thicker mixture for the outline and then add milk or water to thin it a little to flood the cookies (again, all info about the icing I'm using can be found here).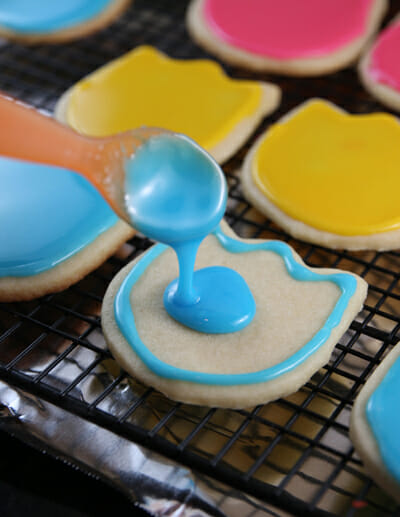 Little baby/kid spoons are my favorite to use for this
After all of the cookies are flooded, they'll need to set before you can add layers on top.
They don't need to be completely dry, just set enough.  Depending on the environment/temperature etc.  time will vary, but an hour or so is usually plenty for me.  I use the time to clean up and get organized for the next step.
Next I add the little wings.  Again, outline your shape first
And while those are setting I add the eyes.
You can certainly use icing for the eyes, but I bought little candy eyes.  Mine are from Wilton (got them at Walmart) and I just saw candy eyes in bulk at Orson Gygi if you want to shop there or order online.  They even have 3 different sizes.
You can decorate to your heart's content.  I kept mine really simple with little feet and a beak,

and then an eyebrow thingy (do owls have eyebrows?  It just seemed like a good idea…) and some dots.
After they're all finished, you'll want to let these sit out overnight to dry completely.  After they're set, they can be lightly stacked or packaged.  I snuggled my little owls into a cute box.
I feel like they look nervous in there.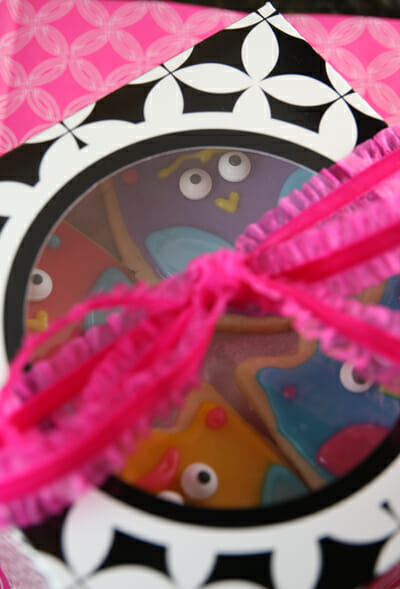 These little cuties are perfect for fall time and you'll impress everyone with your expert decorating skills!
Do you like how they're checking each other out?
Almost too cute to eat.  But don't be fooled by those big sweet eyes.  They're very delicious.  Eat them all.
We hope you all have a great Halloween.  Be safe and eat lots of chocolate!