Pie.  The fall holiday season is when pies get all the attention, but I think it's summertime where they really shine.  The abundance of fresh fruit this time of year basically begs for all the pie things.  Hand Pies, deep dish pies, crumb-topped pies, and my summer favorite- Galettes.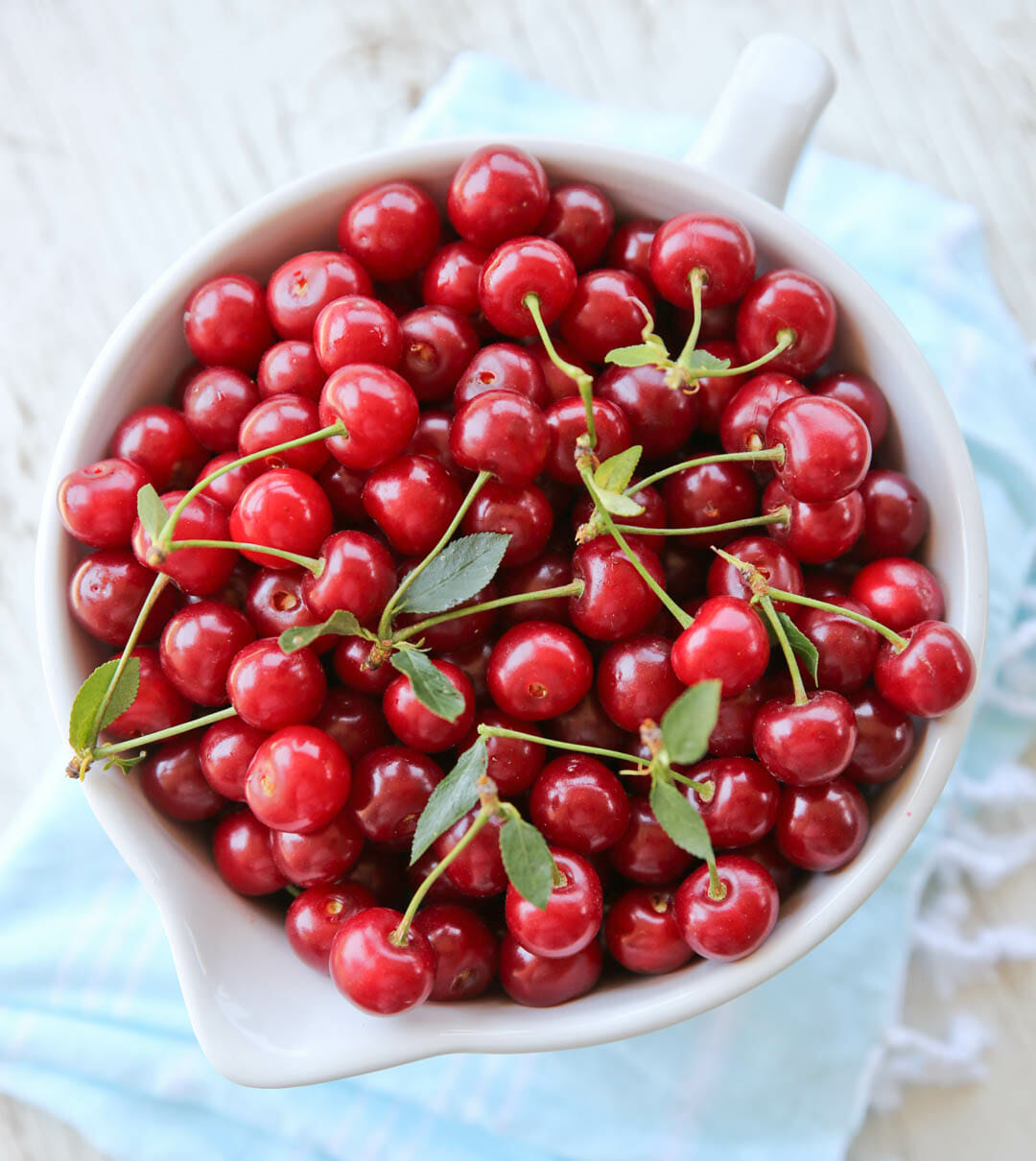 We have a great all-purpose pie crust recipe but in the last several years I have fallen in love with this recipe.  I stumbled upon years ago on the Land O Lakes website (and no, this isn't sponsored by Land O Lakes, but I wish it was because they'd probably send me a crap-ton of butter, right??)  and it caught my eye because it's not like other pie crust recipes.  For example, this one includes an egg.  Also some vinegar, and a combination of both butter and shortening.  I've learned with many things I really love the combo of both butter and shortening, where you get to see noteworthy talents of each shine through and this is no exception.
This tastes like normal pie crust, but I just love that it's really buttery and flaky, and almost feels a little fancy, like pie crust you'd get in a pastry shop or something (hence the name I gave it.) Try it out and see what you think, I've been using it lots lately!  This is your regular pie crust drill where you'll cut in your butter and shortening to the dry ingredients. TIP:  Chill both your butter AND your shortening before using.  Also try grating the butter with a cheese grater for easy-to-cut pieces.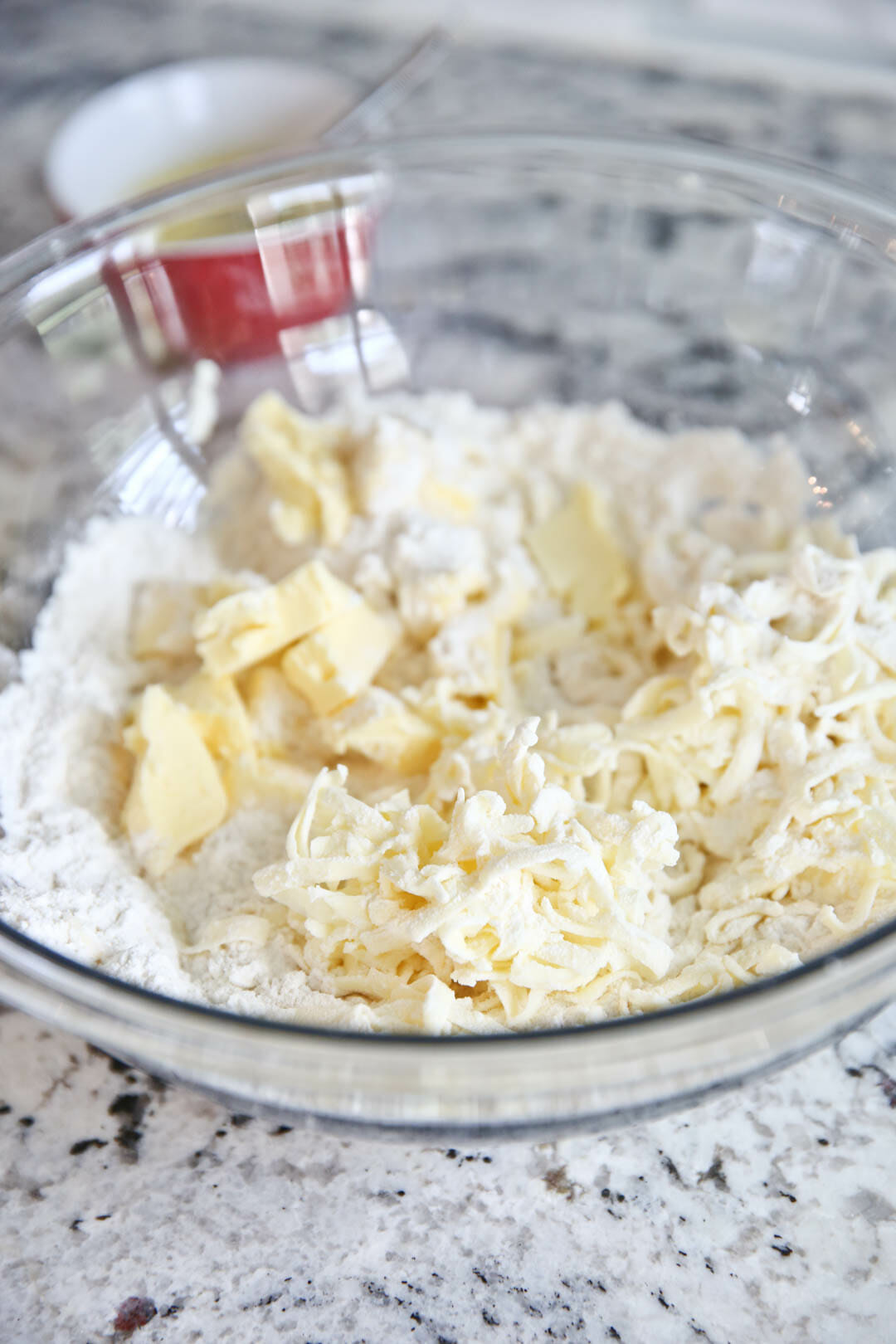 I like crumbling pie dough with my hands, and you'll want it to look like this: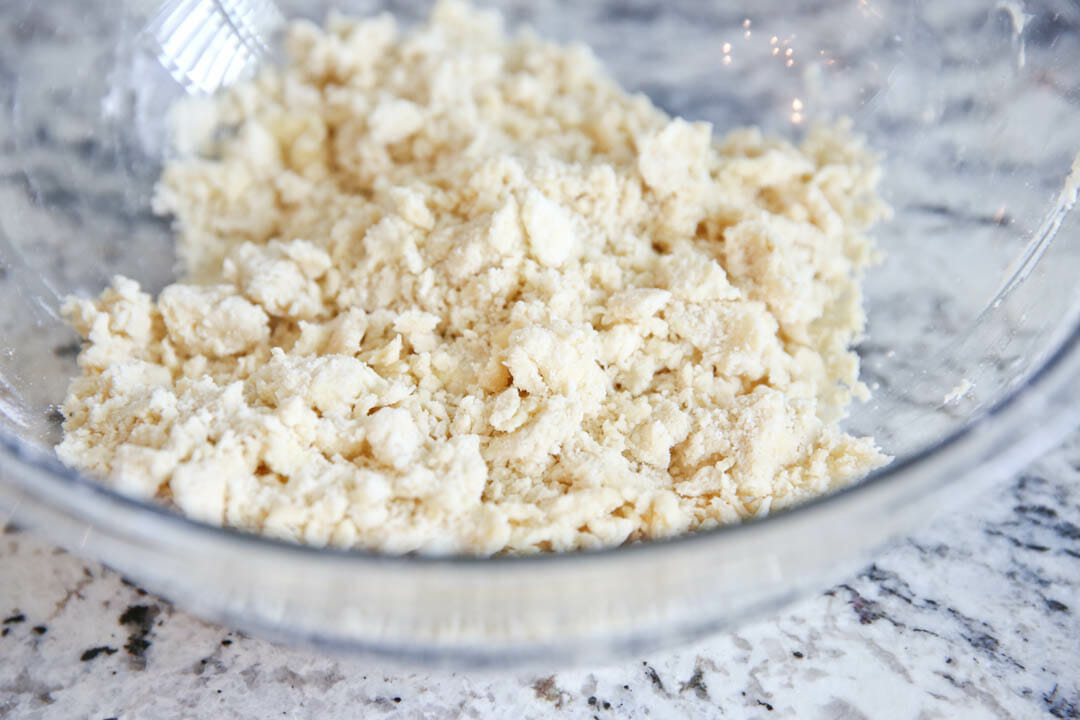 After adding water, egg, and vinegar, you'll mix it with a fork until it's just barely mixed and then pat it into a disk and chill.  Don't add any extra flour, even if it feels soft and wet.  You'll roll it out on a floured board and it will end up getting in a little more so you'll want to under-do it here. I often pop it in the freezer.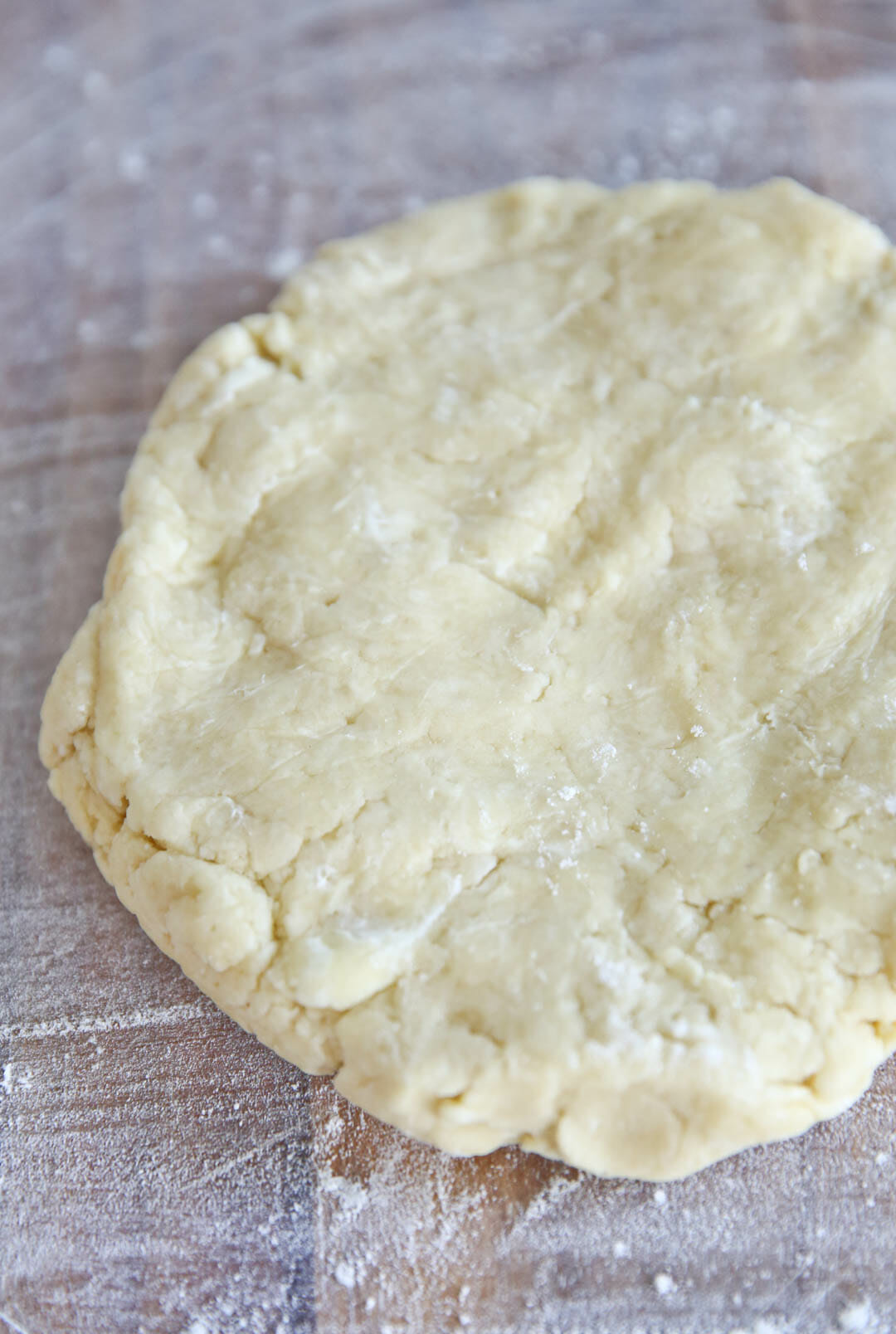 After chilling you can roll it out onto a floured board.  I feel like this dough is a little softer than regular pie crust so handle it lightly.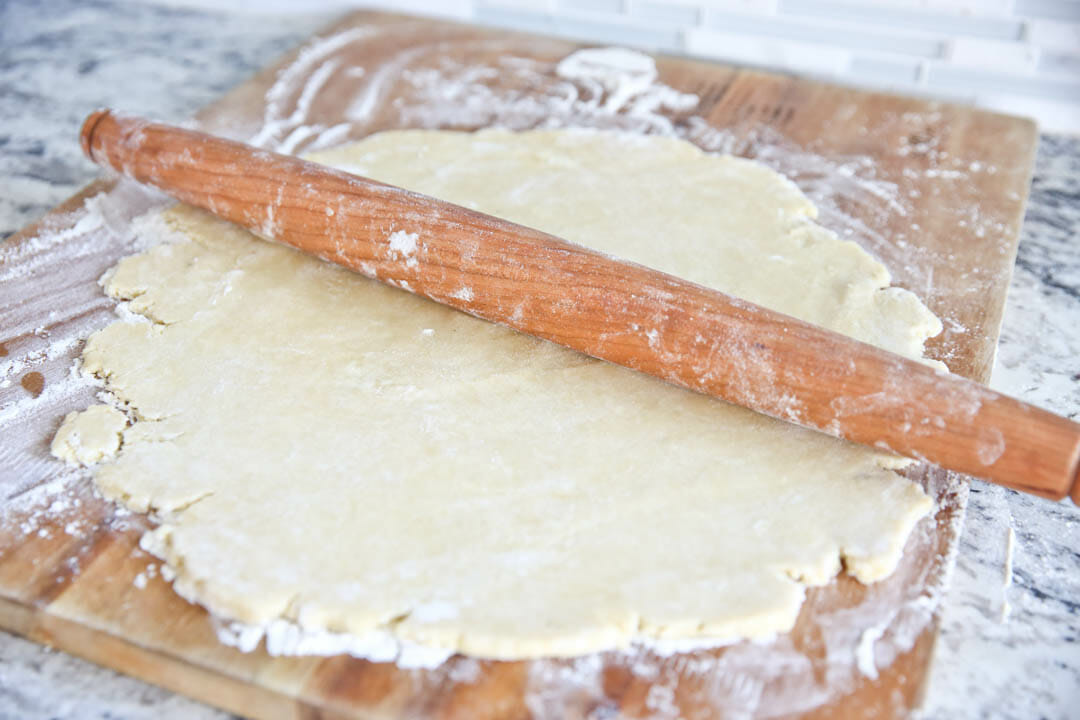 If it falls apart or cracks as you're transferring it to your pie plate, just pinch it back together. (PS:  People always ask, and this is my most favorite pie plate)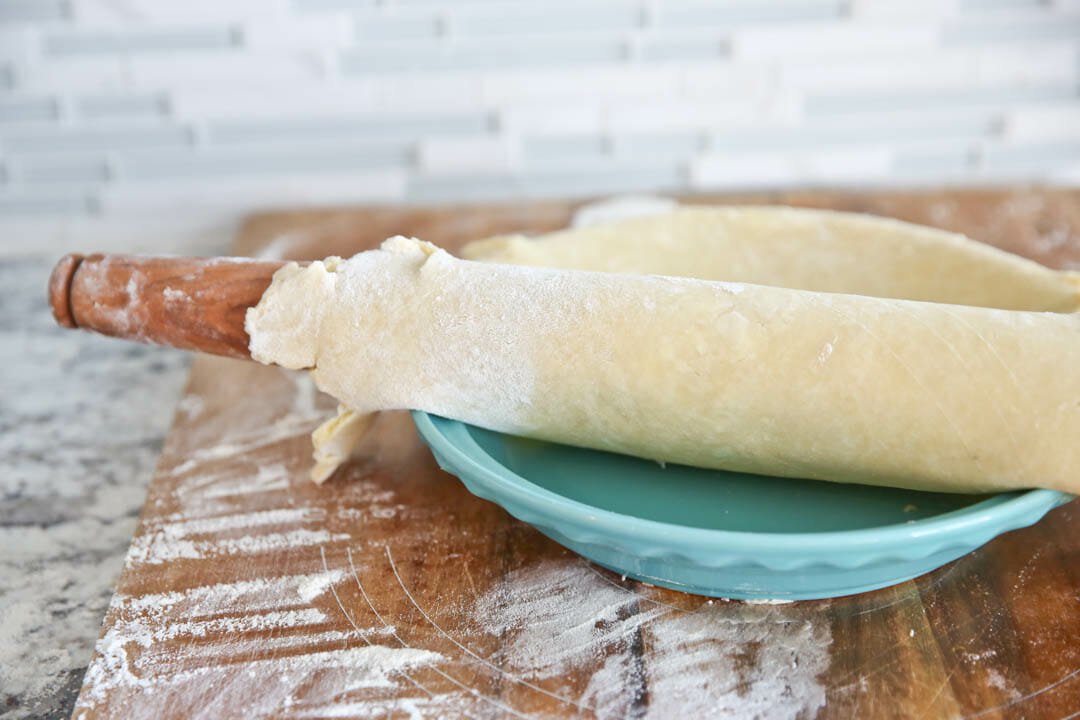 If you want to make a nice, sharp, zig-zag edge, just do what I'm doing here.  This little squeeze-and-pinch thing will always and forever remind me of my Mom.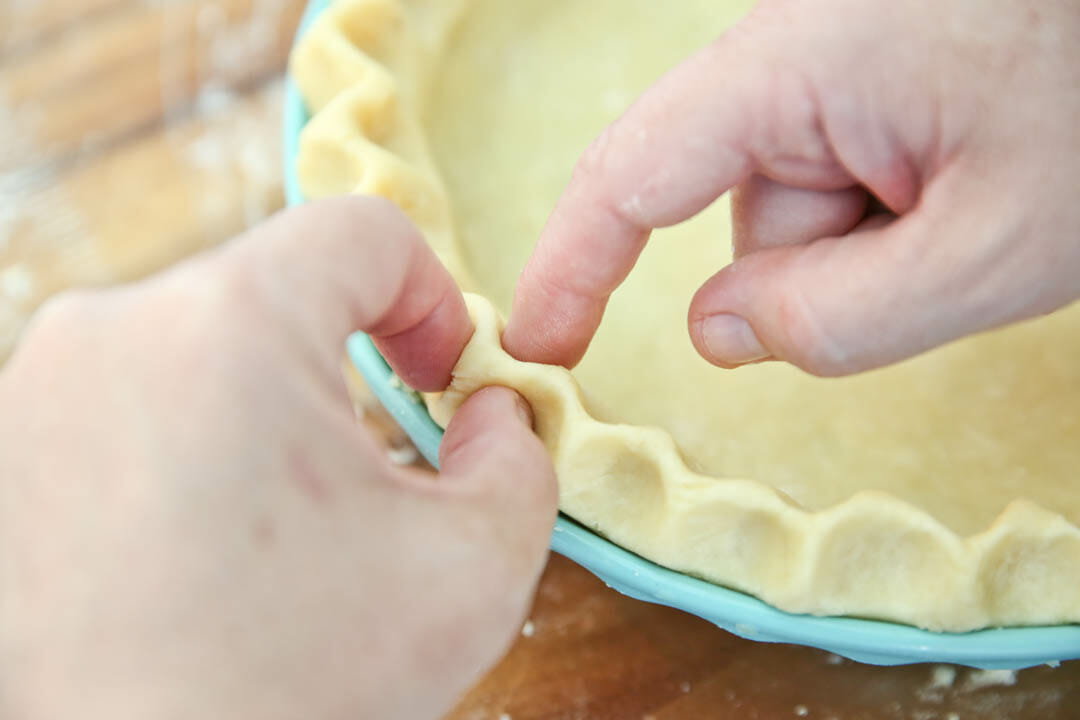 It bakes up sooo tender and flaky- I think you'll love it!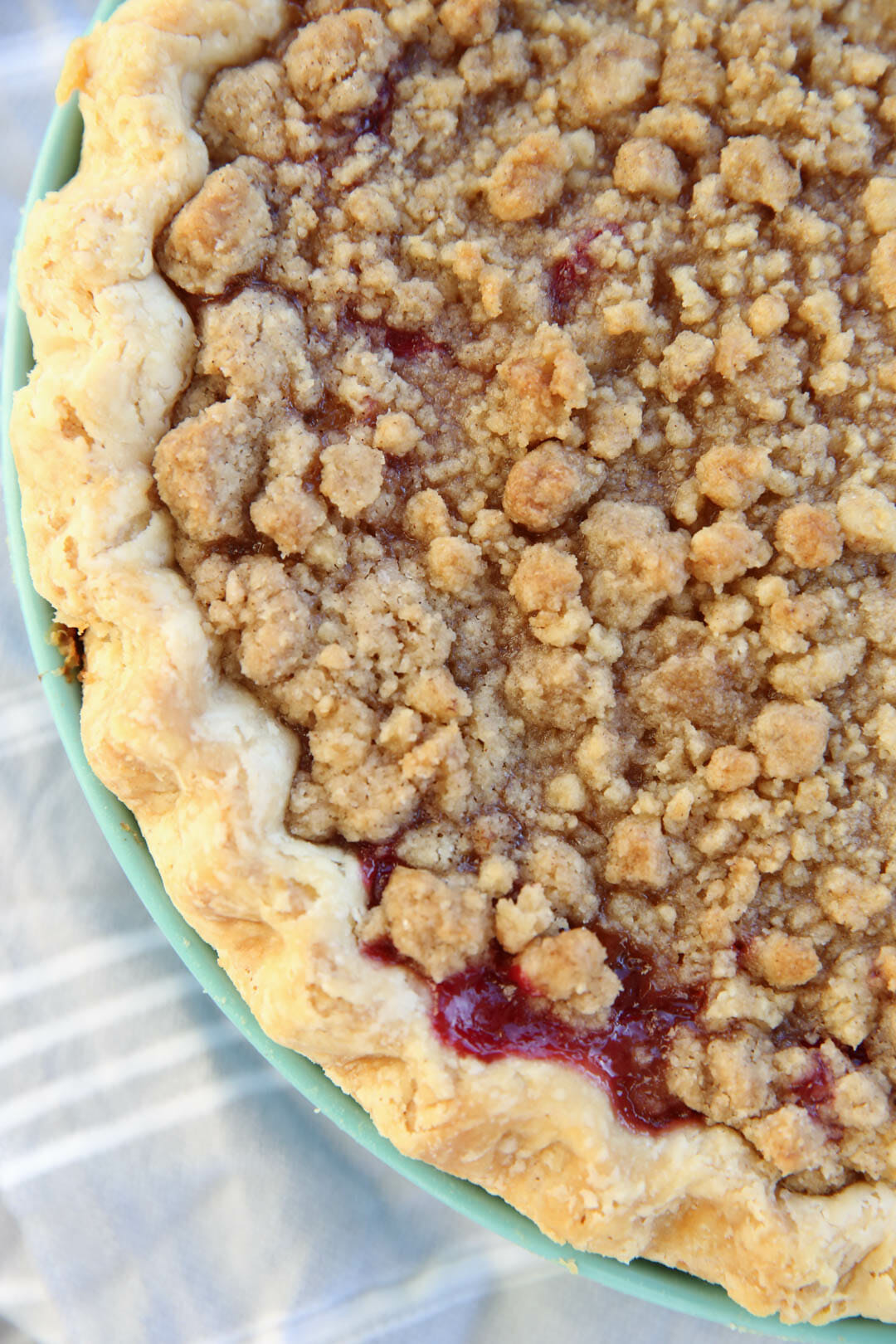 I especially love this dough for hand pies.  Just make little circles and fill them up with something yummy.  I just tossed frozen bluberries in some flour and sugar and plopped them in the centers of these.  When they came out hot, I glazed them with a powdered sugar lemon glaze and they were sooooo good!
What's your favorite kind of summer pie??  Any recipes you'd like us to make for you?  Let us know, I'll always take an excuse to make pie.
Print
---
Description
A tender, flaky, buttery pie crust. Great for pies, hand-pies, and other desserts! Note: This recipe is technically for 2 pie crusts, but I find I like to use it for just one and have a little extra for hand pies, other treats, etc. I personally like to have more than enough dough to work with because it seems I'm always a bit short for nice deep pie plates. But technically this should work for 2!
---
2 cups

all-purpose flour

1/2 teaspoon

salt

1/2 cup

real butter (chilled)

1/2 cup

shortening (also chilled*)

3 tablespoons

ice cold water

1

large egg, lightly beaten

1 teaspoon

apple cider or white vinegar
---
Instructions
Combine flour and salt in large bowl. Use a large-holed cheese grater to grate chilled butter straight from fridge into flour and cut shortening into small chunks and add it to the bowl as well. Use clean hands to crumble mixture until it looks like coarse crumbs.
Combine cold water, egg and vinegar in bowl. Add egg mixture to flour mixture; mix, with fork, just until flour is moistened. Pat dough into a flat disk shape and wrap in plastic wrap. Refrigerate at least 1 hour. You can also pop it in the freezer for a shorter amount of time.
Roll out dough on lightly floured surface into a circle for pie, or smaller shapes for hand pies. Fill as desired and bake according to pie directions.
For baked unfilled pie shell, prick crust all over with fork before baking. Bake at 475°F, 10-12 minutes or until lightly browned.
---
Notes
Tip: Place shortening in fridge or freezer before using to keep the dough cold.
Tip: If you are baking a pie, place your pie plate on a baking sheet as this crust tends to drip some butter while baking.