Mother's Day is just around the corner, and it's the perfect time to have a fancy breakfast or brunch.  This is one of my favorite side dishes and/or appetizers that works perfectly for breakfast and brunch, too.  They're especially nice due to the fact that you can even prep them a day ahead and keep them in the fridge until you're ready to bake.  I'm not reinventing the wheel here; this is a traditional recipe, but if you've never made these, it's a good one to have in your bag of tricks.  I'm pretty sure it's safe to say that the best way to eat any vegetable is wrapped in pastry.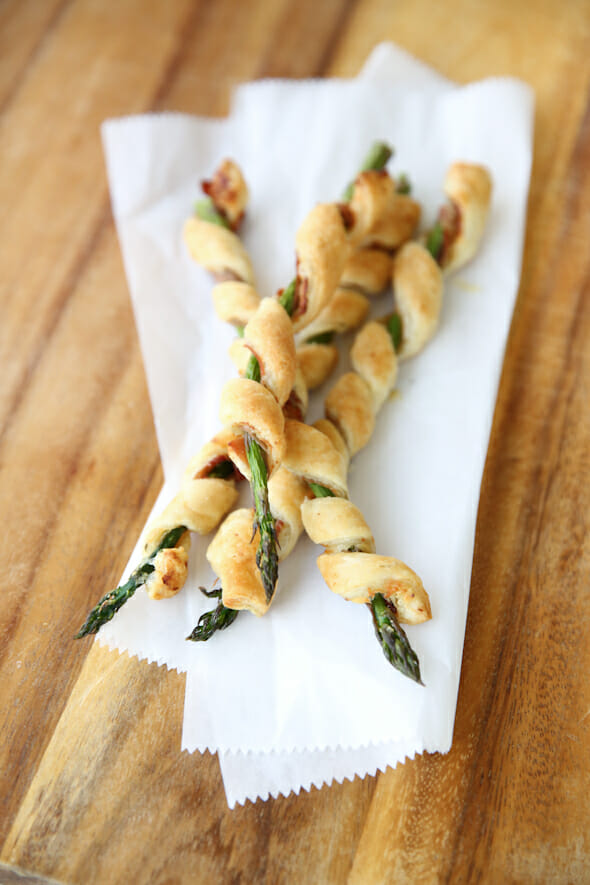 The Ingredient Line-up:  A box of frozen puff pastry (found in the freezer section, usually near the pies and desserts), a bundle of fresh asparagus, some soft spreadable cheese ( I use Laughing Cow), and prosciutto.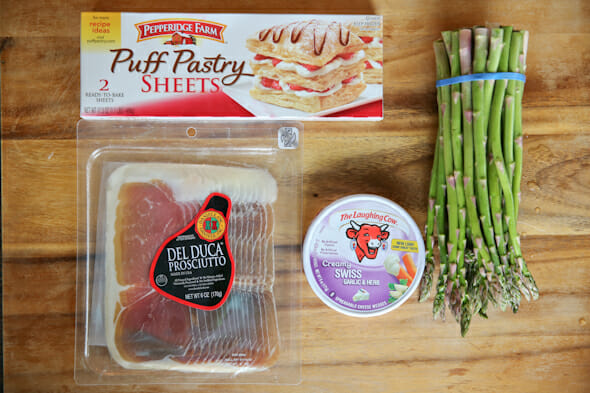 Let your puff pastry thaw out to room temp and unroll it.  Use a rolling pin to lightly roll it out and then spread the cheese on top.  You can totally skip the cheese if you want, but I love the flavor and creaminess it adds.  A spread of good course grain mustard is also yummy.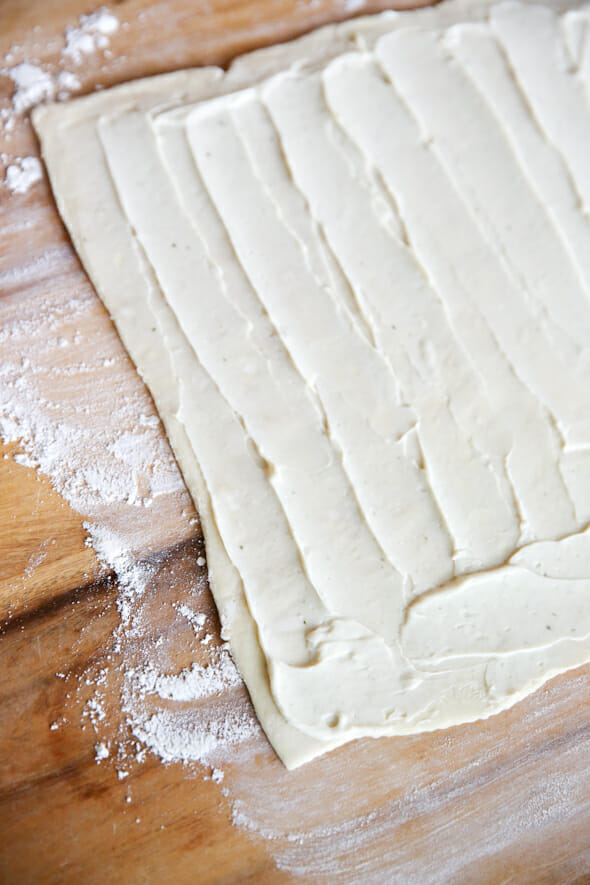 You can usually find the prosciutto in the deli section of the grocery store, often in little packs like this: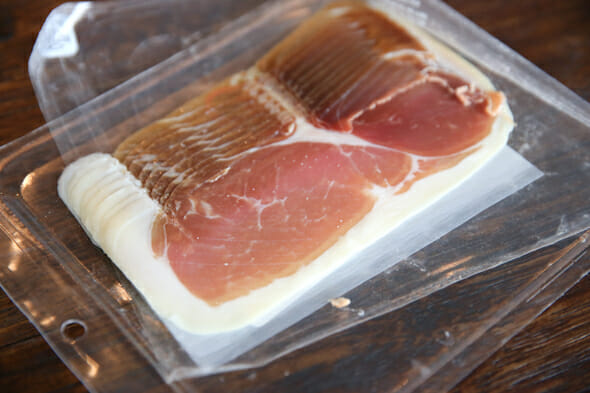 It's super thin, so just peel off the slices and layer it onto your pastry (I usually peel the large piece of fat off the side.)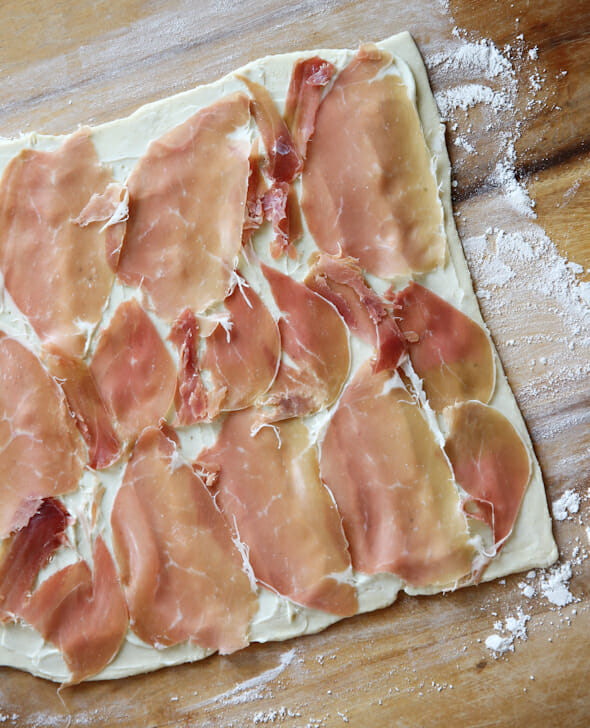 I like to lightly drizzle my asparagus with olive oil. I think it makes it taste better as it roasts in the oven, I'm using our Lemon Oil here.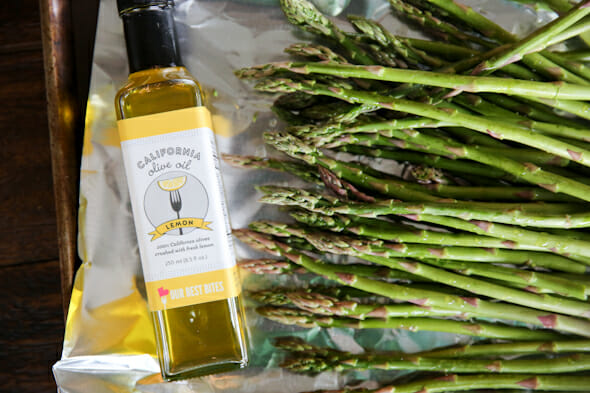 Then use a pizza cutter to cut the pastry into strips, about 1/2 in wide and wrap them around each spear of asparagus.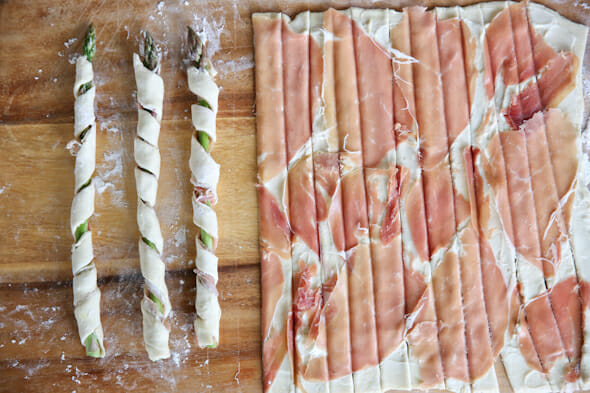 Bake them in the oven until the pastry is puffed and golden and the asparagus will be roasted, the prosciutto cooked, and the cheese kind of melted into the pastry.  It's all pretty perfect!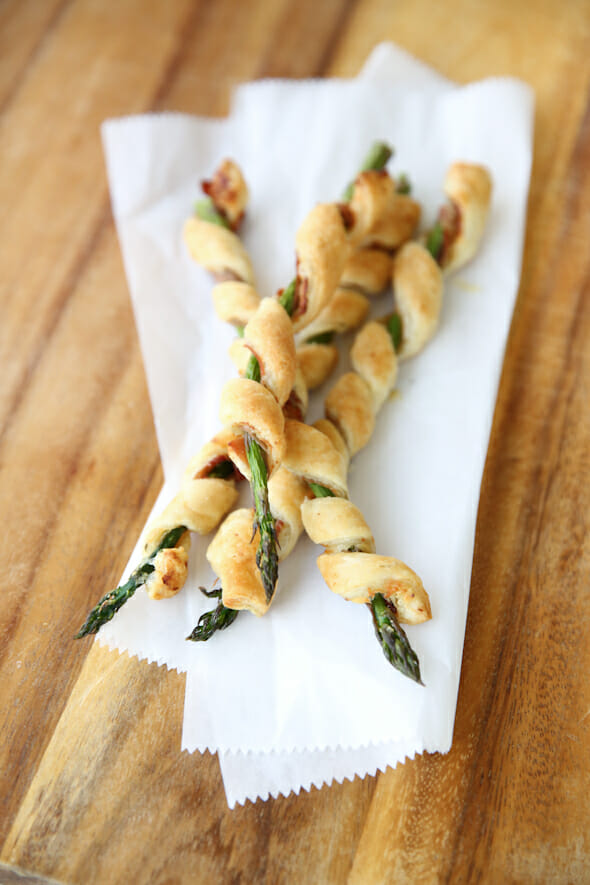 Print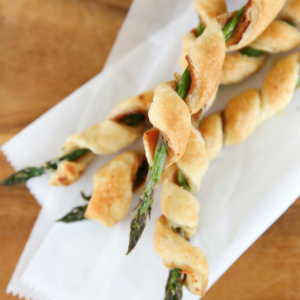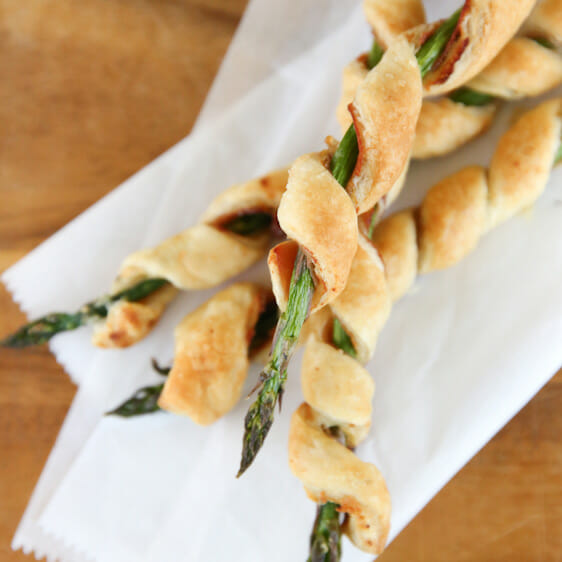 Puff Pastry Wrapped Asparagus with Prosciutto
---
Description
This classic recipe is as delicious as it is beautiful! Can be prepped ahead of time and makes a great side dish or party food as well.
---
1

box puff pastry

2

–

3

wedges soft cheese, like Laughing Cow (I use garlic herb)

1

package prosciutto

1

–

2

bunches fresh asparagus
olive oil
---
Instructions
Let pastry thaw to room temperature and lightly roll into an even layer about 1/4 inch thick. Spread a thin, even layer of cheese over pastry. Layer prosciutto in a single layer over cheese. Use a pizza cutter to slice pastry into 1/2 inch strips (or slightly thinner).
Lightly rub asparagus with olive oil. Wrap each asparagus spear with pastry, swirling up from end to end. Lay on a baking sheet in a single layer.
Bake according to pastry instructions. May be served warm or at room temperature. Also can be prepped ahead of time, covered with plastic wrap and stored in fridge.
---
Notes
Note: Ingredient amounts are approximate, these are super easy to eyeball!
Great tip: Also can be prepped ahead of time, covered with plastic wrap and stored in fridge.