Warning: these peanut butter cookies have magical powers that compel you to force them into your mouth uncontrollably.


There, just had to get that part out. I got this pb cookie recipe from my friend Tiffanie and sandwiched them together with a creamy pb filling to make them extra naughty. Because around here, we love a good naughty cookie. Give these away to friends and they'll have no choice but to love you forever.
This is a great basic peanut butter cookie dough. The shortening keeps them amazingly soft.
Since we're making sandwich cookies, it's important to have uniform sized cookies, so a scoop works really well for that.
And not only are these cookies doubly sweet because they're sandwiched, but the dough spreads, so make your balls
small
. I use a regular size 40 cookie scoop and I separate each scoop of dough in half to form 2 cookies, and they're still pretty good sized. A mini scoop is perfect.
Don't tell, but whenever I roll dough in sugar, I eat the first one. I love the crunchy sugar and the soft dough, and the fact that it tastes like cookie. Because it is a cookie. Naturally.
Give those cookies a little criss-cross…
And pop them into the oven. You want them to say super soft, so don't let them get brown. In my oven, and for the size of cookies I do, 6 minutes exactly is perfect.
After they're baked and cooled, we fill. You want the filling to be on the thick side, it should just have enough milk in it to make it easily spreadable. If you add too much milk (like a normal frosting consistency) it might squish out of the cookies when you take a bite.
I actually think these are even better the 2nd day. The flavors mellow together and you get a cool sweet n' salty thing going on. Plus, after they sit with the filling in them, the cookies get really soft. Mmmm…
Print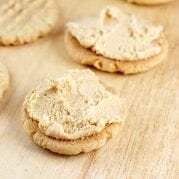 Peanut Butter Sandwich Cookies
---
For the dough
1

C butter flavored Crisco

1

C creamy peanut butter

1

C sugar

1

C packed brown sugar

1

t vanilla

3

eggs

3

C flour

2

t baking soda

1/2

t salt
Additional white sugar for rolling
For the filling
1

C creamy peanut butter

1/2

C real butter, softened

4

C powdered sugar

2

t vanilla

3

–

4

Tbs milk
---
Instructions
For the cookies
Preheat oven to 375 degrees.
Cream shortening, peanut butter, and sugars together until light and fluffy, 1-2 minutes. Add in vanilla, and eggs one at a time. In a separate bowl whisk together flour, baking soda, and salt and add to dough. Mix to combine. The dough will be very soft- that's normal!
Roll dough into 1/2 inch (or a little larger) balls, roll in sugar, place on ungreased cookie sheet and do the little forky criss-cross thing.
Bake for 6-8 minutes, or until puffed and set, but not browned. Remove from oven, let cool on baking sheet for 2-3 minutes and then transfer to cooling rack.
For the filling
Beat peanut butter, butter, sugar, and vanilla together until smooth, if needed, add milk until desired consistency is reached. When cookies are completely cooled, spread a layer of frosting on one side and sandwich together.
---
*Disclaimer: this post includes affiliate links, which just means that when you purchase items through our links, we earn a small commission, which helps us keep working hard to create recipes for you!