My sweet kiddo turned 7 yesterday and was begging for a "Polar Pizza" he's seen on giant posters in the windows of Baskin-Robbins.  It's basically a giant cookie with ice cream on top and some toppings and I knew I could do a homemade version that would kick that Polar Pizza's behind.  This kid is hilarious, and genuinely thoughtful and kind, and he loves peanut butter and jelly.
So I knew right away that I wanted to make a PB&J Cookie Pizza for him and it was soooo good.  I'll show you how I did this one, completely homemade, but you can very easily take some shortcuts with both store-bought cookie dough and/or ice cream if you want to take that route.  No shame there- it would be delicious either way.  We just have a slight obsession with homemade ice cream so we take every chance we get.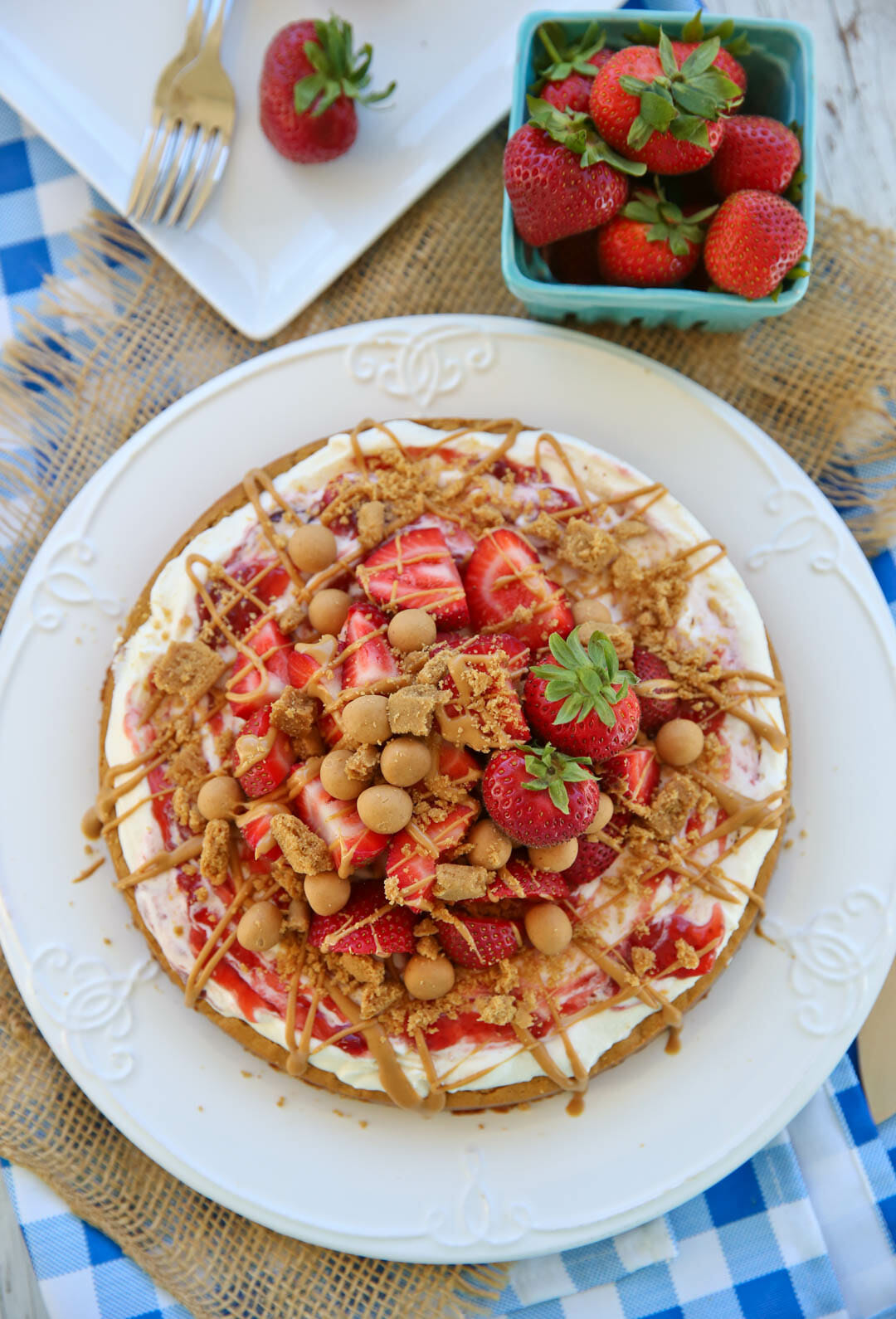 I adapted my favorite Flourless Peanut Butter Cookie Recipe because I knew it would bake up super soft and work well frozen AND because with just a few ingredients it's crazy fast to make. Like as fast as opening the tube of store-bought dough.  I'm using my 9-inch springform pan and I cut out a piece of parchment to fit on the bottom to make removing it easier. I reserved about 3 tablespoons of dough (just a ping-pong ball size- you can totally eyeball it) to bake separately so I'd have some cookie crumbs to crumble on top.  Then just press the dough right in there.
It's really important to under-bake your dough.  You want it extra extra soft because you're going to freeze it.  An under-baked, soft cookie ends up tasting like cookie dough after it's frozen.  And that's a good thing.  After it's baked and cooled, mine created a little lip around the outside edge which was super handy since we're going to fill it!  Once it's cooled pop it in the freezer until it's at least chilled, and frozen is fine, too.  You can definitely make each part of this in advance.
Once it's cold, you'll spread ice cream on top. I used this really simple, and easy homemade vanilla ice cream.  This recipe makes the perfect amount for this cookie pizza with enough for you to have a little bowl all to yourself on the side.  Because there's no way you're going to make homemade ice cream and not have a little bowl on the side.  I have this Breville Ice Cream Compressor, and the ice cream comes out like thick soft-serve which is the perfect consistency for spreading on there (think DQ Blizzard).  If you're using store bought, just let it soften a bit until it's spreadable.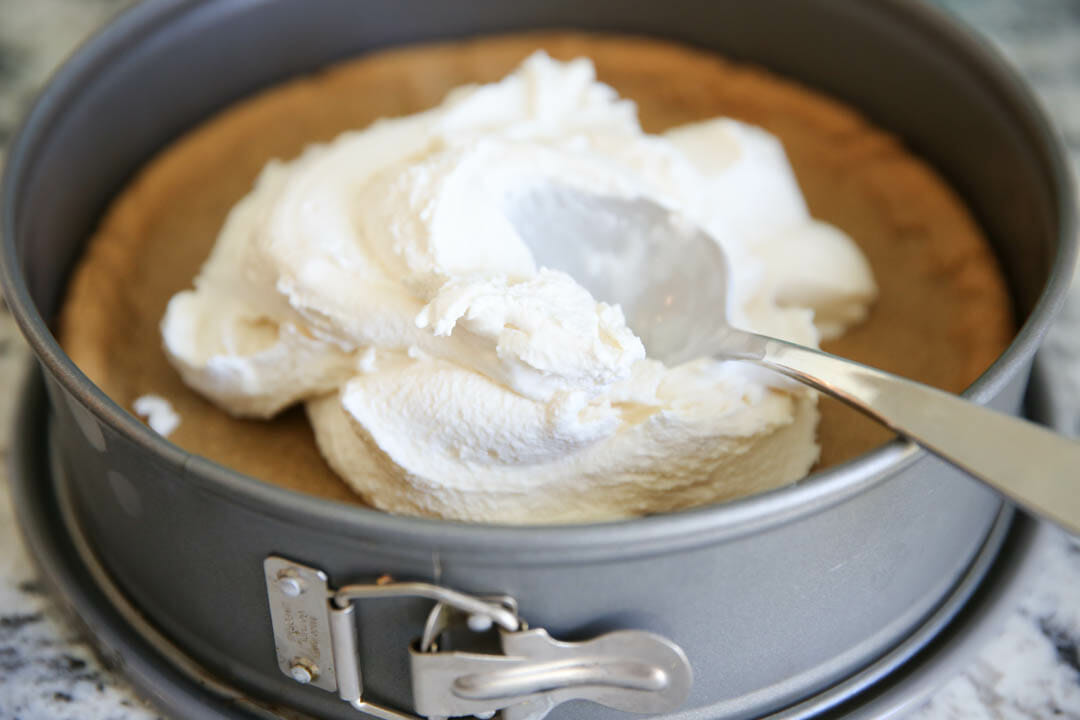 For the strawberry swirl, choose a good berry jam that you like.  I love these Bon Maman Jams (carried in most grocery stores) so that's what I used.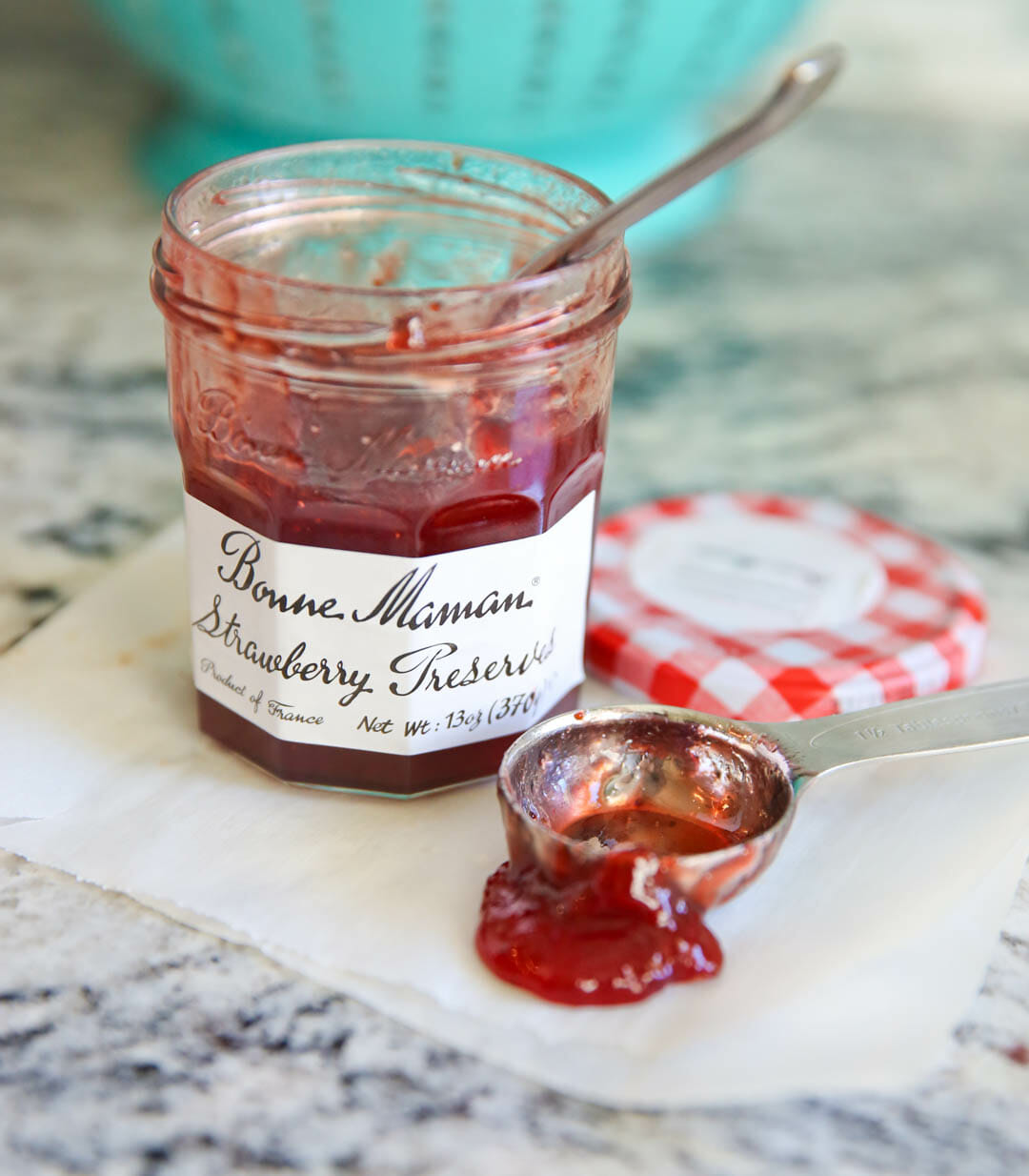 Just dollop on top of your ice cream and then gently swirl it in.  Then pop that pan back in the freezer and let it freeze completely.  Again, make it way ahead if you like!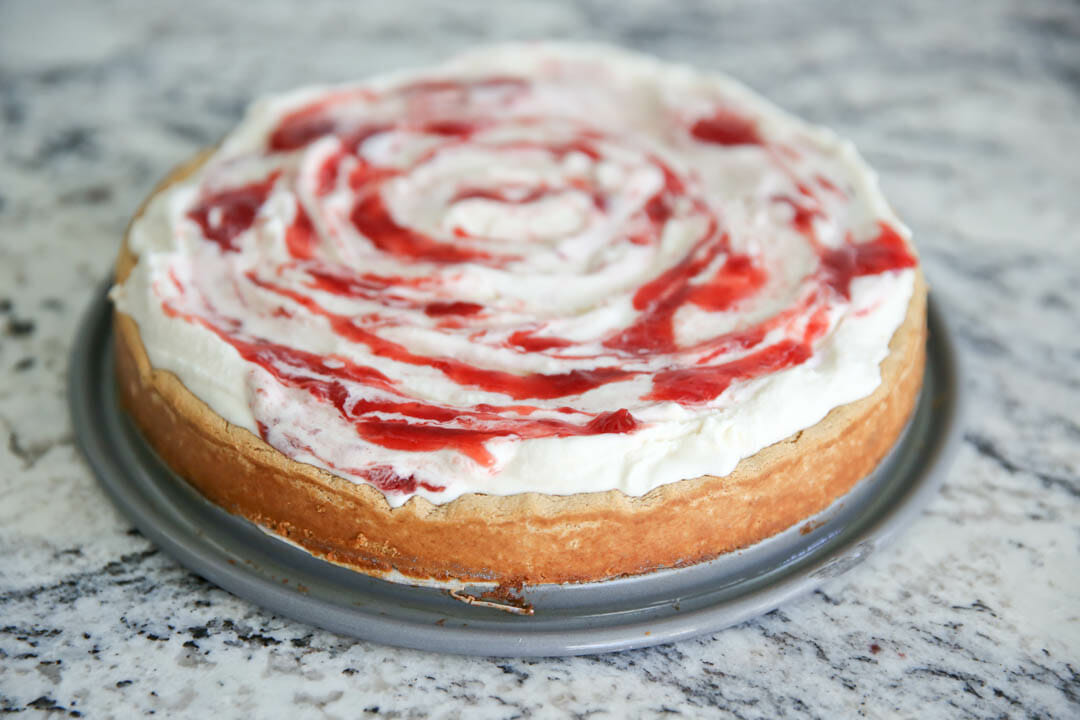 When it comes time to serve, take the sides off your pan and garnish with whatever you like.  I used fresh strawberries, and these little peanut butter bite things that you can find near the peanut butter at the grocery store.  (I'd never tried them before- they're actually really good!)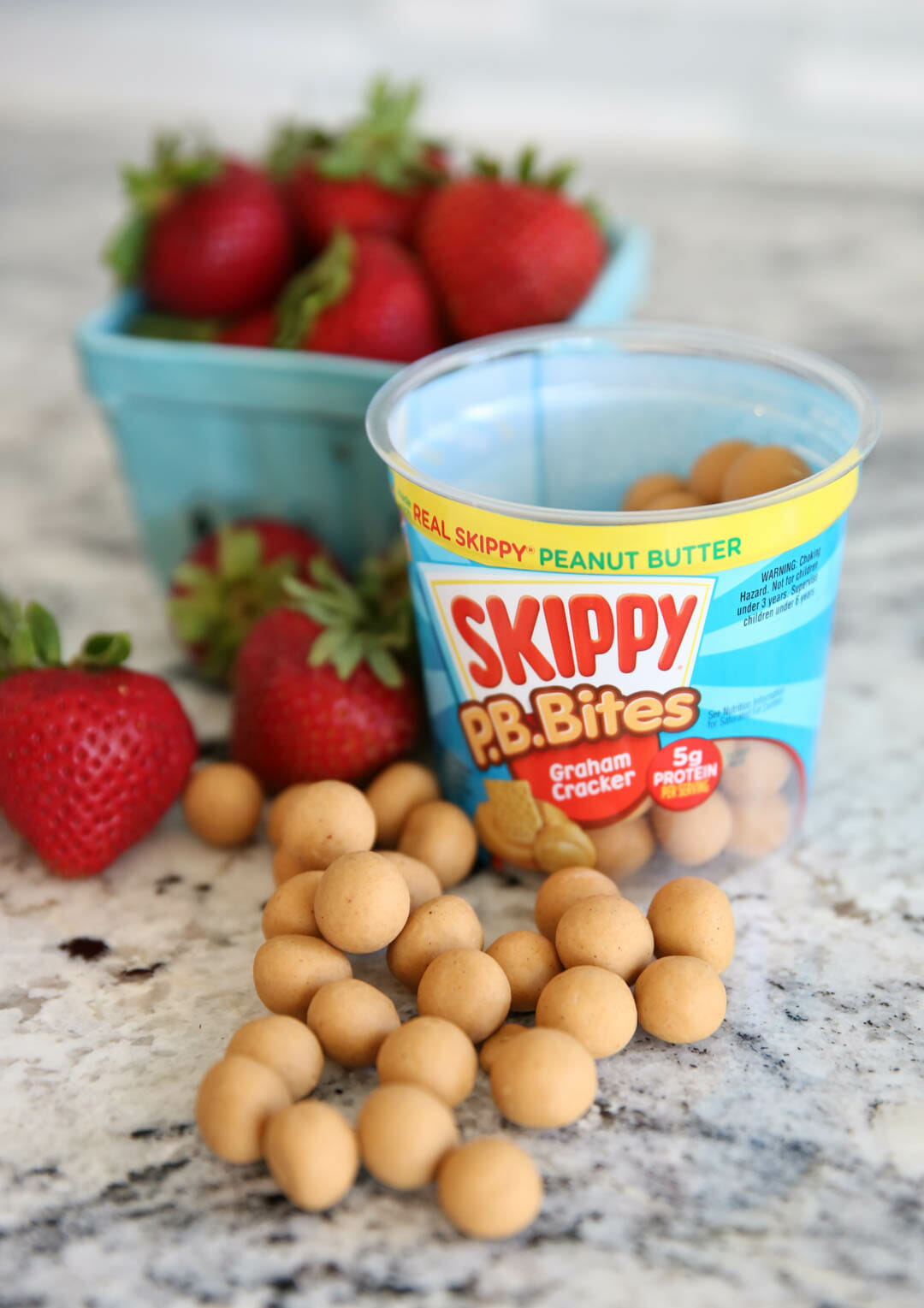 I also heated a little bit of peanut butter in the microwave until it was thin and drizzly and drizzled it over everything.  The finishing touch was crumbling that extra bit of cookie dough we baked over the top!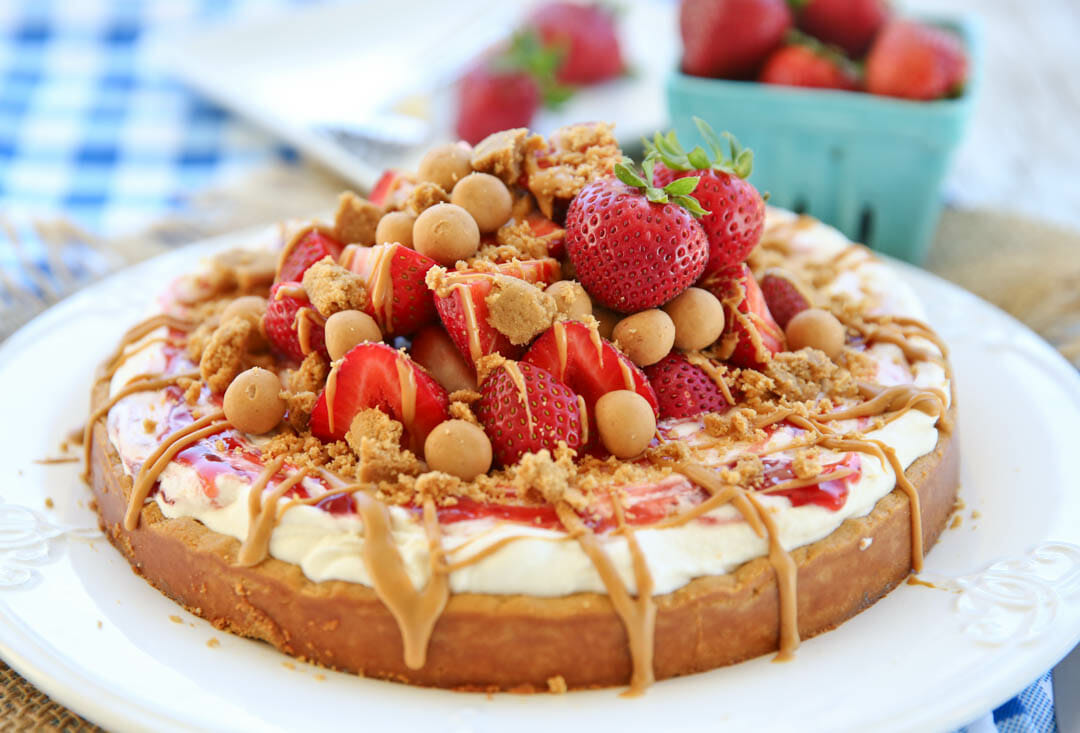 Now, let me just say that I obviously went overboard on the toppings because A) I wanted it to look grand for my birthday boy and B) it's always prettier to photograph piled high.  But when it comes to actual functionality, you can obviously cut thinner berry slices, lay things flat, etc.  However you like!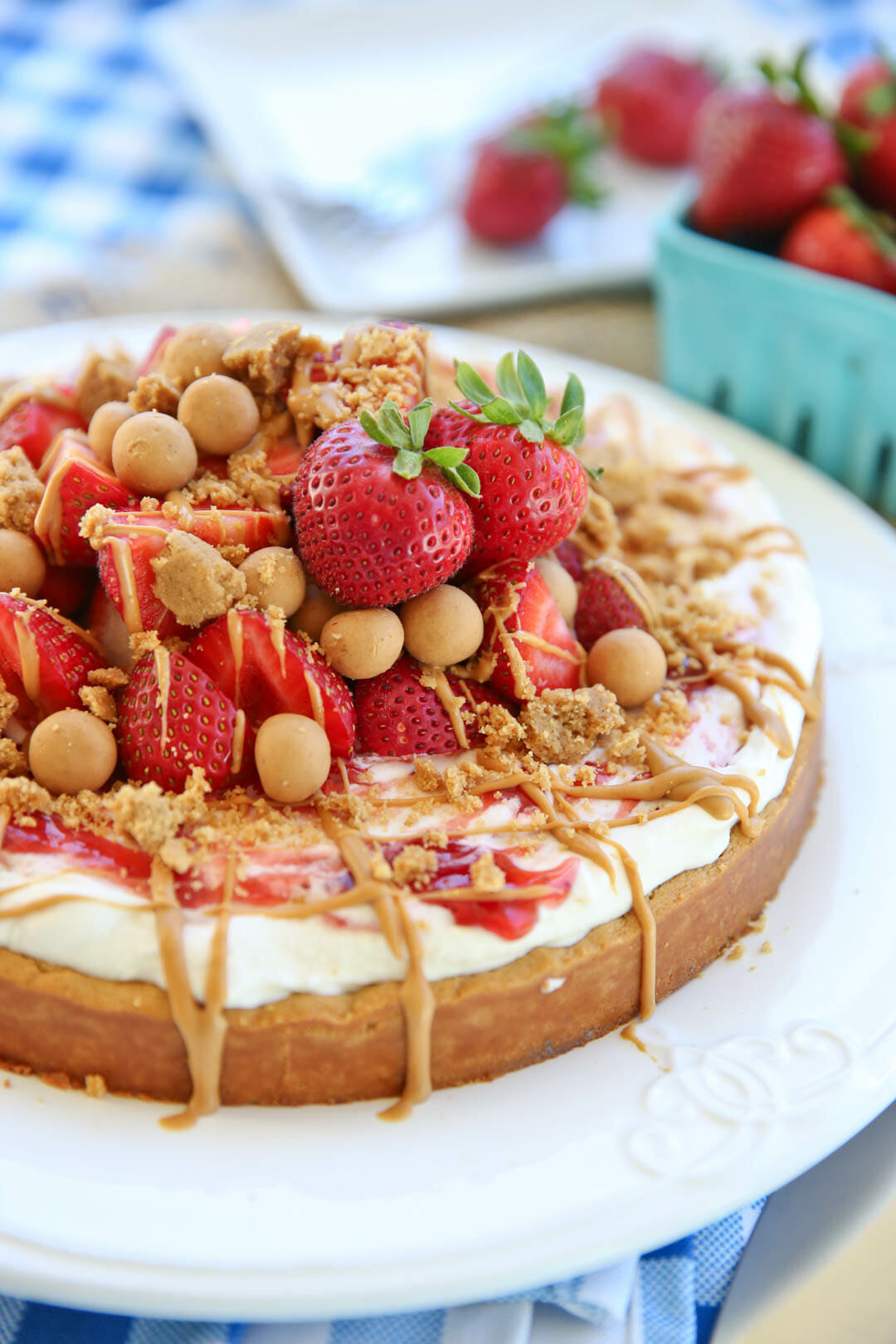 The key to good frozen desserts like this is knowing when to eat it.  There's that magical moment where both the cookie and the ice cream are the perfect texture.  I can't tell you when that is because I think it depends on the temperature of where you are.  But I let mine sit for about 15 minutes or so while I was photographing and it was perfect.  That might be too long in some places, use your judgement and keep an eye on it. Take a nibble in the name of research if you need to.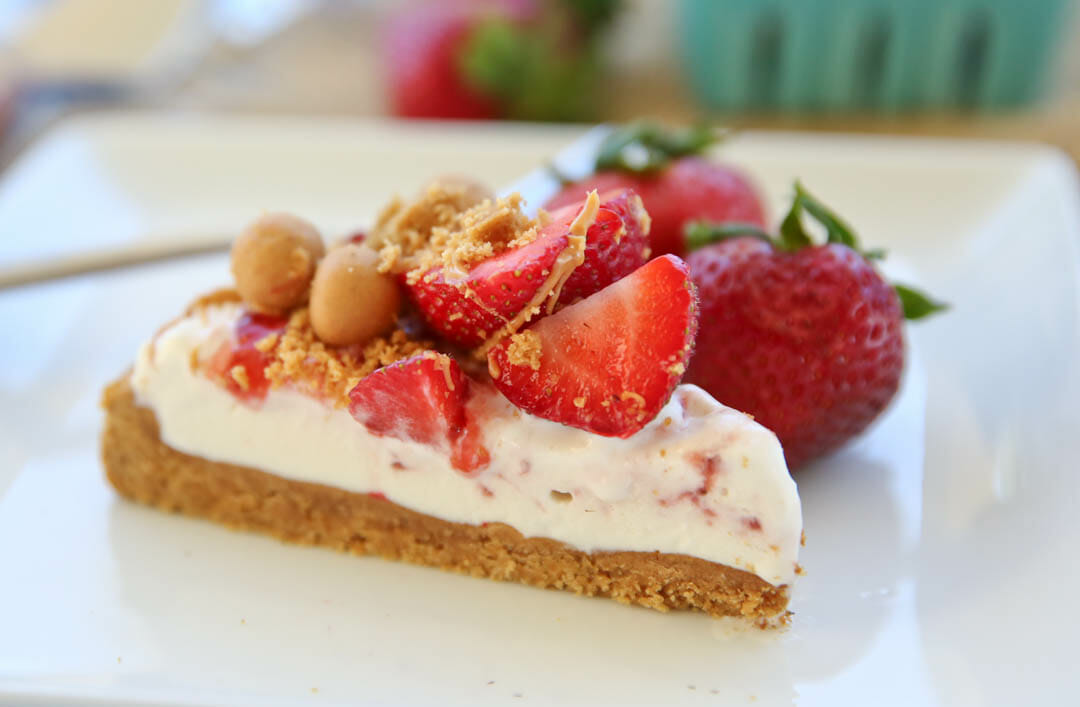 If it's soft enough, you can serve with a fork, but honestly, we loved just picking it up and eating like pizza.
I can't wait to make different flavor combos of these and share more with you guys!  Honestly I'm still dreaming about this and wishing I hid a piece away in the freezer before we demolished it.  Let me know if you whip it up and tell me how you like it!
Print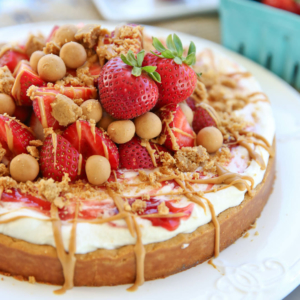 Peanut Butter Strawberry Peanut Butter Cookie Pie
---
Description
Soft chewy cookie dough, cool creamy ice cream, sweet berry swirl, in a dessert pizza you can eat with your hands!
---
Cookie Base
1 1/2 cups

creamy peanut butter

1 cup

plus 2 tablespoons packed brown sugar

1

large or extra large egg

1

egg yolk

1 1/2 teaspoon

vanilla extract

1 1/8 teaspoon

baking soda

1/4 teaspoon

table salt
Ice Cream
2 cups

heavy cream

1 cup

whole milk

1/2 cup

white sugar

1 tablespoon

vanilla extract

1/3 cup

strawberry jam (more if desired, eyeball it)
Topping
2 tablespoons

creamy peanut butter, melted in microwave
Fresh strawberries
---
Instructions
Preheat oven to 350 degrees. If desired, use your springform pan to trace a circle onto parchment paper and then cut out the circle and place in bottom of pan. Spray bottom and sides of pan with nonstick spray.
Combine all cookie base ingredients in a mixing bowl and beat until combined. Reserve a ping-pong ball sized ball of dough (about 3 tablespoons) and place the rest of dough in pan and press into an even layer. Place the small ball of dough on a small pan or baking sheet. Place both pans in oven. Take small cookie out after about 8-9 minutes. Bake springform pan about 10-11 minutes and then set aside to cool completely. Place pan in freezer.
For ice cream, whisk together cream, milk, sugar, and vanilla and process in an ice cream maker. Alternately you can use a good store-bought vanilla bean ice cream. Spread ice cream onto frozen or chilled cookie crust (there's enough to steal a little bowl for yourself if you want!) and then dollop jam over the top and swirl in with a knife. Immediately return pan to freezer and freeze completely (at least 4-6 hours, or up to a couple weeks).
When ready to serve, remove pan from freezer. Garnish with berries, peanut butter drizzle, the crushed cookie, and anything else you like. Let sit for 10 minutes or so to soften and then slice and serve.
---
Notes
Feel free to substitute store-bought cookie dough or ice cream in place of the home made.