Chicken.  I always like the idea of roasting whole chickens, but honestly I never have great luck with them in the oven.  I've tried a million different ways and I'm just never overly impressed  (or at least not as impressed as I am with the chicken-of-all-chickens, the Costco rotisserie.)  The best, I've tried, is made using my Thermador Steam oven, but that's not standard kitchen equipment.  After having such great luck with chicken breasts in my Instant Pot Electric Pressure Cooker (read all about it here, if you want more info) I thought I'd try whole chickens.  The result was a tender, juicy bird that took just minutes to prep, and not long to cook.  Whole chickens are often really inexpensive to buy, so this is a great way to quickly cook them up and either serve them as is, or chop up all the meat for meal prep throughout the week.  And I was surprised that unlike in a slowcooker, you can actually get a nice browned skin in the pressure cooker!
You can really use any flavor combination here, but I'm going with a favorite because I seem to always have lemons and garlic and rosemary around.
I make a quick spice rub with fresh garlic, rosemary, and lemon zest, plus some salt, pepper, and oregano.  Olive Oil brings it all together, and I like our Rosemary oil here, though I often use lemon or garlic as well.  You'll simply rub this mixture all over your chicken.
The first thing you'll do is heat up your pot to saute mode (or just pop it on the stovetop if you have a traditional pressure cooker) .  I have this electric Instant Pot.  When the pot is hot, drizzle in a little more oil and then place the bird in there, breast-side down.  We're first searing the bird to get that nice golden crust and also to develop flavor in the pan.  After a few minutes, you'll flip the bird to sear the other side and then remove it from the pan.
The pan should have all of these browned bits stuck to the pan and that's what we want!
Pour in a cup of chicken stock (you'll notice I just tossed in some granulated broth in my cup of water) and then use a spatula to scrape off all of those bits as the water simmers.
Cut up a whole onion into 4 quarters and place them on the bottom of the pan and the place the chicken on top.  The onion kind of forms a rack for the chicken, as well as adds flavor to the juices we'll use later.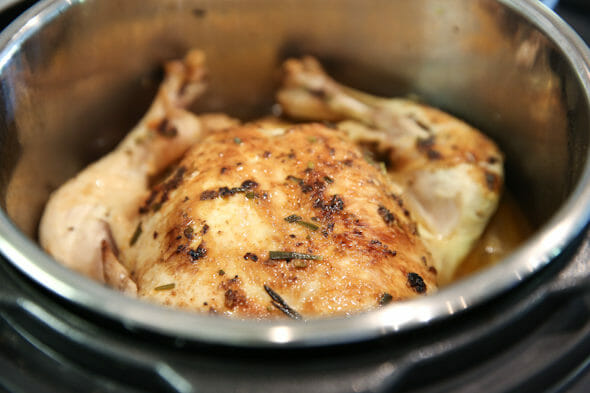 Then just turn your pressure to high and cook for 6 minutes per pound of chicken.  I have to clarify that ALL pressure cookers are different.  I've found that 6 minutes per pound tends to turn out perfectly for me, but if you try it and it's not quite enough, or too much, just adjust and try again and you'll find your perfect number.
For me, this results in a perfectly cooked bird that's nice and juicy all over.  I like to slice off the breasts and carve them nicely and then pick apart the rest of the bird and just kind of chop it up.  You can serve this as-is, or use the whole thing in recipes like salads, burritos, sandwiches, etc.
Once you remove the bird from the pot you'll have a whole pan full of flavorful juices.  Follow this tutorial to make homemade gravy to serve with it.  You'll have the flavors of lemon and rosemary already in there so it's a perfect compliment!
Print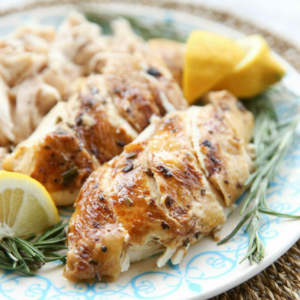 Pressure Cooker Whole Roasted Chicken with Lemon & Rosemary
---
Description
An easy cooking method for a whole chicken, which produces tender juice meat and cooks up in about 30 minutes or less! Use drippings to make an easy gravy to serve over the top.
---
1

whole chicken (3-6lbs)

1 tablespoon

chopped fresh rosemary

1 1/2

–

2

tablespoons olive oil, plus a bit more for drizzling in pan

4

–

6

cloves garlic

1/2 teaspoon

paprika

1 teaspoon

kosher salt

1/4 teaspoon

black pepper
zest from

1

lemon

1 cup

chicken broth

1

large onion
---
Instructions
Remove anything inside of bird. Gently rinse entire bird with cold water and pat dry with paper towels. Place in baking pan or platter and set aside.
Preheat electric pressure cooker to saute mode, or start warming stove-top pressure cooker on stove top.
In a small bowl combine rosemary, olive oil, garlic, paprika, salt, pepper, and lemon zest. After zesting, cut lemon in half and stuff in cavity of chicken. Spread spice mixture all over bird, massaging onto all sides. Drizzle some olive oil in your hot pan and place chicken breast-side down into pot. Leave for 3-4 minutes, until golden brown. Flip chicken over and repeat for other side.
Remove chicken from pan and set back onto platter or baking dish where it was before. Add broth to pan and use a spatula to scrape off browned bits from pan. Cut onion into 4 wedges and place on bottom of pan, place chicken on top (breast-side up) and secure lid.
Cook on high pressure for 6 minutes per pound. When time is up, let rest for 10 minutes before releasing steam. Remove chicken and place on cutting board tented with foil for at least 5 minutes before slicing.
If desired, separate juices in pan and make gravy.
---
Notes
All pressure cookers are different, use this as a guide and adjust for your own pressure cooker if necessary.