I had a long list of things I wanted to post today.  White Chunk Macadamia Nut Cookies, Hawaiian Style Short Ribs, Huli Huli Chicken, Coconut Ice Cream…Can you tell where my mind is? I'll help you out; it's right here:
That was the sunrise this morning. I'm playing hookie (like, from life- seriously you should all try it) this week and spending some time relaxing and playing with my husband and two of our best friends in one of our favorite places.
Seeing beautiful things everywhere
And we're eating lots and lots of food, like one should on vacation.  I loved this dragon fruit.
This was seriously one of the best pizzas I've ever had.  Thin crust whole wheat crust, macadamia nut basil pesto, kalua pork, fresh pineapple and Hawaiian bbq sauce drizzle.  I totally have to recreate this one (and this one from last year; still haven't done that!).  First I need a giant outdoor pit and a whole pig.  We'll work on that.
In honor of Halloween, I must post this picture from under the candy corn tree.  Didn't you all know candy corn grew on trees??  I'm sure someone can tell me what this actually is, but when I saw it I immediately yelled "Candy Corn!"
Now, as you can see I didn't get around to making any of my good tropical ideas. I was too busy getting my life organized enough for me to forget about it all for a week (Why does it always take so much more time to prepare to leave, than to actually leave?)  So instead I'm giving you a quick and easy fall-ish dessert that I already had photographed and written up a few weeks ago. But I'm guessing no one will argue with that, right??
Just like our regular Pizookies, you'll need ramekins, or ramekin-sized dishes.  If you don't have ramekins just be creative; oven proof ceramic mugs work great. Well, really if you don't have any you should run to Target and Walmart or whatever and just buy some.  They're cheap and useful and then you can make things like Pizookies!  I use mine so often that several have broken so I grabbed my valentine ones, and some little half-pint jars that I use for mini Pie-in-a-Jar.
Then you'll need a batch of Ginger Spice Cookie Dough.  Fill the ramekins about half full.  The dough will rise a lot so don't go much further than that.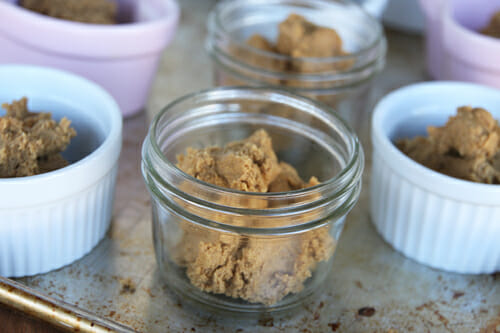 Give it a little pat with your fingers to flatten it out..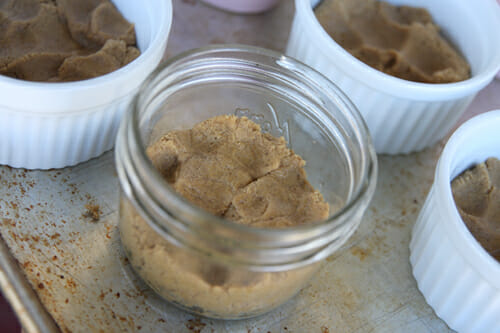 And pop them in the oven until the tops are set.  It's hard to give an exact cooking time because it will depend on how full, and what size containers you're using, etc.  But make sure your edges are obviously cooked, like in my picture, and watch for the center to puffed up.  After they come out of the oven and cool a bit, they'll sink down- which is actually great because it makes a perfect resting place for the ice cream!
And while we're on the subject of ice cream… you'll need some of this:
You could also make our homemade Pumpkin Ice Cream or Apple Pie Ice Cream would be pretty awesome too.  One big scoop goes right on top of the baked dough.
The next step is candied nuts.  I used the recipe from our Cookbook, but you could also just use toasted nuts.  Or the ones from this salad recipe.
And finally, caramel syrup.  Our Buttermilk Caramel Syrup is hands down the bestest (yes, I said bestest!) there is.
Got that?  Bake up Ginger Spice Cookie Dough, scoop on pumpkin ice cream, drizzle on buttermilk caramel sauce and sprinkle on candied nuts.  That's a whole lotta yum going on there!
Pumpkin-Ginger Pizookies
Recipe by Our Best Bites
1 batch Ginger Spice Cookie Dough*
Pumpkin Ice Cream (here's our homemade recipe if you wanna get a little crazy)
Buttermilk Caramel Syrup
Candied or toasted pecans
*This could potentially make a lot of pizzookies.  I made 10 and still had some dough left over to make a few extra cookies.
Lightly spray ramekins with non-stick spray.  Fill half way with cookie dough and press down with fingers.  Bake at 350 for 15-20 minutes and then check on them and let them continue baking until the tops are puffed and set and edges are slightly crackled.  Remove and let cool until just slightly warm to the tough on the outside of the ramekin.
Place a generous scoop of ice cream on top.  Drizzle with caramel syrup and sprinkle with candied nuts.
Enjoy that, and thanks in advance for being patient this week while both Kate and I are traveling.  We'll be slow to answer emails and comments, but we'll get to them as soon as we can.  And we'll announce giveaway winners when we're back as well, so make sure you enter the ones going on at The Scoop right now!