Scones hold a special place in my heart because they're one of the first things I learned how to bake that weren't cookies. In my high school Home Ec. class, I was partnered up with my friend Amanda, and we learned about cutting in butter, and mixing dry and wet ingredients, and all that good stuff. I still remember our teacher explaining the exact texture and consistency that we should have when breaking up the butter, and how that creates the steam needed for flaky baked goods. That was my freshman year of high school, and I've been whipping up scones ever since. They've become a go-to when my family wants a sweet treat and I don't want to slave over anything complicated. I think scones are even easier to make than muffins because there's no scooping and filling; the dough is so super fast and they're hot out of the oven in no time. This is a basic cream scone, with a spiced autumn-y makeover. I actually specifically came up with this recipe to use the remaining pumpkin left in a can after making a recipe that calls for one cup (like my overnight baked pumpkin french toast!) This is a quick and easy way to use it up.
Start by mixing up some quick dry ingredients. We have flour, baking powder, brown sugar, some spices, and a little salt.
Use a whisk to mix those together until everything is incorporated.

Then you'll want to cut up some very cold butter (straight from the fridge) into small chunks.

Since there's not too much, I think hands work great here. Just gently flatten out the little pieces of butter and break them up into the dry ingredients. You can see I still have visible pieces of butter, and that's important. You don't want to overwork butter in scones or they'll end flat, dry, and dense.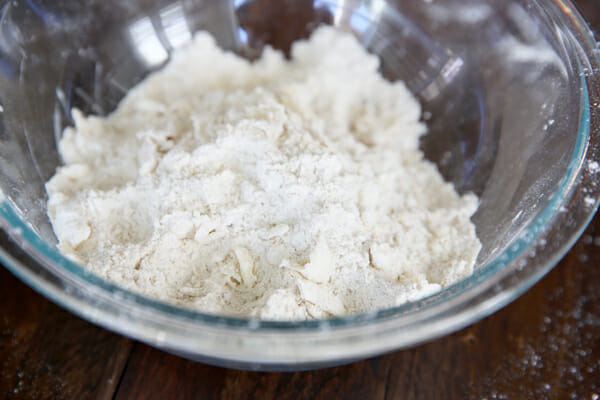 Next you'll whisk together your wet ingredients: pumpkin puree, vanilla, cream, and an egg.
Use a fork to gently pull the dough together. Don't use any kind of mixer here; it just take a few seconds to mix up the dough by hand.

Mix it until it just comes together.
Gently pat the dough into a circle shape, about an inch or so thick. Use a pizza cutter to divide it into wedges. One thing I always do with scones, that I didn't do here because I was distracted by picture taking, is to take a little of your cream and brush it over the top, then sprinkle with sugar (coarse sugar if you have it) before cutting them. It gives them a beautiful, sparkly sweet crust.
You can bake them a couple of different ways. You can leave them in the circle just like I have below, only pulling them all away from each other just about an inch or so (to give them room to grow) and then pull them apart after baking,

Or you can separate them all like this:

Or – you can get one of these bad boys.
Either way, bake them until they're puffed and slightly golden. Scones dry out and become overcooked very easily once they've been in there a little too long, so make sure to check them with a toothpick and take them out as soon as that thing comes out without wet dough attached.

While the scones are cooling on a rack, mix up a quick glaze. All you need is some powdered sugar, a little maple extract, and a little cream.

Just whisk it all together,

until you have a nice glaze-y consistency.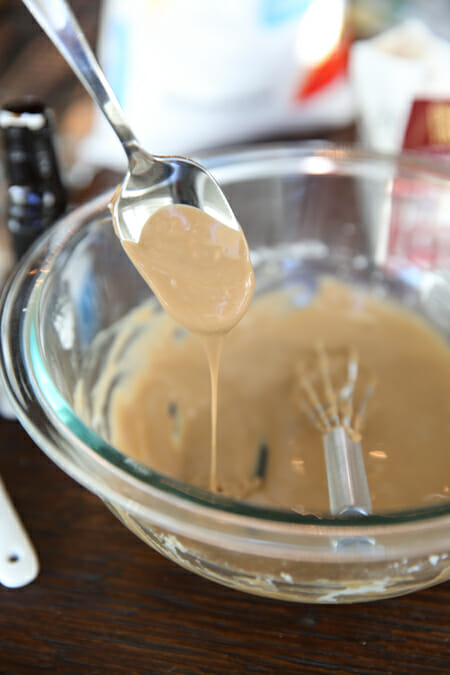 Then drizzle it all over the place.
My favorite thing is how glaze creeps into the cracks and crevices on top.
These are so yummy when eaten just a little warm, with softened butter slathered on there. Scones aren't quite as sweet as say, a muffin, because you generally put yummy stuff on there like butter, jam, or maple glaze, so load it up!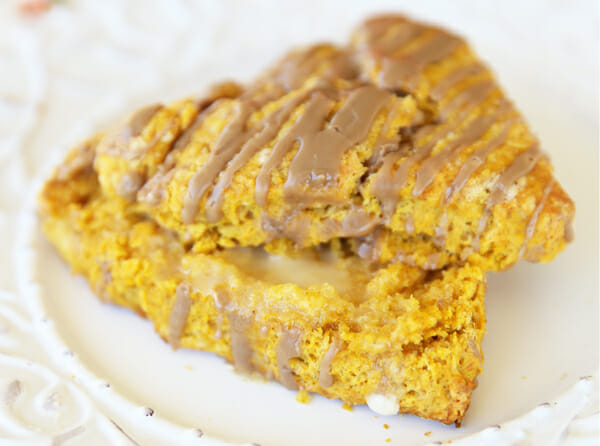 They're super amazing with pumpkin or apple butter, or the cinnamon maple butter I'll share with you next week! You can also add chocolate chips or cinnamon chips if you want.
*Disclaimer: this post includes affiliate links, which just means that when you purchase items through our links, we earn a small commission, which helps us keep working hard to create recipes for you!
Print
Pumpkin Spice Scones with Maple Glaze
---
Description
A delicious cream scone, with an autumn-y spice makeover.
---
For the Scones
2 cups

all purpose flour

1 tablespoon

baking powder

3 tablespoons

brown sugar (dark or light)

1/4 teaspoon

salt

1 teaspoon

pumpkin pie spice

1/2 teaspoon

ground cinnamon

4 tablespoons

real butter, straight from the fridge

1/4 cup

cream

1/2 teaspoon

vanilla extract

1

egg

2/3 cup

pumpkin
For the Glaze
1/2 cup

powdered sugar

1/2 teaspoon

maple extract

2 tablespoons

cream
---
Instructions
Preheat oven to 350.
Combine flour, baking powder, brown sugar, salt, pumpkin pie spice, and cinnamon in a bowl and whisk together. Cut butter into small chunks and add to dry ingredients. Use a pastry cutter, or clean hands to gently break the butter up into pebble-sized pieces.
In a separate bowl, combine cream, vanilla, egg, and pumpkin. Add wet ingredients to dry and use a fork to gently combine until a cohesive dough forms. Gently pat into a round ball and pat down until it's about 1 inch thick. Use a small amount of flour on your surface if necessary. (optional step: brush top of dough disk with a little cream and sprinkle with sugar) Cut into 6 wedges and separate onto a parchment lined baking sheet.
Bake for 12-15 minutes, until just barely golden and a toothpick comes out of the center without any wet dough on it. Place scones on a cooling rack.
Combine glaze ingredients. Whisk until smooth, adding more cream, or more sugar, until a good glazing consistency is reached. Drizzle over scones. Store in an airtight container.
---
Notes
Remember to use cold, straight-from-the-fridge butter.