Anyone want to take a guess on how many nights I've slept in my bed in the last 16 days? That magic number would be 3. Right now, Sara and I are heading to Rexburg, Idaho to speak at the BYU-Idaho Business Summit (um, what?! I graduated in English!) The good news is that I get to visit my hardly-ever-visited sister and my even-hardlier-ever-visited nephews. And their dad. And my parents, who have gotten brave and are leaving their two little ones behind.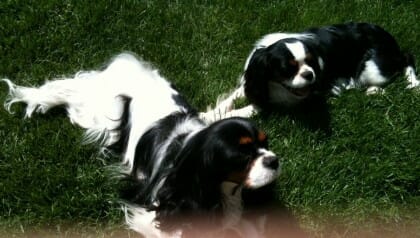 They may look like just dogs, but apparently they're not just as good as real children, they're better–they don't ever talk back or ask for money. And I'm forced to talk to them on the phone.
So any-who, if you want to come and see us while we're in town, we'll be signing books at the following locations (and all of you Idaho Fall-ers, this is your shot!  We won't be coming to Idaho Falls so come see us in Rexburg!):
June 15th (Hello, that's TONIGHT!)
5:00 pm
Deseret Book
485 N 2ND E # 104
Rexburg, ID
June 16th
4:00-5:00 pm
BYU-I Bookstore
Rexburg, ID
If you guys have been reading the blog for longer than a year, you know that I'm not really summer's #1 fan. I really don't like to be hot and I don't like bugs. But now that we're going into our 4th summer of food blogging, I've discovered that from a food perspective, I actually love summer. I love the long, leisurely days when I can snap pictures whenever because the light is almost always good, the cheap, fresh produce, the fact that it's socially acceptable to grill, and because of salads. I love them.
Sara and I recently got to try this salad straight from the source (more about that in a few weeks, we hope!) and I was completely expecting not to love it. I kind of thought I didn't like edamame because every time I've had it, the beans were mushy. What I discovered is that I love edamame as long as they're cooked JUST until they're plump and bright green. In fact, if you use frozen edamame, they've almost always been blanched so you even just run them under some warm water or, in this salad, just toss the beans with the hot quinoa.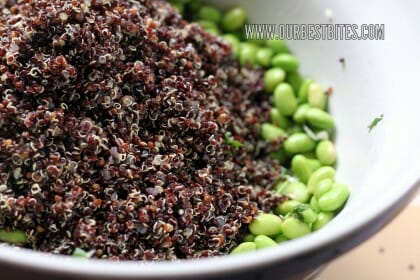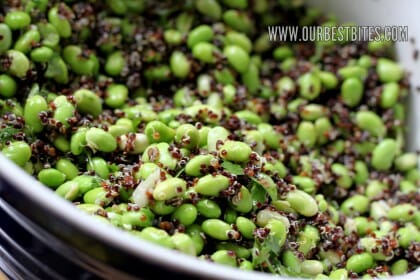 I know. Edamame?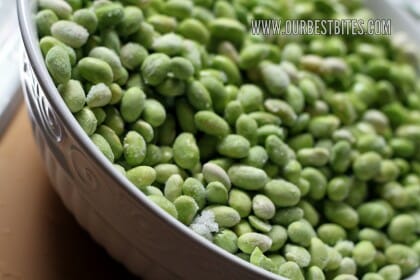 Quinoa?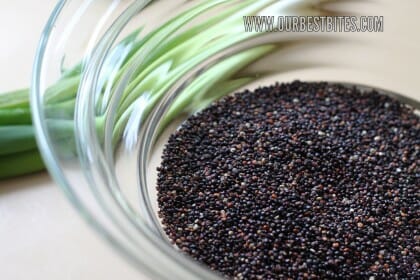 Are you really at Our Best Bites? You know you are because the dressing has cilantro, garlic, and lime juice.
This salad comes together super quickly and is a great side dish for a potluck or on a warm summer evening. I also love just eating the leftovers for a light-but-filling lunch.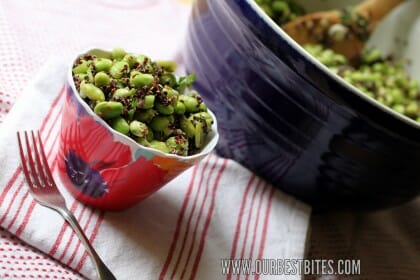 1 c. black quinoa (if you can find it–try the bins at Whole Foods. But really, any type of quinoa will work)
2 c. water
1/2 c. rice wine vinegar
6 Tbsp. grapeseed oil*
2 Tbsp. flax oil*
*You can substitute 1/2 c. light olive oil here–extra virgin will have too strong of a flavor
1/3 c. chopped fresh cilantro
2 limes, juiced
1 T. honey
3/4 tsp. salt (plus more to taste, if desired)
2 cloves garlic, minced
2 lbs. frozen, shelled edamame (green soybeans)
4 green onions, thinly sliced
½ c. chopped peanuts (optional)
Cook quinoa (click
here
to find out how!) While the quinoa is cooking, whisk together the vinegar, oil, lime juice, honey, salt, cilantro, and garlic. Allow it to stand while you prepare the rest of the salad.
For the edamame, you have a few options. You can steam it in a steamer or the microwave until the desired doneness is reached, you can rinse the beans under some hot water for about a minute or two, or you can briefly rinse the beans and then toss them with the hot quinoa when it is done cooking–it just depends on how done you prefer your edamame. Whichever option you choose, you'll toss the beans with the green onions and the cooked quinoa. Toss with the dressing and then season to taste. Garnish with fresh peanuts and enjoy! Makes a lot–like 18-20 small servings.
P.S. Don't forget to enter the World Market giveaway!!