You know those times when you need a treat and you've got to just go with whatever is in your pantry at the moment?? Everyone needs a few go-to recipes in the arsenal for times like that. At my house, those recipes include these Chewy Chocolate Chip Cookie Bars, standard No-Bakes, and these little beautiful squares of deliciousness. I almost always, always, have everything I need on hand for these. It's just flour, sugar, butter, oats, egg, and whatever jam I can scrape up in the fridge or pantry. They're also really quick to mix up. Easy peasy.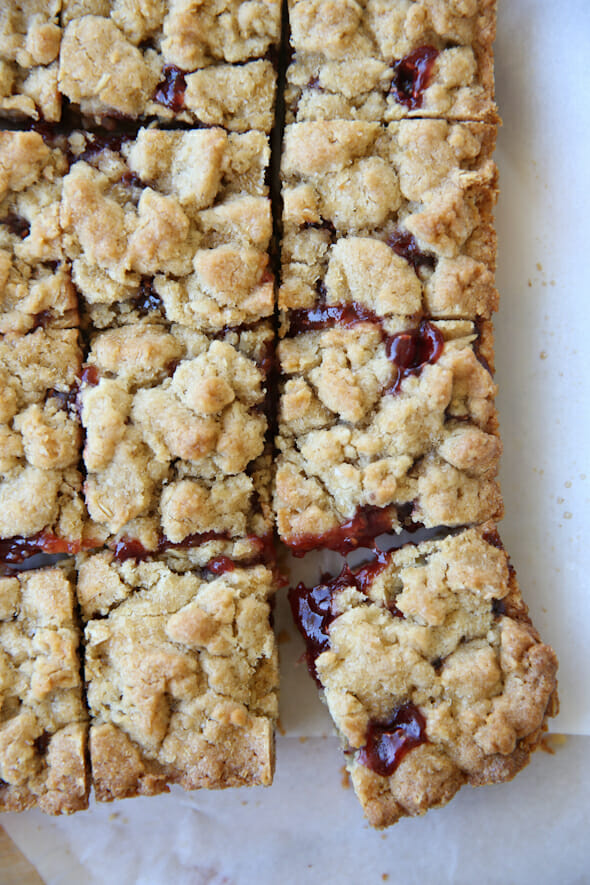 There are a couple of different styles of bars like this. I also love the type that are more of a crisp shortbread crust with a crumbly, streusel-y topping. This dough has an egg in it, so it turns that crisp into more of a soft, chewy cookie. The very first time I tried this recipe I thought it really lacked flavor and depth. It was actually quite bland. I played around with it and ended up increasing the sugar by a little, the salt by quite a bit, and adding a hefty dose of almond extract. The resulting recipe was a winner and I've been making them ever since.
One of the great things about this recipe is that you really are just dumping everything into a bowl here. Both brown and white sugar, flour, salt, and oats.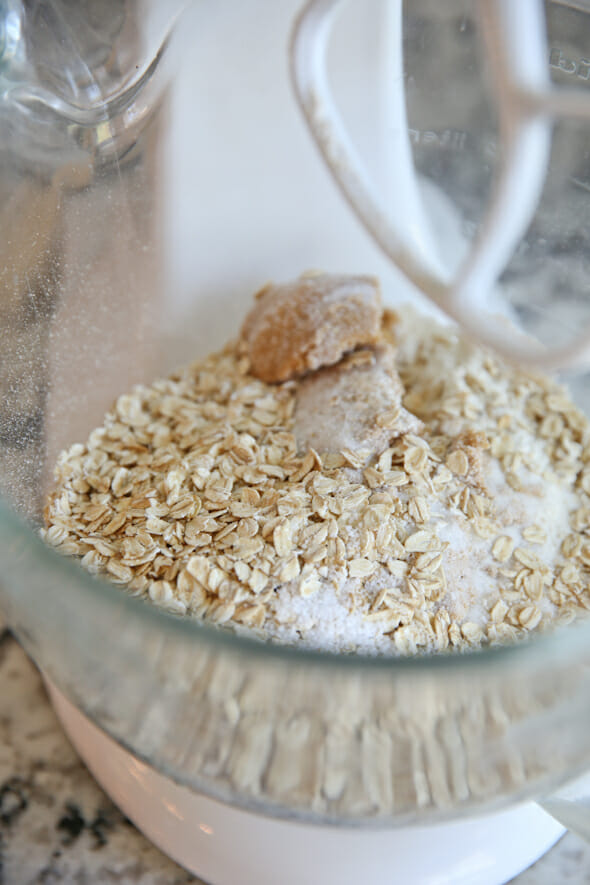 Then pop in some butter (no margarine!) and an egg. It is important that your butter is at room temperature. We're not taking the time to "cut" in the butter, so it needs to be softer than fridge-chilled, but you also don't want it melted. So if you can remember, just pop the butter out on the counter, chop it into chunks, and let it sit for a bit before starting. If you're softening in the microwave, do your best to not melt it like you usually do. (Admit it, you usually do. We all do.)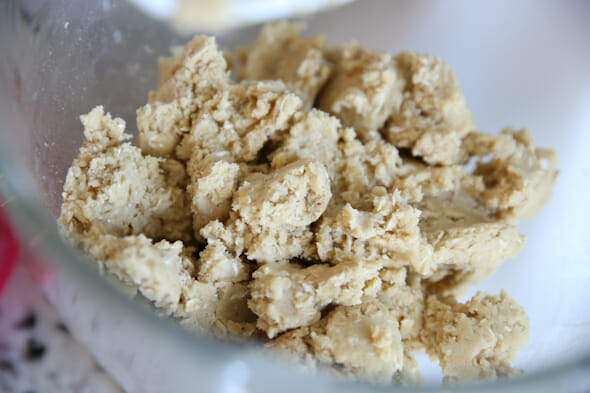 You'll take part of that dough and press it into an 8×8 pan. I like to line my pan with parchment or foil, because it makes it easy to remove the bars when when you're ready to cut them.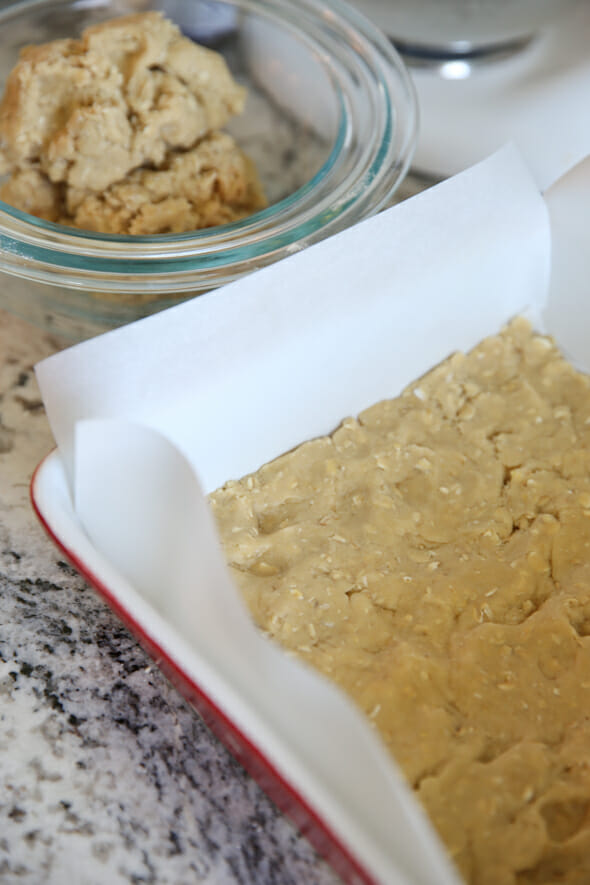 Next, you'll spread jam on top. You can really use any flavor you like. The raspberry-almond combo is one of my favorites, but almond really goes with just about any fruit flavor. I would suggest using a high quality preserves though. In terms of grocery store picks, I like this Smuckers Simply Fruit spread because it's less sugar-y than normal jam and you get more real fruit flavor.
I put 3/4 cup in the recipe, and I do kind of a heaping 3/4 cup, just a little less than a full cup. If you do want to go for a full cup, that's exactly how much is in one of those jars of Simply Fruit. Crumble the rest of the dough on top.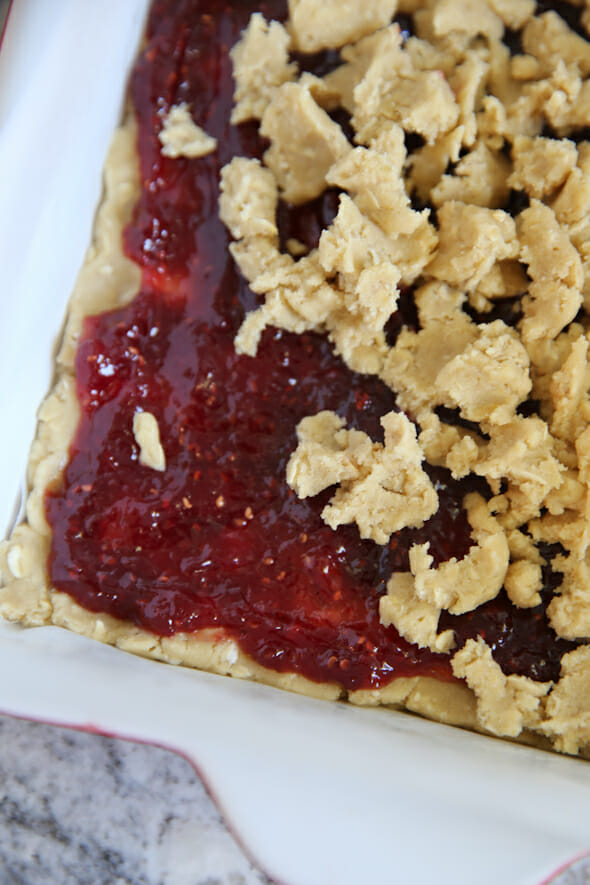 Totally optional, but I also like to sprinkle some coarse turbinado sugar on top. I kind of sprinkle tubinado on top of any and all baked good these days.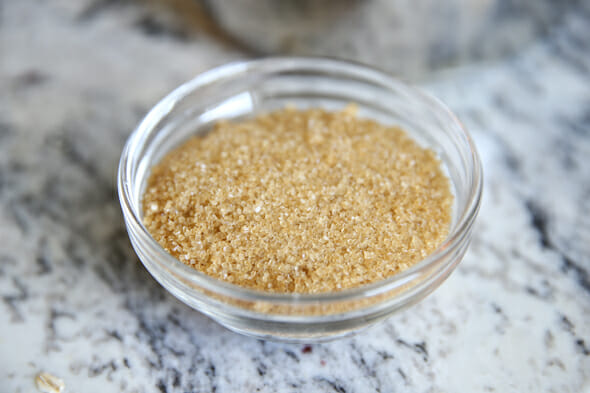 I love the sparkly crunch it adds! This one is Maui Brand.
Pop those in the oven and bake them until the top looks set and slightly golden brown.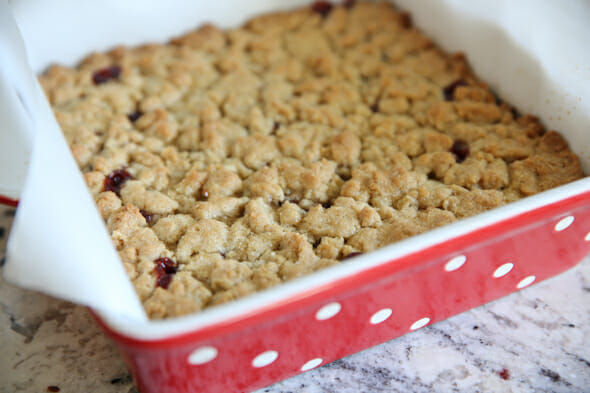 One of the hardest parts is waiting for these to cool before cutting into them. They really do taste better completely cooled, and it helps the jam to set up too. So if you need to make something hours ahead of time, this is a good bet.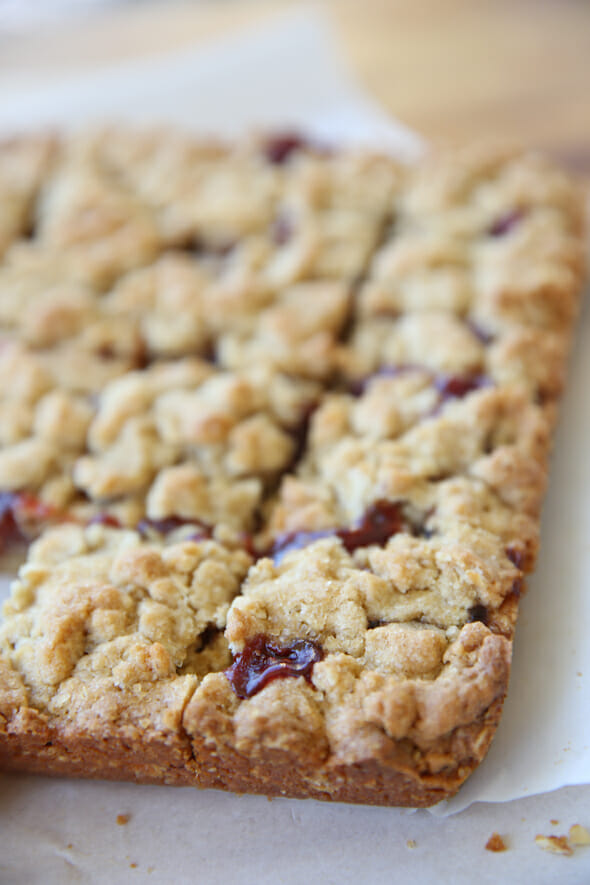 The bottom layer is like a soft, chewy cookie, then the jam in the middle is gooey and sweet, and the top gets a little toasty crunch. It's the perfect combo.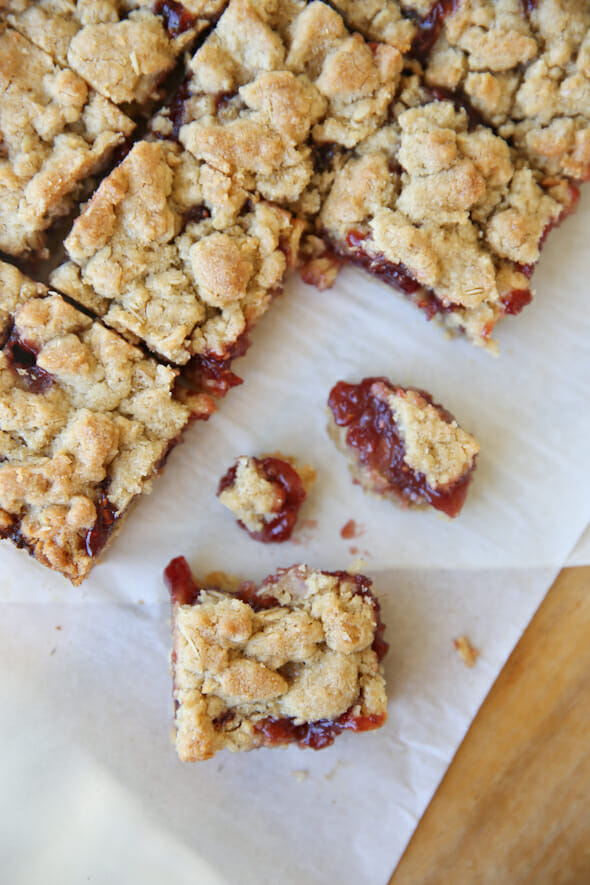 Try these once and I bet they'll make it into the regular summer rotation!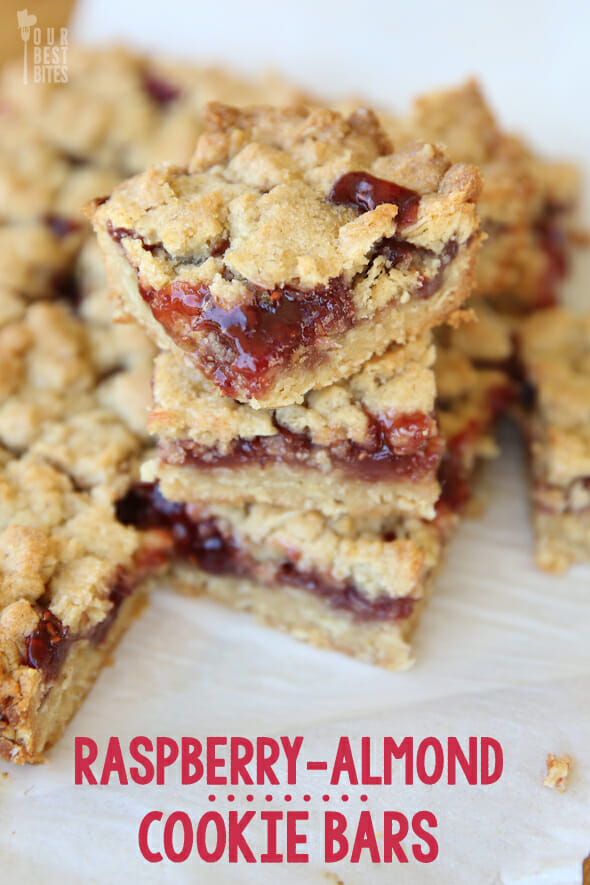 Raspberry-Almond Cookie Bars
---
Description
An easy-peasy, "you-probably-have-it-all-in-your-pantry-already" bar cookie recipe…that's delicious to boot!
---
2 1/4 cup

all purpose flour

1/2 cup

granulated sugar

1/2 cup

plus 2 tablespoons packed brown sugar

1 cup

old fashioned oats

1 teaspoon

kosher salt (if using table salt, decrease to

1/2 teaspoon

)

1 cup

butter (

2

sticks) at room temperature

1

egg, slightly beaten

1 1/2 teaspoons

almond extract

3/4 cups

raspberry preserves

1 tablespoon

coarse turbinado sugar, optional
---
Instructions
Preheat oven to 350 degrees. Line an 8×8 pan with a parchment sling (lay an 8″ strip of parchment across bottom of pan so it hangs over each end, and then lay another the opposite direction. Alternately you could just line the pan with foil, or simply spray with non-stick spray. Lining the pan makes it easy to remove the bars and cut.)
Combine flour, white and brown sugars, oats, and salt in the bowl of a stand mixer. Cut butter into chunks and add to bowl along with beaten egg and almond extract. Turn mixer on and let mix until the mixture comes together into a cohesive dough that looks like coarse crumbs. Remove 2 cups of dough (about half) and set aside. Press remaining dough into the bottom of the prepared pan. Spread preserves on top, avoiding the very edge of dough. Take remaining dough and crumble on top of preserves in an even layer. If desired, sprinkle with turbinado sugar.
Bake for 40-50 minutes until slightly golden brown on top. Cool completely before cutting into squares.
---