Wait, what was that you said?  It's been forever since I posted anything about pizza??  Oh my gosh, I KNOW.  Okay fine it's all I talk about.  It's because I made that most amazing dough in the history of ever and then when I had a bunch of dough to play around with I made both that Peach Proscuitto Pizza and also this pizza and I wanted to share them both before the fresh peaches and grapes are out of season!  Obviously you can buy grapes at the store whenever, but if you happen to have homegrown grapes, they are like, other-worldly here.  We happen to grow several varieties of grapes in our yard (don't ask me which ones, I honestly don't know!) so when they ripen around this time of year we have SO many to eat up.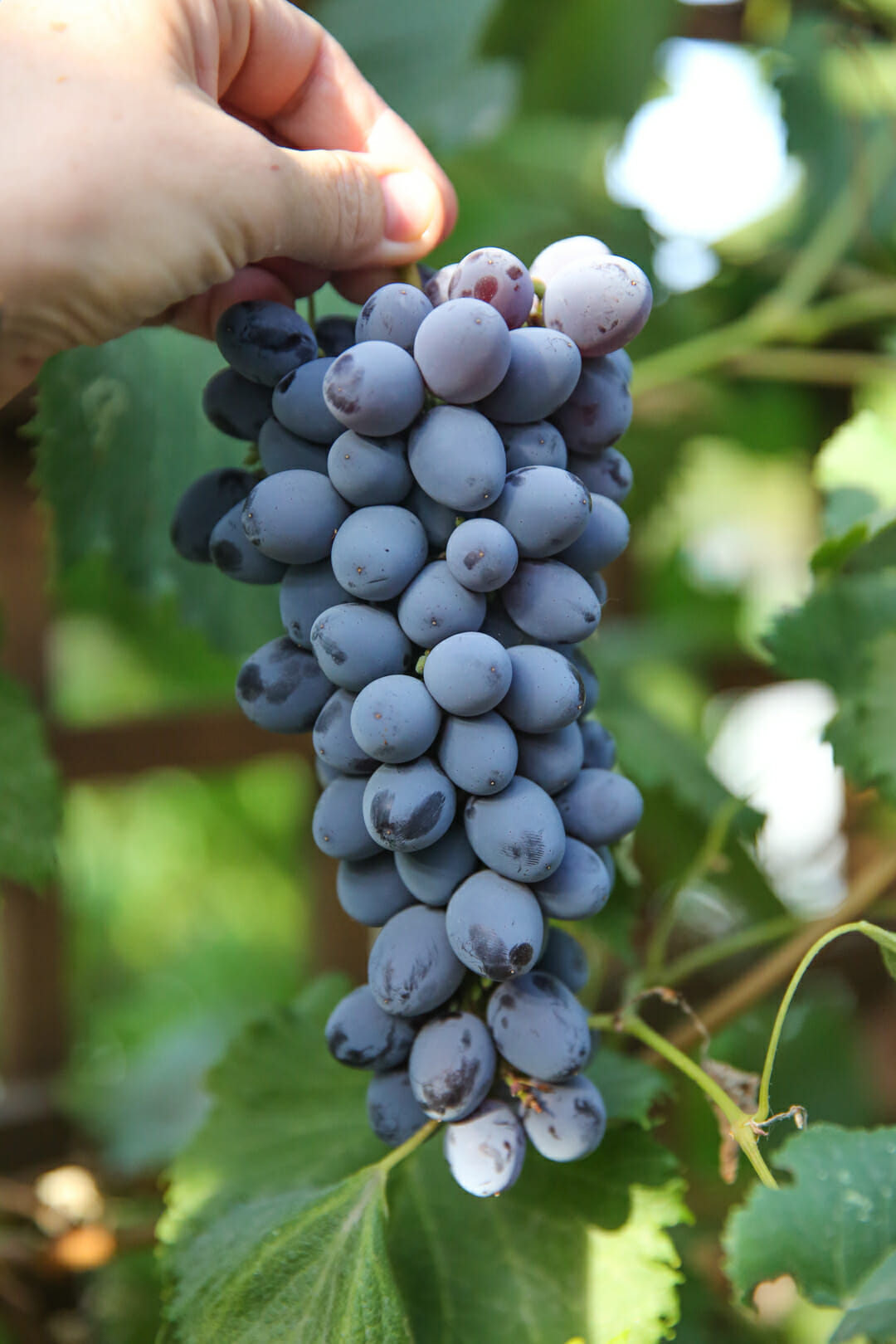 Now.  The idea of cooking grapes (especially savory grapes) probably sounds totally whak-o to many of you, but stick with me.  You've probably eaten (or considered eating) sweet fruits like pineapple with grilled chicken, or mangoes in salsa.  Right?  Roasting grapes is kind of like roasting tomatoes . I'm giving them a quick bath in olive oil (not to sound pushy, but if you haven't tried our Rosemary Olive Oil you probably need to.  It's my #1 favorite and amaaaazing here) and a sprinkle of kosher salt and a few snips of fresh rosemary.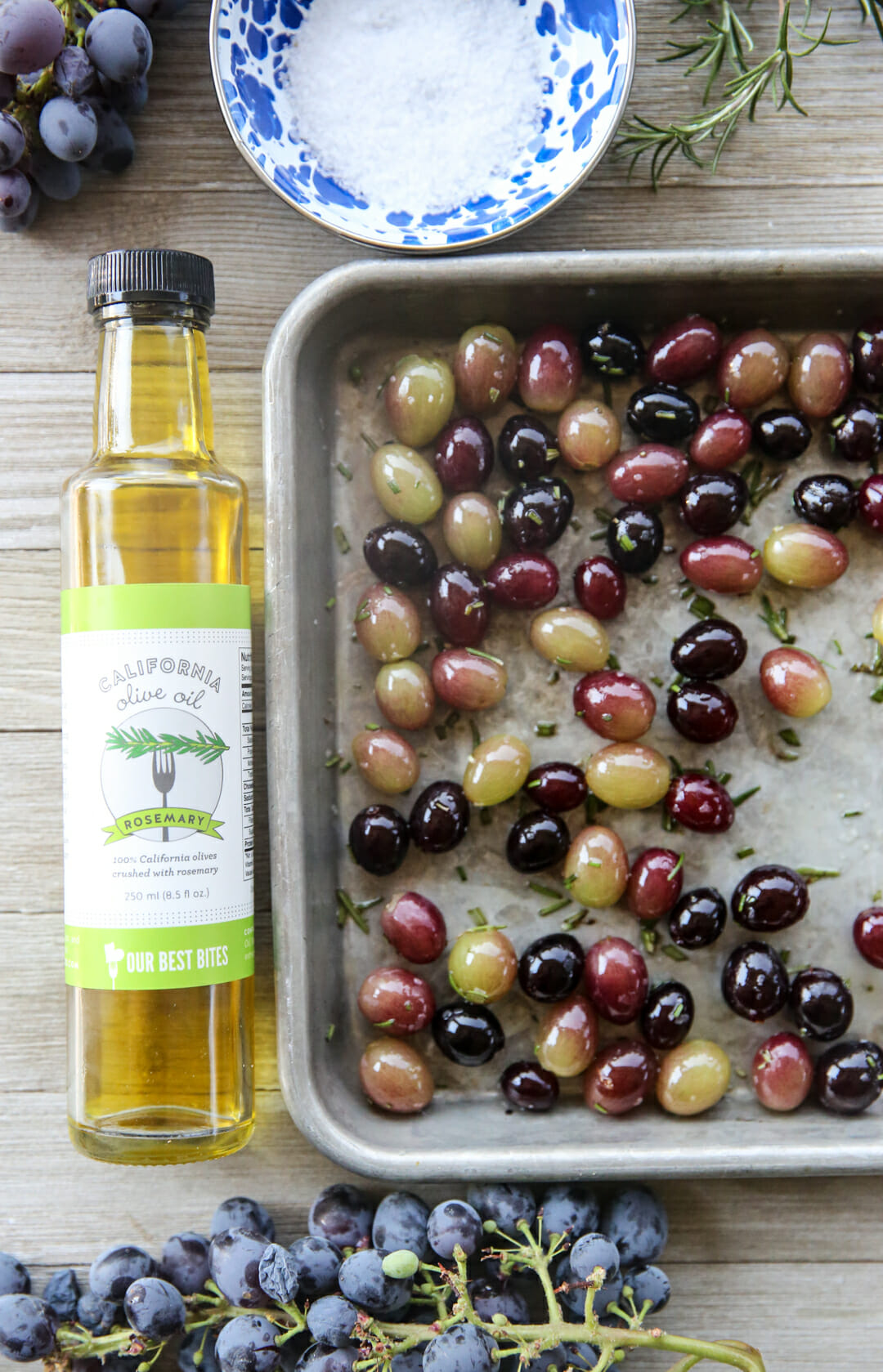 Grapes have an extremely high natural sugar content, so roasting causes them to burst and the sugar caramelizes and they're super sweet and flavorful.  I can't really explain it- you just need to try it!  These are awesome over grilled meats, or on top of a toasted baguette spread with goat cheese and drizzled in a balsamic reduction, or…pizza.
I'm using my Neapolitan style pizza dough (the BEST), which you can find, here.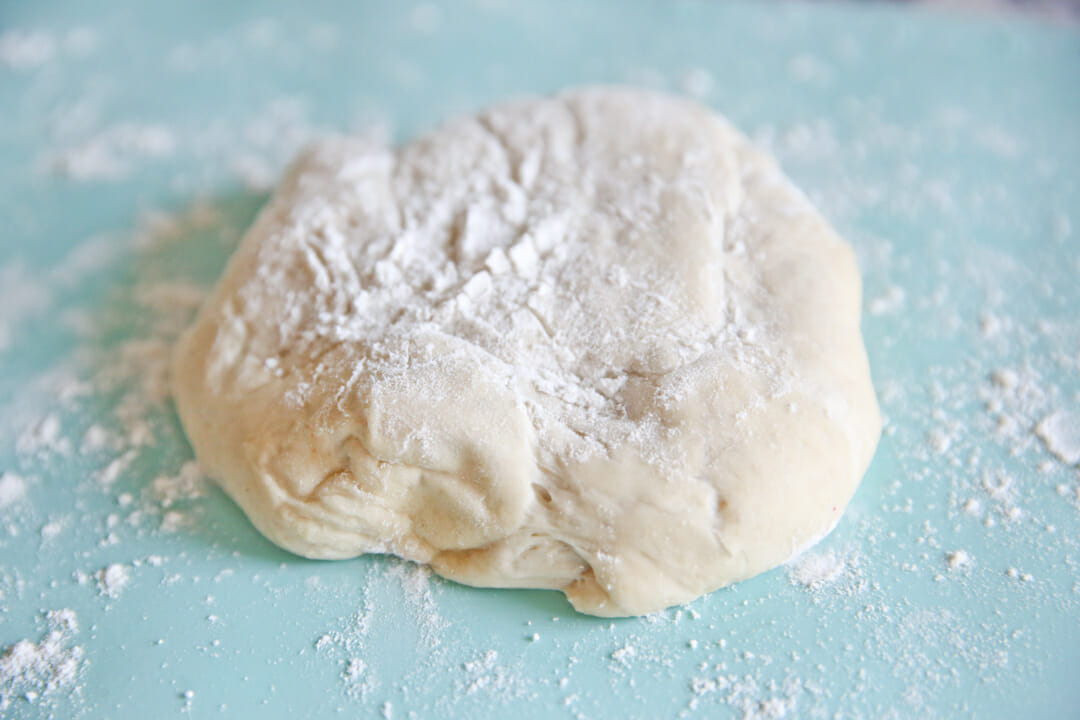 This pizza is so simple.  I just drizzled the dough with a little olive oil and sprinkled with some sea salt.  Then added some slices of creamy brie, the roasted grapes, and some minced rosemary.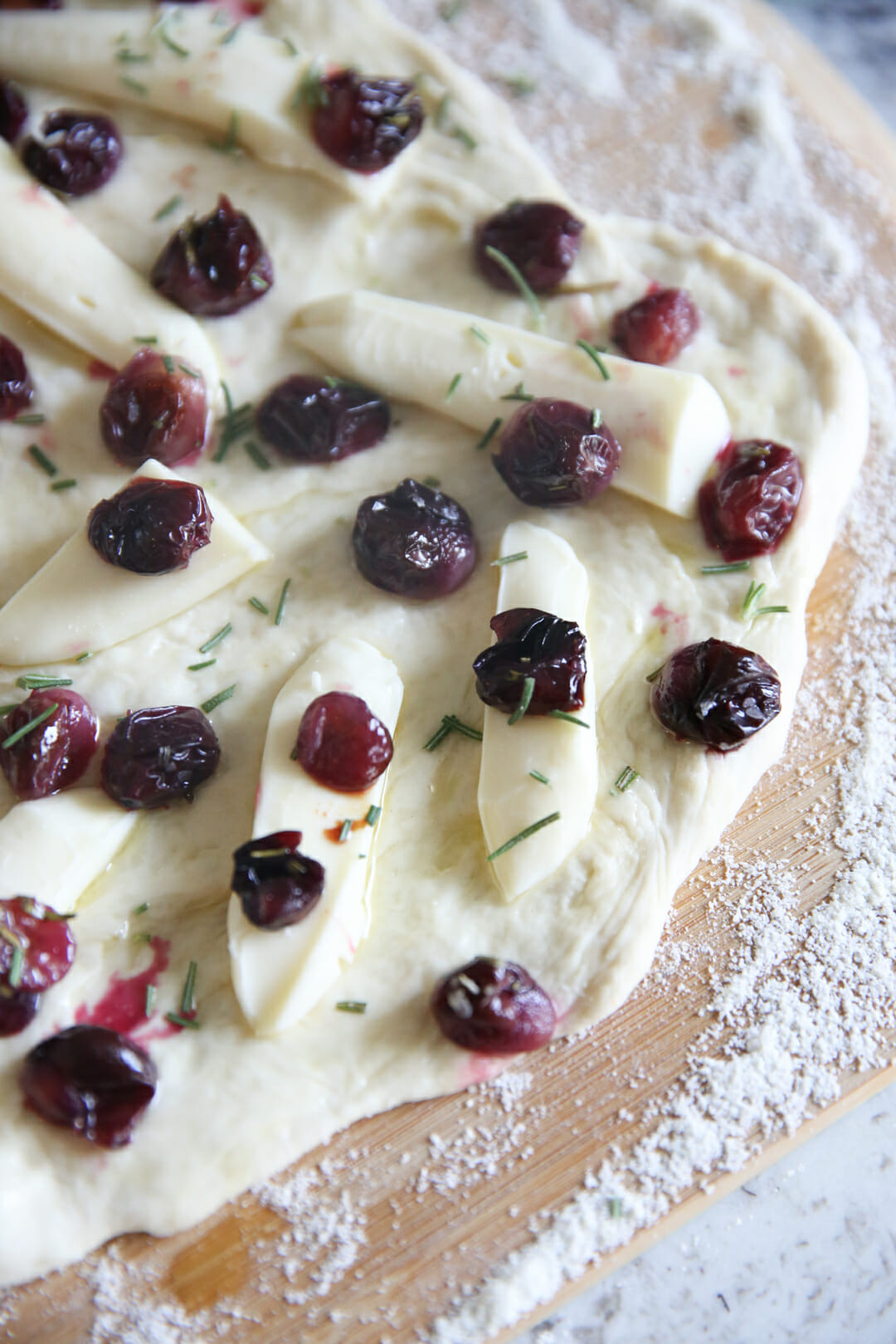 It cooks in just minutes (you can see my go-to cooking methods in that pizza dough post, both my pizza oven and also a standard oven.  It would also be great on the grill)
It's sweet and salty and chewy and creamy and just SO GOOD.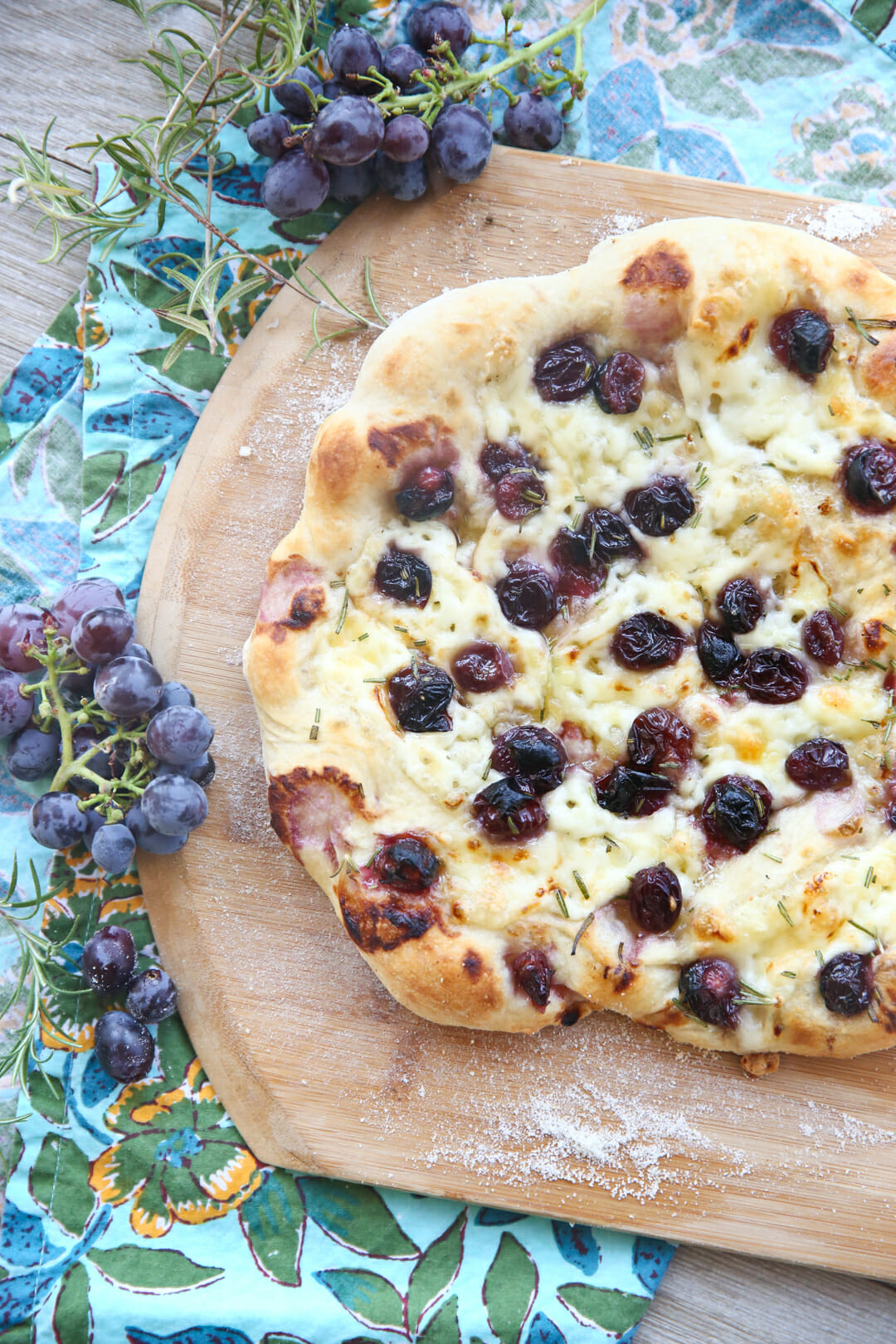 I drizzled mine with rosemary olive oil and blackberry balsamic glaze and that was pretty much the best decision ever.  But if you don't have those, obviously no worries- it's still super delicious without.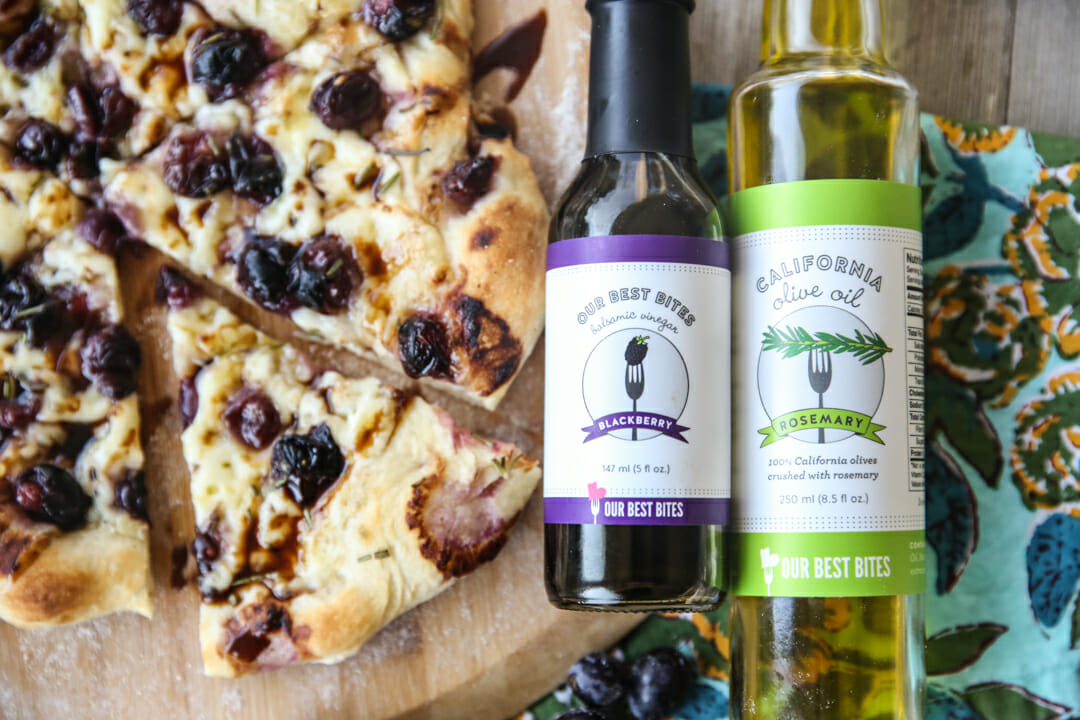 If you like sweet and salty together, you'll love this.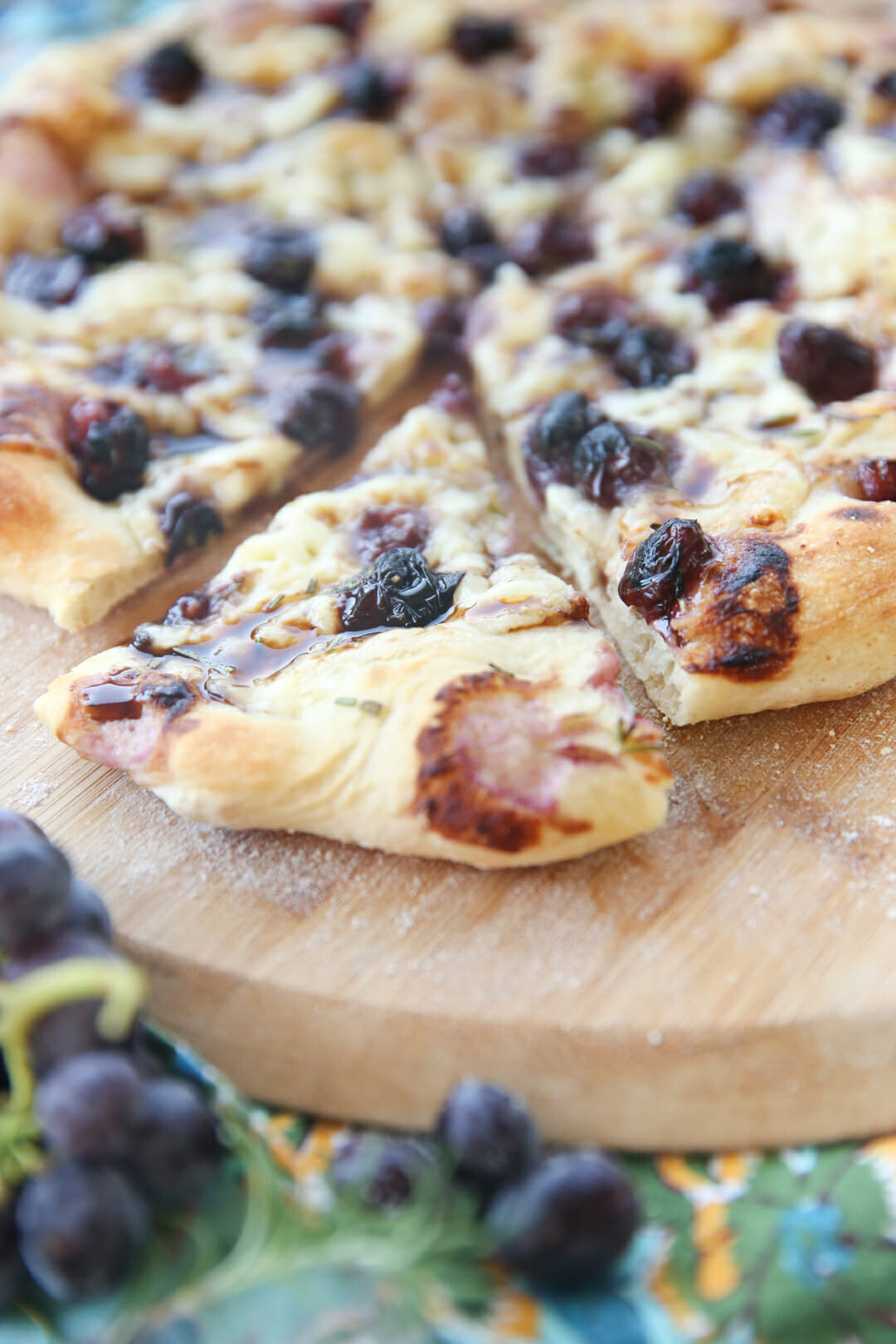 Pretty sure I finished off that whole thing myself.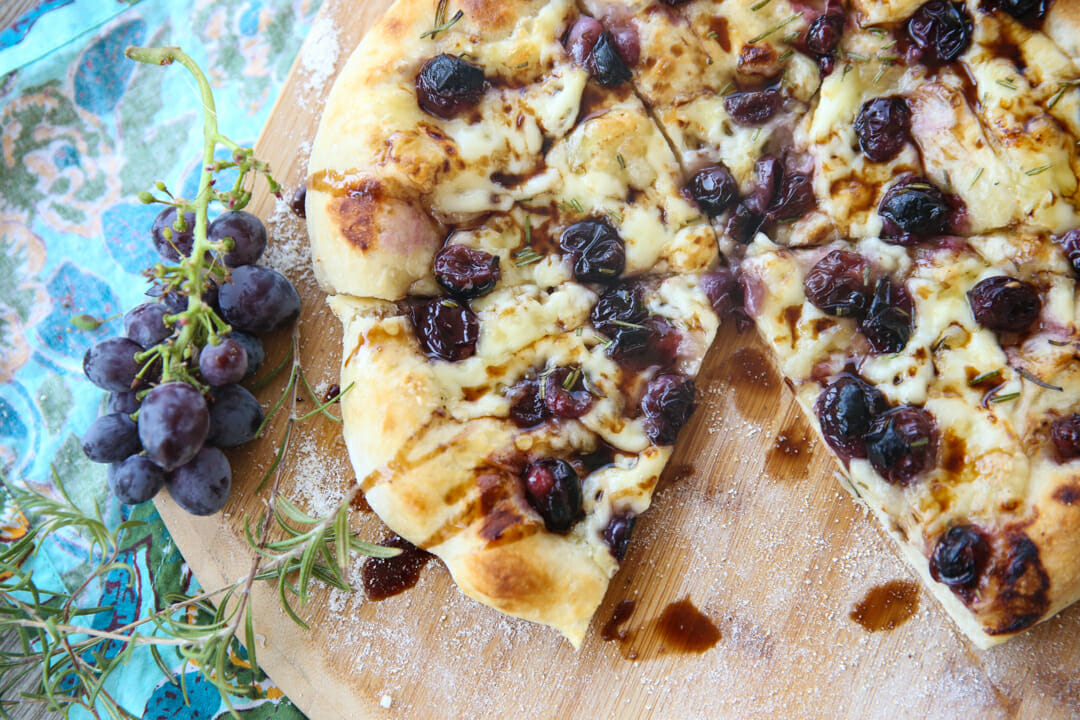 Be bold, try something new, eat grape pizza.
Print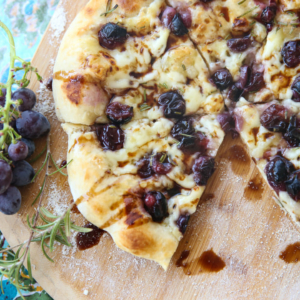 Roasted Grape and Brie Pizza
---
Description
The ultimate sweet & savory experience! Roasted grapes, creamy brie, and fresh herbs on the an authentic brick oven style crust. This recipe is scaled for a smaller, 10-12 inch pizza.
---
2 cups

grapes

1 tablespoon

olive oil
kosher salt (about 1/4 teaspoon)

1/2 tablespoon

finely minced rosemary
Neapolitan style pizza dough

1

wedge brie cheese
extra fresh minced rosemary
Additional olive oil and kosher salt.
optional: balsamic, or balsamic reduction
---
Instructions
Preheat oven to 400 degrees.
Place grapes on a baking sheet, drizzle olive oil over grapes and toss to coat. Sprinkle with salt and rosemary and bake for (20-30 minutes) 25 minutes, until grapes start to burst and caramelize. Remove from oven and set aside to cool.
Stretch pizza dough out onto your prepared peel. Drizzle lightly with olive oil and sprinkle with a little kosher salt. Slice brie (with or without the rind, I prefer it without) and place on crust. Dot with grapes. Sprinkle with a little extra rosemary and bake using one of the methods outlined in the pizza dough post.
After the pizza cooks, if desired, drizzle with additional olive oil and/or balsamic.
---