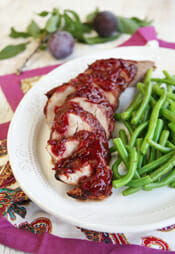 Once again I am starting a post by whining about how I have no food growing in my yard, but jumping for joy at the generosity of my friends and neighbors, who do.  Are you noticing the trend?  My sweet neighbor Kimber has a big ol' plum tree in her front yard.  After eating half of the bowl she brought to the neighborhood BBQ last week, I started dreaming about plum recipes, so naturally I headed to her house in the middle of the night dressed in black and armed with a bag and some clippers.  Just kidding.  I sent my husband.  In broad daylight.  And I asked first, like a polite-mooching-neighbor should.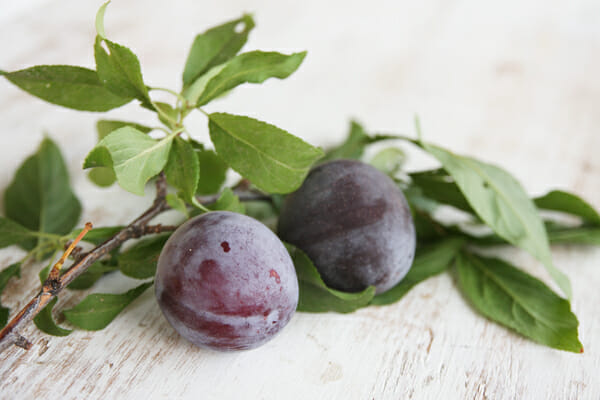 And he brought back the most perfect, juicy plums.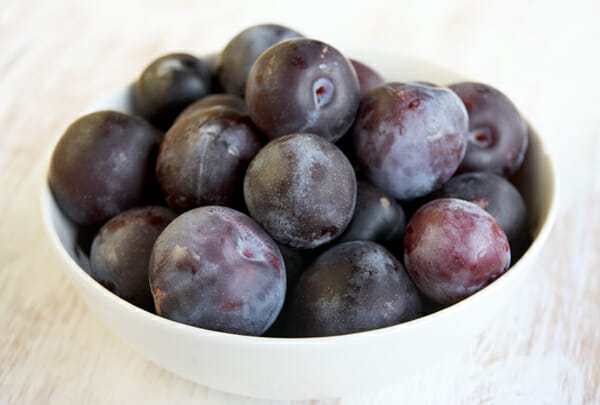 Remember this Spicy Peach BBQ Sauce from last summer?  I wanted to do something similar, but with plums and a slightly different flavor profile.  This one  is kind of like sweet and sour meets BBQ Sauce and it goes great with one of OBB's favorite cuts of meat: the pork tenderloin.
The first thing you'll need to do is dice the plums up.  Plums can be a little tricky to pit because they often don't pull off the seed like other stone fruits do.  If your plums are small and soft, you might find it easiest to cut it like you would a mango, like I did.  Just slice right down next to the pit and you'll get 2 large halves, then you can cut off the sides of the pit.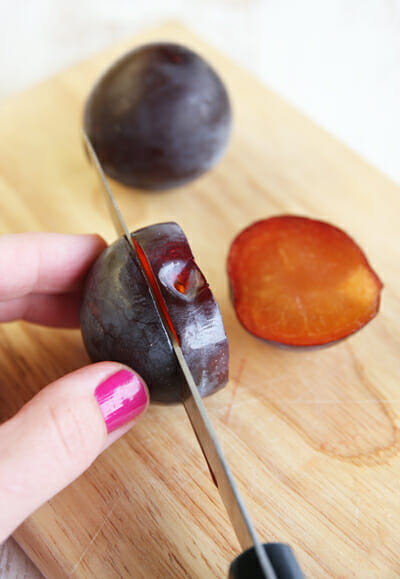 Quarter each of those big halves and you'll be perfect.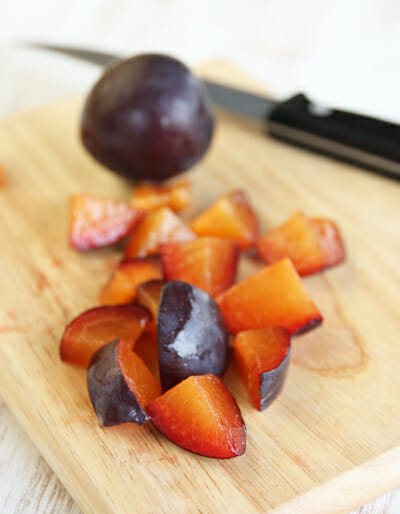 Do that with the whole bunch.  I should note that what you see in the photo below is not the whole bunch.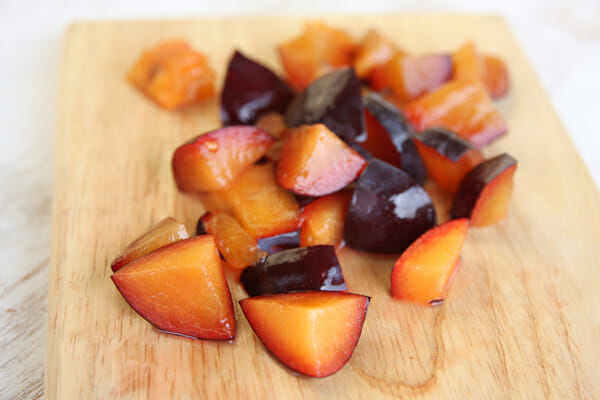 Stone fruits lend really well to sweet-savory sauces like this one.  We'll start with a base of sauteed onions and garlic and then add a little ketchup, soy sauce, ginger, mustard, red pepper flakes, brown sugar, and a hint of cloves.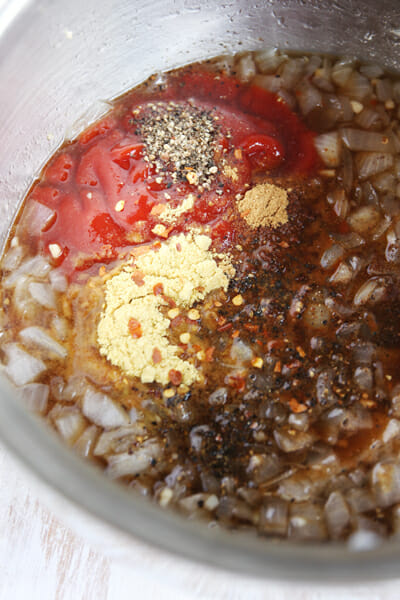 Then in goes the diced plums.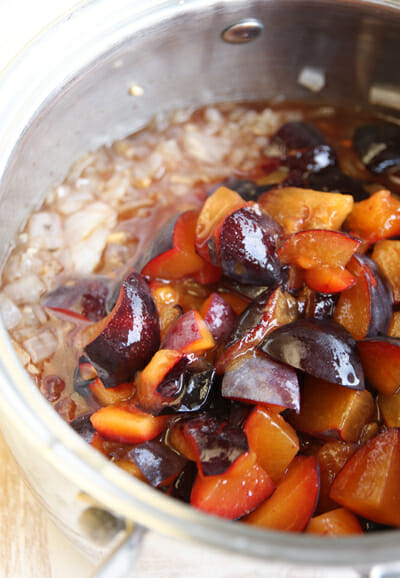 That simmers for at least 30 minutes and transforms into this crazy-gorgeous crimson color.  This sauce works really well to make ahead too.  Whip it up the day before you need it and it will be thicker and have more intense flavor.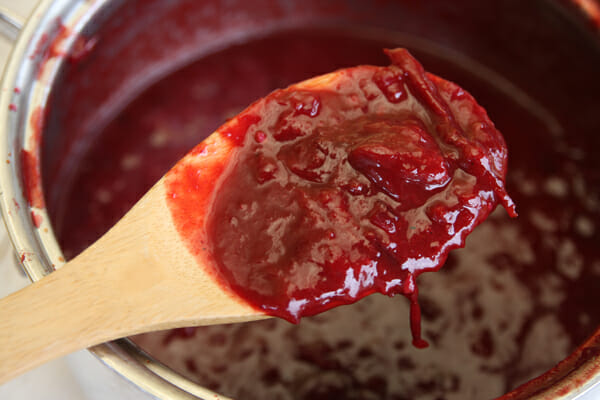 Give quick-cooking pork tenderloins a sear and then smother then in the sauce.  Roast the tenderloins and the sauce caramelizes all over it.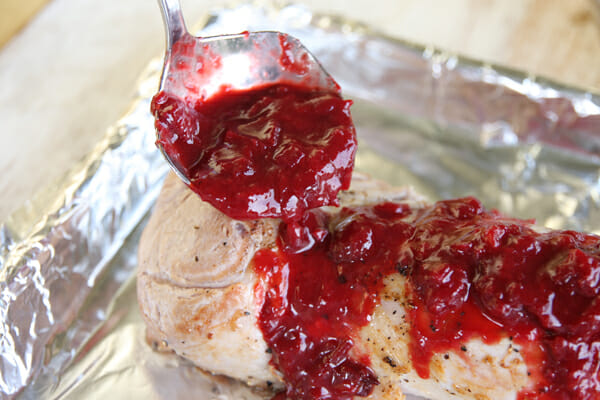 Slice up your pork and serve it with extra sauce.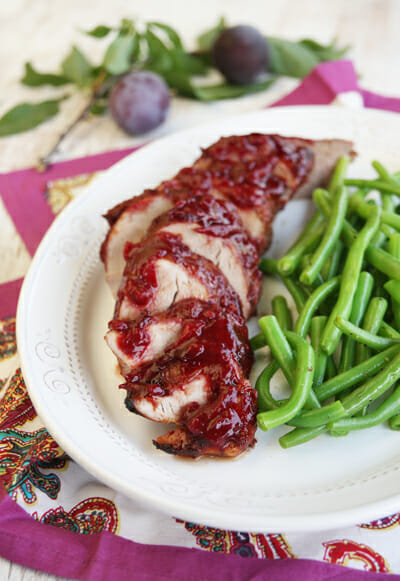 It has a really great sweet and savory flavor with a lot of levels.  There's sweetness from the plums and brown sugar, a little tang from the vinegar, and just a hint of spice from the red pepper.  It pairs perfectly with pork, but would be really great with chicken too.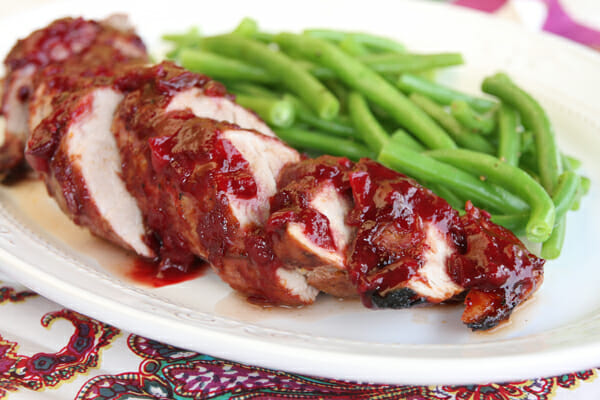 Roasted Pork Tenderloin with Plum Sauce
very lightly adapted from Cooking Light
Ingredients
Sauce
1 tablespoon canola oil, divided
1 cup chopped onion
2 garlic cloves, finely chopped
1/4 cup packed brown sugar
1/4 cup rice wine vinegar
1/4 cup ketchup
2 tablespoons low sodium soy sauce
2 teaspoons dry mustard
1 teaspoon ground ginger
1/2 teaspoon black pepper
1/8 teaspoon crushed red pepper
one pinch ground cloves
1 1/2 pounds black plums, pitted and quartered
Pork
2 (1 pound) pork tenderloins, trimmed if necessary
kosher salt
freshly ground black pepper
Instructions
Heat a large saucepan over medium-high heat. Add 1/2 tablespoon canola oil to pan, and swirl to coat. Add onion and garlic; sauté 5 minutes, stirring constantly. Add sugar and the next 9 ingredients (through plums); bring to a boil. Reduce heat, and simmer, partially covered, for 30-40 minutes or until plums break down and sauce thickens, stirring occasionally.  Remove from heat.  Give it a taste and adjust if necessary adding a sprinkle of kosher salt or a little more sugar if needed for sweetness.  If fruit is slightly bitter, the salt should combat that. (This sauce can be made a day in advance.)
Preheat oven to 450°
Heat a large skillet over medium-high heat. Add 1/2 tablespoons oil to pan; swirl to coat, adding more oil if necessary. Sprinkle pork evenly with salt and black pepper. Add pork to pan; sauté 7 minutes, turning to brown on all sides.
Transfer pork to a foil-lined jelly-roll pan; coat with about 1/2 cup plum sauce and use a spoon to spread it around on the pork. Roast pork at 450° for 15 minutes. Remove pork from oven. Turn pork over; coat with an additional 1/2 cup plum sauce. Roast 10 minutes or until a thermometer inserted in thickest portion of pork registers 155°. Remove from pan; let stand 10 minutes. Slice crosswise. Serve with remaining plum sauce.
In case you missed it, a new giveaway went up yesterday!  We're giving away a copy of our BRAND NEW book, and the winner will get it before it even hits shelves!  Click here to enter!