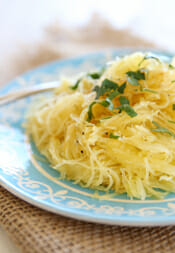 I know.  Squash.  Whatever, Sara.  People, stick with me here.  I've even done my fair share of spaghetti squash bashing here on Our Best Bites, but to my defense- only in the context of defending the fact that it doesn't taste like actual noodles.  However if you cook it well, it also doesn't taste like stringy pumpkin.  Spaghetti squash naturally pieces into thin  segments, making it a great stand-in for a lot of traditionally carbohydrate-rich meals involving things like rice and pasta. I'm not anti-rice or pasta either; those things can (and should) be part of healthy diet, but when you want to lighten things up, this is a great way to do it.  Compared to other winter squashes, spaghetti squash has one of the lowest caloric amounts, at just about 40 calories per cup.  It's also lower in carbs than most of the others, at just 10 grams, and it provides every essential vitamin in at least trace amounts, and significant amounts of vitamin C and B-6.  So it's a great way to fill up your tummy without a lot of calories.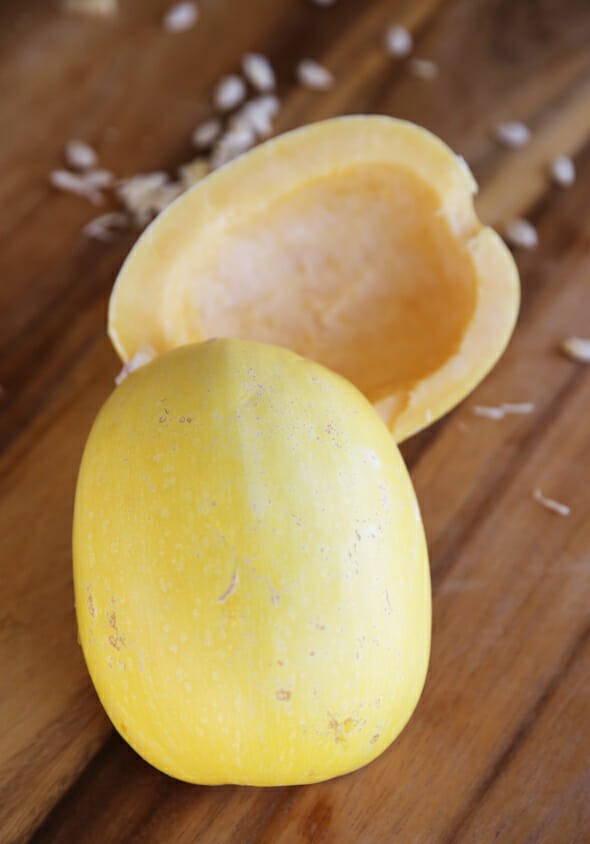 Spaghetti squash has a mildy sweet flavor on it's own, but it also kind of takes on flavors of things you pair with it.  I use as a base to a lot of things when cooking family meals.  For example, the other day I made BBQ Pork sliders.  My kiddos ate their sandwiches, and my husband and I tossed our pork on top of the roasted squash.  I've done the same thing with fajitas (in place of the tortilla), and obviously pasta sauces, etc.  It's a nice way to lighten up your own meal without having to make totally separate things for different people in your family.
Start by washing the outside of the squash.  Then take a sharp knife (like, really sharp).  You'll have to be careful and work patiently because they're a little tough to cut through.  Once it's cut in half, use a spoon to scoop out the centers.
Drizzle each half with a little olive oil.  Using flavored olive oil here will make SO much difference.  I'm using garlic on this one, but I really love it with both Rosemary and Bacon olive oils.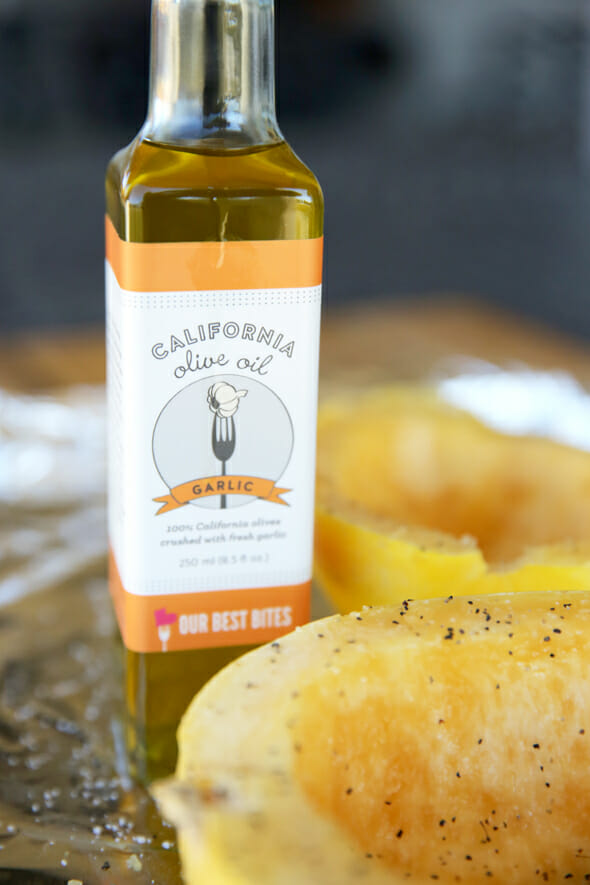 After you rub the oil around with your fingers to coat all the surfaces, sprinkle it with some kosher salt and black pepper.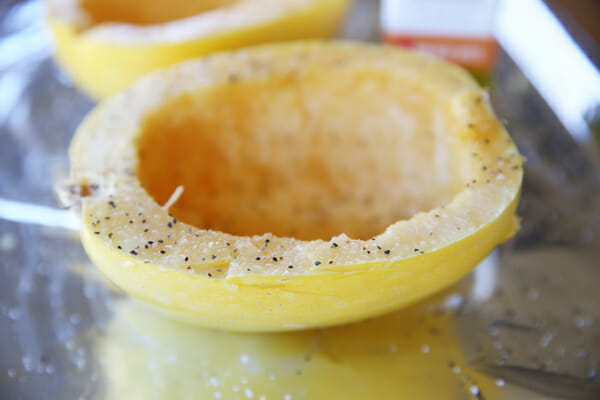 Make sure you rubbed the cut edge well with the oil and then flip them cut-side down onto a foil-lined baking sheet.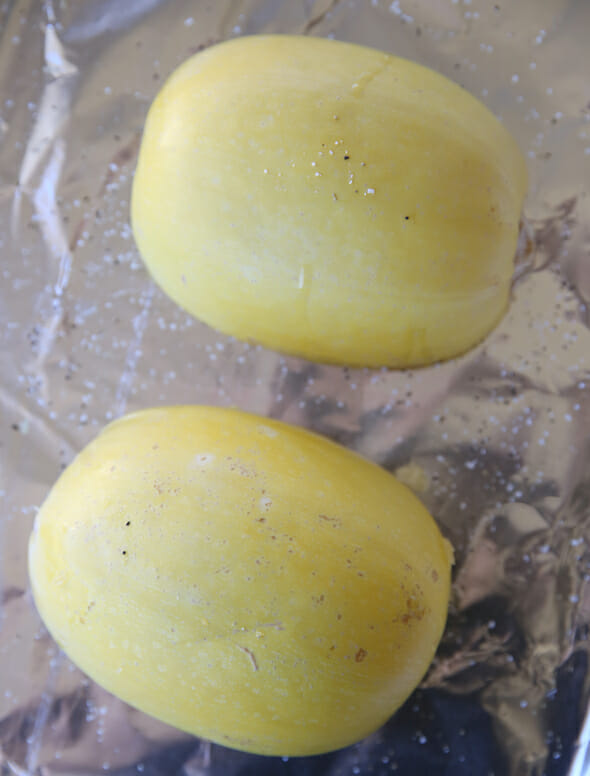 Pop them in a 375 degree oven for about 35-40 minutes.  When you touch the outside skin of the cooked squash, it should be really soft and tender.
I usually grab a clean kitchen towel to help hold the hot squash, and then use a fork to gently scrape out the insides.  You'll see it naturally forms into these little stringy noodle-like pieces.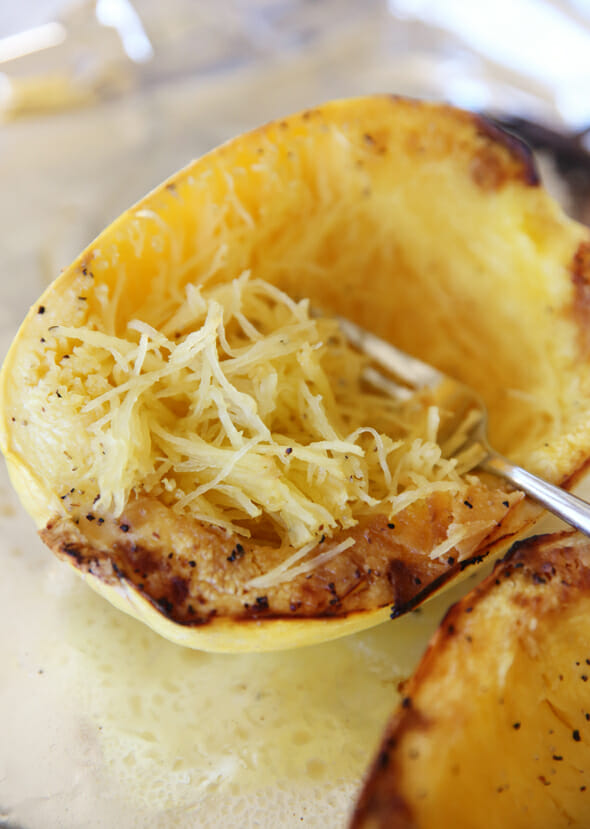 Serve it as a side dish by tossing it in flavored olive oil and more salt and pepper.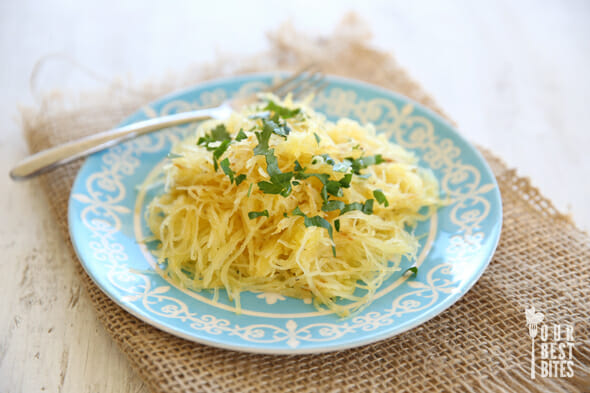 Or one of my favorites is tossing it in pesto with grilled chicken or steak on the side.  I've also mixed it in along with spaghetti noodles for my kids with no complaints, and chopped it more finely after cooking and combined it with rice.  It's an easy way to incorporate more vegetables into your diet, or lighten up meals you already love!  One of you commented that you loved eating this with our Italian Braised Chicken Thighs– That's one of my favorites, too!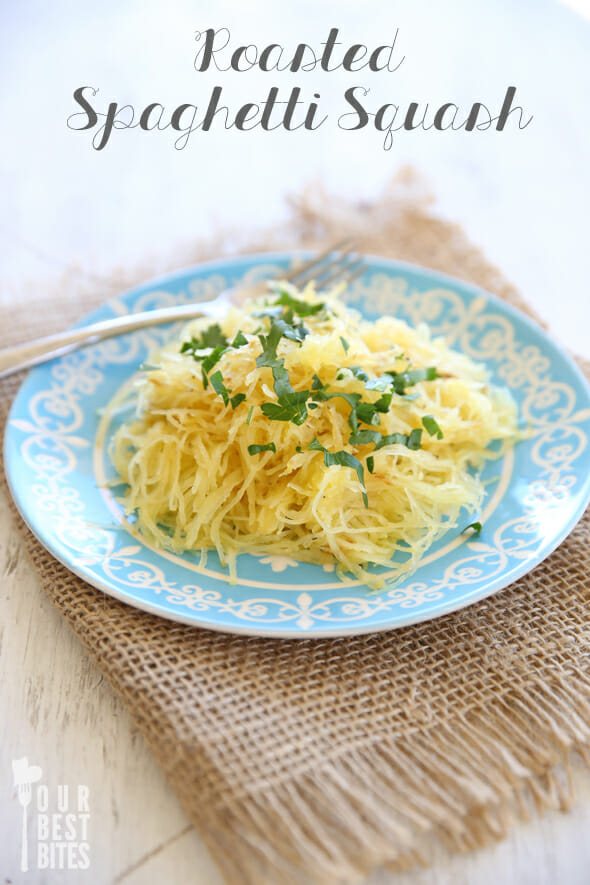 Roasted Spaghetti Squash
Tutorial by Our Best Bites
Ingredients
1 spaghetti squash
2 teaspoons flavored olive oil
kosher salt
black pepper
Instructions
Preheat oven to 375 degrees.  Line a baking sheet with foil.  Cut squash in half length-wise and use spoon to remove centers.  Drizzle each half with olive oil and sprinkle with salt and pepper.  Place cut-side down on baking sheet and roast for 35-40 minutes or until soft to the touch.  Let cool slightly and then use fork to remove squash.

If you missed our Fit Club Update, you can get this week's Workout Challenge on The Scoop right now!  Make sure to follow along every week for new workouts and follow us on social media to catch all of the great tips.  –> Click Here <– for this week's free Printable Workout!