Sweet potatoes are a go-to in today's healthy diet.  I'm constantly experimenting in the kitchen with them because they have such a unique flavor profile and can be taken so many different directions.  So many people still think the only way to eat a sweet potato is either plain and steamed, or covered in brown sugar and marshmallows.  If you're one of those people, then this recipe is especially for you!
Roasting is by far my favorite way to prepare sweet potatoes.  This recipe takes it one step further, when we toss those roasted taters in a bright, fresh, herby sauce.
This is the basic chimichurri recipe I shared in my Pork Tenderloin Post, here.  I'm just cutting down here.  We start with a mix of flat leaf Italian parsley, oregano, and cilantro. The fresh flavors create a really beautiful flavor combination.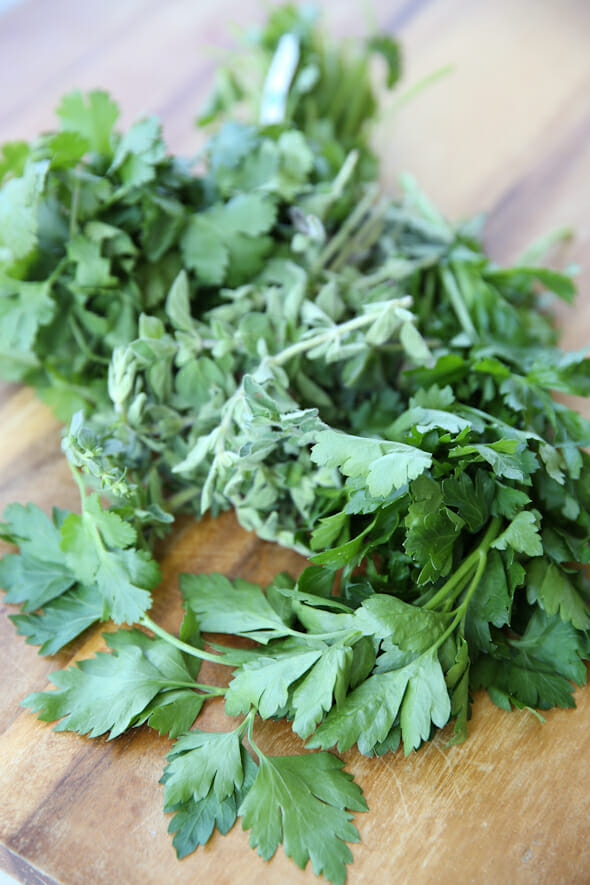 I use a little mini-chopper for this job, since it's a pretty small amount to go in my food processor.  This one is a Kitchenaid, and if you have the blender attachment for their immersion blender, like this one or this one, it's perfect here as well since we're only making a small amount.  If you're doing this by hand, just chop everything reeeeealy finely.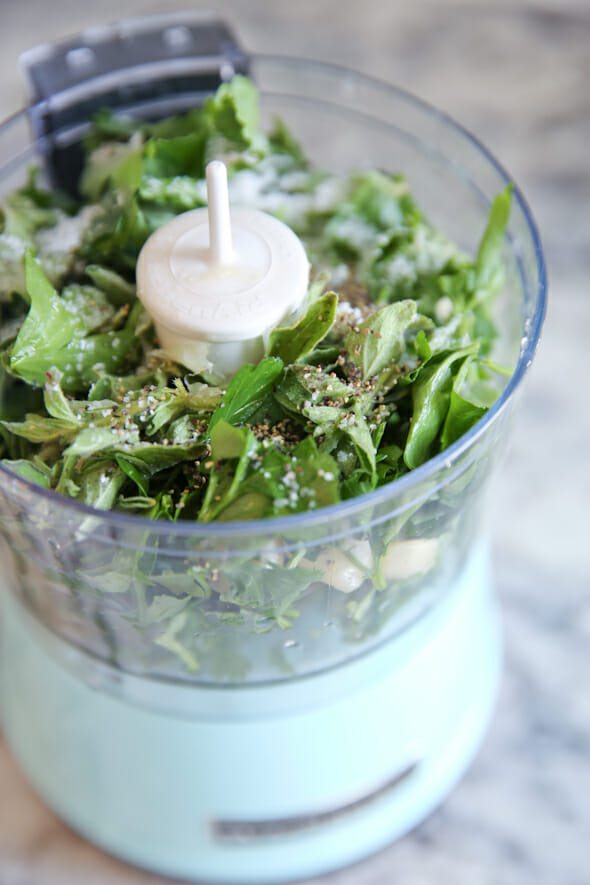 Empty that mixture into a bowl and then we'll drizzle in some olive oil, and toss in some red pepper flakes if you want some heat as well.  I don't pour the oil directly into the blender because you run the risk of breaking down the olive oil and causing a bitter flavor in your chimichurri.
So many of you have asked, so Kate and I are currently working on a big resource page with recipe links that feature different flavors of our Olive Oils. It's almost done, so we'll publish that soon and get it added to the site!  When I made chimichurri, I usually use our Garlic or Lime oil, and if you want to skip the red pepper flakes, use a little of the Chili oil as well.  I don't use ALL Chili oil, because I'm a wimp.
Drizzle that in and mix it all together and set it aside.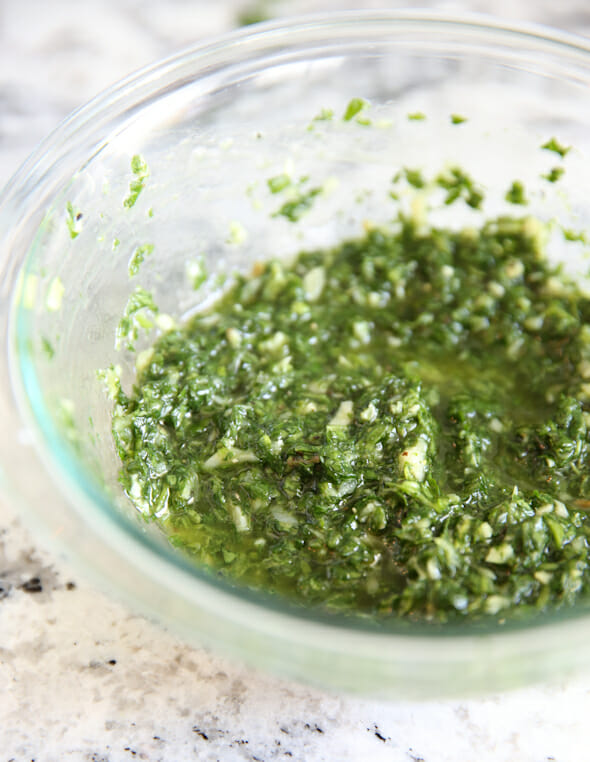 For the sweet potatoes, we're not getting too fancy.  Most of the flavor is going to come from the chimichurri, so I just toss them in olive oil (again, those 3 flavors above are perfect), and a little cumin, onion powder, salt, and pepper.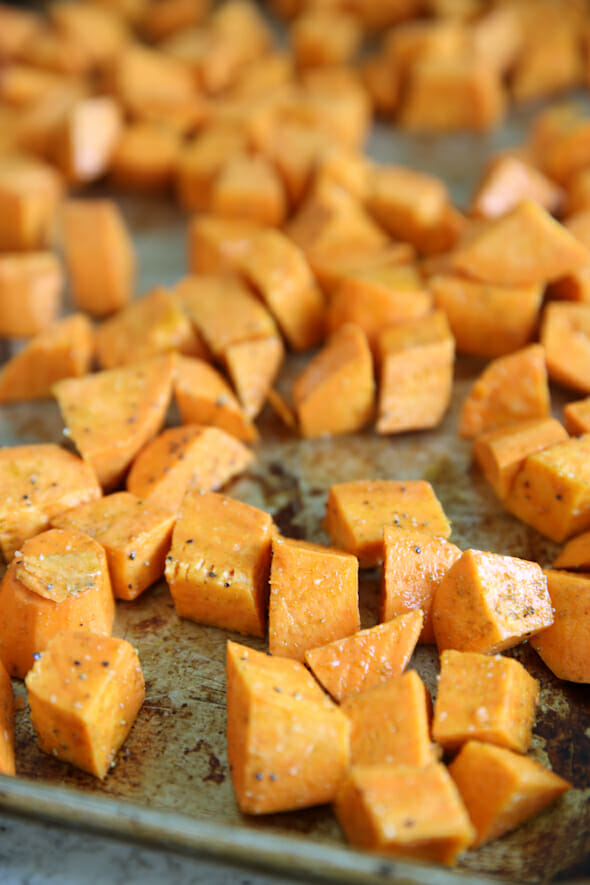 After 30 minutes they're toasty and golden brown.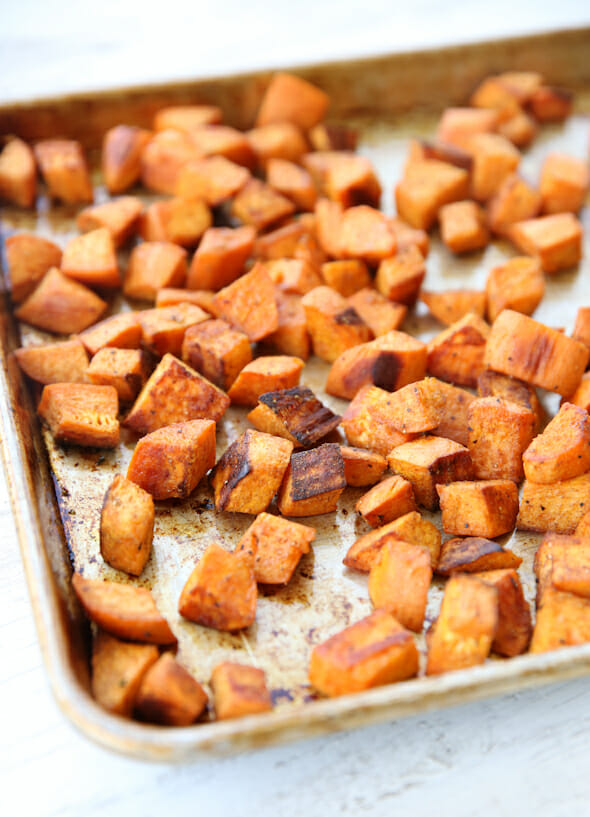 Then just toss them immediately in the chimichurri and plate them up for serving.  They look as gorgeous as they taste delicious!  Since these have so much flavor, they make a great side dish to go along side a simple grilled steak or chicken.  If you want to take it a step further though, make a double batch of chimichurri and marinade your meat in it before cooking.
Print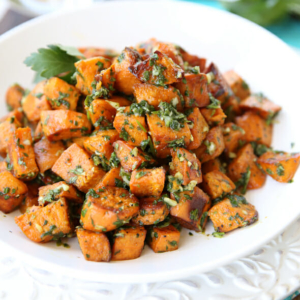 Roasted Sweet Potatoes with Chimichurri
---
Description
Seasoned sweet potatoes are roasted until golden brown and then tossed with a fresh herb Chimichurri sauce for the perfect side dish.
---
For the Chimichurri
3/4 cup

roughly chopped flat-leaf parsley

3/4 cup

roughly chopped cilantro

1/4 cup

roughly chopped oregano leaves

2

cloves garlic, finely minced

1 tablespoon

fresh lime juice

1/2 tablespoon

red wine vinegar

1/2 teaspoon

kosher salt

1/8 teaspoon

black pepper
pinch red pepper flakes, optional
about

4 tablespoons

extra virgin olive oil
For the Sweet Potatoes
2

lbs sweet potatoes, peeled and chopped into

1/2

–

3/4

" pieces

2 tablespoons

extra virgin olive oil

1 teaspoon

ground cumin

1/2 teaspoon

onion powder
salt
pepper
---
Instructions
Preheat oven to 425 degrees.
Place parsley, cilantro, oregano, garlic, lime juice, red wine vinegar, salt, and pepper in a small food processor. (Alternately, you may chop everything by hand very finely.) Process until finely chopped and then transfer to a small bowl. Add in pepper flakes (if using) and olive oil and stir to combine. May add additional olive oil for desired consistency. Set aside.
Place chopped sweet potatoes in a large bowl and drizzle with olive oil. Sprinkle on seasonings and stir to coat. Place potatoes on large rimmed baking sheet and bake for 30-35 minutes, or until toasted and tender.
When finished, toss with Chimichurri and serve immediately. Yields 6, 1/2-cup servings.
---
---
*Disclaimer: this post includes affiliate links.