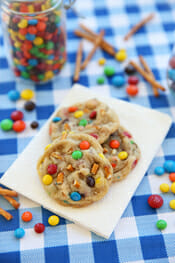 I don't know about everyone else, but 
summer vacation in this house went by way
too fast. We're suddenly approaching the 
start to a new school year and getting ready 
to jump back into the daily routine of
 packing lunches and doing homework, and 
important things like actually getting 
dressed before noon. Last year was my 
first year with a kiddo in all day school.
  My little first grader loved it.  As an 
incredibly social kid, the moment he walked 
in from the afternoon bus, I sometimes barely got so much as a hello before he was trying to run back out the door to play with friends. I always have to act quickly to reign him in because we usually only have a few minutes to re-group before it's time to pack everyone up for after school sports and gym classes and music lessons, etc. During those busy times I came to really appreciate something: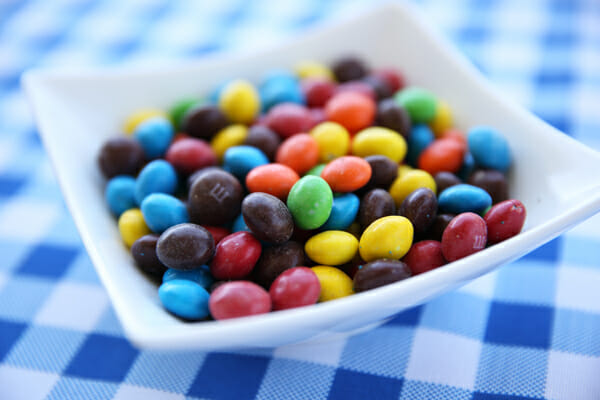 (Yes, chocolate.) But also, the after school snack. It might seem silly, but with everything we have going on all the time, those few minutes to sit and re-group and actually talk to my kids became a relaxing little tradition for all of us. I love to surprise them with a special treat just to see their eyes light up after coming home from a busy day and I learned that the better the treat, the longer I get to keep them talking to me!
With school back in session, I wanted to design a new cookie recipe to celebrate the start of a new school year, and therefore the start of new after-school snacks! Loyal readers of this blog know that I religiously test every new variety of M&M'S®, and while I have lots of favorites, my heart will always belong to Peanut Butter.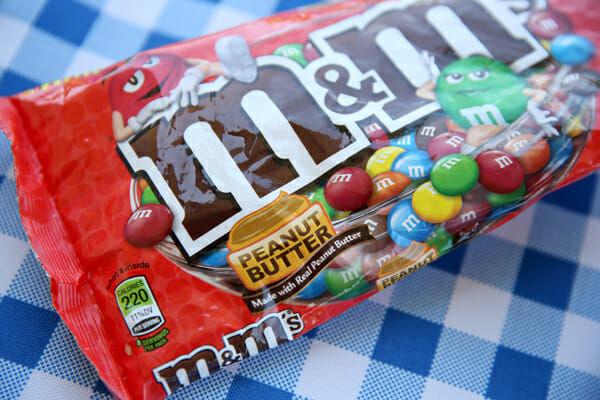 One of my favorite combinations lately is peanut butter and pretzels. My favorite energy bar comes in this flavor, and I've been known (in lieu of an energy bar) to grab a handful of pretzels and a handful of M&M'S® Peanut Butter (totally the same thing) and call it good.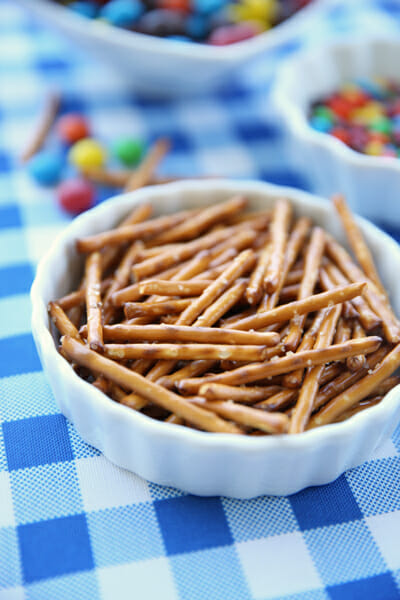 There's a great flavor and texture combination here because you get the crumbly, salty bits of pretzel with the creamy, sweet chocolate and bursts of peanut peanut butter.  They were meant to be friends.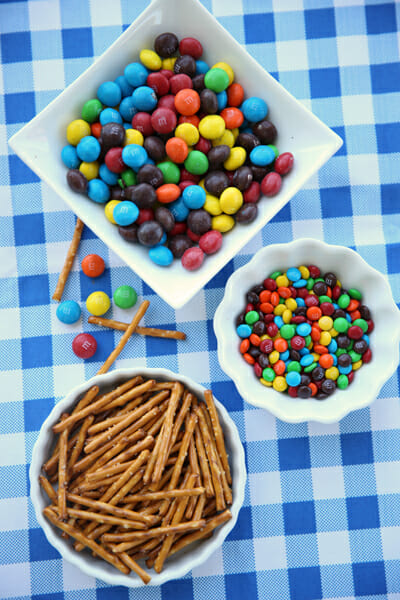 So why not throw them all into a cookie? I'm also adding some M&M'S® MINIS into the mix here too, mostly because they're adorable. But also because I love the little bits of chocolate throughout a cookie, and these minis make it so the chocolate doesn't overwhelm the other flavors we have going on. You can find bags of minis in the baking or candy section of many stores, but I also designed this small-batch recipe to use one of those mini tubes you can find with the candy at the check-out lane so you can always grab that if you don't see the larger bags. Or you could use standard size M&M'S® instead, that would be just fine, too.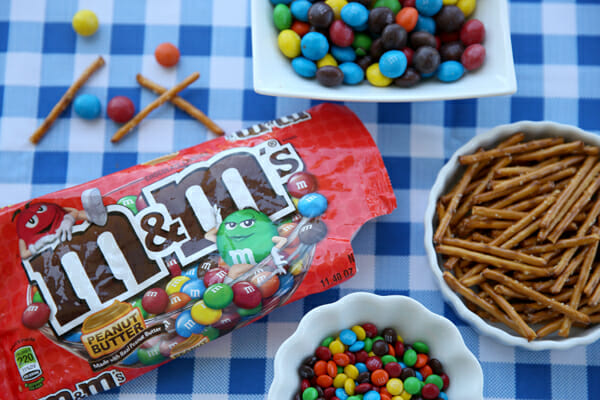 Let's start baking!  First we'll cream our butter (real butter- always!) with both white and brown sugars.  Now a little tip about creaming butter and sugar.  I think too often people stop before the "creaming" actually takes place.  If you notice the photo on the top right, the sugars and butter have come together as sort of a paste-like consistency.  You would think that's as creamed up as it's going to get- but not so!  You have to keep beating to start seeing molecular chances occur and that happens when it starts to change texture like the photo on the bottom.  That's creamed.  It only takes a minute or two longer, so don't stop too soon.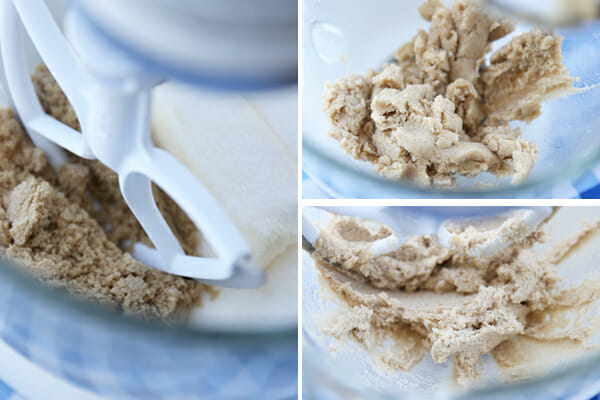 After the butter and sugars are creamed, and an egg and some vanilla are added, you can slowly add in the dry ingredients.  Remember to always gently spoon your flour into the measuring with a spoon.  Don't scoop or you'll get too much, and too much means dry, dense cookies.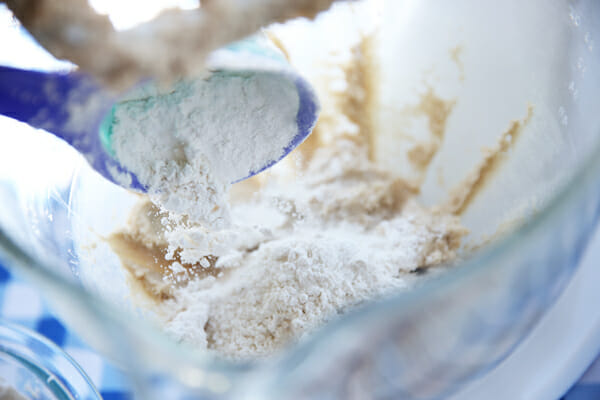 After the flour is mixed in, it's time for the fun part.  Add in the M&M'S MINIS, and some pretzels that have been broken up into bite-sized pieces.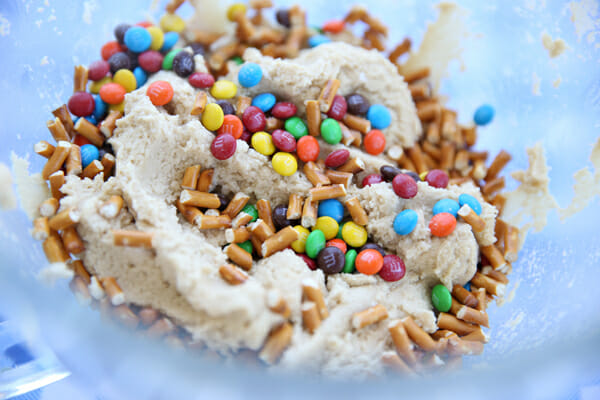 Now comes the best part.  In order to release all of that creamy peanut butter goodness inside, we're going to give these a rough chop.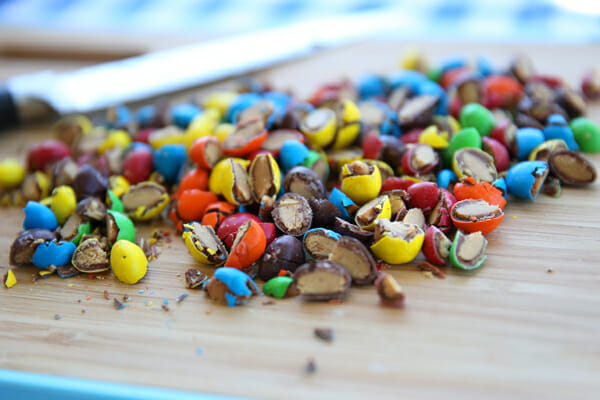 The trick is not pulverizing them.  M&M'S  Peanut Butter are actually really soft and easy to cut, so I run a knife through them and aim to cut each one in half.  That sounds a bit tedious, but it's really not, I promise.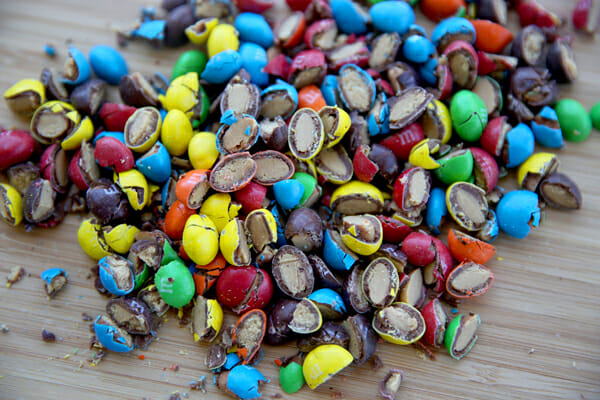 Having the peanut butter filling exposed like that makes it burst in every bite.  Since we don't want to break these up too much, we're just going to fold them in by hand with a spoon.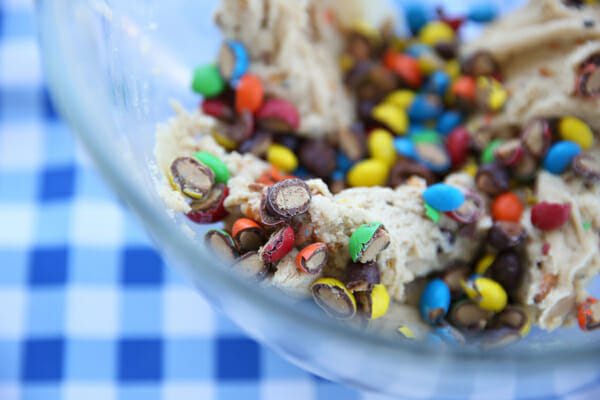 After it's all mixed up, scoop them with a standard-sized cookie scoop onto a parchment-lined baking sheet.  Want to know a food stylist secret?  How we get our cookies to have perfectly proportioned mix-ins displayed on top with stunning accuracy? After your cookies are scooped, take a few extra pretzels and M&M'S®  and place them right on top and around the sides.  That ensures that when they bake up they'll have bright pops of color, and cute little chunks of pretzels in full view.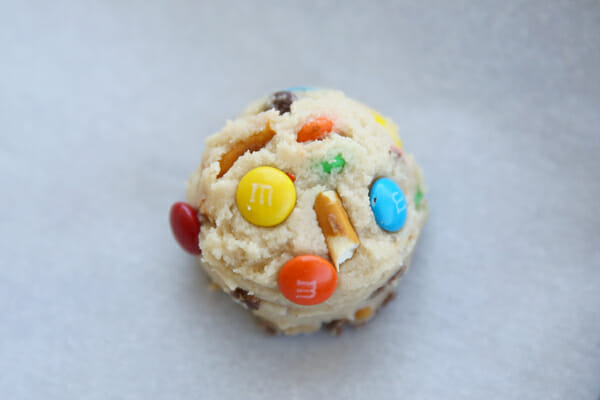 Put your baking pan in the oven and bake them up until puffed and golden.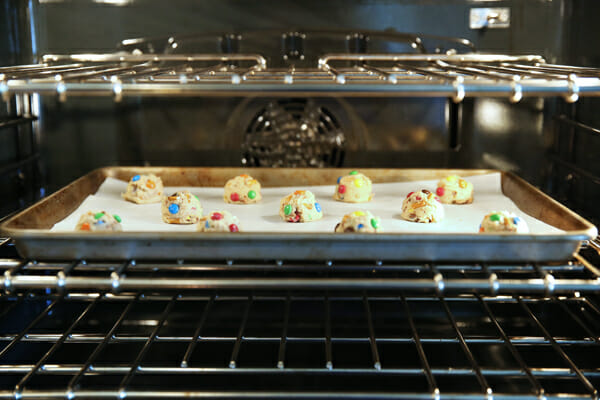 Right when they come out of the oven you'll do something crazy and sprinkle them with a just a light pinch of salt.  Sea salt or kosher salt works best here; it balances out and enhances all of the other flavors.  Trust me.  The combination of sweet and salty is what makes these cookies sing!
This is one of the rare cookies in the world that actually tastes better cooled off than warm.   You're able to better taste everything going on, and there's a lot to taste!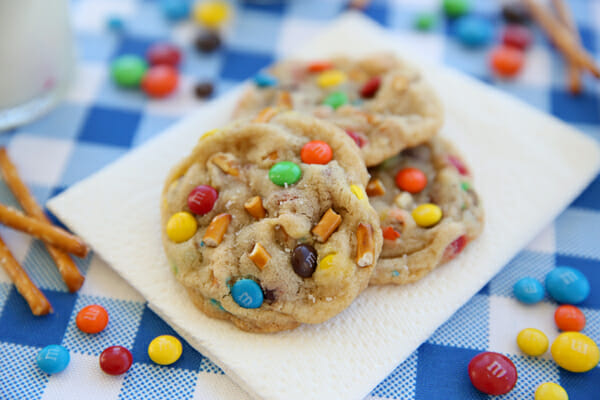 You get crunchy bites of pretzel, and soft candy shell with mellow bursts of chocolate.  Then there's the surprising little bites of creamy peanut butter and everything balanced with the little flecks of salt.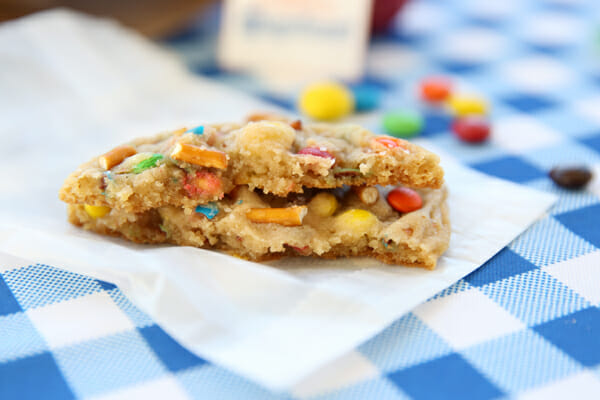 Oh, and they also look totally cute.  M&M'S®  make everything instantly fun, don't they?  The bright colors, those happy little circles, you can't help but smile when you look at this cookie and that's just what your kiddos will do the moment they see these in the cookie jar!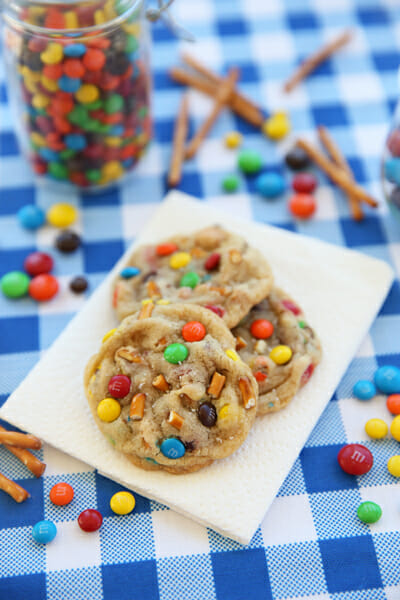 Pair it with a tall glass of milk and a piece of fresh fruit and those tummies will hopefully stay happy until dinner!
Salted Peanut Butter Pretzel M&M'S®  Cookies
Recipe by Our Best Bites
Ingredients
1 stick of butter (1/2 cup) at room temperature
1/2 cup brown sugar
1/2 cup white sugar
1/2 teaspoon vanilla
1 large egg
1 1/2 cups flour
1/2 teaspoon baking soda
1/2 teaspoon baking powder
1/4 teaspoon salt
1/4 cup pretzel pieces (break small pretzel rods into 1/4″ pieces)
1/4 cup M&M'S® MINIS
3/4 cup M&M'S®  Peanut Butter, roughly chopped in half
sea salt or kosher salt for sprinkling
Instructions
Preheat oven to 350 degrees.  Cream butter and sugars together until light and fluffy.  Add vanilla and egg and beat until combined.  Mix dry ingredients together and then add to dough.  When combined, add pretzels and Mini M&M's and mix until incorporated.  Add Peanut Butter M&M's and gently mix by hand until distributed through dough.
Scoop into 1 1/2″ balls onto parchment lined baking sheets.  Cook for 7-9 minutes, until set on edges and lightly golden on the outside edge.  While the cookies are still hot, lightly sprinkle with salt.  Cool on cookie sheet for 2 minutes and then transfer to cooling rack.  Makes about 2 1/2 dozen cookies.
 Hover your mouse over the image below to Pin it!

Post sponsored by M&M'S®.  All opinions, and original recipe are 100% Our Best Bites.