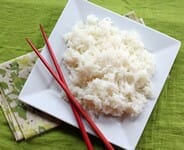 Okay, yeah, healthy food month. And I actually do have a healthy recipe going up on Friday that goes along with (or at least can go along with) this recipe, but a) the weather here is dark and drizzly and rainy and I don't want to waste a super yummy, pretty recipe on really bad light, and b) there comes a time in every girl's life when her husband is on a 2-week-long business trip and she has been busting her butt to shed a few pounds and, due to PMS-y bloatiness (sorry, guys), it's starting to feel like she's trying to run down the up side of the escalator at the mall (and subsequently straight to the pretzel place) and all she wants is sweet, salty, carbiness. And since the escalator and the mall and the pretzel place here are all metaphorical, the next best thing is sushi rice. Yes, people do actually eat sushi rice when it's not in sushi. And by "people," I mean me. And I mean that you should, too–even if you don't make your own sushi (I'm not that cool), it's a fun twist on regular white rice.
For this recipe, you're going to need a super short grain rice (I found this sushi rice at my local Kroger), rice wine vinegar, sugar, a tablespoon of oil (vegetable or oil), and salt.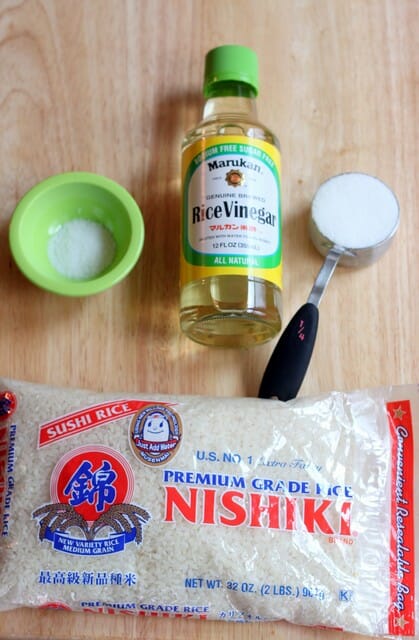 Rinse 2 cups of rice in a fine-mesh strainer and place in a medium saucepan. Add 3 cups of water and bring to a boil. Cover, reduce heat, and simmer on low for 20 minutes.
While the rice is cooking, combine 1/2 cup rice vinegar, sugar, oil, and salt in a small saucepan. Bring to a boil and then reduce heat and simmer until the sugar is dissolved. Remove from heat and allow to cool.
When the rice is done cooking, allow it to stand covered for 5 minutes and then remove the lid and allow it to cool for about 20 minutes. When it's done cooling, place it in a serving bowl. Pour the sugar/vinegar mixture over the rice and combine. It will be very wet at first, but in 5-10 minutes, it will dry out and the rice will be just the right texture.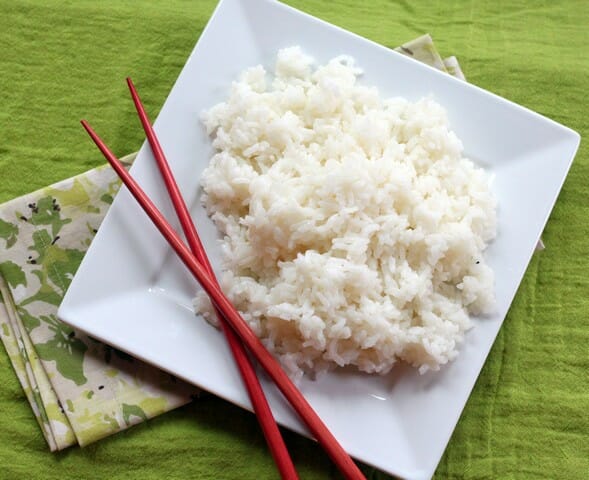 Stay tuned on Friday! You can put this to use in a fun and fresh snack or light lunch that won't destroy your diet!
Sushi Rice
Recipe from Allrecipes
Ingredients:
2 cups sushi rice (or very short grain glutinous rice)
3 cups water
1/2 cup rice vinegar
1/4 cup white sugar
1 teaspoon kosher salt
1 tablespoon oil (vegetable or olive)
Instructions:
Rinse the rice in a fine-mesh strainer until the water runs clear. Place in a medium saucepan and add the water. Bring to a boil and cover. Reduce heat to low and cook, covered, for 20 minutes. Remove from heat. Allow to stand covered for 5 minutes and then remove the lid and allow to cool for 20 minutes.
In a small saucepan, combine vinegar, sugar, salt, and oil. Bring to a boil and then reduce, cooking until sugar dissolves. Allow to cool while rice is cooling.
When the rice has cooled for 20 minutes, transfer to a serving dish. Drizzle the vinegar/sugar mixture over the rice and stir to combine. The mixture will be very wet. Allow to stand for a few minutes to firm up. Serve with your favorite Asian dishes, veggies, or from the serving bowl with a spoon to your mouth.