We moved into a new house a few months ago, and as we were building, the number one question people asked was, "What's your kitchen going to look like??"  That was a good question, and I never really had an answer.  We actually didn't plan on building a house; we were about to purchase a different house nearby, and due to some random, serendipitous events, we suddenly found ourselves starting a new build.  We actually put our house together rather quickly.  In a way, it was a good thing; we didn't stress over decisions- we just sort of picked things we knew we liked and it all came together.  In the end, the kitchen is one of my favorite places in our house.   It's definitely the heart of our home; where meals happen, where homework happens, where life happens.  So here's a little peek into our home.  This post is crazy long as is, so I'm going to do a part 2 to tell you about the appliances I chose- because that's the second most common question! (–> Click Here for Part 2 <–)
Picking cabinets was fairly easy; for photography purposes I knew I wanted white so it would be light and bright.  I also knew I wanted a gigantic island; this one is about 9 feet long by 5 1/2 feet wide with a granite top.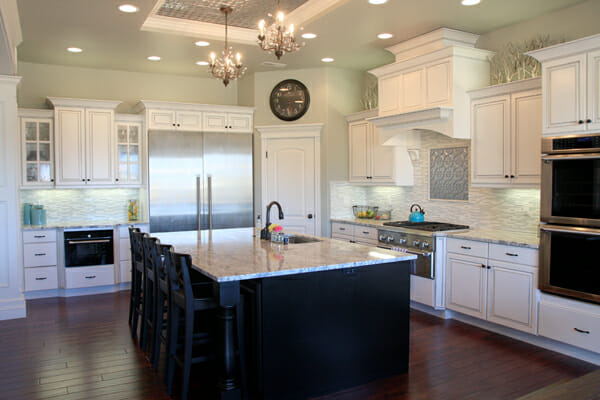 I also wanted a great spot surrounded by windows to snap pics of all the food we make around here.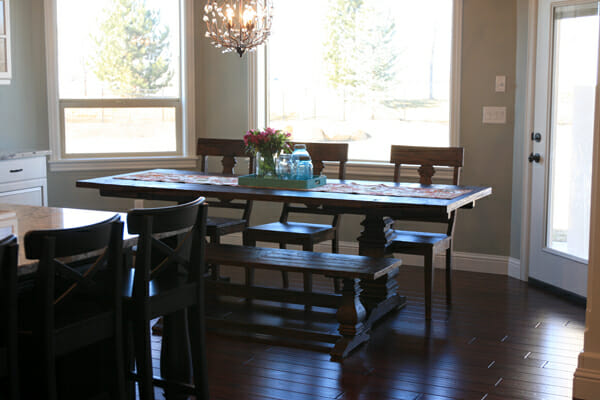 We picked a soft gray for the walls (Sherwin Williams 'Sensible Hue'); it's actually one shade darker than the gray we painted the rest of the house.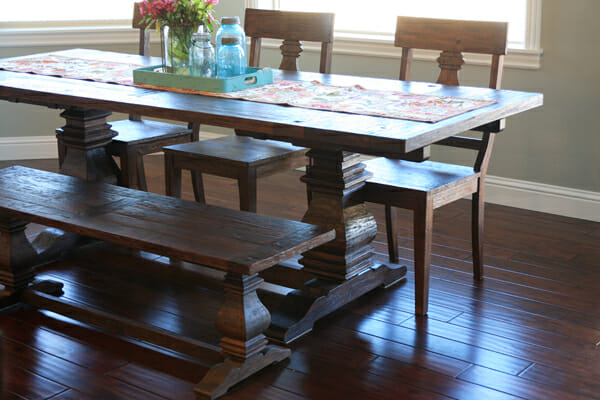 The floors are an engineered hard wood.  Yes, the dark wood shows crumbs and dust much more than a lighter wood, but on the flip side, that actually makes me keep my floors clean and sweep more than once a week like at my old house.  Seriously.  I love the warmth the dark floors bring to the house.  They also have a hand-scraped texture that adds character and makes me not care about any dings since it's blends right in.
The cabinets are painted Sherwin Williams 'Snow Bound' and glazed in 'Van Dyke' stain for that dark highlight.  I went back and forth and back and forth on whether I wanted them glazed and I'm really glad my husband, builder, and cabinet guy talked me into glazing; I love the dimension it adds and the detail it highlights.  I also love the white cabinets and haven't had any issues with them being hard to keep clean (like some people warned me about).  Sometimes the cupboards we use the very most get finger prints on them, but all it takes is a quick wipe to clean them right up.  I'm glad I went with white.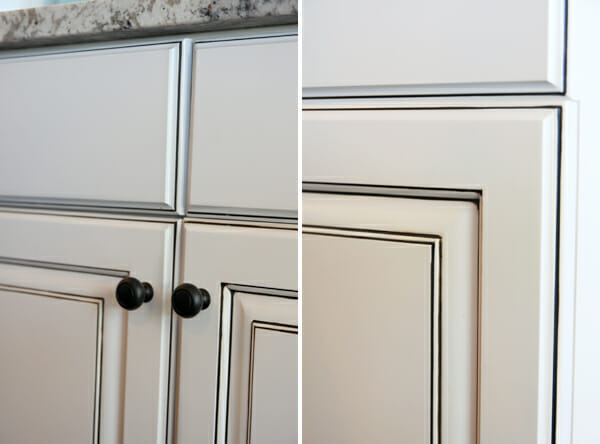 For contrast, we painted the island black.  All of the appliances on the back-side have panel fronts on them so they look like cabinets.  Hiding right there in the cabinet next to the pull-out garbage is my most favorite appliance, ever.  You're going to have to wait to see it!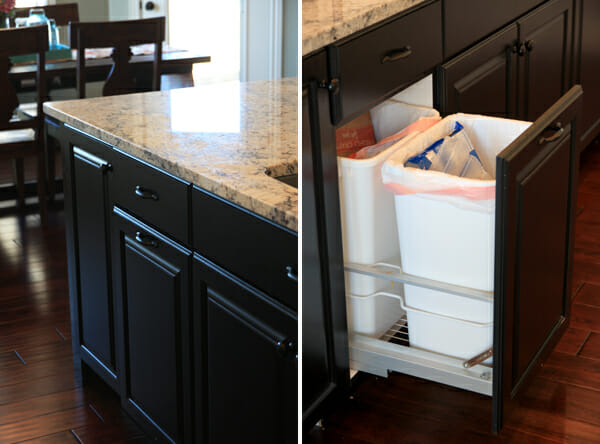 When it comes to home decor I employ the same tactics as my wardrobe.  Splurge on some nice expensive things, and balance out with some bargains!  For example, we splurged on a granite upgrade that I loved, but found this great glass and marble backsplash tile at Costco for a fraction of what similar styles cost.  I love that the clear glass has a blueish tint that goes well with all of the blue/turquoise accents in my kitchen.  And the rest of my house.  And my wardrobe.  I have an obsession.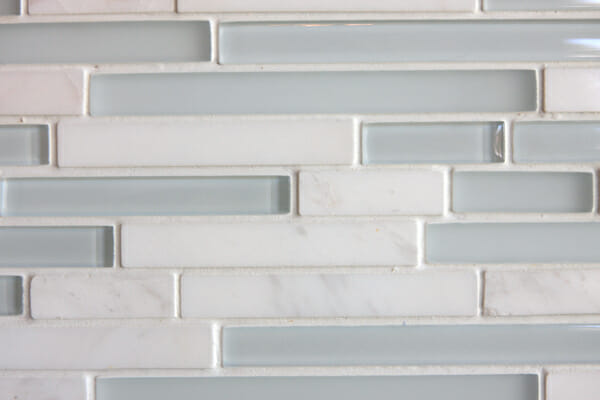 One thing I knew I wanted from the beginning was some metal tile.  I've always loved it, but didn't want to overdo it with an entire backsplash or ceiling.  So I used a simple section above my stove and I love how it blends with all of the stainless steel appliances in the kitchen.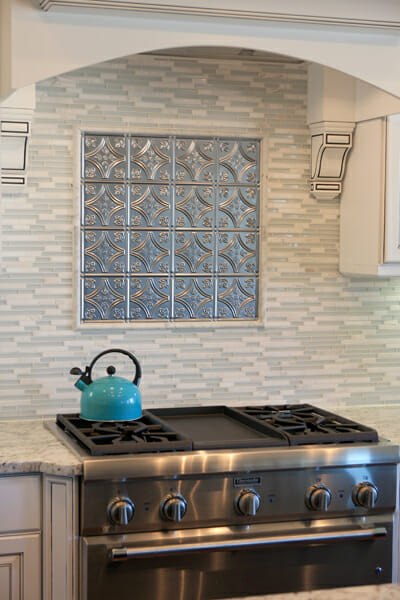 I also had the idea to do a recessed panel centered above the island.  This is one of my favorite parts- and I feel cool and designer-ish for thinking of it myself, designing it out, and seeing it happen!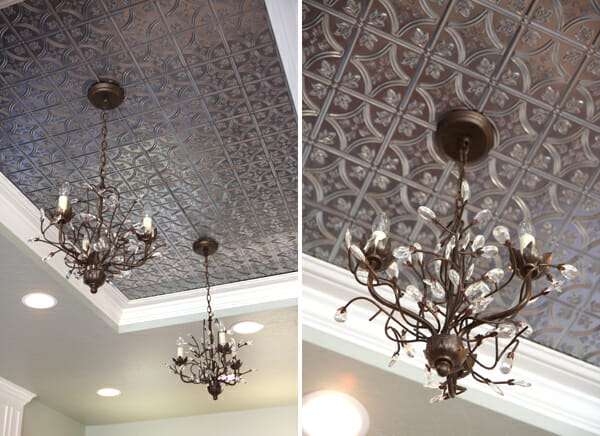 Metal tiles can be crazy expensive, but I special ordered these from Home Depot for about $35 per 2'x4′ panel.  They have faux plastic ones for almost that much, so I think the metal is quite a steal.
Those mini chandeliers hanging over the island are from the Camilla line at Pottery Barn (which I got at a bargain during their annual lighting event).  We have the large version in our entry way, and the globe light (seen later in this post) over our dining table.  LOVE them.
This is me saying, "Hi everyone!" Obviously.
A lot of people in the comments have been asking to see better photos of the twig-like things sitting above my cabinets.  It's just something I picked up at Gordman's.  They're real branches, nailed to a board and white washed.  It would probably be pretty easy to make for you crafty peeps out there: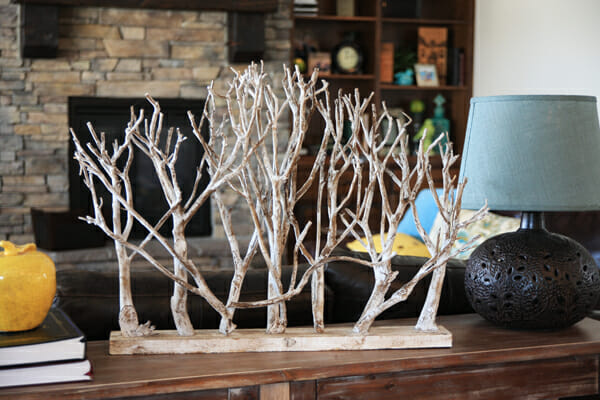 I have a few single ones as well; I just thought they were cool.  I honestly stuck them up there temporarily because I wasn't sure where I was going to put them and wanted them out of the way, and they've just stayed!
Back to the kitchen…
I almost did an apron front sink but decided I just wanted a nice big under-mount basin with no dividers.  I love having one big, deep spot to pile in dishes and large pots and pans.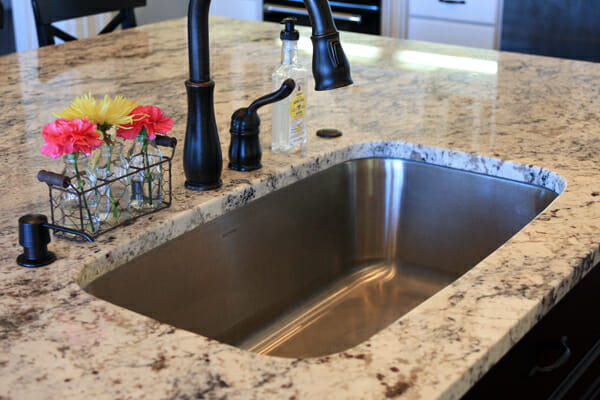 The island has chunky legs (resisting so many puns right now…) and those stools are from Ikea.  We actually bought the super high ones on accident.  We got them on a trip to Utah, so there was no exchanging happening.
However as it turns out they are the perfect height for the little people around here.  It turned out to be such a happy accident.  And adults can fit comfortably on them too, even though they feel higher than normal.  We eat a lot of our meals at the island so it's perfect.
Another thing I made sure to do was take advantage of every space available.  I wanted nothing wasted.  So there are big giant cabinets under the island for stowing away things I don't access very often.
And nice deep shelves for my appliance addiction.
Even little spaces like the molding flanking the stove got put to good use
They're hidden panels I can grab with my foot and fit about 4792 spice bottles.
Having all of the spices in there frees up tons of space in the upper cabinets.
Speaking of storage, people tend to assume I have a massive pantry, but it's totally average-sized.  I found with a large pantry at my previous house that it just got used up with storage, and I'd much rather have that space used outside the pantry.  So I have a huge separate storage room nearby and tons of shelves in the garage where I can store big stuff.  One thing I did do however, was make some extra tall shelves with electric outlets to keep the appliances I use regularly (like my toaster and my blender.)  I have this thing with cluttered counter tops and I hate having appliances sit out.  I also hate pulling things out over and over again.  This has seriously been the most convenient thing.  This pantry shelf (and the rest of it that you can't see in this photo) become an extension of the kitchen that we use all the time.
I made sure to do a few cabinets with bubble glass fronts to let some of my pretties peek through- like my wedding china that finally got removed from their boxes after almost 9 years of marriage.  Yes!
And my collection of blue glass.
Everything turned out as lovely as I imagined it, and for that I am happy.
Here's the other Camilla light- the globe version.  My favorite thing about this light, is that as the afternoon sun goes down and shines though the window, it casts sparkly little rainbows all over the house.
Watching my little kids chase those around is priceless.
I hope you all enjoyed the little peek into my home; I wish I could have you all sit down for dinner!  Here's a list of specs, if you have other questions, about anything, feel free to ask in the comment section!
Home Builder (In Boise, Idaho): Morgan Creek Homes
Wall Color: Sherwin Williams 'Sensible Hue'
Cabinet Color: Sherwin Williams 'Snow Bound'
Cabinet Glaze: Sherwin Williams 'Van Dyke'
Granite:  This same granite was called by different names in different places, but it's most similar to "White Ice"
Metal Tile: Home Depot
Glass and Marble Backsplash: Costco find!
Flooring: Mohawk Flooring, Engineered Hardwood, Santa Ana Plank (Purchased through RC Willey)
Granite: I totally drew a blank, I'll be back with the name of the granite!
Mini Chandeliers and Globe light: Pottery Barn, Camilla Line
Kitchen Table: World Market 'Arcadia'
Appliances (Click Here for Details): Thermador from Orson Gygi