I'm excited to finally show you guys my office project that we completed a few months ago!  I shared a lot of progress videos on insta-stories during the process and I'm still getting messages from people wanting to see the final product.  I finally took some pictures so I could give you a tour!  So let me back up a minute.  In my last home, we had an office right off our front entry way with glass doors and I swore I would NEVER do that again.  That room was a constant disaster and there was no place to hide it!  Fast forward to our current home and and an oops-I-did-it-again moment and here we are.  Once again I have an office off my front door way and for the past 4+ years we've lived here, it's been a disaster 98% of the time.  This photo below was actually the room looking good.  We had this huge desk, but really no storage, so there was constantly STUFF, everywhere.  Piles of paper, daily Amazon deliveries, electronics, crafts, you name it, it fell in that room.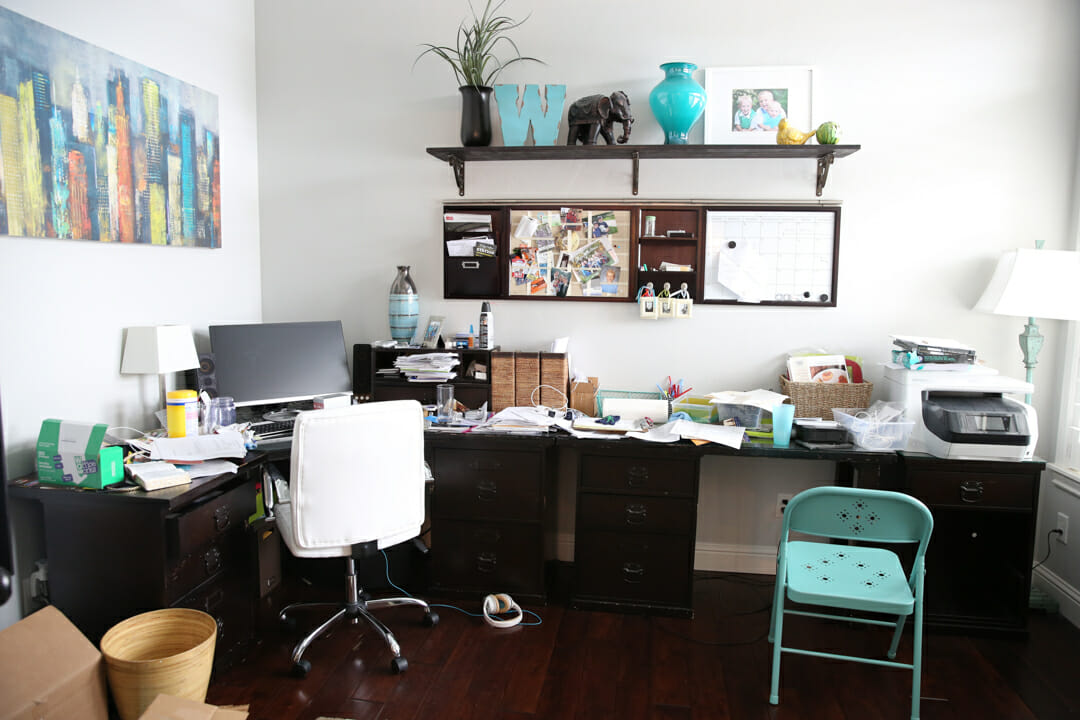 My husband and I both own our own businesses and work from home a lot so it was also tough sharing space and keeping our things organized and separate.  I really wanted a clean, organized space that would work better for our needs so I set out to do it.  The first thing I did was sell literally everything in that room!  I was able to earn a good chunk of cash to put toward the new space.  With an empty room that wasn't huge, but a decent size, I knew I wanted to add built-in cabinets with mega storage capacity.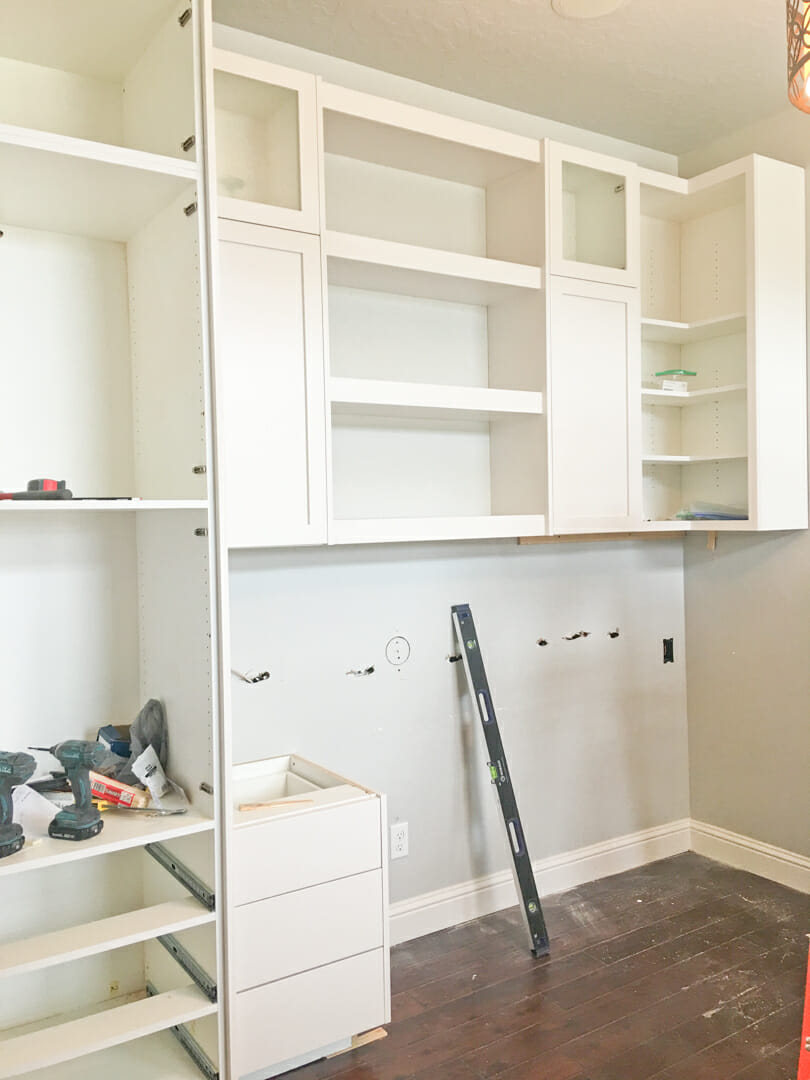 I went back and forth with cabinet company for weeks and weeks and had such a hard time getting them to even return my calls that I finally decided to just start from square one and call someone new.  This isn't sponsored, but I love sharing good companies, so I definitely wanted to mention that the best thing I did was drop the old guys and call Western Idaho Cabinets.  We worked with Justin Robinson and he returned my first call the same day, was in my house taking measurements within 24 hours, had a mock-up design to me within 24 hours of that, and once we had finalized it, we had it scheduled for install within about a 2 week time frame.  I recommend that dude to everyone because we had such a great experience, so if you're local to Idaho, that's someone to call!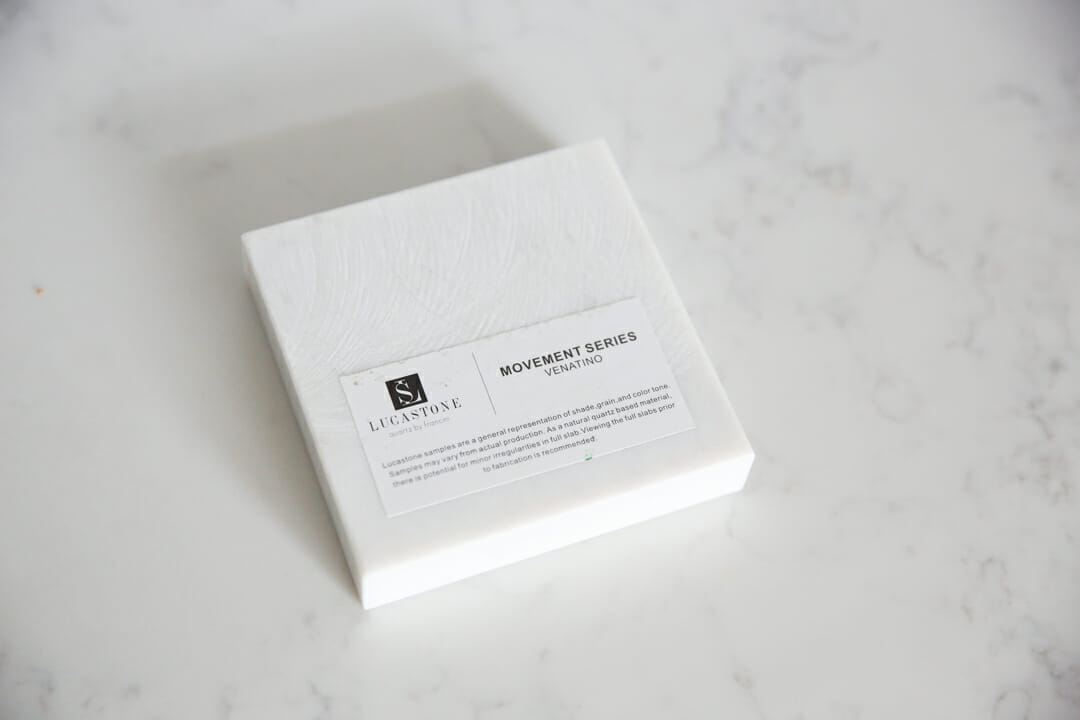 I had Justin show me a rendering of literally all cabinets, floor-to-ceiling to see how many we could fit in.  From there, I used a pen and opened some areas up, closed others, made some drawers, some shelves, etc.  We knew we wanted 2 separate work spaces so my husband and I could basically have our own offices within the room.  I wanted it light and bright (more on lighting, later), and beautiful.  We also wanted plenty of counter space for projects, and enough room to work and also have a kiddo in there doing homework or something.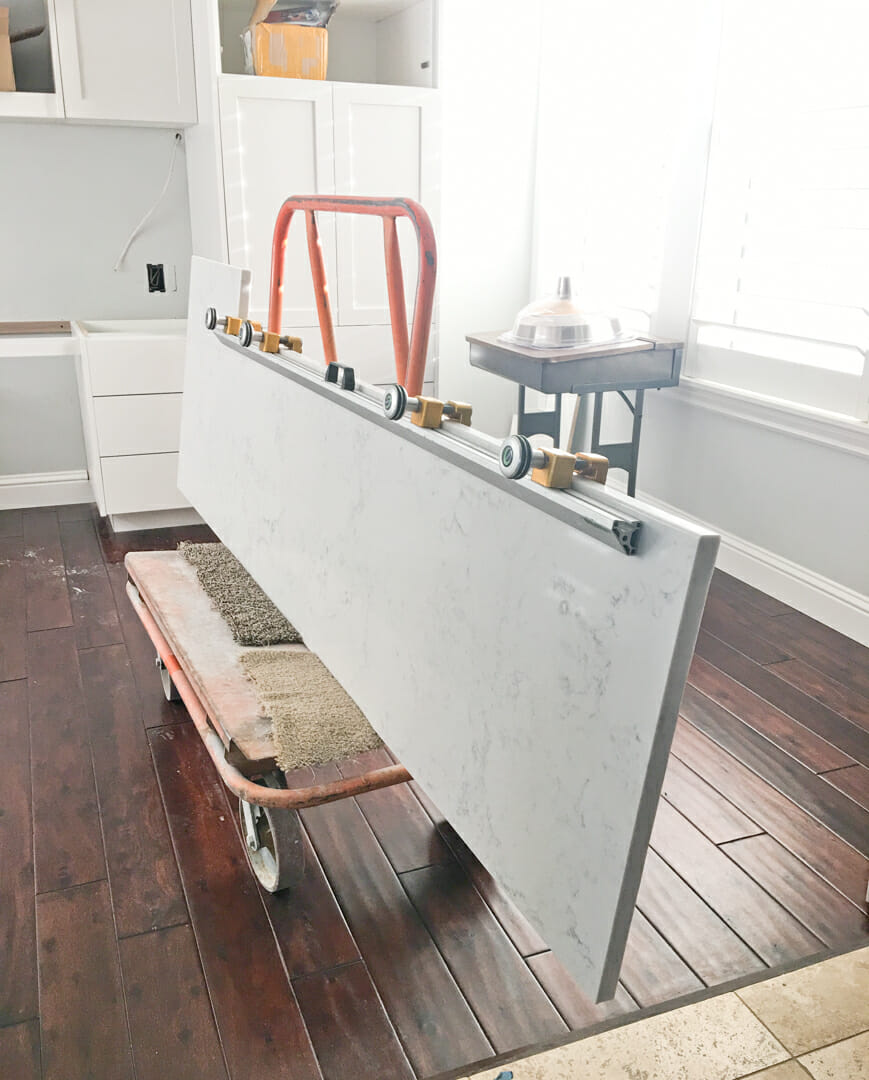 What we ended up with was better than I imagined.  We LOVE this new space and it has been so incredibly functional for our needs.  And the best part is that it's no longer the eyesore at the front of our house.  It actually stays clean now because there is a place for everything!
I was amazed that by adding cabinets, the room actually looks and feels so much bigger now.  Let me show you some of our favorite things.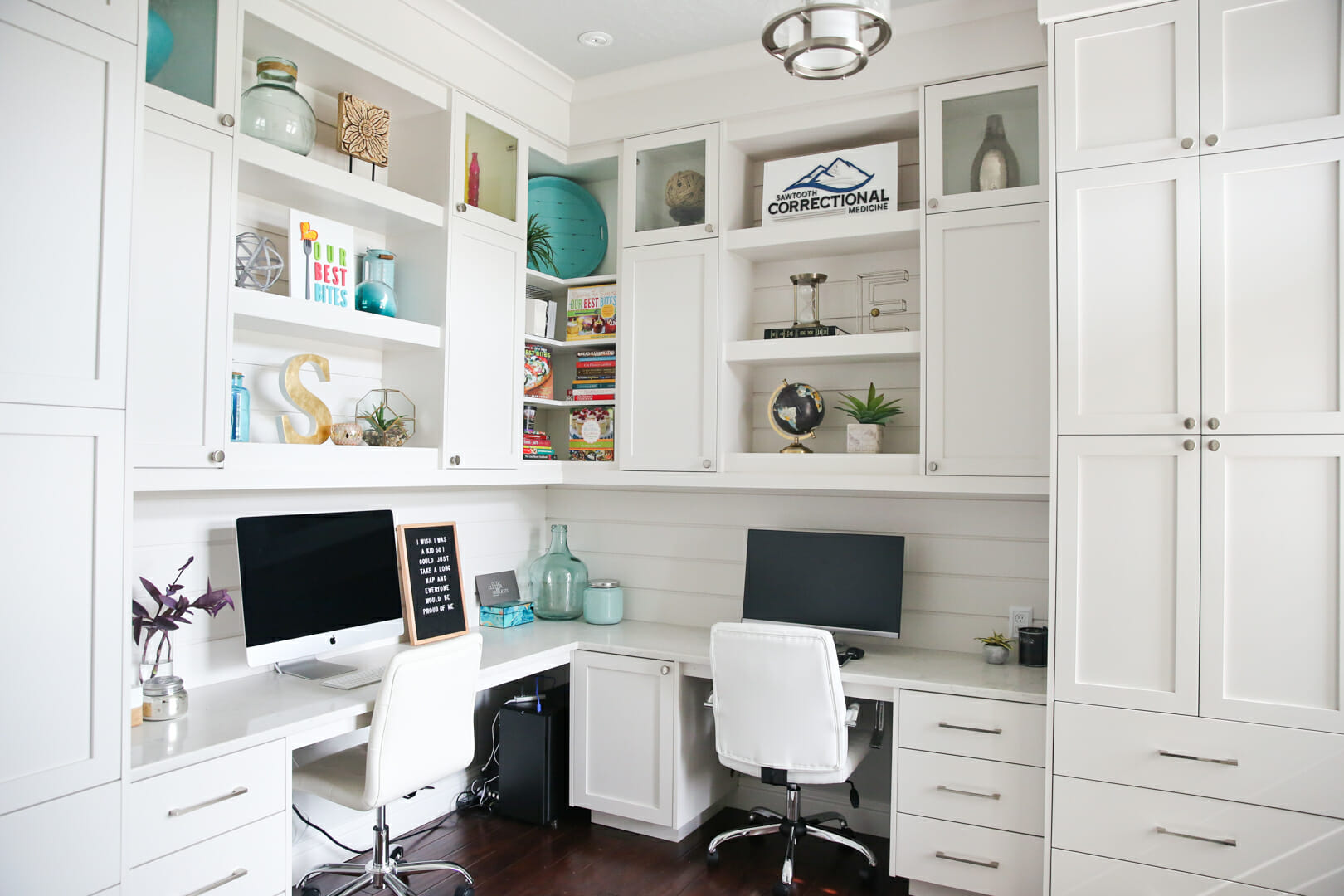 I wanted this room to feel cohesive, but still work for both my husband and I.  I styled his space using a little more masculine pieces and stuck to metals and natural materials because I knew my side would be full of bright colors.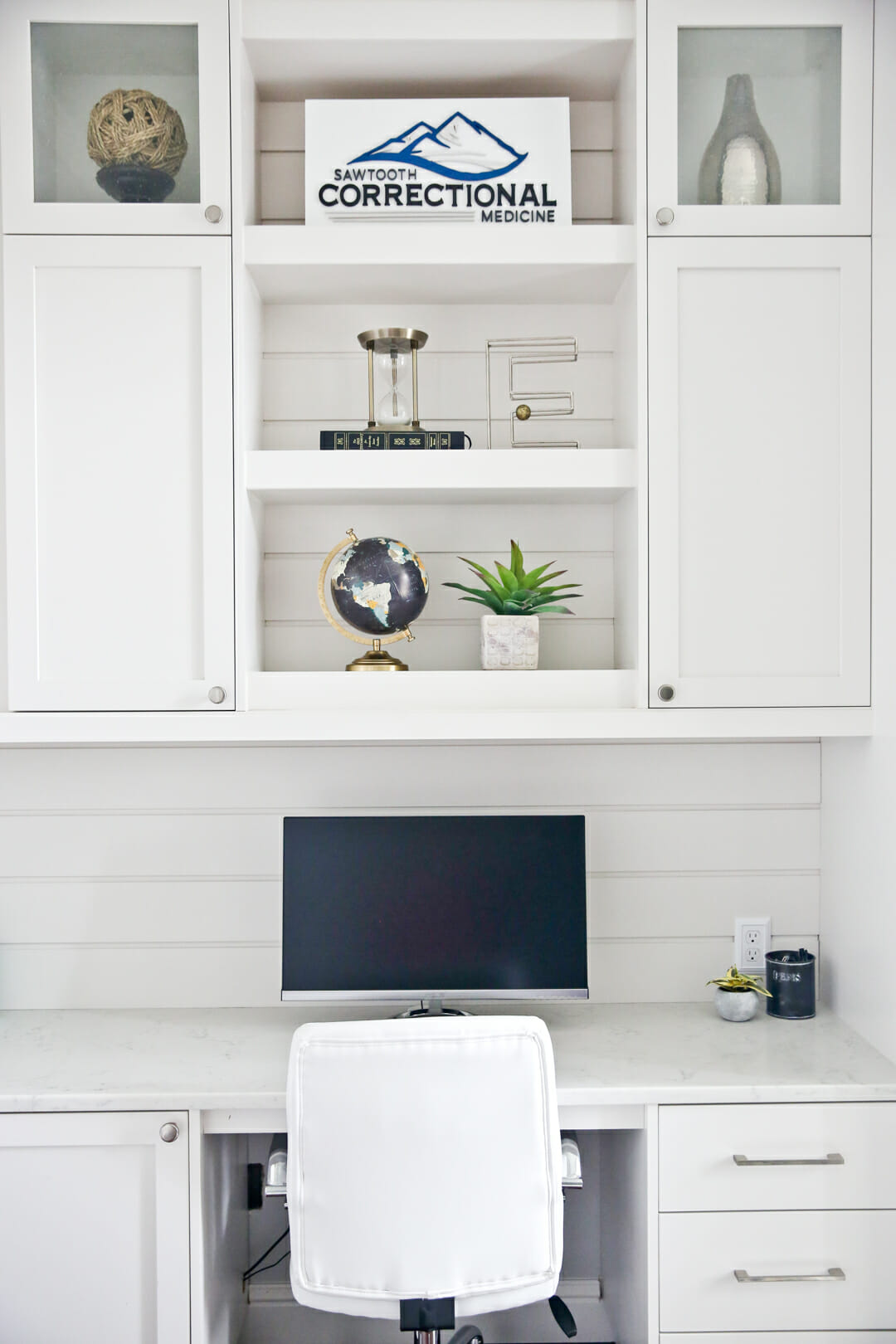 We each have our own thing going on, but it all works together.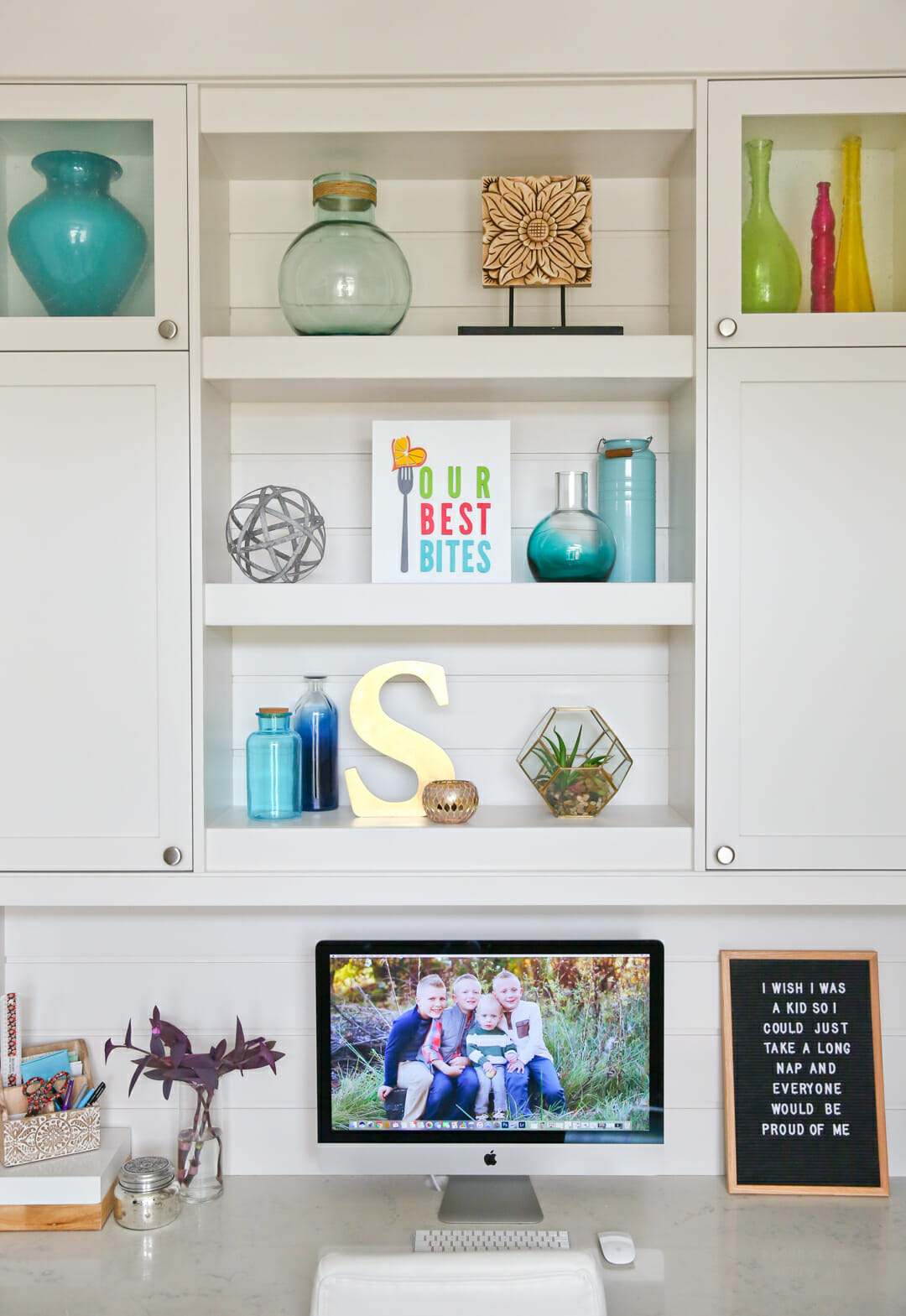 The inspiration for each of our sides were these amazing signs from my favorite Etsy Shop, Joobilee Designs.  I have several other seasonal pieces from her shop and I love every single one of them, so when I was designing this space I asked if she could do some custom ones for me.  I sent her our logos and she hand-cut and painted the wooden letters.  I couldn't be happier with how they turned out!  (Definitely check out the holiday signs in her shop, those are my favorites- I have ones for Christmas, Thanksgiving, and Easter!)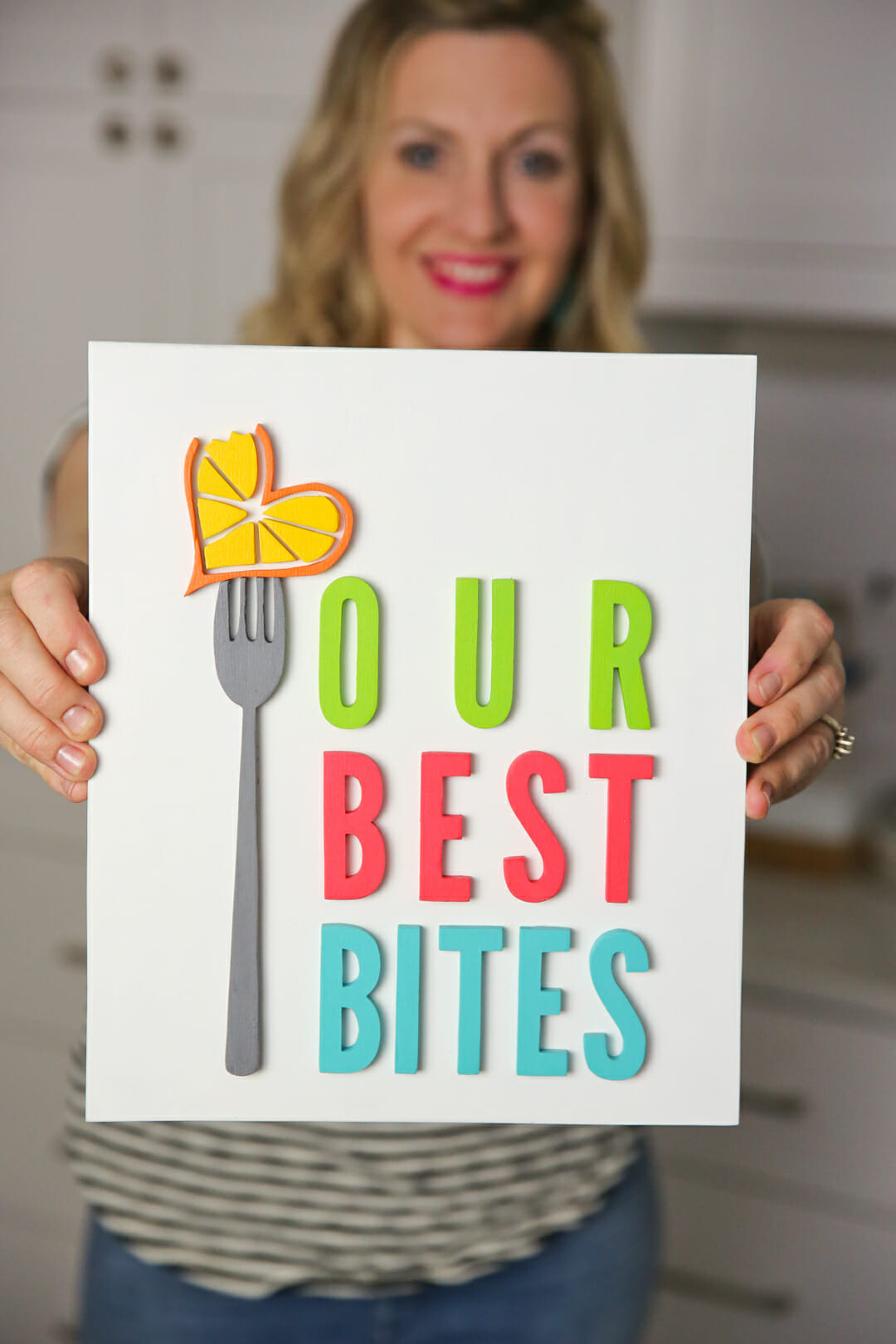 I left a corner open for shelving to balance things out and I keep a bunch of cook books there.
All of the cabinet storage is one of my favorite things about this room.  I have a place for everything now; scrapbooks, paper, crafting, camera and electronics, etc.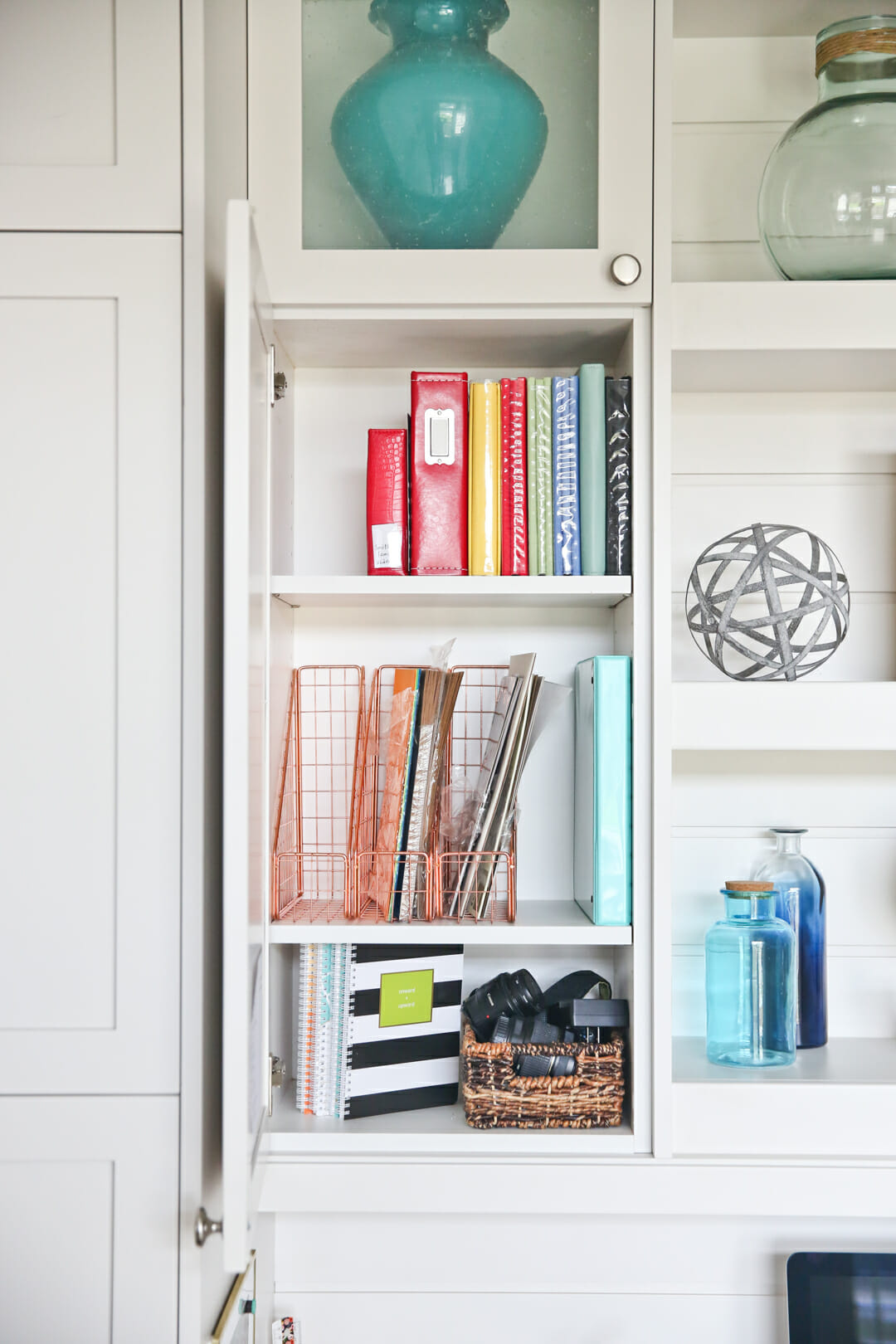 The whole office design is flanked with floor-to ceiling cabinets with doors and drawers.  There is SO much space in there. This is my command-center cabinet.  I made sure to wire some outlets inside certain cabinets so I could charge my devices while I stored them.  In addition to regular outlets, we have USB banks back there so we can plug our chargers right into the wall.   Tip:  Use inside of cabinet doors to hang papers.  I attach artwork from my kids, and also things like schedules and calendars!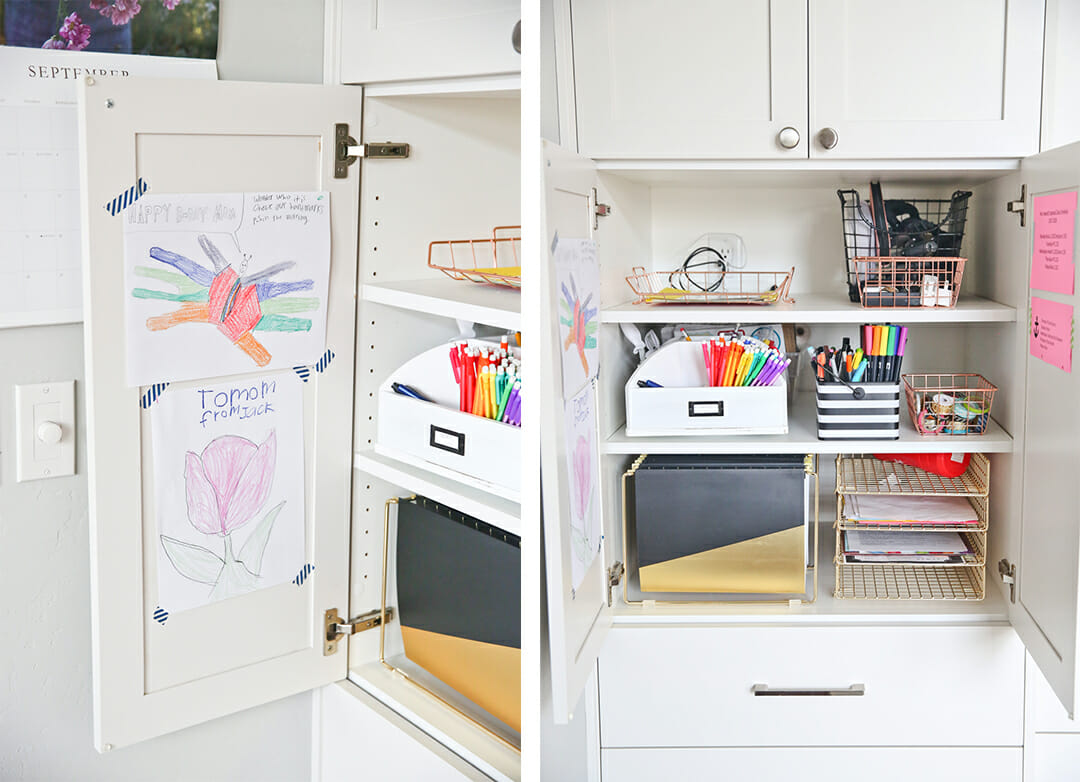 I also have a shelf to keep my kids school stuff organized.  That gold organizer (from Target) has a shelf for each kiddo and they know when they get home from school each day, one of their jobs is to empty out their backpacks and put all of their papers for me in their slot.  I go through them and put anything back that needs to be returned to their back pack (permission slips, etc.) To the left of that shelf I have a free standing file organizer where I store all of their school and sports information that I need to keep on hand.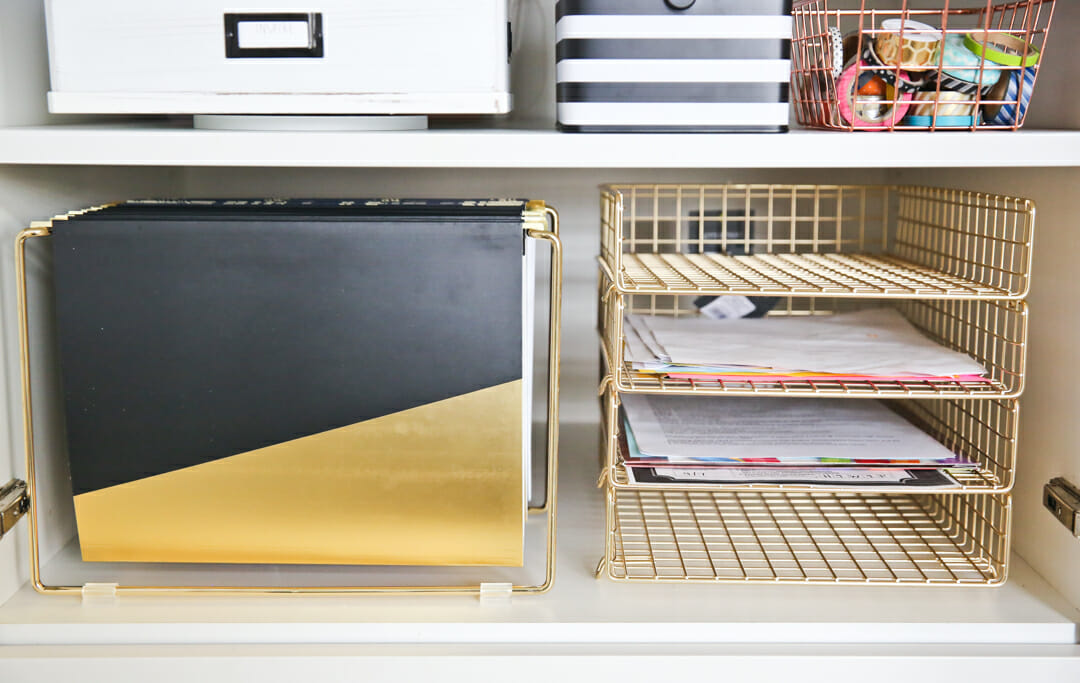 I also store all of my office supplies that I don't want my kids getting into and losing up here.  I have about 20 pairs of scissors (I can never find scissors when I need them so I finally collected every pair in the house and put them in there!), a giant collection of mechanical pencils, all of my handlettering supplies, etc.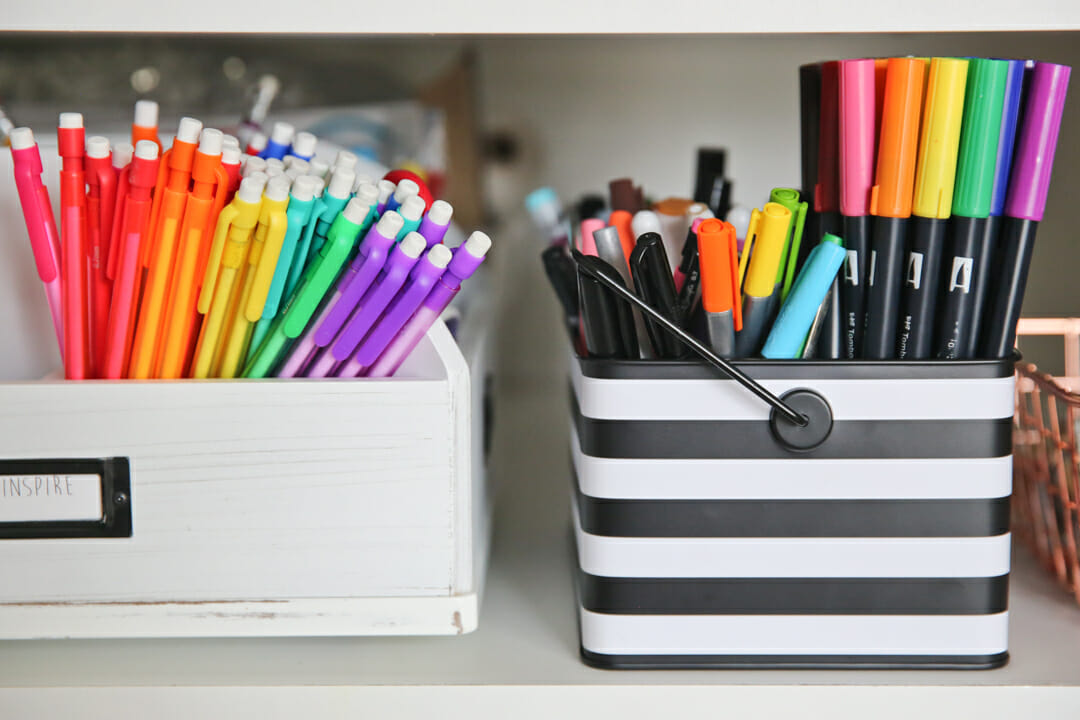 In addition to the USB banks, we also planned ahead of time when we designed our cabinets to have a space big enough (and electrical outlets) to put the printer and scanner so it could be plugged in and out of sight.  It has a drawer right below that shelf where we store paper, labels, etc.  so everything is super handy.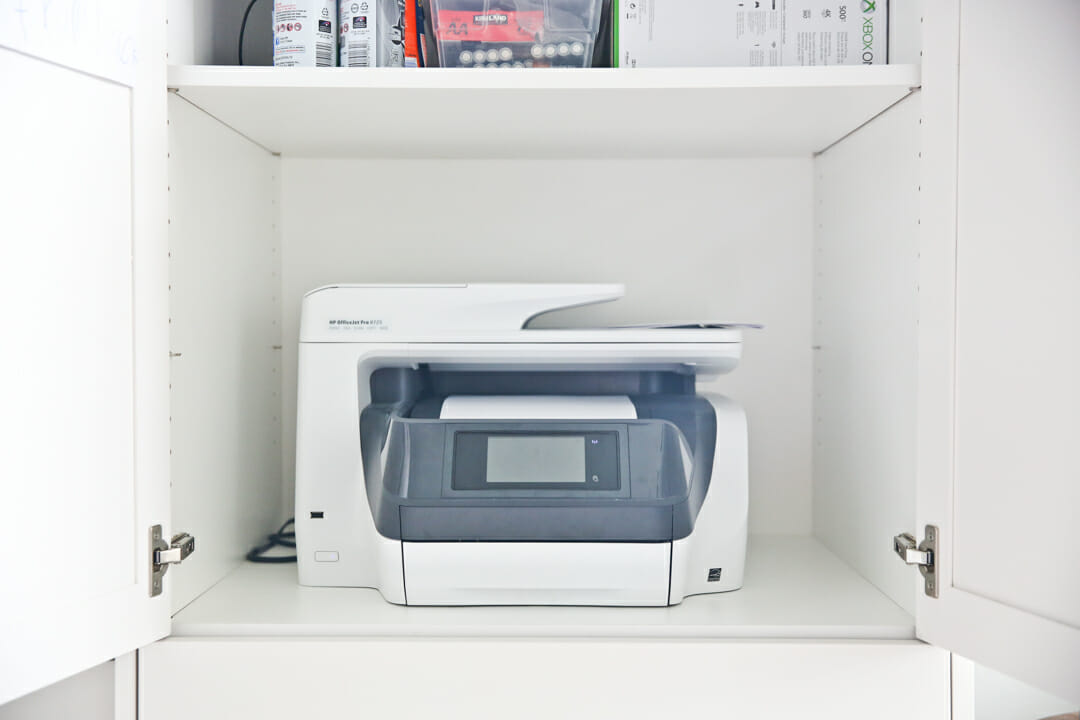 We also added some lighting.  I didn't want to have lamps anywhere.  The room just had one light fixture in the middle of the ceiling so we changed out that fixture, then added 3 small lights to flood the cabinets and 2 additional can lights in the ceiling.  We also added under cabinet lighting so it's so nice and bright when the lights are on at night.
We chose a white quartz counter top and we love it.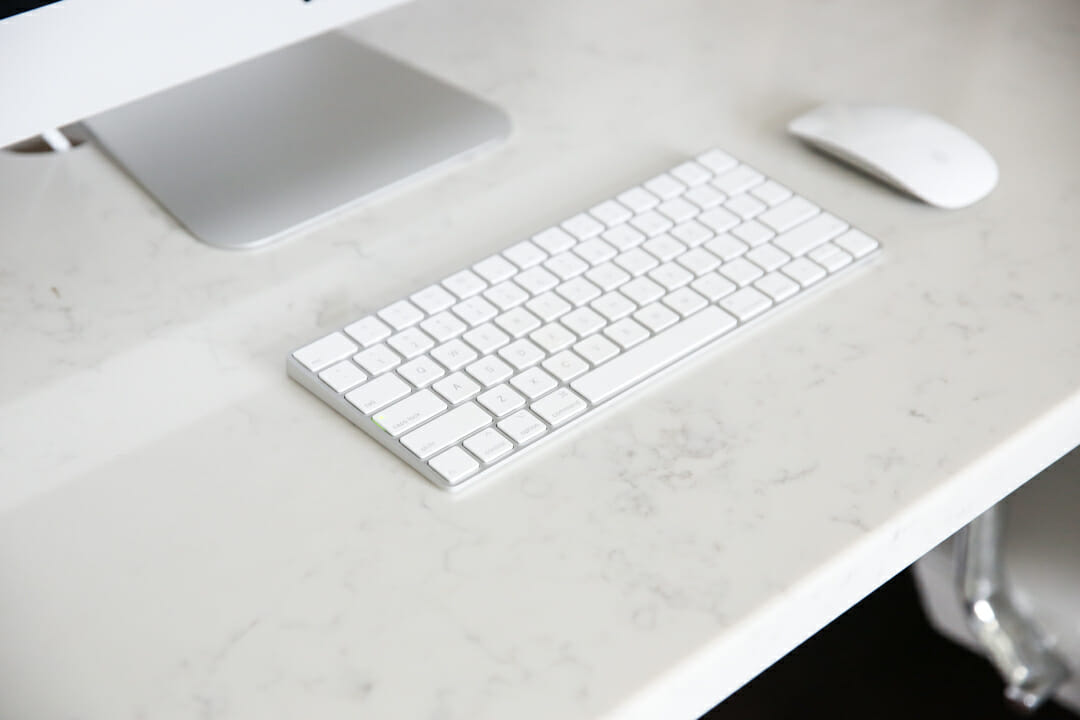 When it comes to design of the room, I had a few pieces of inspiration.  First was this pillow and the rug.  The rug is actually from the outdoor section of Target (only $60!)  I've found that outdoor rugs work really well in some indoor spaces.  They're not plush, so you can still roll chairs over them and they're super durable and washable.  I wanted shades of blue and green, from light aqua to navy and pops of color like that chartreuse.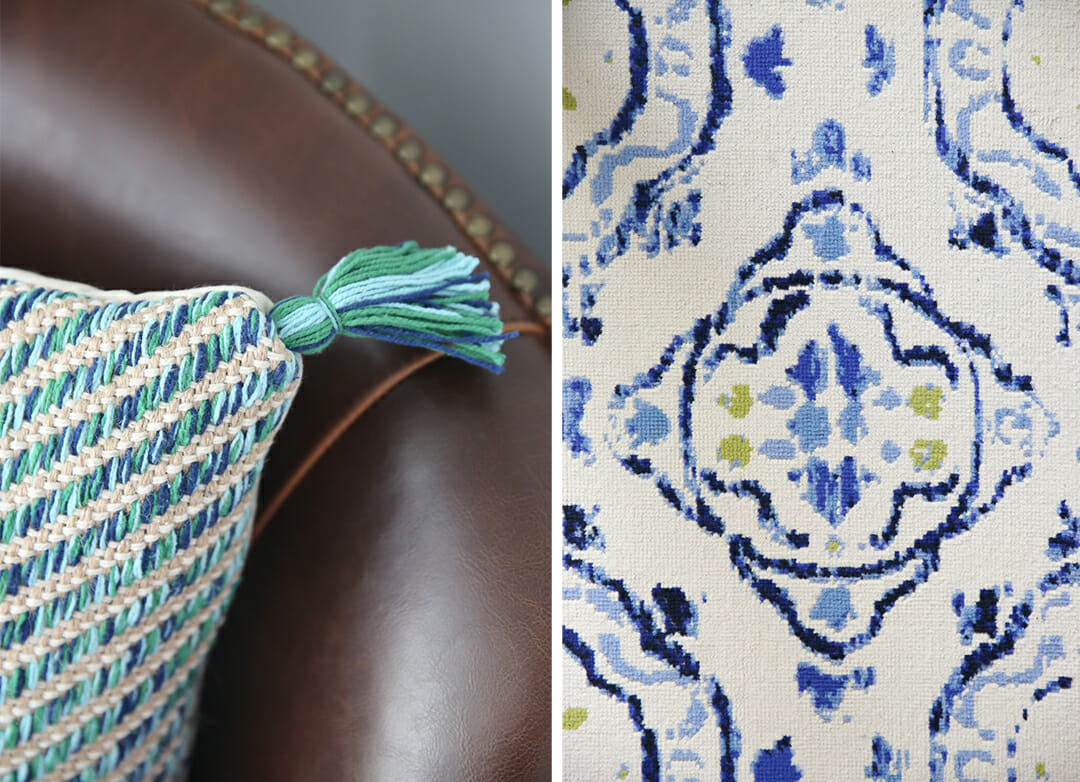 I also wanted a lot of natural elements like greenery from plants and warmth from leather and wood. I put a house plant in this bright corner, along with a macrame wall hanging (grabbed it from Amazon, find it here!)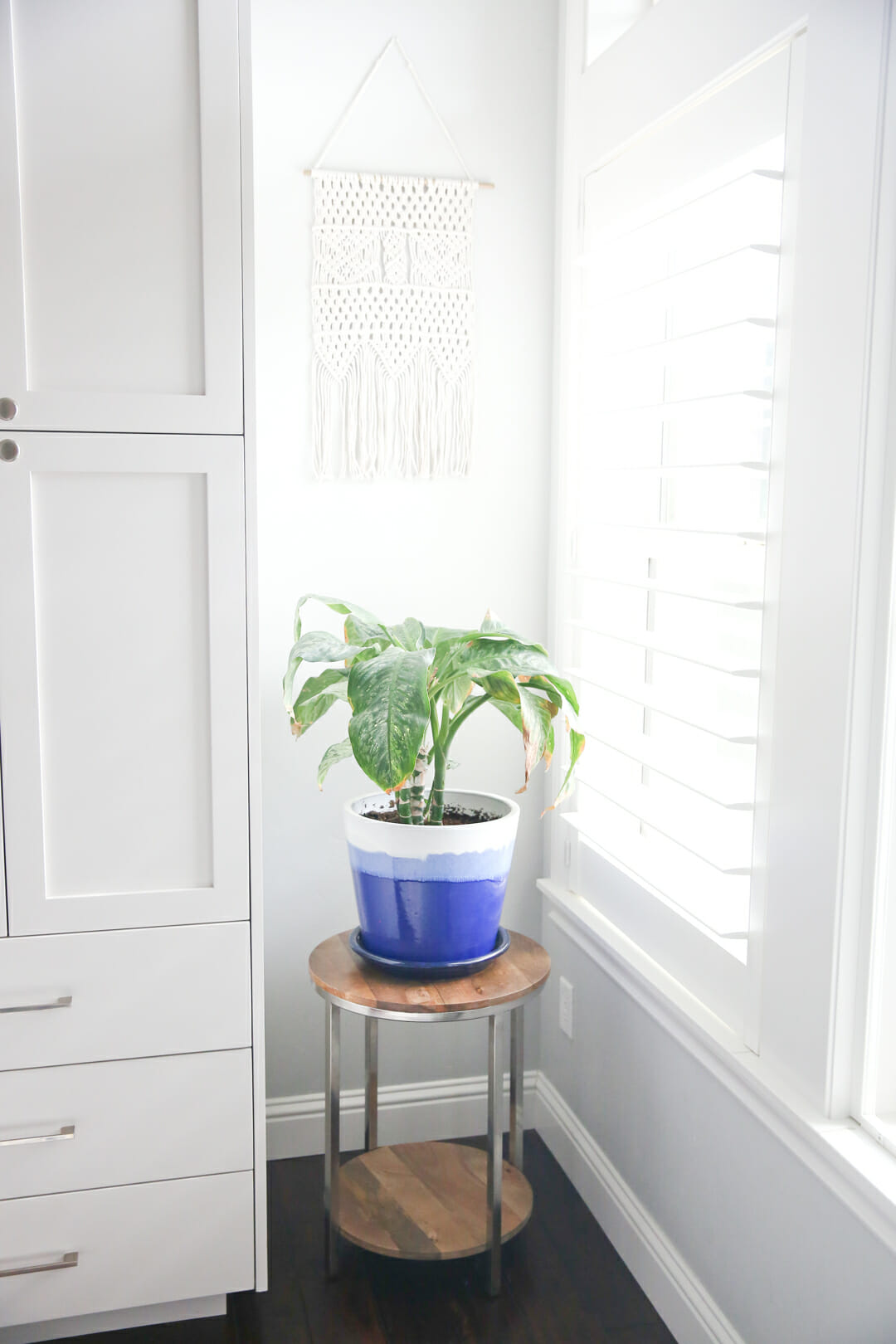 In the only corner you haven't seen yet, we put a really nice leather chair, with a cozy footstool.  I wanted to be sure we had a place to sit and read, or where a guest could visit, or a kiddo could sit.  The chair is from RC Willy and the footstool from Target.  Also those 2 books are absolute favorites.  Cut Flower Garden and Bread Illustrated!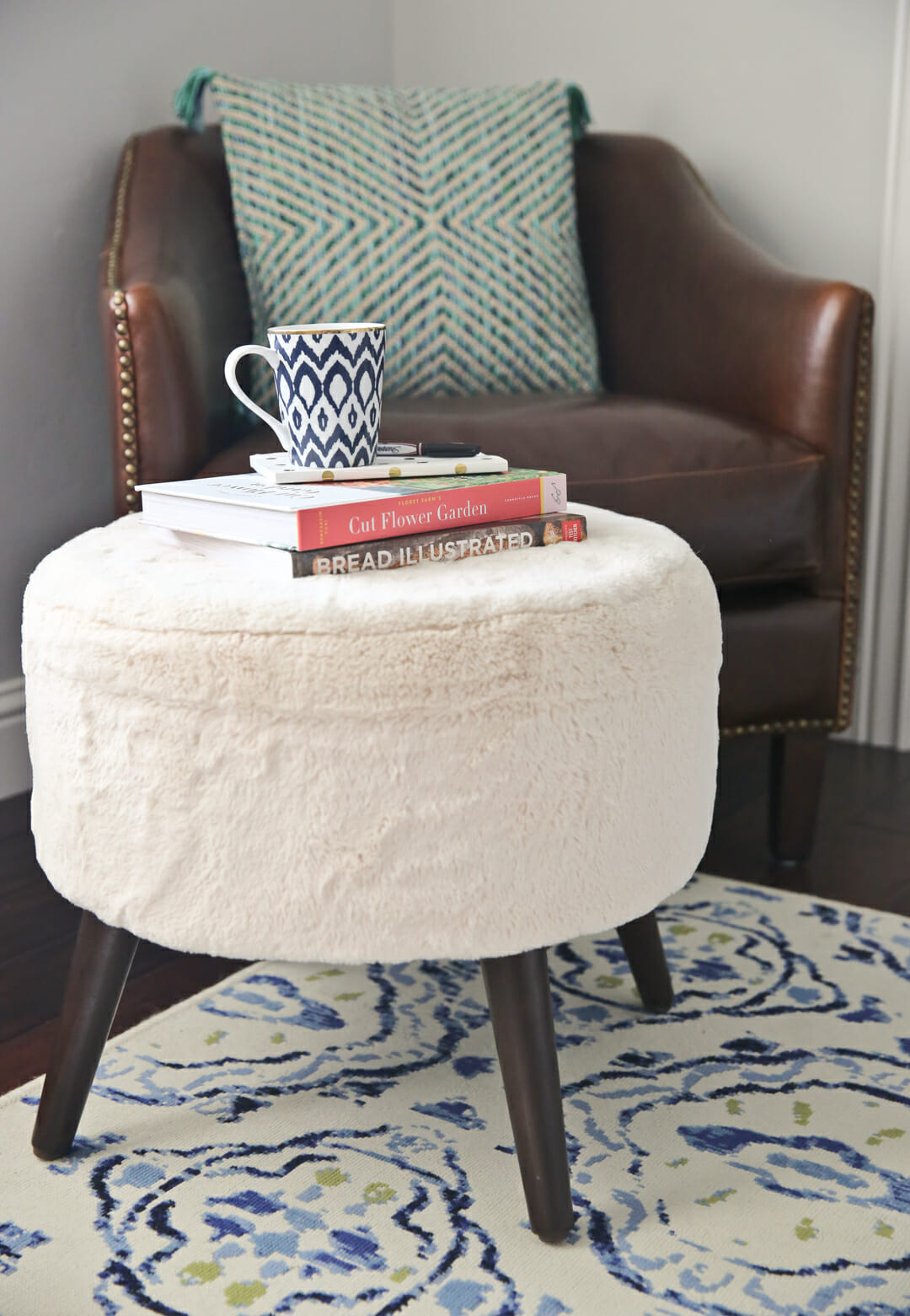 Above this space, on the wall, I have these cool planters (also an Amazon find, See the small size here, and the large one, here.  They come in different finishes, including black, rose gold, and gold.)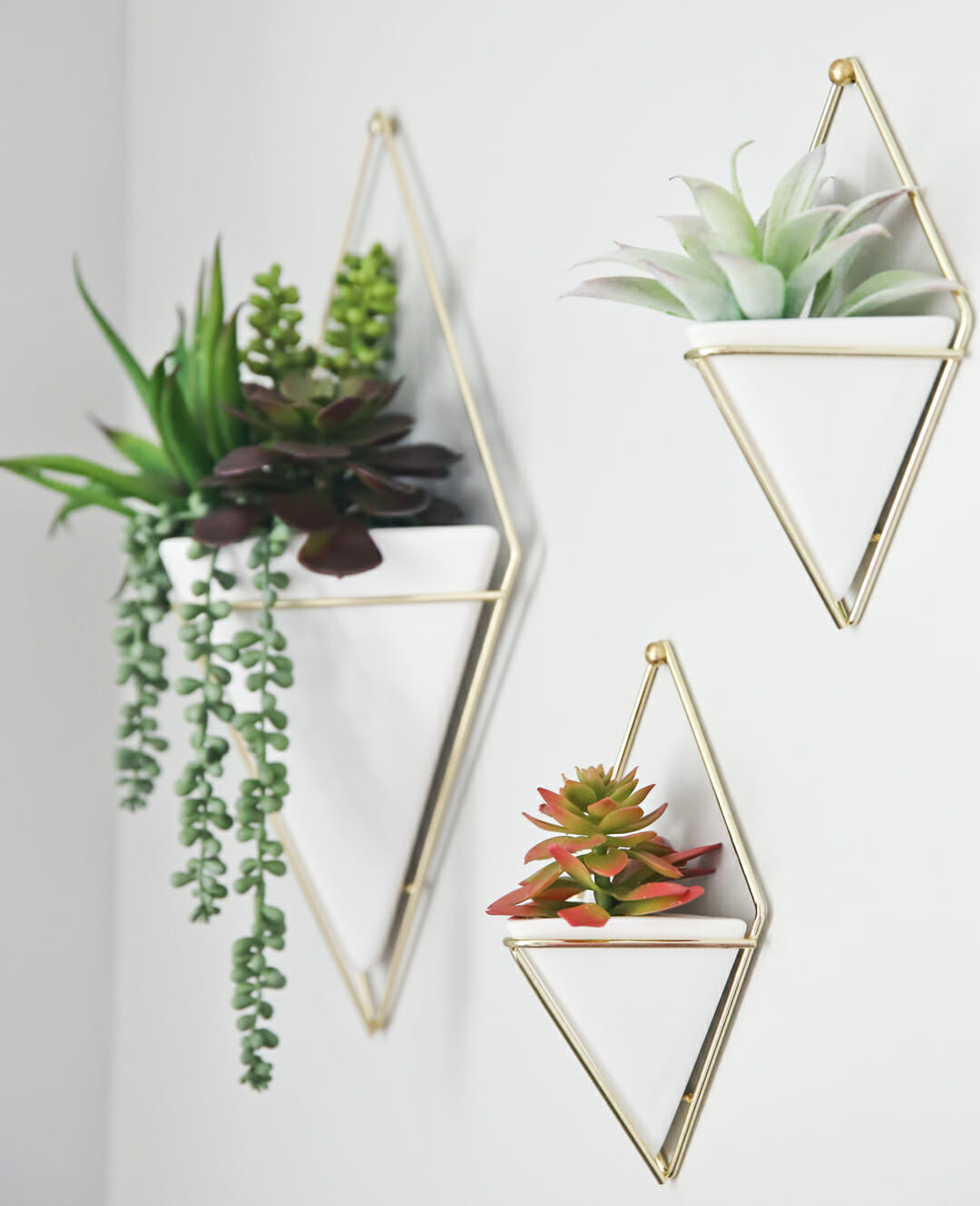 I love how all of the colors and decor came together in a space that also feels organized and refreshing to be in.  I actually enjoy going in there to work now.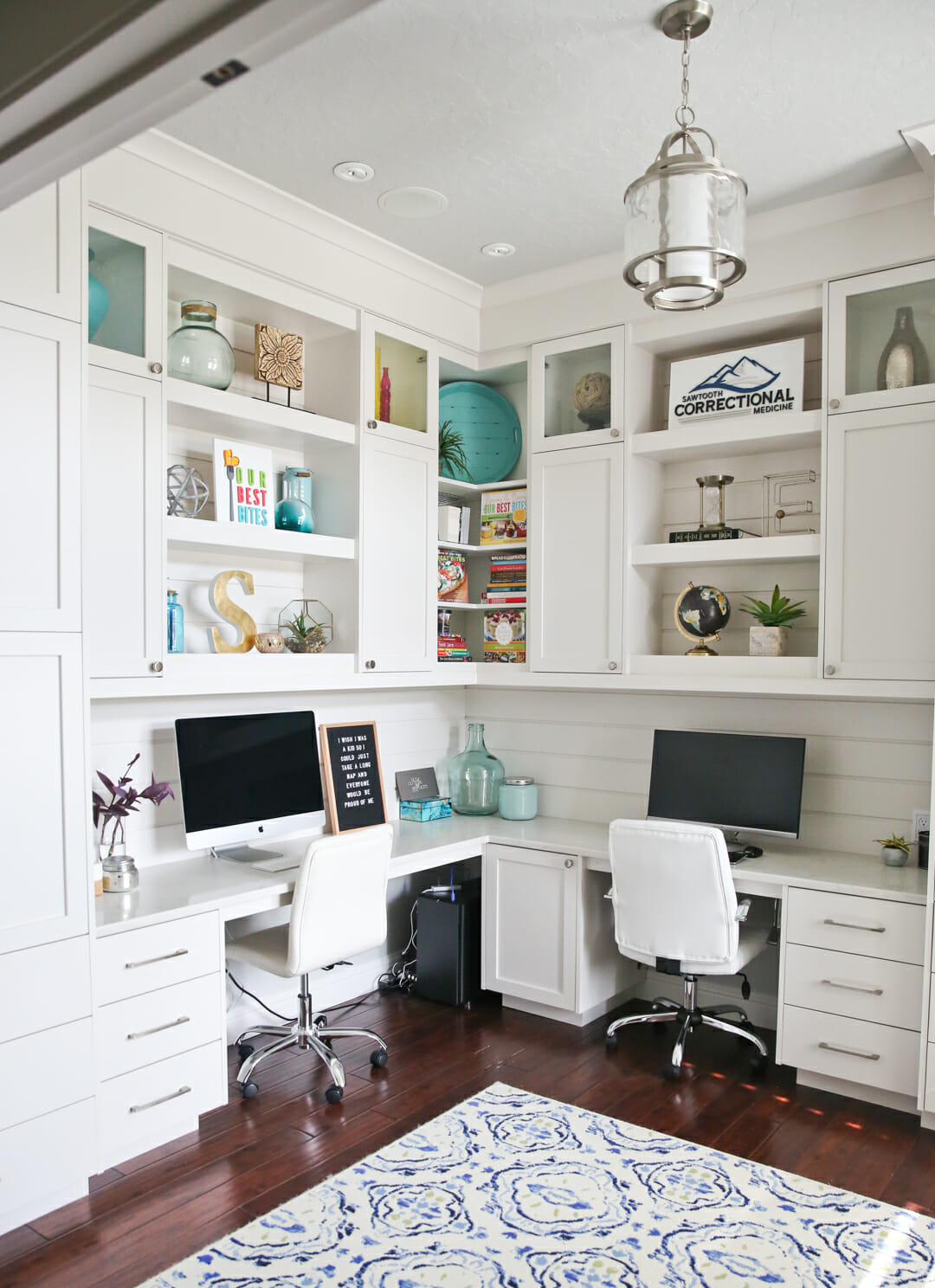 You may have spotted my favorite Letterboard in an earlier picture.  Almost everyone who stands in my entryway notices and laughs and whatever I have up there!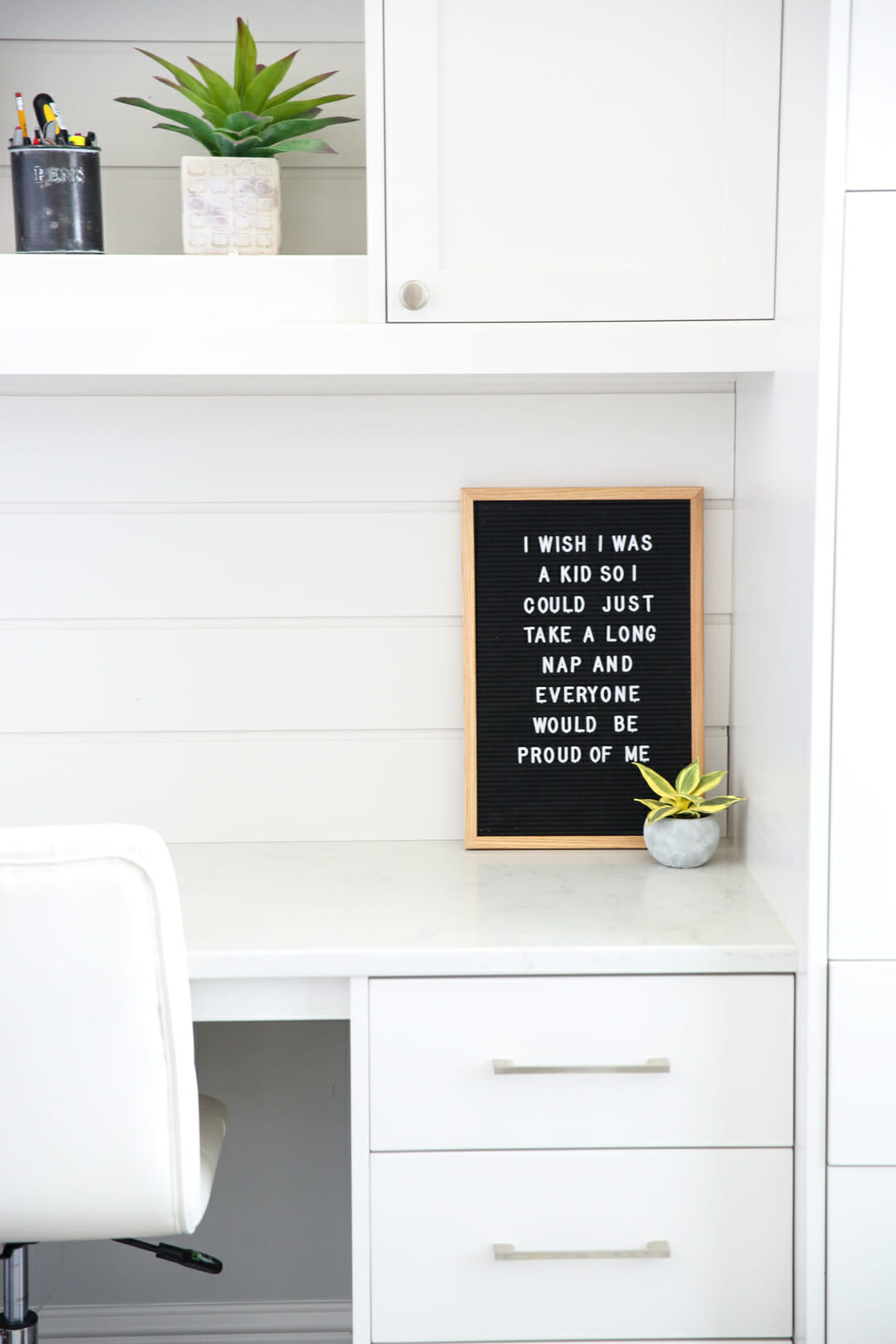 I love those boards so much I have two of them.  This schoolboard green is fantastic.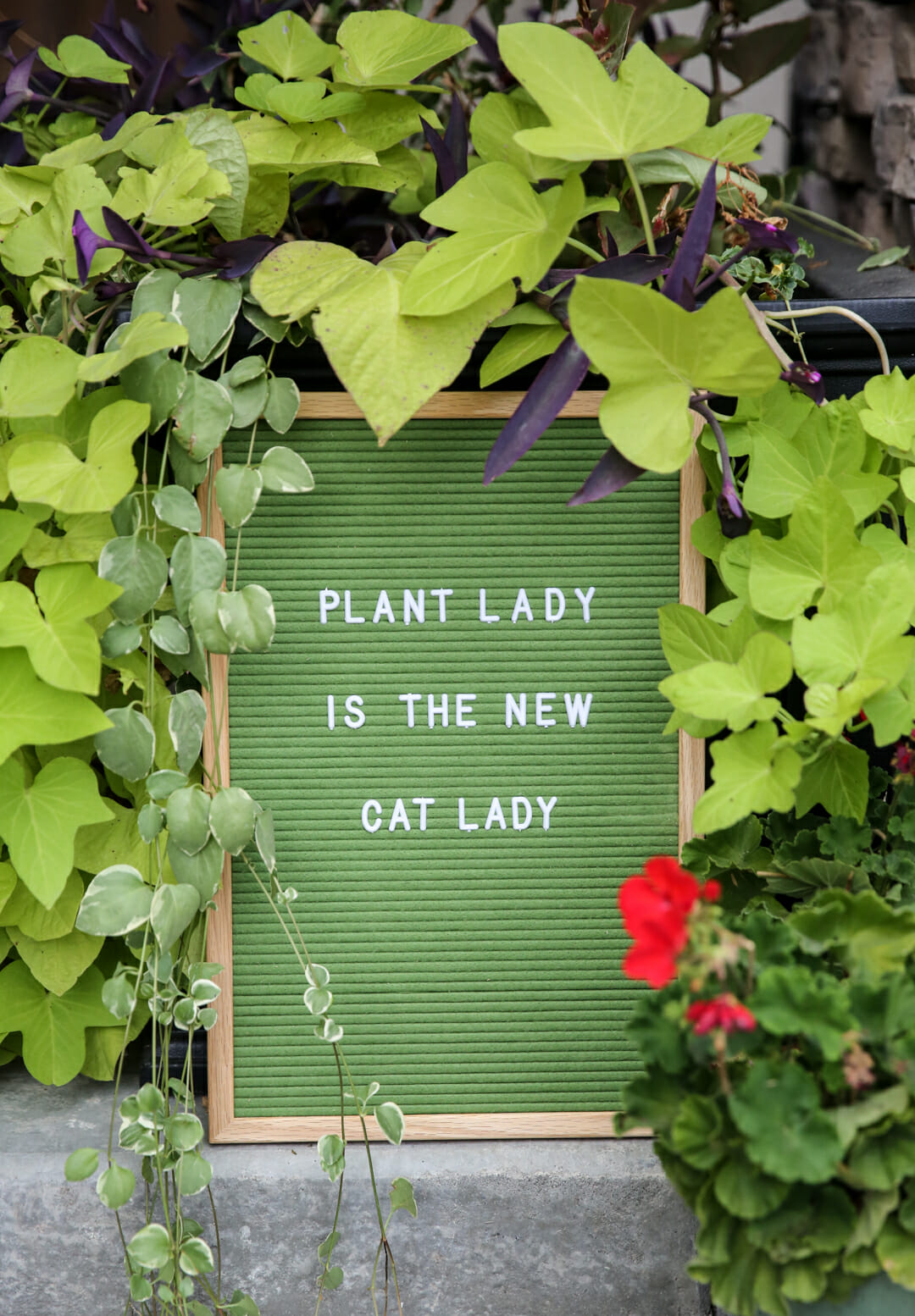 Vintage Revivals is one of the only people who actually makes colored letters, which are so much fun!  Right now you can use the BESTCOLOR and get any set of colored letters for just $5 bucks when you purchase a board.  There's tons of fun colors to choose from!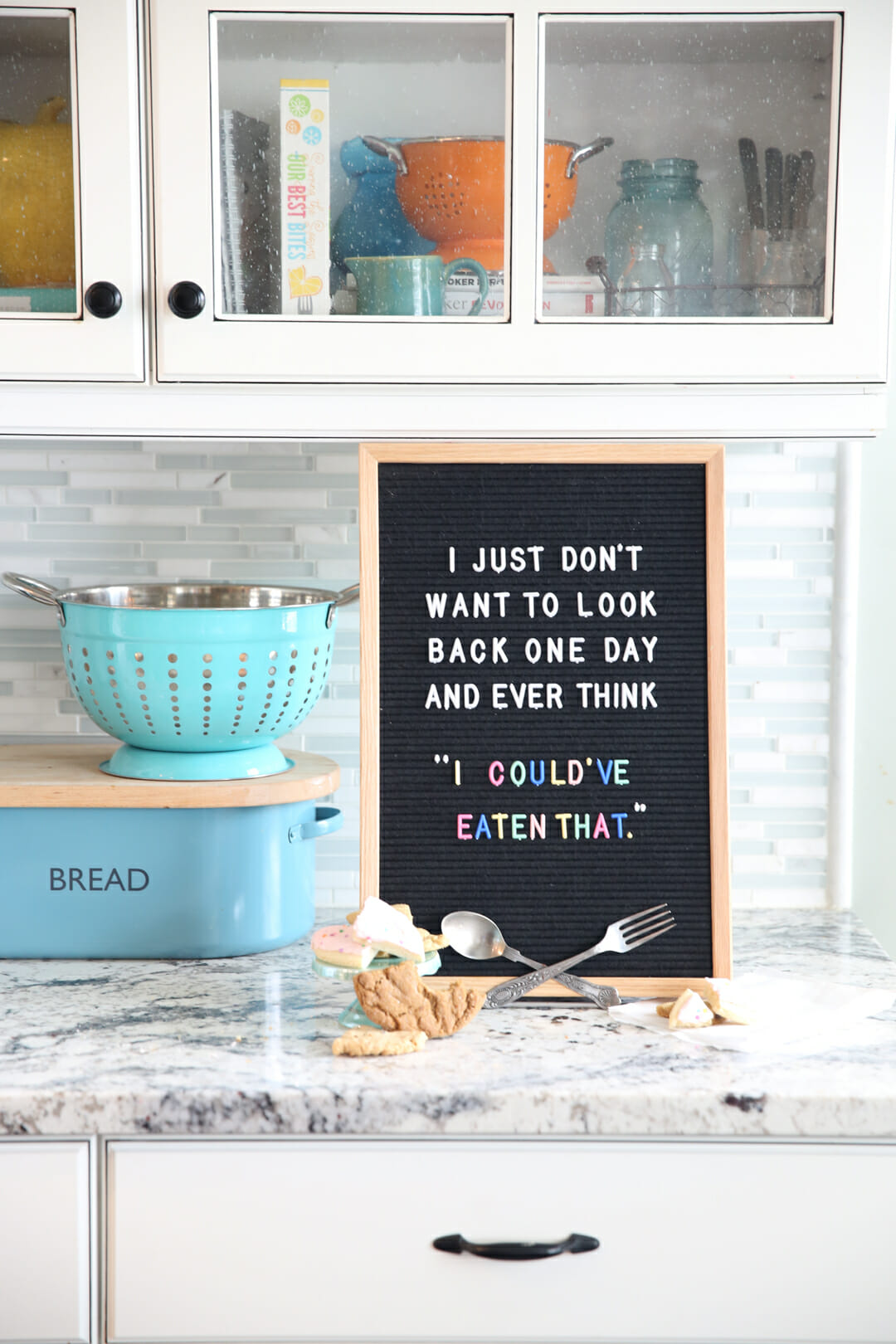 My kids actually love playing with these and I've found it to be great letter practice, too, so- #bonus.
Anyway, phew, these posts are always longer than I anticipate.  I hope you've enjoyed the office tour.  I get a lot of requests for more peeks into my house, so if you'd like to see anything else, let me know!  You can see my kitchen, here.
S O U R C E S
---
*See additional sources throughout post.
Cabinets: Western Idaho Cabinets, Justin Robinson.
Cabinet Color:  We used the in-house white the cabinet company used.  The rest of my trim and white cabinets in my house are Sherwin-Williams "Snowbound" and this matched perfectly.
Wall Color: Sherwin-Williams "Aloof"
Counter Top:  Lucastone, quartz by francini "Venatino"
Flooring: Mohawk Flooring, Engineered Hardwood, Santa Ana Plank (Purchased through RC Willey)