If you follow me on Instagram, you most likely saw me post about this a couple of weeks ago.  It got a huge response over there, and lots of people were asking questions and thinking it was cool, so I thought I'd write up a little tutorial here.  It all started when one of my boys wanted to surprise me by cleaning his bathroom.  I knew he was up to something the moment he ran through the kitchen because I noticed a bleach spot on his shirt.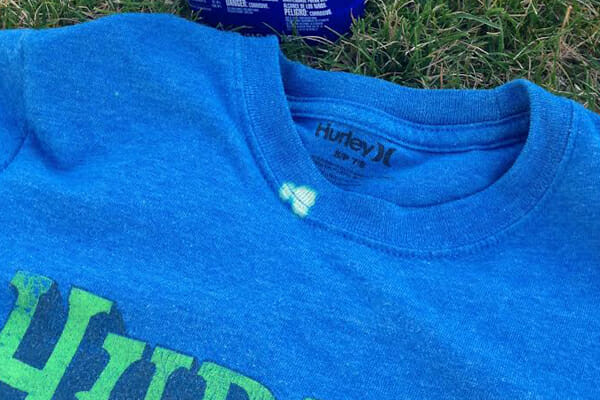 He sheepishly admitted to getting into the bleach-based cleaners I keep put away from kiddo's reach and was positive he was getting in big trouble when I told him to immediately remove his shirt and go get the cleaning products he was using.  I actually wasn't mad at all.  Props to a kid taking initiative to clean his bathroom.  Instead I had a better idea.  The shirt was already kind of ruined, and the little spot looked like tie-dye, so we headed out to the back yard where I let him douse the rest of his shirt to match.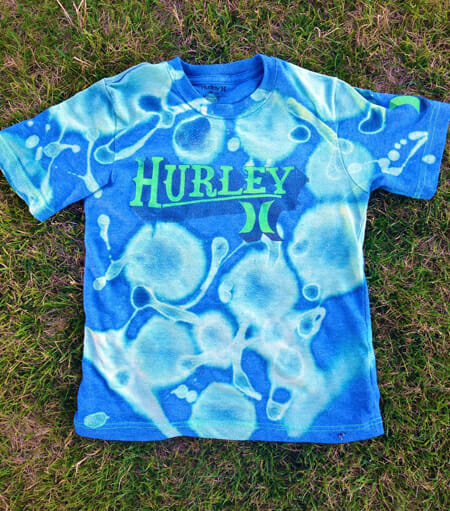 The end result was pretty awesome.  His younger brothers thought it was SO cool and then everyone wanted to ruin a shirt.  So we did.   Now, before I go any further, let me get a few things out of the way.
1. I like bleach.  I use it to clean my house.  I think they should make scented candles that disperse scents of Clorox.
2.  I don't need to buy any natural cleaning products from anyone who would really like to propose I buy some.  Or essential oils.  Or a lecture about how lemon juice, baking soda, and vinegar are better cleaning tools than anything you can buy at the store.  Also, that's a lie.  Bleach is way better.
3.  This was a supervised activity in which my kids did indeed spray bleach based cleaning products and they know they were only using them for this purpose, and because I was there.
Okie dokie.  Now that we got all of that out of the way….
This is a fun little project you can do like, right now.  Today.  Practice on a junk shirt.  Let your kids play with a PJ shirt, doodle on one of your workout shirts.  Everyone will have fun.  We used 2 products I have in my cleaning closet, Clorox Spray and Clorox Toilet Bowl Gel Cleaner.
Now, a few people on Instagram warned putting bleach on your clothes will eventually eat through it and make holes.  Maybe that's true if you soak fabric in straight-up bleach, but you shouldn't have a problem here.  These are diluted products and you're just using a little.  I have a shirt that got bleached this way back in college (10 years ago) and it's perfectly fine.
We used both of those products on the Hurley shirt.  You can see the big circles are spray and the splatters, drips, and lines are the gel.  We kind of soaked it, so after several hours it lightened much more than what was in that photo above.  So next up, I let my younger boys grab an old shirt.  As a side note, at least 1 of every 10 photos on my camera looks like this: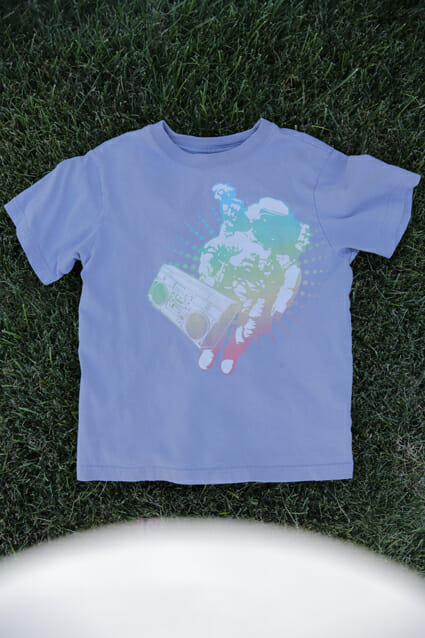 That's not a lunar eclipse there at the bottom, it's my belly.  Anyway.  For these next two shirts, I just used the spray.  I suggest starting very lightly.  It's interesting to see the colors that come out- my son was somewhat appalled at first that his was tuning pink.
You can spray straight on for circles, or easily make stripes and lines.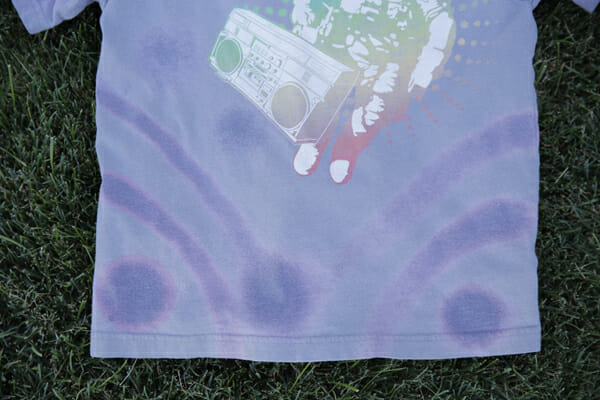 Just use light, even sprays.  You can always go back and add more.
Within a few minutes it will start to change colors around the edges, but it takes a full hour or so to really go as far as it will.
I sprayed some of my spots heavier than others to seep through to the back.  Do you spy that tiny heart on the blue shirt?  My 4 year old loves that part.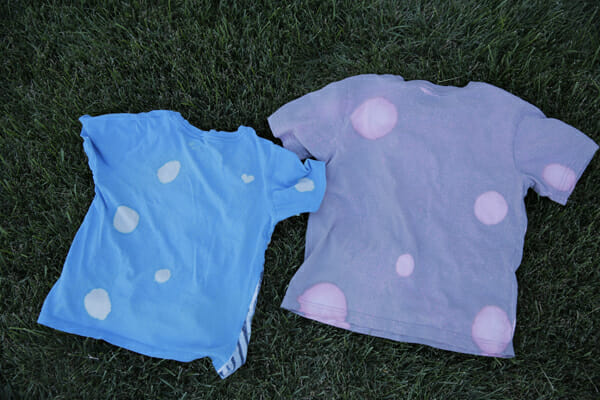 This seriously takes like 2 minutes to do, plus a little waiting time.
Then just wash them in cool water in the washer (without mixing with other clothes, remember there's a bunch of bleach in there) and you're good to go.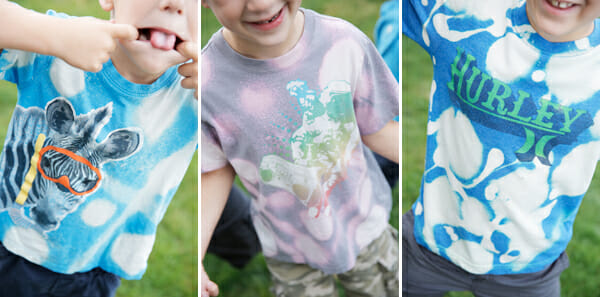 After that they can be washed as normal.  These are my kids' favorite shirts these days and they tell everyone they MADE them.  Another fun thing to do is use a bleach pen: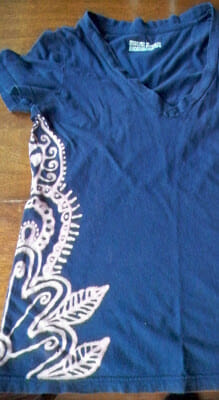 I actually did a really cute design on one of my maternity shirts and I honestly have no idea where it went.  Who just loses clothes from one day to the next?  Oh wait.  Me.  I do. If you ask my husband, he would probably say he's not surprised, and that it's most likely in my closet which currently looks like it could be on an episode of TLC's Extreme Hoarders.  But I digress.  You can look up some cool examples on google, like this shirt to the left, which was made by Kristen from The Next Bird.  How cute is that?  I've seen people make polka-dot jeans, and write words on their shirts…the possibilities are pretty endless with that.  If you're a doodler, it's right up your alley so definitely check that out.
Hopefully that's a fun little project that some of you can enjoy!  Remember you can hover your mouse over any of our images to Pin them!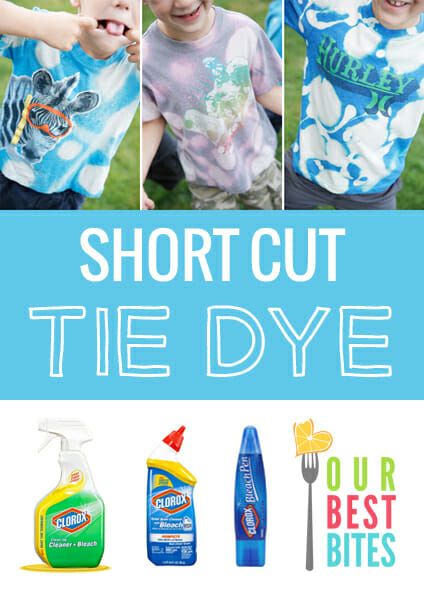 And speaking of fun- LOVING the fun entries in our current giveaway!  See this post for all of the details.  Snap a pic and win $100!