Kate and I are in chilly Salt Lake City this week. Don't forget you can come see us at the flagship Deseret Book Store (right across the street from Temple Square) tomorrow, Saturday the 27th from 5-6:30 pm.  That's a different time than was originally announced, so please take note!  We'll also be in Phoenix, AZ in one week and you Arizona peeps can come visit us in Mesa!  See the end of my last post for details on that.
Yesterday I stopped by Salt Lake City's KSL Channel 5 to do a little segment on their morning show.  We've been on Studio 5 several times now and it's always a blast!  This time I whipped up one of our favorites:  Kate's Peanut Butter Cup Popcorn.
You can watch the segment by clicking here! 
That's darling host Brooke Walker, Instagramming a photo of our popcorn!
And this is one of our most favorite people ever.  If Kate and I ever appear to have our professional lives in order, it's all due to our amazing friend and publicist Ashley who works tirelessly behind the scenes to make us look good!  She prepped all of the food for this segment and had everything ready and waiting for me since I was coming from out of town.  Love that girl!
That's host Darin Adams, and we're obviously talking about something very poignant.
Like popcorn.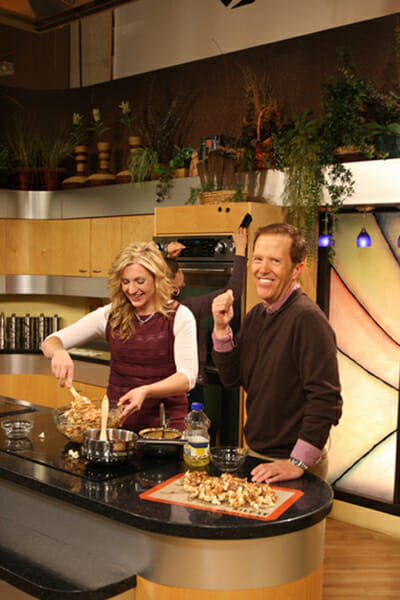 The darling Mandy Douglass was also doing a segment, and I loved it so much I snapped some photos so I could show you guys.
She used red candy melts from Orson Gygi in a chocolate fountain to be "blood".  I think green "slime" would be cool too!  You can find those candy melts at most craft and cooking stores with the baking supplies- even Walmart carries them!  And no fear if you don't have a chocolate fountain, just melt them in a cute bowl and you'll be set.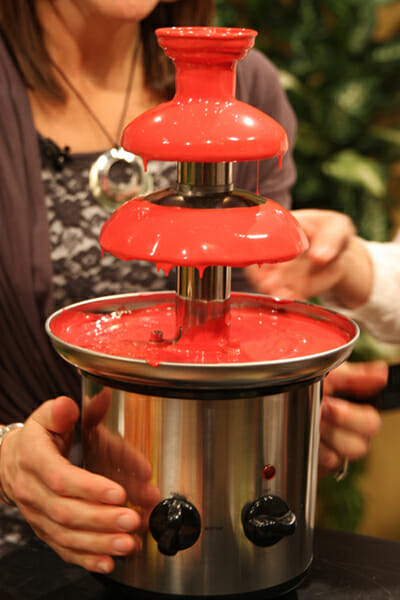 For dipping she had "bloody bandaids" (ewwww) using graham crackers with a little frosting and red jelly on top.
Witches fingers made from sugar cookie dough and almond fingernails
I loved these monster eyes.  Wilton makes those little candy eyes and I thought the coloring idea was brilliant.
Instead of dipping the marshmallows in colored candy melts (messy and time consuming…) she used the Wilton color sprays that you can find in a lot of grocery stores, and in most all craft stores that sell baking supplies.  Green and yellow for that neon color combo.
I also thought this was crazy awesome.  These are basically like my fried wontons. She used a new, clean rubber stamp and applied gel food coloring for "ink."  She then stamped right onto raw wonton wrappers and fried them after.  You get these yummy little crispy pillows with fun images on them.  Cool, right??
I thought those were really cute ideas worth sharing.  Hope you all are having fun getting ready for Halloween.  Have a great weekend and we'll catch up on Monday!