I hope you all read today's post title in an English accent. Actually, go ahead and read the whole post that way. And I'll be sure to throw in lots of words like knickers, blimy, and collywobble. While we're on this topic, say "Beer Can" in an English accent. No really, do it. Out loud. One more time. Did you say it? Now say it again and realize that it comes out the exact same as the word "Bacon" in a Jamaican accent. You're welcome. Now that I have you thoroughly interested in today's theme- it all has to do with a new movie. We've had so much fun coming up with recipes in conjunction with some major motion pictures. (Remember my Camp Fire Cookies for The Croods? One of my favorites.) Have you guys seen the previews for the new Paddington Movie? It hits theaters January 16th, from the beloved novels by Michael Bond, and it's done by the same director who did Harry Potter. It looks so cute, and it has some of my favorite actors in it.

It hits theaters in January, and looks like a great one for the whole family. I mean, can you resist that face?
When I started thinking about what recipe to make that might be inspired by the movie, I immediately started thinking of iconically British foods. I asked all of you readers on Instagram and you came up with some awesome ideas. Also some weird ones. But I will look past that and concentrate on the beauty that is Sticky Toffee Pudding. Now, let me just say that every time (we're talking like, over the past 10 years) I hear the words sticky-toffee-pudding, it sounds amazing and I go look up recipes and then realize a main ingredient is dates and I dismiss it, feeling fooled that someone tricked me into desiring something made with what appear to be giant raisins. Don't be fooled by the giant raisins. Dates are actually delicious. They're insanely sweet and sticky, with a warm almost brown-sugary flavor, and just watch what happens to them in this recipe.
These are medjool dates. Costco carries these little tubs of them in the produce section.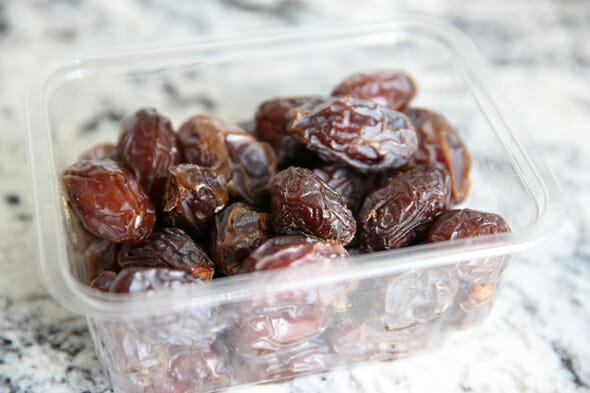 They each have pits in the middle, so you'll need to remove those and then chop up the dates and place them in a heat proof bowl where you'll cover them with boiling water and stir in some baking soda.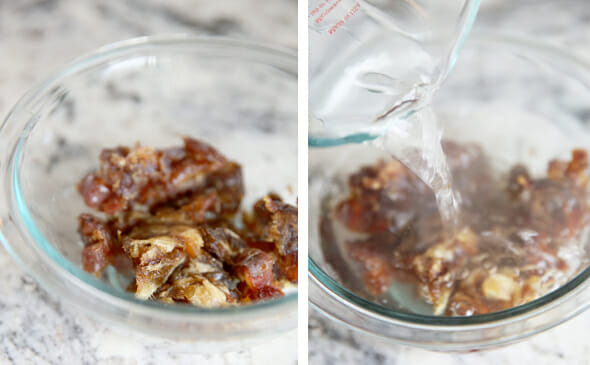 After they sit for a little bit, blend them up until they're smooth, it looks like cinnamon applesauce.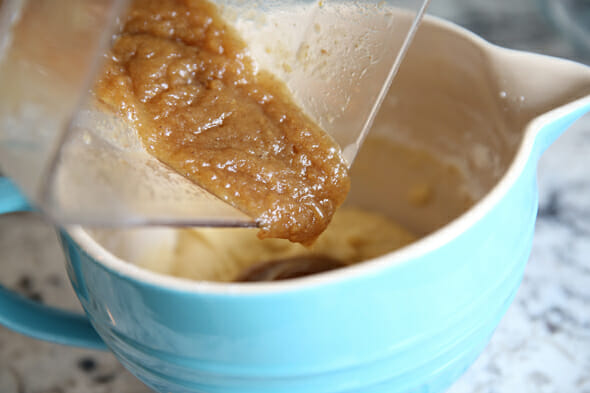 And then swirl it into an easy cake batter.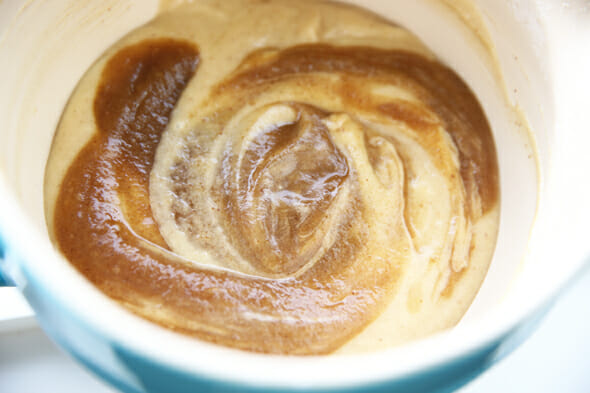 The sweet cake bakes up and has a rich, warm flavor of brown sugar.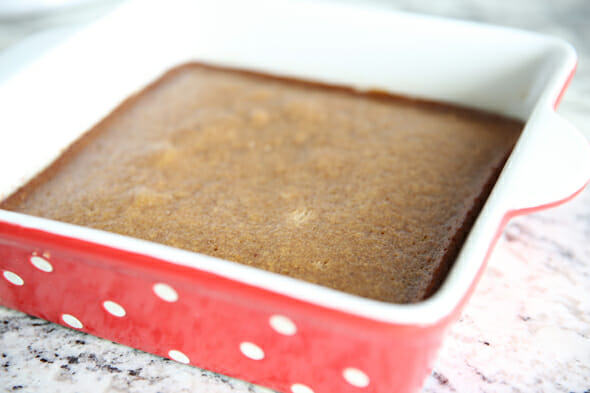 The sauce is to. die. for. and it's so easy you might find yourself making it just to pour on random things in your kitchen, like graham crackers, oatmeal, or large spoons. It's simply dark brown sugar, butter, and cream.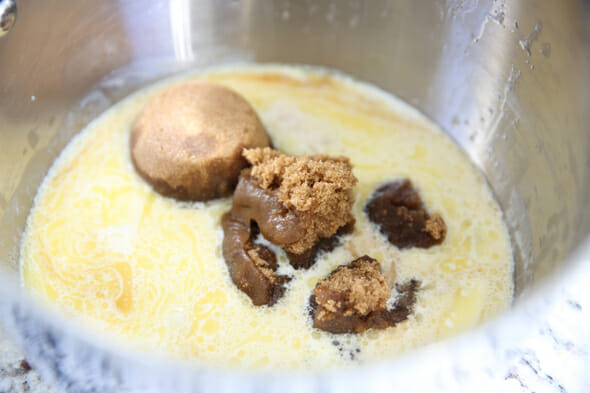 Ya, that's what I'm talking about.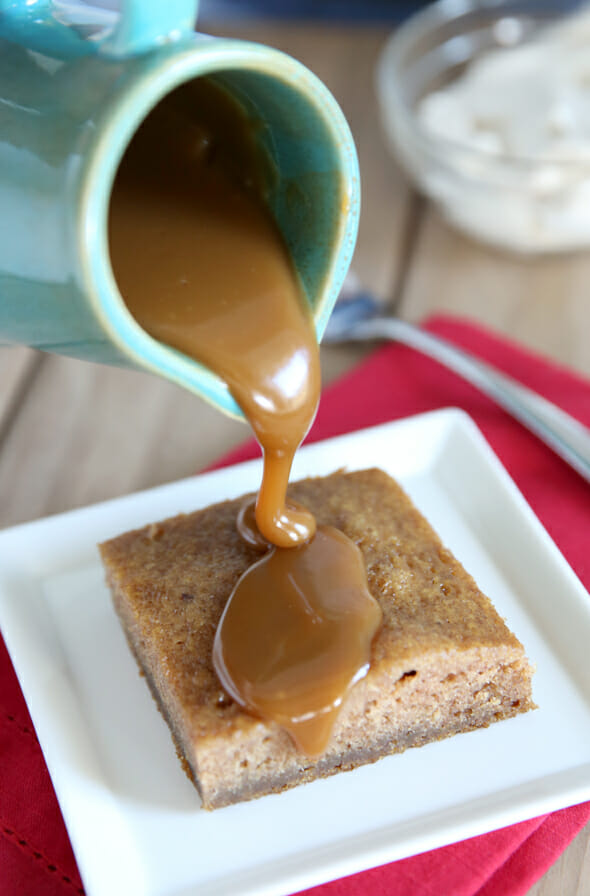 I think this would be really good as a poke-cake (which some recipes actually call for) where you poke holes all over the cake and then pour over the hot caramel. The cooler the caramel toffee sauce gets, the thicker it becomes (and you start to realize why it's called sticky toffee pudding).
So there's really a number of different ways you could serve this. You can do as I'm doing in the photos, and cut warm pieces of cake and drizzle on the sauce, or you could invert the whole cake and then cover it in caramel. Once it cools, it's kind of like cake squares with soft caramel on top that you can eat with your fingers. There are really no bad options here.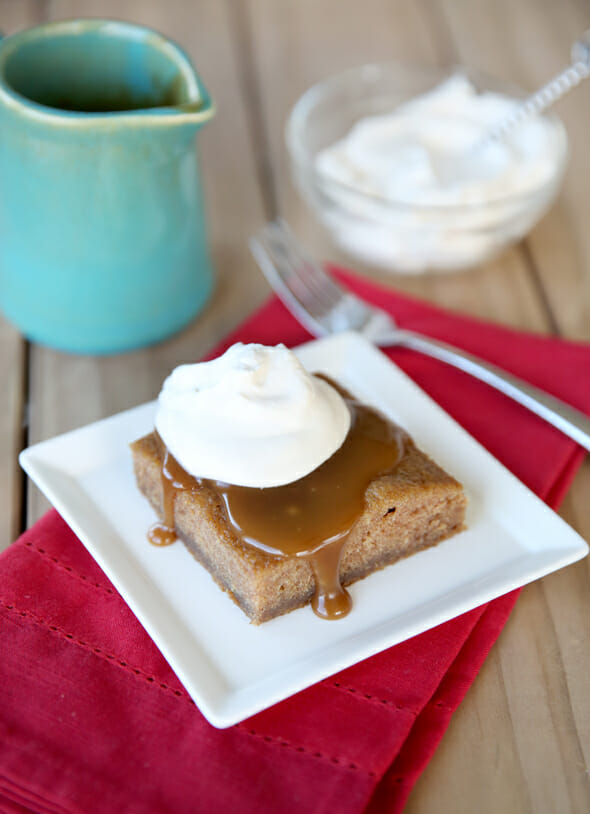 Definitely serve it with whipped cream. Or vanilla ice cream. For cakes with this flavor profile, I like to whip my cream with brown sugar instead of white or powdered. It adds a really deep flavor profile, especially mixed with vanilla- try it.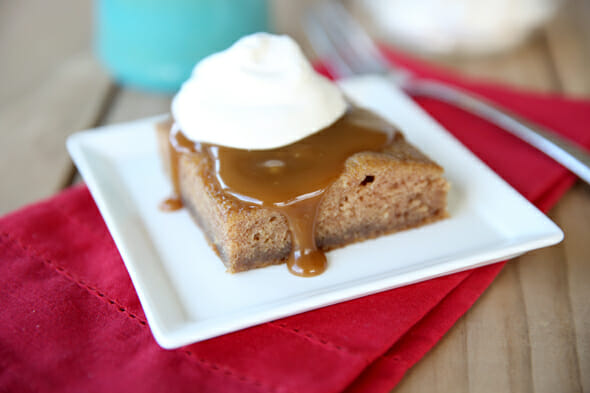 That light, sweet cake is absolutely heavenly with the gooey sticky caramel sauce.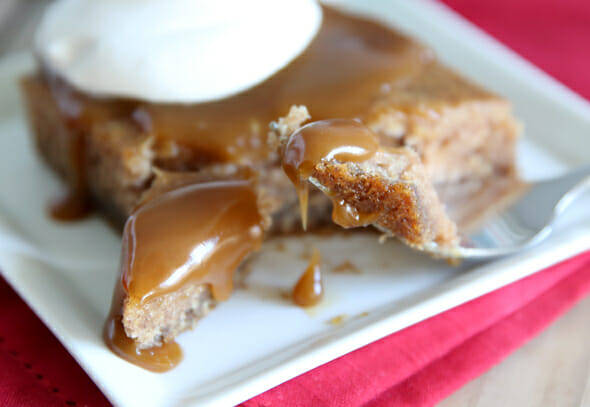 It's perfect for the holidays and would make such a great ending to a Christmas-y meal. Just make sure while you're eating, everyone knows they are to speak with an accent.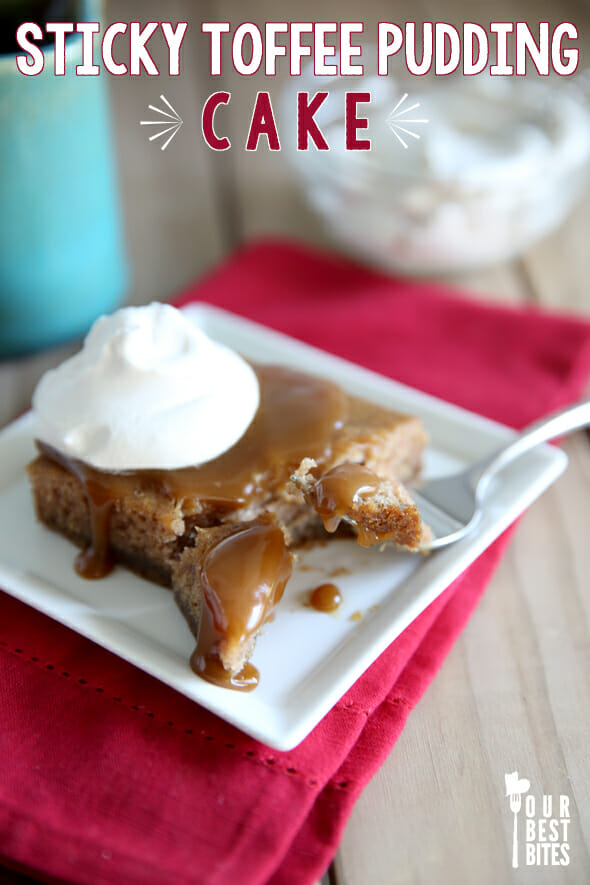 Sticky Toffee Pudding Cake
Very slightly adapted from Smitten Kitchen, who explains it was originally from Sunday Suppers Cookbook, where it was inspired by the version at Café Moto in Brooklyn
Cake
12 ounces mejool dates
2 1/4 cups boiling water
1 1/2 teaspoons baking soda
8 tablespoons unsalted butter, melted
3/4 cup granulated sugar
2 tablespoons dark brown sugar
2 large eggs
1/4 teaspoon fine sea or table salt
1 2/3 cups all-purpose flour
Sauce
8 tablespoons (1 stick) unsalted butter, melted
1 cup whipping cream (heavy or regular)
1 cup plus 2 tablespoons dark brown sugar
2 teaspoons vanilla extract
For serving
Sweetened whipped cream
Cake: Pit and roughly chop dates and place them in a heatproof bowl. Pour boiling water over them and stir in the baking soda. Cover the bowl and set it aside for 30 minutes.
Meanwhile, heat oven to 350°F. Butter a 9×13-inch baking pan.
Blend date-water mixture in a blender or food processor until smooth. In a large bowl, combine the melted butter and sugars. Whisk in eggs, then salt. Stir in the flour, then date puree. Pour the batter into the prepared pan and bake for 25 to 30 minutes, until a toothpick inserted into the center comes out clean.
Sauce: Combine butter, cream, sugar and vanilla in a larger saucepan than you think you'll need over medium heat and bring to a simmer. Whisk for about 10 minutes, until the mixture thickens slightly. Cool until warm.
To serve: Cut the cake into squares, (you can serve it warm, or at room temp). Drizzle each slice with toffee sauce and a dollop of whipped cream. Or, if you like, you could let the cake cool until just warm and then invert it onto a serving platter and drizzle the sauce over the top. I actually think it would be amazing poke-cake style where you poke holes all over the cake while it's hot out of the oven and then pour the hot caramel sauce over the top and let it all sink in.
And definitely keep your eyes out for the cute Paddington movie! If you want to keep up with the latest, you can follow the film on Facebook, Twitter, Pinterest and Instagram.