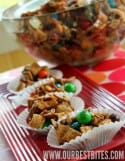 You can always tell when the Our Best Bites girls are stressed out because we tend to post a lot of sweets. I had excellent intentions of posting a quick and easy dinner today, but I was overcome by the temptation of Pretzel M&Ms, which are simultaneously the most glorious and the most horrific creation in the history of creations. I promise, I'll post something healthy next week.
It seems like every fall, we start posting cereal and/or popcorn mixes. I'm not sure if it's because of the hint of Halloween or the return of football and fall TV shows, but cereal mixes just feel right in the fall.
This one is a little different from ones we've posted in days gone by because it calls for brown sugar instead of white sugar. Which brings us to caramel. Which, when you combine with salty nuts and Pretzel M&Ms, leads to sad feelings when you step on the scale the next day.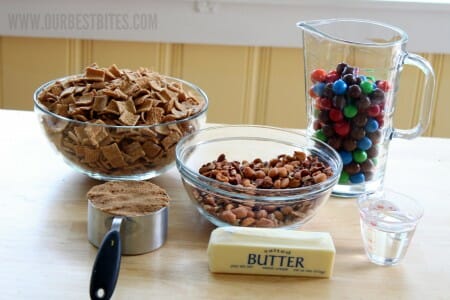 First, line a baking sheet with waxed paper or aluminum foil and lightly spray it with non-stick cooking spray and set it aside.
Then, combine some graham cracker cereal (like Honey Grahams) with some honey roasted peanuts and some salted cashews or macadamia nuts in a very large bowl and set that aside.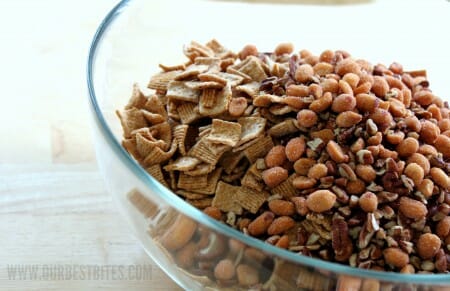 In a medium saucepan, combine the brown sugar, Karo syrup, and a stick of butter (I told you this was bad) and bring it to a boil over medium heat. Continue boiling, stirring often, for 2 minutes (3 if you're at a high elevation). When it's done cooking, add a teaspoon of vanilla and stir to combine. Drizzle the caramel over the cereal mix and quickly stir the mixture to coat everything evenly. Transfer the mixture to the prepared baking sheet and allow it to cool for a few minutes, just to a point where the candy mixture has cooled but it's not solid. Add the Pretzel M&Ms and toss gently to combine.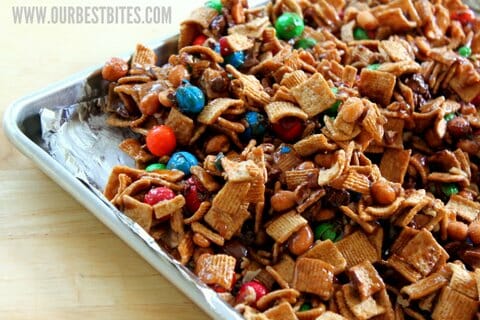 Allow it to cool completely (you can even pop it into the fridge to hurry things along) and then transfer it to a serving bowl or serve individual portions in small cups or cupcake liners.
Unfortunately, we cannot be held liable for the lack of snacky self control that will accompany the presence of this mix in your house. Sorry about that.
Sweet & Salty Caramel Snack Mix
Recipe adapted by Our Best Bites from Southern Living
6 cups graham cracker cereal (like Honey Grahams)
1 cup honey roasted peanuts
1 cup salted cashews or macadamia nuts
1/2 cup butter
1 cup firmly packed brown sugar
1/4 cup light Karo syrup
1 tsp. vanilla
3 cups Pretzel M&Ms (about 1 large bag)
Line a baking sheet with aluminum foil or wax paper and lightly spray with nonstick cooking spray. Set aside.
Toss together the cereal and the nuts in a large bowl and set aside.
In a medium saucepan, combine the butter, brown sugar, and Karo syrup and cook over medium heat, stirring frequently, until it begins to boil. Allow to boil for 2 minutes (3 if you're at a high elevation) and then remove from heat. Add the vanilla and stir until combined. Drizzle the caramel mixture over the cereal/nut mixture and stir quickly to combine. Transfer to the prepared baking sheet. When the caramel mixture has cooled but isn't solid yet (just a few minutes), add the Pretzel M&Ms and toss gently to combine. Allow to cool completely before serving.