So you know we're working on another book, right?  We've actually been working on it all year, but now it's getting down to the wire and we're working tirelessly to get it turned in on time so it can be done in time for Santa to bring it to you next Christmas.  It's hard to explain what life is like at this point in the process, but let's just say it's a little (okay a lot) insane.  However, I refuse to get so busy and hectic that Christmas just comes and goes so quick it passes right by me!  This is my most favorite time of the year and I love soaking in every second of it.   My family has been having so much fun with our Advent Calendar, and it's really helped me take time every single day to enjoy the spirit of this season, which in turn has helped me stay grounded and relaxed in what could be a super stressful time.  People often ask Kate and me how we "do it all" and the answer is, "we don't!"  When things get crazy in one area of my life, I simplify other areas to balance things out.  So this month, with a job that's taking a lot of my time, I'm simplifying my blog posts (and maybe quitting laundry completely, the jury is still out on that one) so I can spend more time doing fun stuff with my family instead!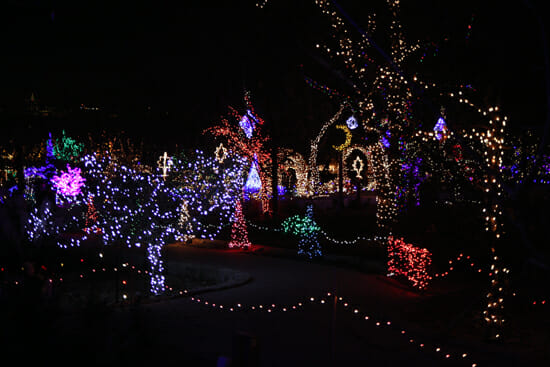 Y'all understand that, right?  As much as I'd love to spend more hours in the kitchen (after spending the majority of my day there working on cook book stuff) coming up with meals to write out for you, I'd rather put on my hat and scarf and head out to look at Christmas lights with my husband and kids.  No hard feelings?
So I can't speak for Kate, but I'm just telling you right now, for the next few weeks you'll be seeing quick and easy stuff from me- mostly fun stuff I'm doing at home with my family so I think it's stuff you'll enjoy too!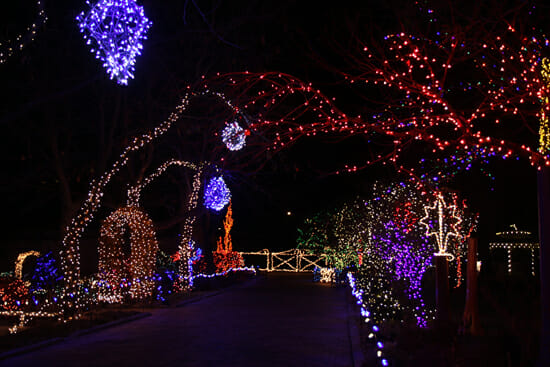 Because it doesn't always have to be complicated and time consuming.  Sometimes the simplest things, are the most fun!
If any of you are in the Boise area, you need to go check out Winter Garden A Glow at the Botanical Gardens.  So much fun!
Also fun?  Making giant edible snowflakes.  This is one of the fun little activities I had in my advent calendar.  Perfect for a snowy day, or a my-kids-have-been-out-of-school-for-too-long day, or any day.  It's perfect to do with kids, but I'll be honest- I have just as much fun, and they actually taste super yummy too!  So grab some scissors and start playing.
Any size flour tortilla will work; I'm using small, 6-inch ones.  Warm them up in the microwave first; this step is important.  If you fold a cold or even room temperature tortilla it will probably crack and break.  Fold it in half and then in half again.  You can fold it one more time, like I did, but it gets a little thick, and harder to cut.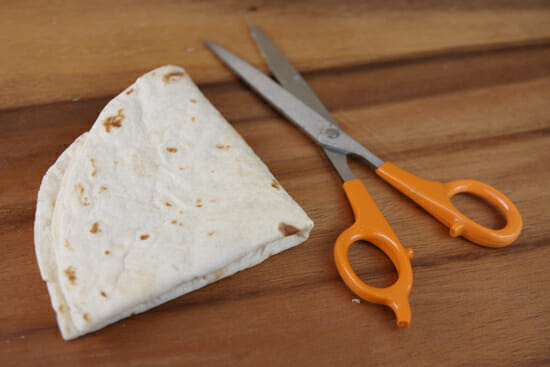 Use a clean pair of scissors to cut it just like you would a paper snowflake. Obviously you can't be quite as intricate, but hey- get creative.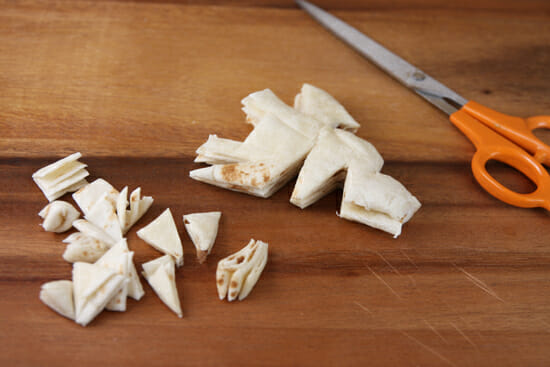 Small scissors with pointy tips seem to work best, but you can let kiddos have at it with a pair of kid scissors.  And you'll end up with a bunch of little scraps, which fortunately for you are slightly less annoying than the real paper kind.  Feed them to a wandering toddler, or toss them with a little butter and seasonings like salt and pepper, chili powder, and cumin, and bake them up to put over a salad or a bowl of Tortilla Soup.  (Just bake them on a separate pan!)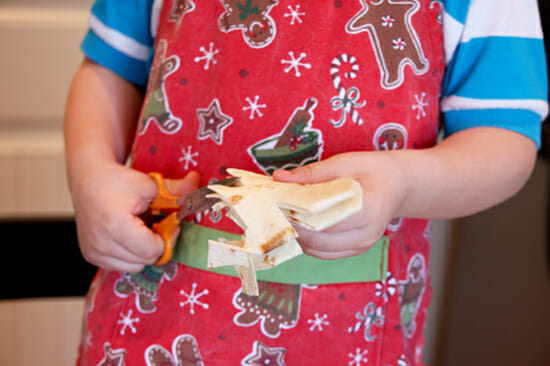 Then carefully unfold them to reveal your pretties.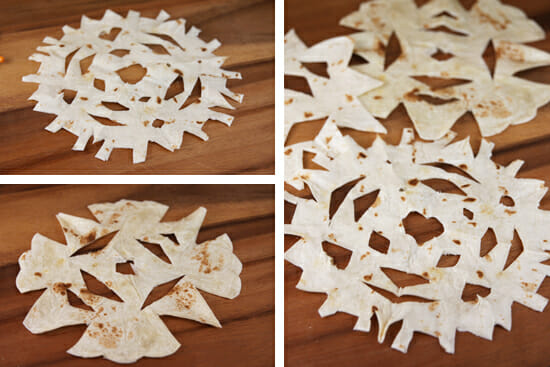 Place them on a foil lined baking sheet and brush them with melted butter
My kiddos love "painting" with the butter
And then let them sprinkle on coarse sugar sprinkles, or you an use cinnamon sugar, like in our Baked Cinnamon Chips.  The great thing is that these actually taste good when they're loaded with the coarse sugar so if your kids are anything like mine and like to pour avalanches of sprinkles, they'll be fine.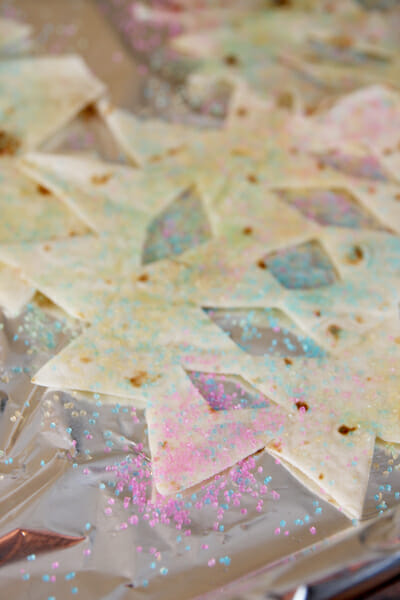 Bake them in the oven for about 10 minutes and they'll crisp right up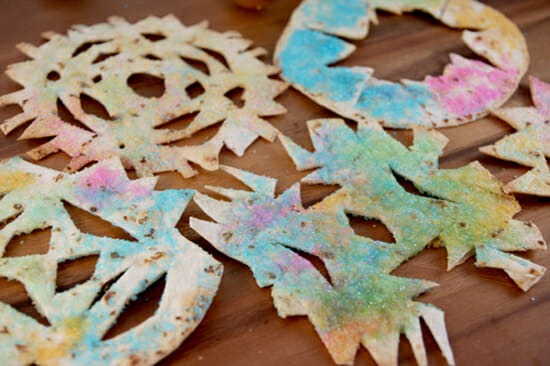 They'll be like big, buttery, sugary, chips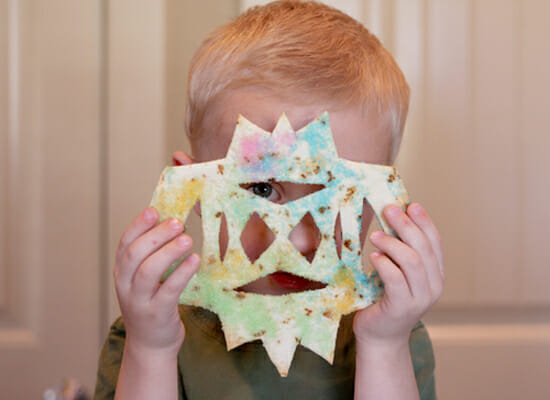 They actually taste super yummy; I think I might have eaten more than my kids did!  Eat them plain or break them into chunks and dip them in yogurt, cool whip, or fruit dip for a yummy snack.
Sweet Tortilla Snowflakes
flour torillas
melted butter
coarse sugar sprinkles
Preheat oven to 400 degrees.  Warm tortillas in microwave until soft and pliable.  Fold into quarters or eighths.  Use scissors to cut out shapes and then unfold.  Place tortillas on foil-lined baking sheet and brush with melted butter and sprinkle with sugar sprinkles.  Bake for 10-15 minutes, until golden brown around the edges.  Cool until easy to handle and eat up.  Eat plain or dip in yogurt, whipped cream, or fruit dip.