First of all, we are busy stocking our shop with all sorts of Mother's Day goodness, old favorites (ALL the oils and vinegars, all the sizes!) plus some new gifts that we're SO EXCITED about. So if you're getting ready to shop for Mother's Day, mark your calendars for next week because we can't wait to show you all the perfect gifts we have for the moms in your life!
As I was writing out this recipe, I realized how ridiculously simple it was and started second guessing myself. And maybe I'm, like, the last person in the universe to realize this is a thing (is this a thing??) But. I kind of discovered this one Sunday afternoon when we had some odds and ends that needed to be used up–leftover taco meat and a few straggling potatoes at the bottom of the bag and an almost-empty container of sour cream and a handful of chopped cilantro and half of an avocado. Plus, we had already eaten tacos, like, three times that week because "Taco Tuesday" is more like "Taco TuesdayWednesdayThursday" at our house; putting meat in tortillas one more time was a little more than I could handle, but I also take a strange satisfaction in not wasting food, like it's a game or something.
But I also felt like this needed to be shared because it has since become one of our family's favorite meals–in fact, now I'll make a little extra taco meat just so we can make taco-stuffed baked potatoes. So if it's Monday for anyone else and you're looking for an easy dinner that your family will love, I've got you covered.
So basically, you're going to need whatever you like putting into tacos–green onions, salsa, sour cream, chopped cilantro, sour cream, avocado, shredded cheese, sliced olives, lime wedges, whatever floats your boat.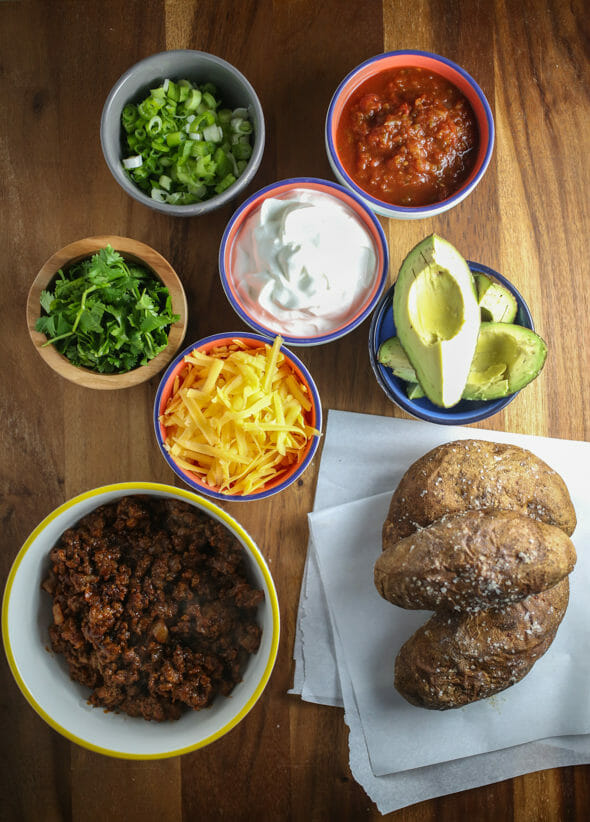 You're also going to need about 4-6 baked potatoes (pierce 'em with a fork, rub 'em in olive oil, and sprinkle with salt and bake at 425 for about 45 minutes or you can even make them in the crockpot if that's easier for you) and about 1/3-1/2 pound of taco meat (made with this taco seasoning–we just use leftover taco meat from the night before).
When your potatoes are nice and tender, slice them open, fluff them up, add a spoonful of taco meat, then add whatever toppings you want! I'm dead serious, this is one of the easiest and most delicious meals in our rotation (plus it's perfect for a Mom Lunch if the scraps of your kids' grilled cheese and dino nuggets aren't doing it for you.)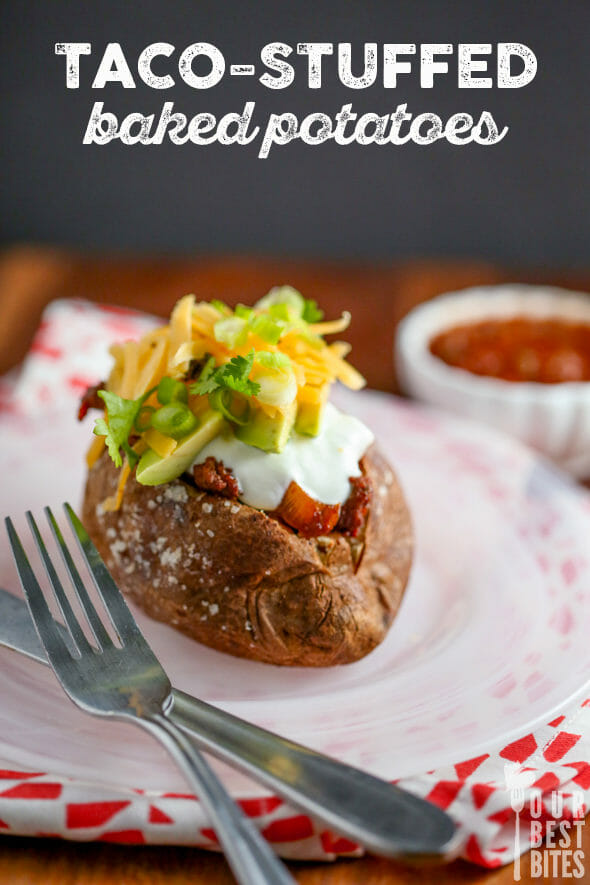 Print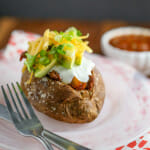 Taco-Stuffed Baked Potatoes
---
Description
A quick and easy dinner, especially if you want to use up leftover taco meat!
---
4

–

6

baked potatoes

1/2

pound ground meat taco meat (turkey or beef; leftovers work great!)
Favorite taco toppings: Shredded cheese, sour cream, chopped green onions, chopped cilantro, sliced olives, salsa, etc.
---
Instructions
Cut open the hot baked potatoes and top with taco meat. Add desired toppings and serve immediately.
---
---